This month I barely made it in time! I kept thinking about working on my two scrappy projects but there was always something else going on so I would put it off. But I squeaked them in. Part of the problem was that this month in RSC16 land, the color is hot pink with a lime green accent. People have been making some really awesome blocks with this combination but it just wasn't calling to me. So I decided to change it up and pulled out my bin of red scraps instead.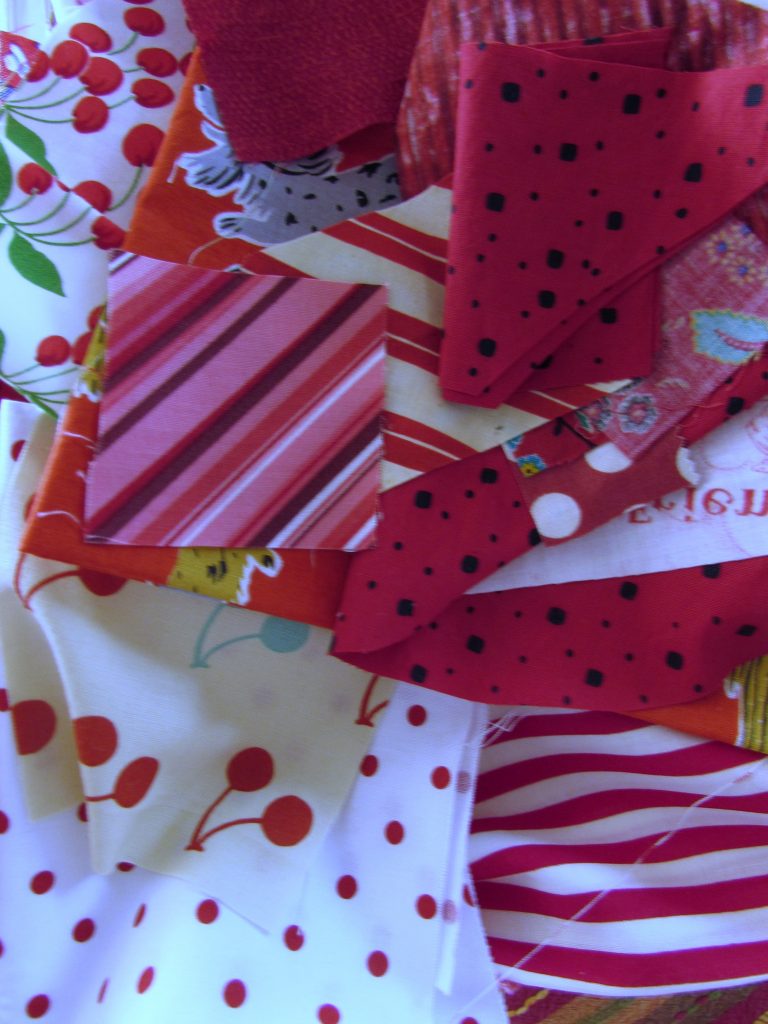 Once I made that change I was able to get into the idea and worked first on my made fabric. Scraps came together well as the red bin is packed with scraps to choose from. For the Gemstones quilt, I wasn't sure how any red blocks to make. I started with two. But I like the addition of the red so I will need to make two or three more. Looking at them all together, I am getting excited to finish this one up. Remember there will be sashing between the rows when I start to piece the top.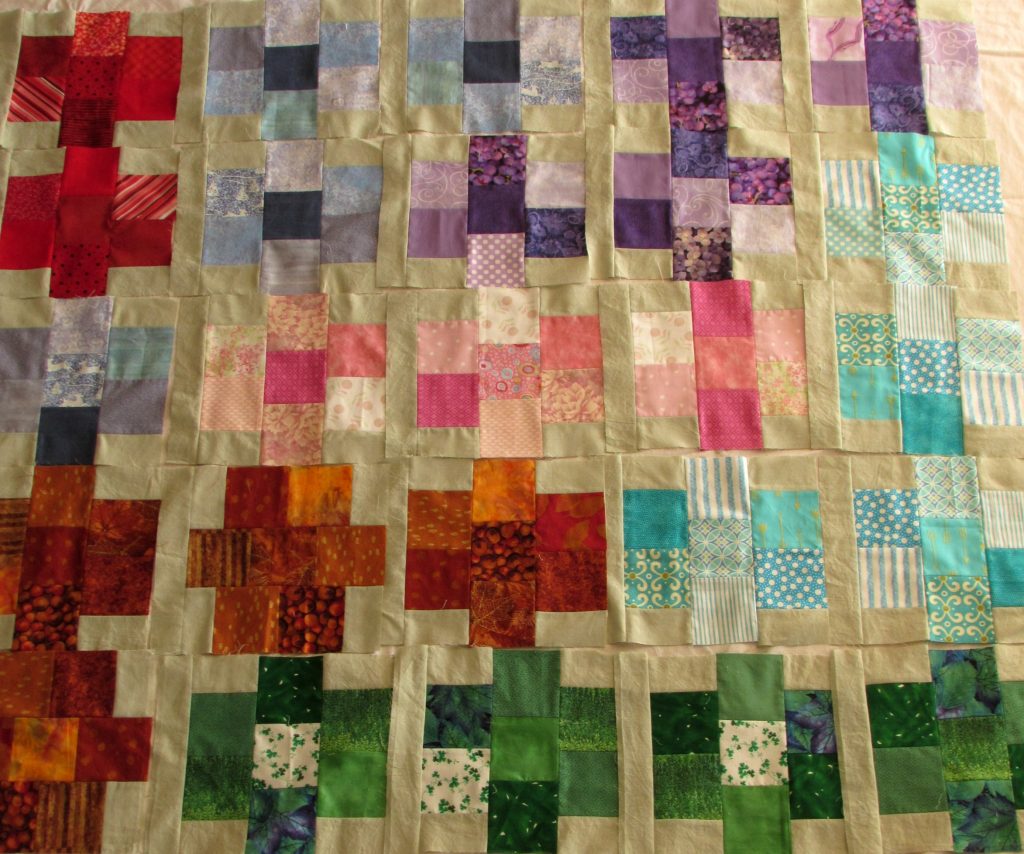 Looking at the scrappy HST's, I am at somewhat of a deciding point.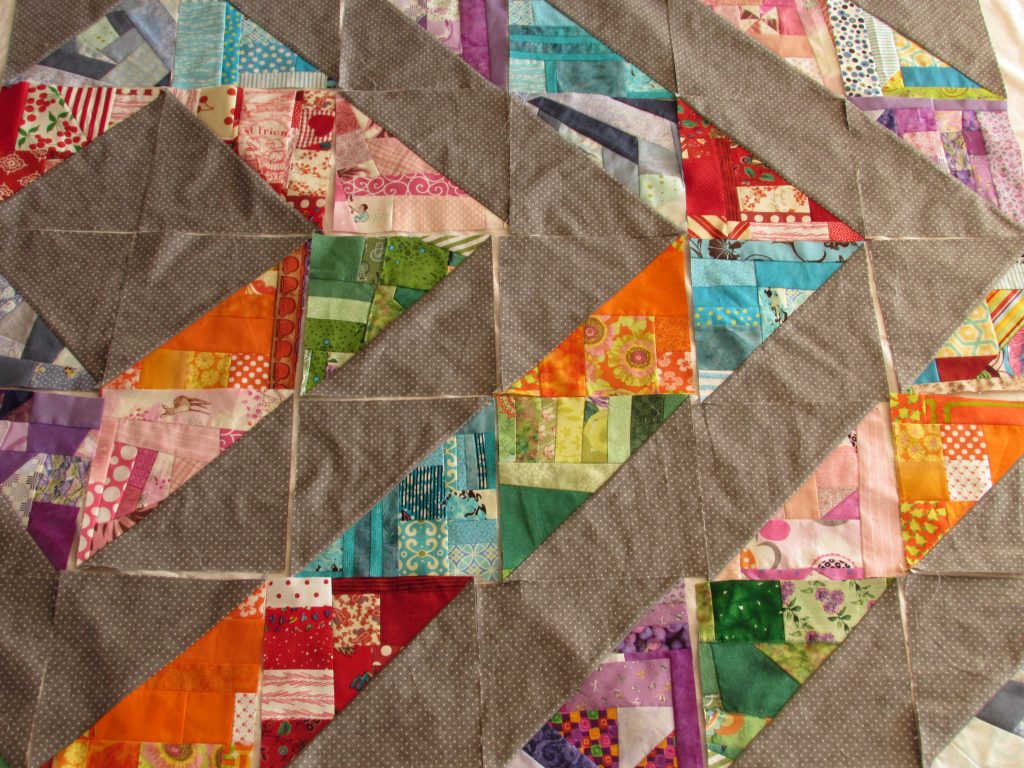 I think it is time to commit to a layout. The layout will determine how many of any one color I will need. Well, unless I choose to go scrappy and not group by colorway. Above is a scrappy layout without grouping colors. Below is one where I am keeping colors together.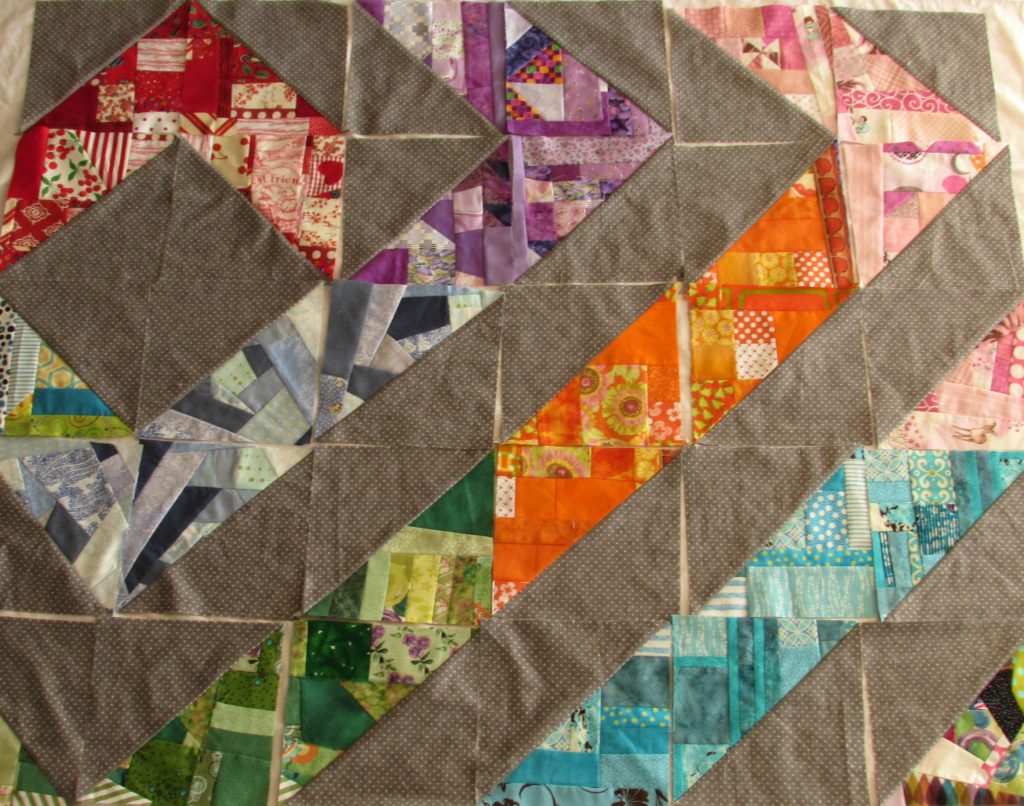 If I keep colors together, I think I need to sketch this out and try to plan how many blocks of each color will are needed. Do I break the colors up in any one row, or make enough that the row is cohesive. Decisions, decisions… I think I will do some planning using the Quiltography app that I recently posted about.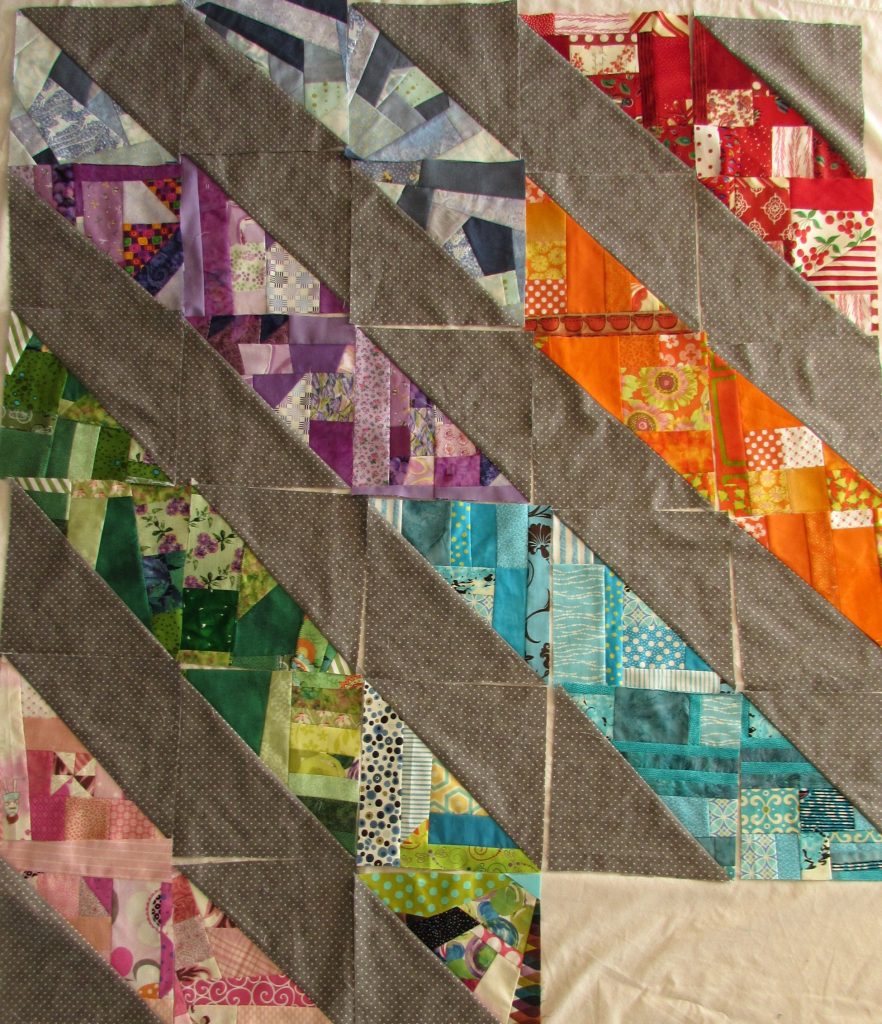 Alternatively, I could use a simpler layout. With this one, it feels like each row should be one color. Planning is still needed though. Luckily, I have been saving any chunks of the scrappy made fabric in case I need to make more of any color. It won't take any time to add blocks here or there.
I am strongly leaning toward the first layout shown above. However, I am equally enjoying the scrappy look and the more organized, cohesive look. Will you throw in a vote? Striped layout or the diamond? Scrappy or organized colors? I am curious and would love to hear your thoughts.
This is the hottest part of our summer thus far with triple digit heat all week and into next. We were able to escape some of the heat while at the coast for a few days. Now that we are back home,  Julia and I have been hunkered down enjoying the AC. It is just awful outside. Julia has been trying out some fun techniques with her water colors, making stencils with painters tape. This one is an interpretation of the Seattle skyline with the Space Needle featured.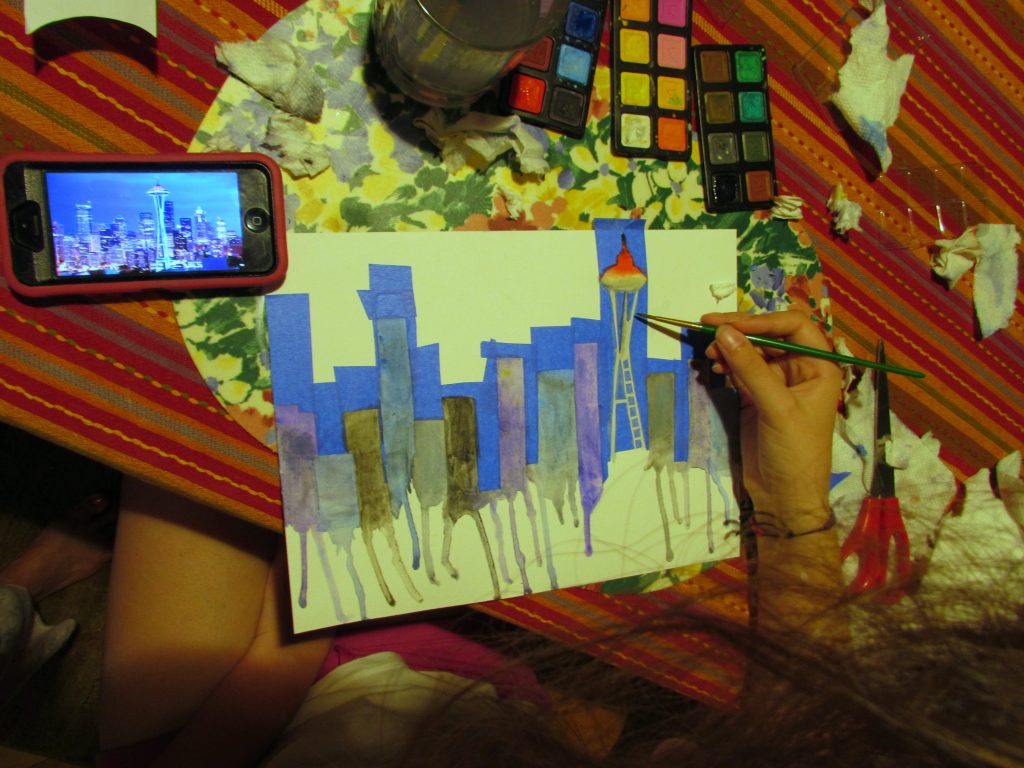 She is also working on some lettering. Yesterday she was channeling Walt Disney.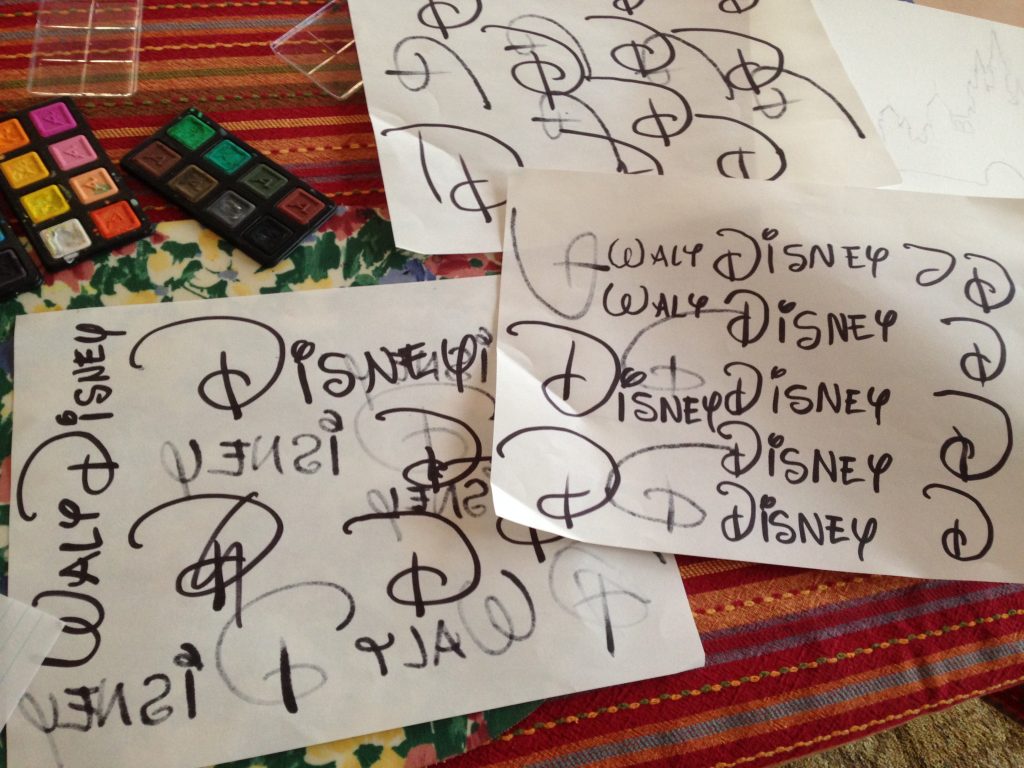 I am pleased to see  her enjoying other activities and relying less on technology. Three more weeks and school resumes. Hard to believe but summer is winding down. Hope you are staying cool these days!
Linking to Oh Scrap and Crazy Mom Quilts, both of which are listed at the top of the page, under Link Ups.