It is the fourth of December and I am starting to feel some Christmas Spirit! I love this time of year and in 2020 we need every reason to celebrate and impart joy. I have two small projects to share with you today.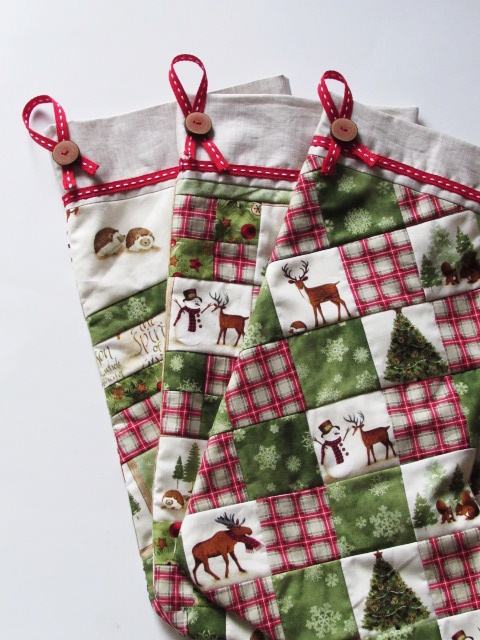 For my younger grand daughter, I had the fun task of making a Christmas stocking. Three years ago I made a set for my son, his wife and my oldest grand daughter. When I did this, I set aside fabric to make more stockings if/when his family grew.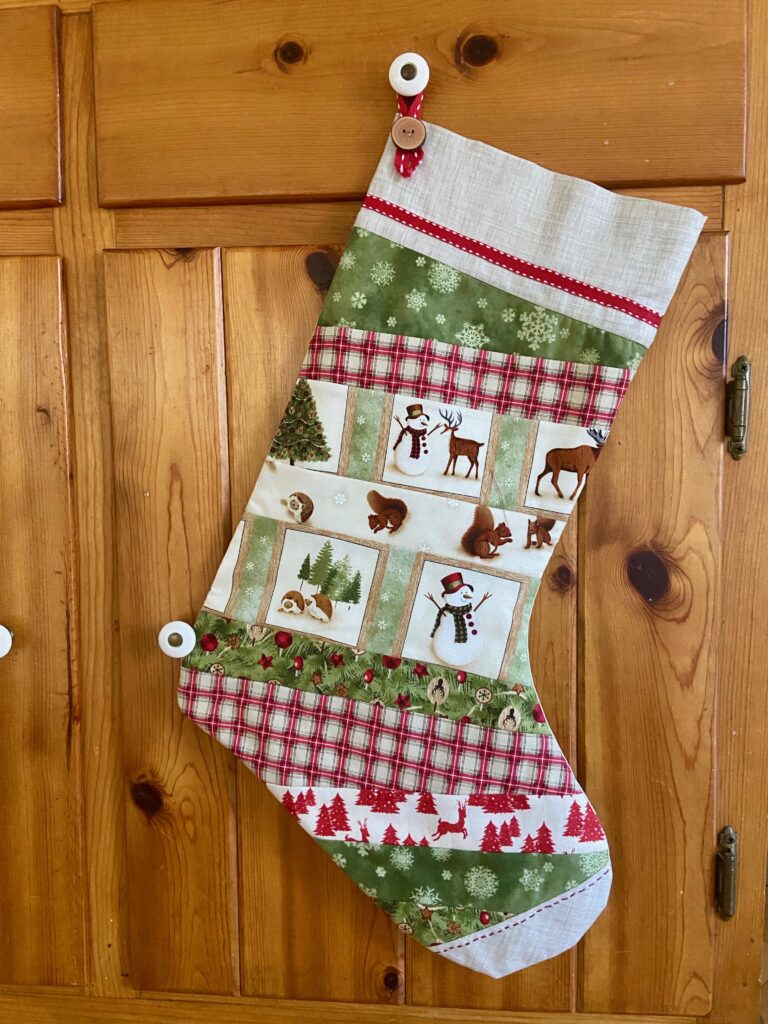 This stocking is number four for their family. I used the easy peasy quilt-as-you-go method for the strips. As with the other stockings, I put a 'toe' on the foot of the stocking and embroidered a red line of stitching across it. Fortunately I saved some of the twill tape and wooden buttons (made by my husband!) so the stocking is a perfect match for the first three. I think it is super cute – the line of fabric was so much fun when I had it in the shop. It is long gone now.
Next project? Well, remember how I have been 'cleaning' my sewing space? I sorted through some of my Christmas fabric. I have a large bag of vintage (1970's-1980's) holiday fabric and cut much of it into 3″ and 5″ squares with the AccuQuilt. Once I had that stack of squares sitting there, I couldn't just put them away, right??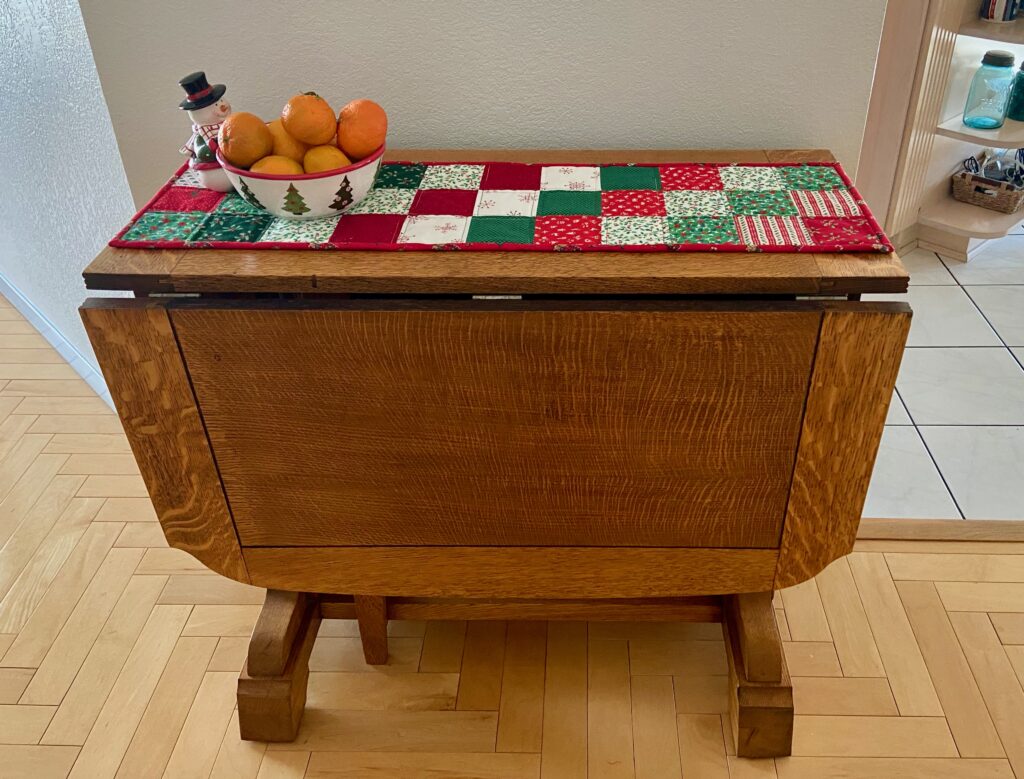 I decided to make a quick patchwork runner for the top of this drop leaf table. (My mom loaned this to me a long time ago for our Downieville house. We have since sold the house and I am hoping she doesn't ask for it back…. I love the table!) I plan to put a set of photos here of my kids with Santa. I look forward to looking at those pictures each year. But I haven't brought that box up yet. Julia and I plan to do some decorating this weekend and will put up the tree early next week.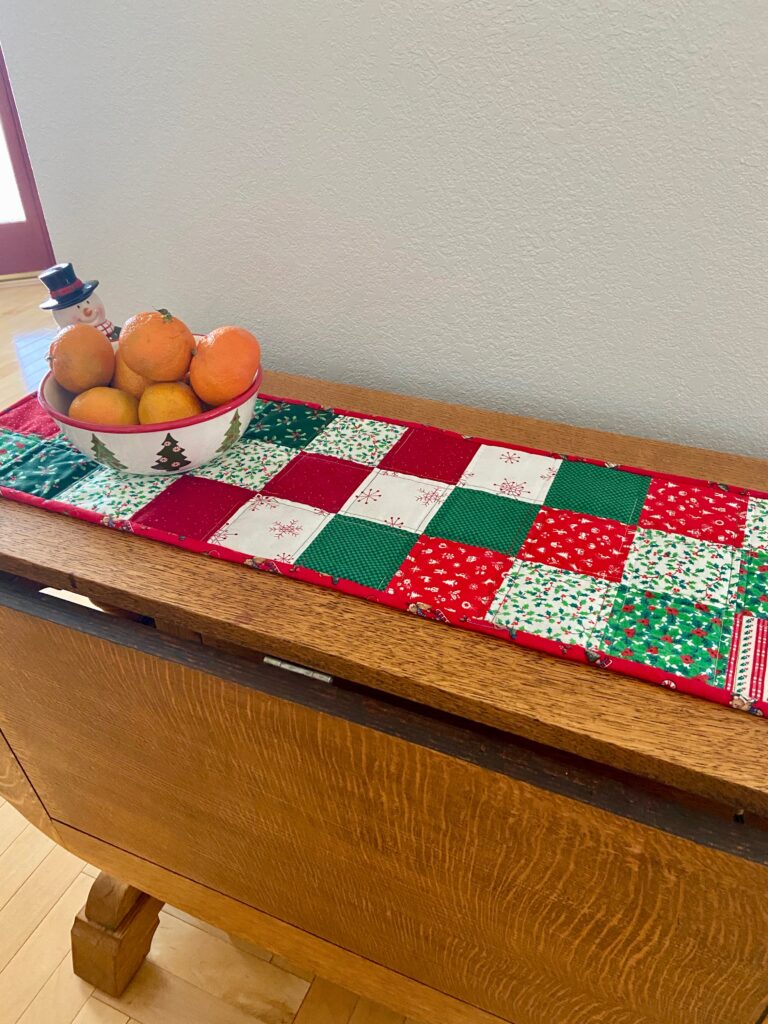 As I have said so many times before, simple patchwork is by far my favorite of any quilt. I am so nostalgic and love the look of this – what can I say? This would have been made even cuter with some hand quilting but I really wanted to use it now. So instead I used a variegated holiday thread I had from Mettler and did simple straight lines.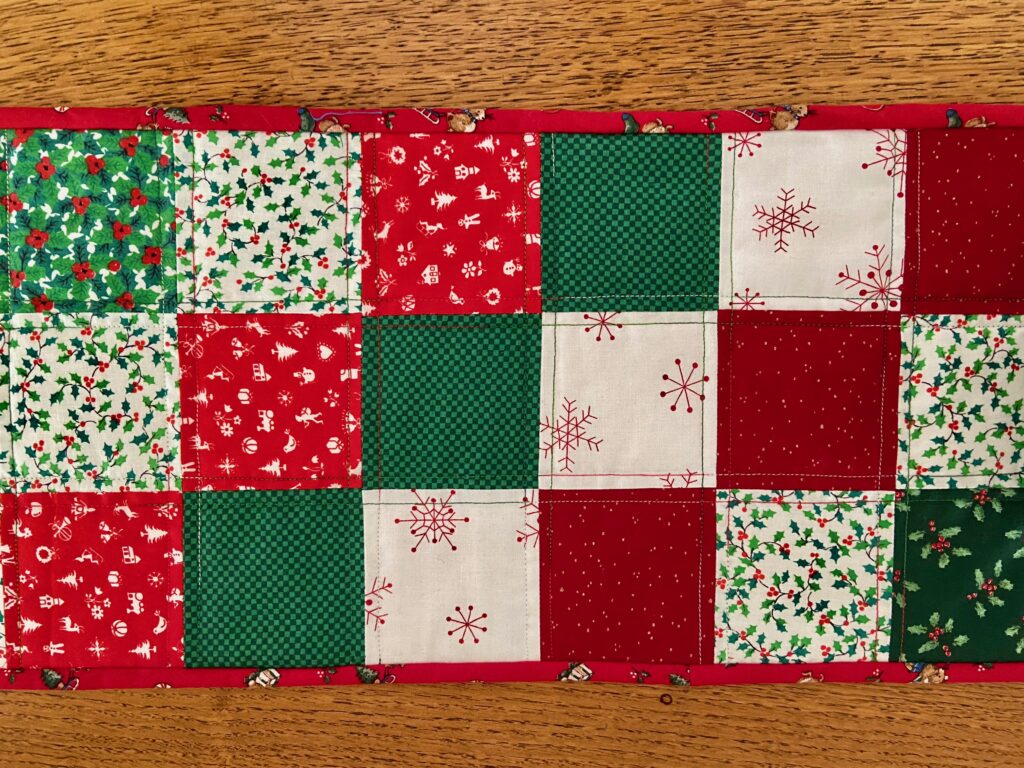 If you look at the fabrics, you will see the small print of white objects on red (next to the holly on white). This fabric is definitely from 1978. It is the same fabric my sister, Cathy, used to make wedding favors for her December, 1978 wedding. (Side note – if you want to read a fun post from several years ago, I wrote about all the weddings in our family and how most of us made our wedding gowns. Click here for the post)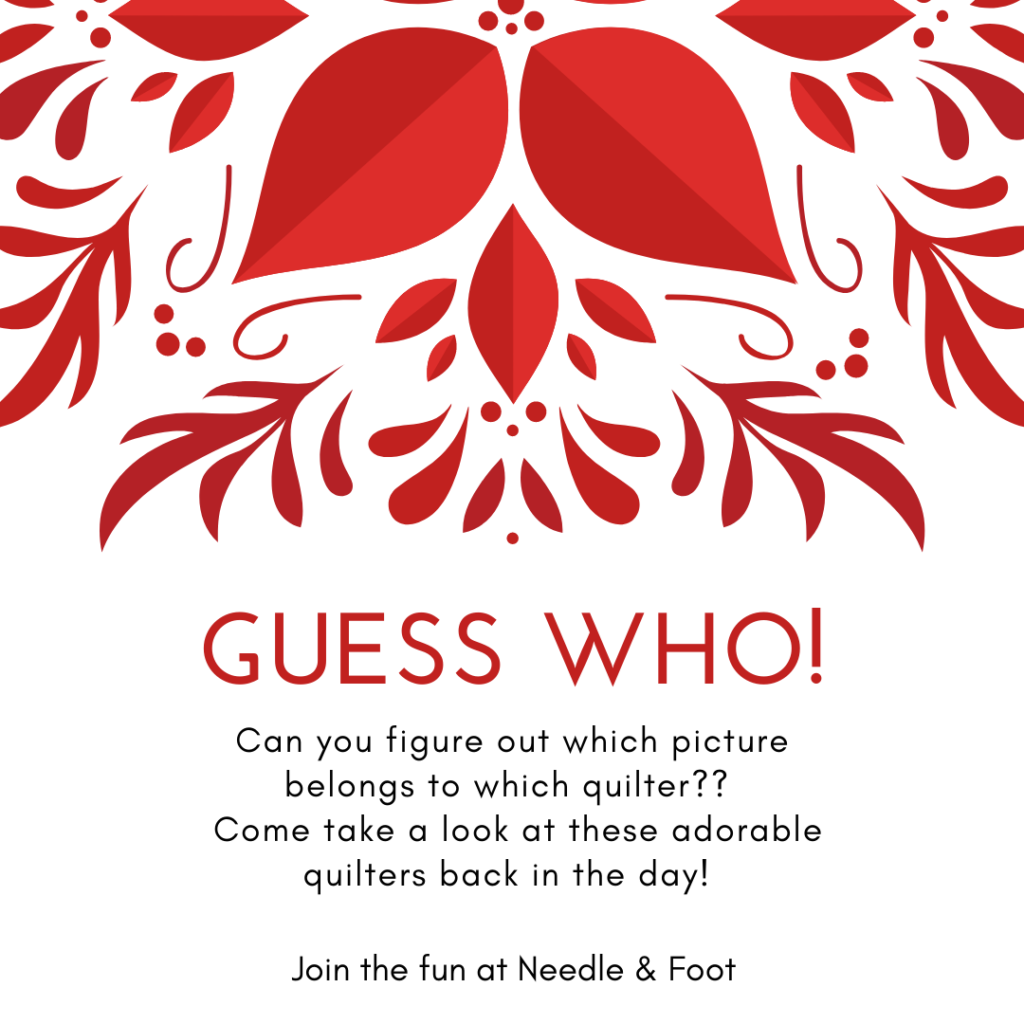 OK – that is it for today. I do want to let you know I have a few fun things coming up on the blog! Next week I will be hosting a Guess Who game. I have childhood pictures from lots of quilter/bloggers. I want to see if you can match of the adorable faces to the right quilter. Look for that on Wednesday, December 9th. Then the following week, on Wednesday December 16th, I am hosting a Holiday Memories Bloghop. Lots of us will be posting about some of our favorite holiday traditions and memories or stories. I am so looking forward to reading these. Keeping spirits bright in 2020!!