Last week I decided to cut into my collection of vintage sheets and play with them. I made two pillow tops. One of which I took up to Downieville last weekend to practice hand quilting. This was my first attempt at hand stitching. I didn't get that one quite finished but it is looking pretty good so far. I did finish another one though. I plan to use them on the guest bed, which unfortunately is located in my sewing room and often cannot be found underneath all of the projects that lie on top of it.  Ha ha.
I used Corey Yoder's Scattered Squares pattern which was published on the Mode Bakeshop website last summer. Corey designed the pattern to be made with a mini charm pack. I decided to adjust it a bit and use 3 & 1/2″ squares since I was cutting my squares anyway. Simple straight line quilting was used with a spacing of about 3/4″ or so. I didn't measure or mark this, rather I used the edge of the walking foot as my guide.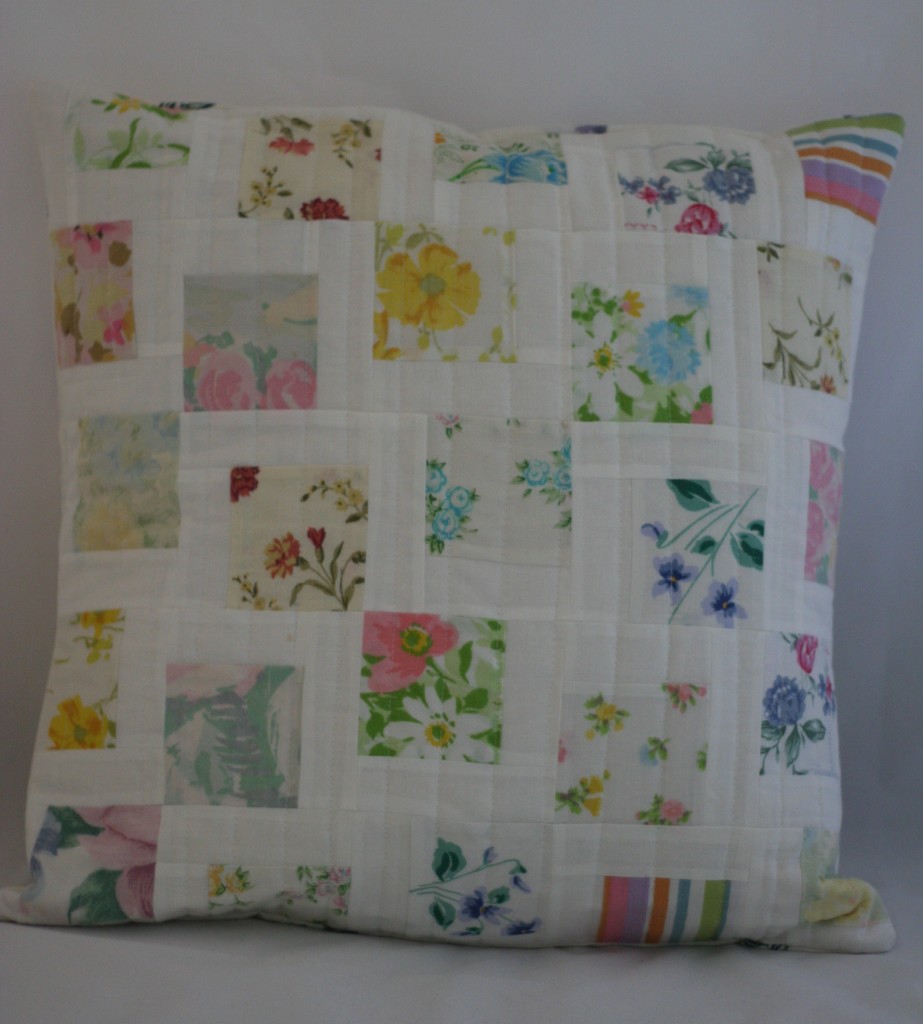 I used a sheet to make an envelope backing. If you need a tutorial for this, there is a great one over at Crazy Mom Quilts. Super simple and takes no time at all.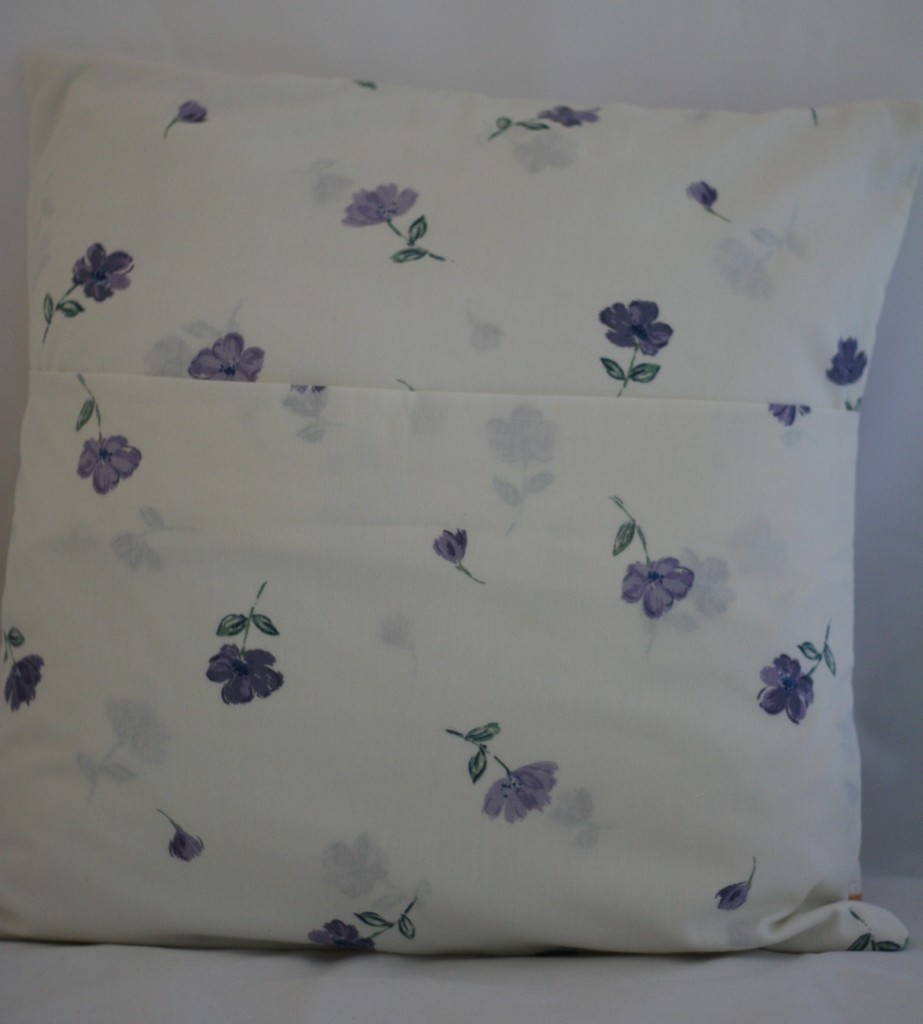 This afternoon I decided to play with the Tula PInk City Sampler book that I wrote about in my last post. This is going to be a fun project. I made three blocks today and they came together easily. These are all from a section of the book that features various cross block patterns. I am liking the look of this already! Each block finishes at 6 1/2″. Three down and who knows how many to finish it.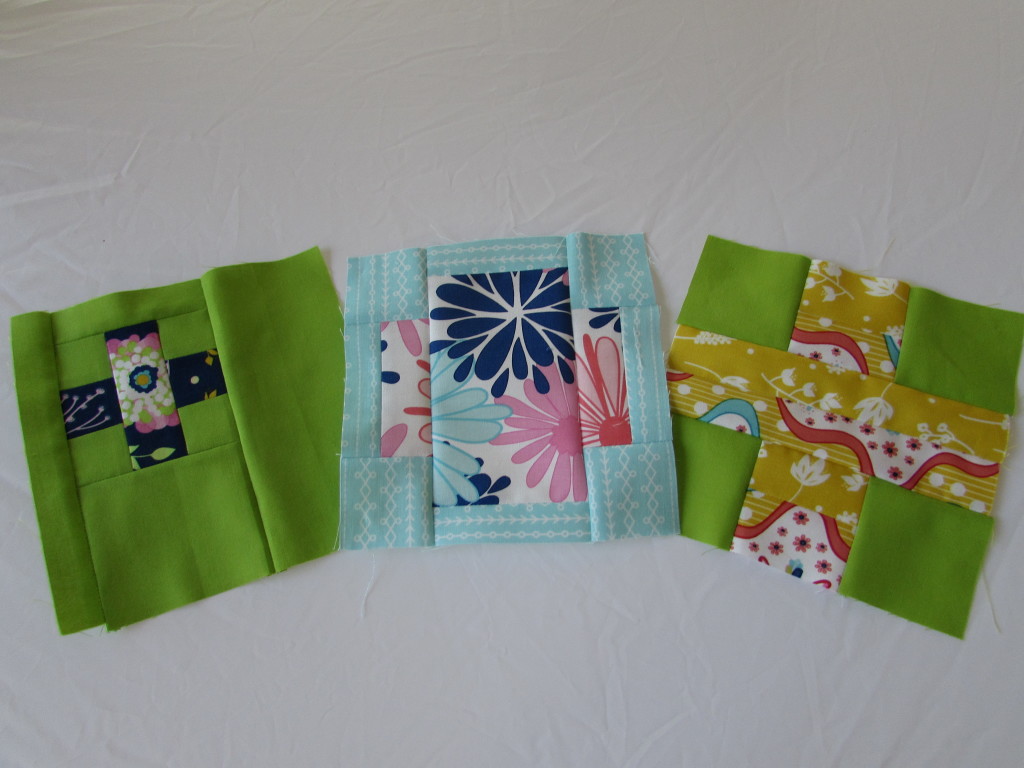 Hope everyone has a wonderful weekend!
UPDATE: I forgot to include my April goal for ALYOF!! Yikes – I plan to make three gifts this month. I think each will be a tablerunner, though one may be a mini quilt wall hanging. Finishing these three gifts are my goal for April. Phew!!
Linking to Crazy Mom Quilts (yay – she is back after her month away from the blog!) and also Sew Bittersweet Designs for ALOYF!!