About a week ago, I received a note from my friend Patty.  She is a nurse at Mercy Hospital in Sacramento, CA.  She is also the mother of a sweet girl that Julia has been friends with since middle school.  Patty told me about the quilts they use at Mercy to comfort dying patients.  They ask the family of the patient if they would like to wrap their loved one in a quilt to bring comfort and security as the person goes through the dying process.  After the person passes away, the family keeps the quilt along with memories of comforting their loved one until the end.  Unfortunately the community service group that was providing quilts for Mercy has become unable to do so. She wondered if I might know of quilters who would want to make quilts for the hospital. There are several organizations who do this sort of project; Covered in Love being a very popular one.  I have contributed blocks once or twice for CIL and think their work is amazing.   Becoming aware of a similar need right in my backyard was eye-opening.
In less than a blink of an eye, I replied to Patty telling her I am happy to help as much as I can.  Hoping to finish a few quilts quickly, I decided to pull two WIPs and focus on finishing them.  I had a box of large 10″ HST's that I created about two years ago.  I had intended to make a twin size quilt with them for the spare bed up in our little house in Downieville. Like so many projects, it was put aside and left unfinished. But I am glad this happened because there were enough blocks to make a comfortable lap-size quilt.  I love the shades of purple, green and tan I used and feel it would be great for both male or female recipients.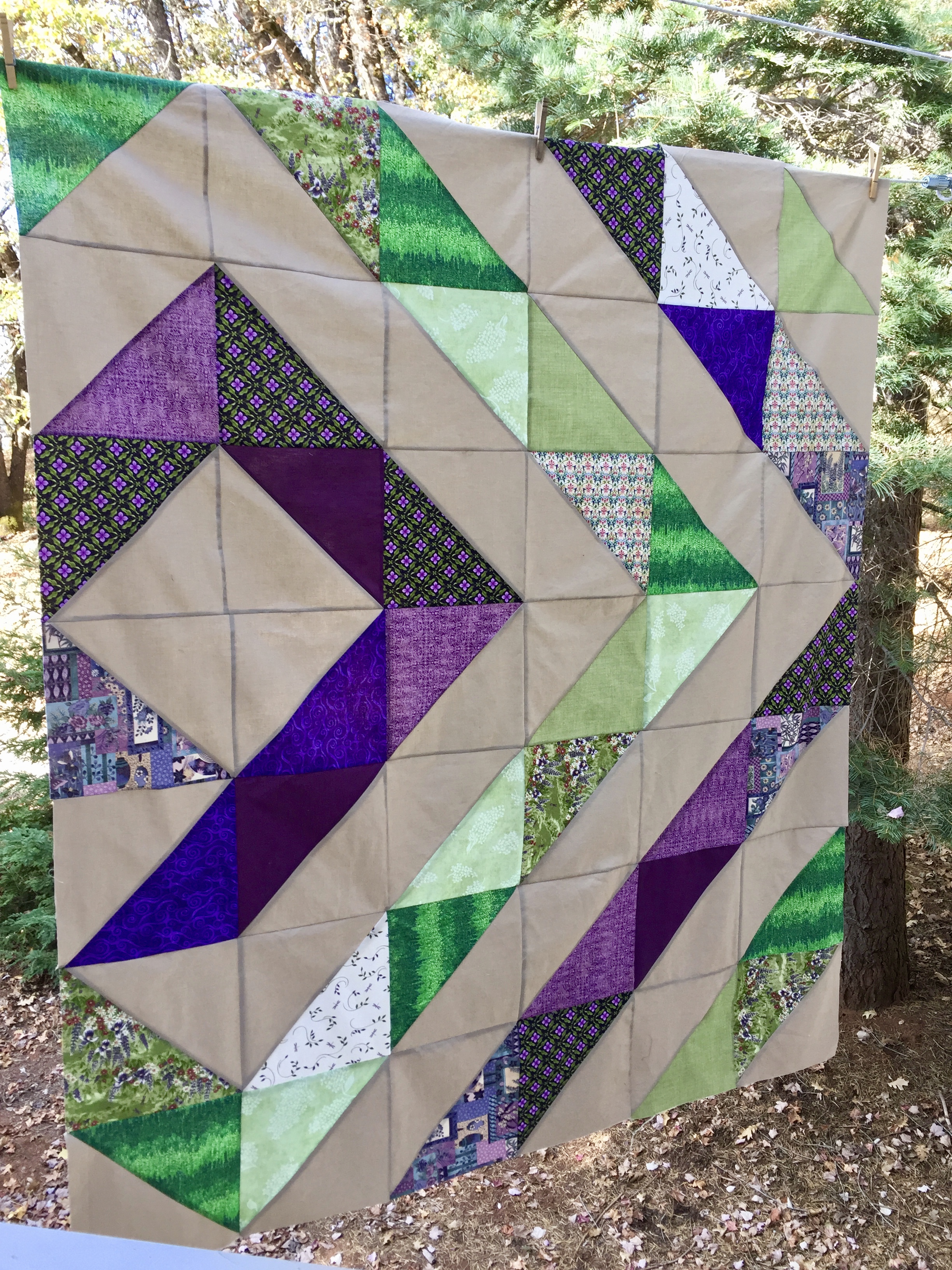 I played around with the layout several times before deciding on this pattern. Once I made that decision, I spent a quick session squaring up the blocks.  They went together in no time and I had a quilt top. It is very motivating to me to make a quilt for a cause that is so near and dear to my heart.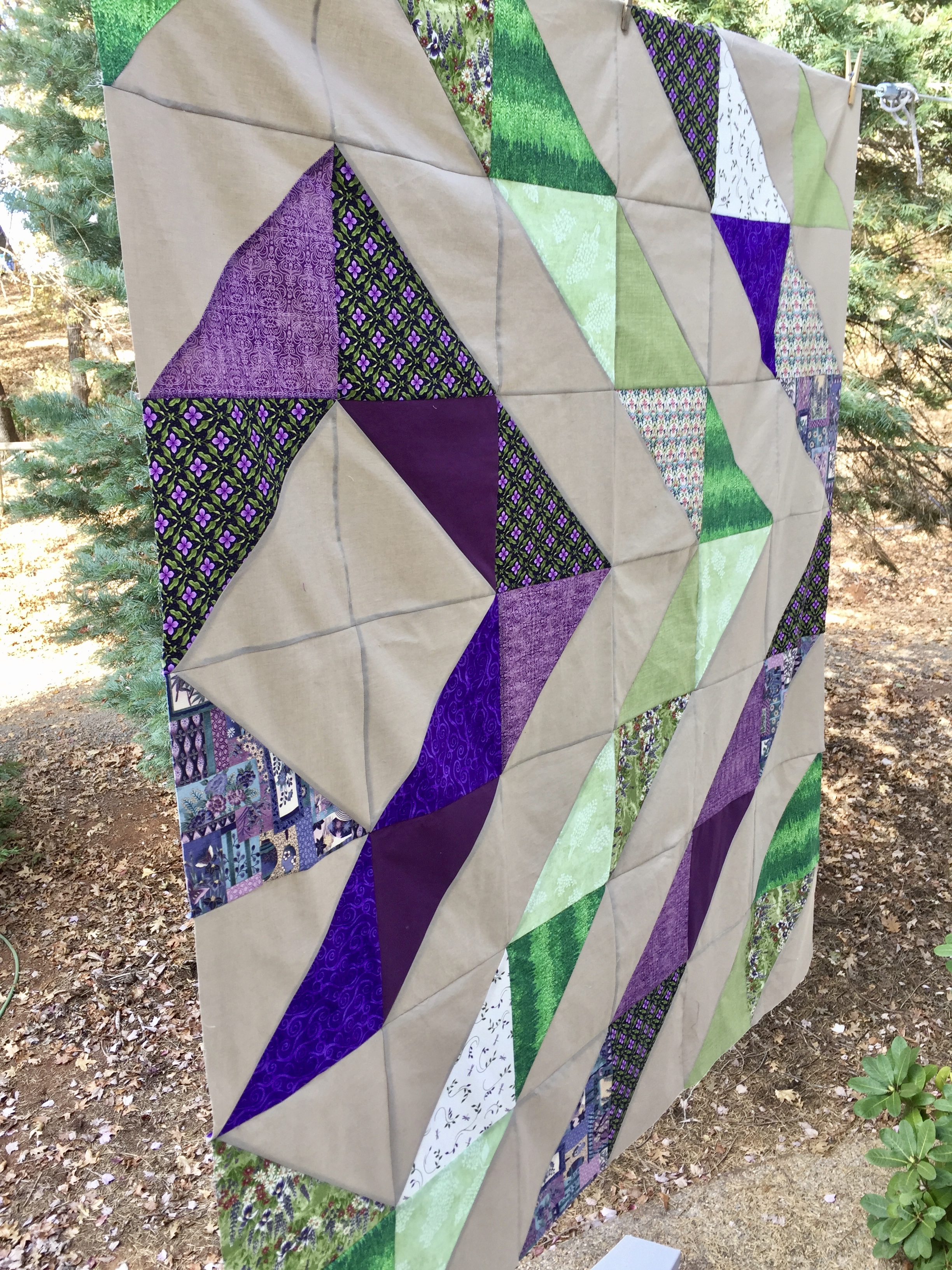 Mercy Hospital is renowned for their cardiac care.  In 2015 my mother received incredible care at Mercy as she underwent a completely unexpected triple bypass and mitral valve replacement.  She was in CCICU for two weeks and my family was (and still is) so very grateful for the care and support she received. Actually we all received care and support as they go the extra mile at Mercy to assure the patient's family fully understands what is going on with their loved one. We always felt we could ask questions and get help at any time. It is no surprise to me that they have this quilt gifting program.
The Merriam-Webster definition of Mercy includes 'compassionate care of those in distress'. So many of us have provided quilts for compassionate reasons, to help those in need or distress.  I want to support this program at Mercy Hospital.  Currently I have two quilts in process for them.  The other quilt is my Twisted quilt top which is a cheerful floral quilt that looks much like lattice work in a garden. This project was already pin-basted and ready for quilting.  Since I was further along with that project, I decided to begin quilting it several days ago. I am making swift progress with that one.  I would love to have it finished and bound asap because they are out of quilts at this point in time. Once that is completed, I will baste and quilt this HST quilt.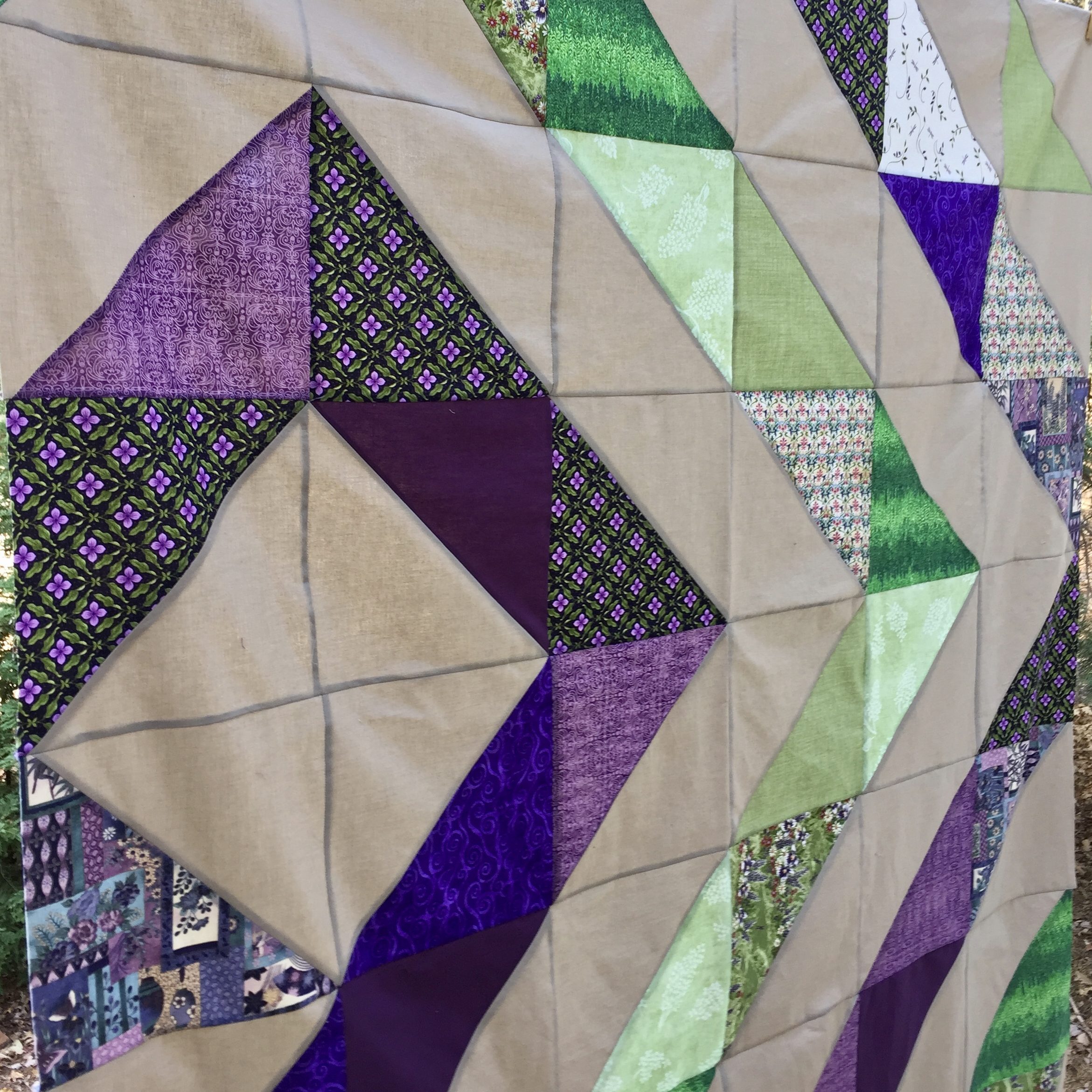 If you feel called to support Mercy Hospital, I would love to hear from you.  Do you have a quilt top that is not yet intended for anyone?  Might you finish it up and mail it off?  I would be happy to bring it to Mercy.  California readers, local readers? Would you be able to help out? I plan to mention this at my guild meeting next week to see if there are others who might be able to contribute.  If anyone has any ideas with regard to programs like this, please leave a comment. I would really like to gather support for Mercy Hospital and provide them with quilts.
I hope you all have a beautiful weekend! Be sure to grab a few minutes with your sewing machine.  🙂
Linking with Crazy Mom Quilts and Confessions of a Fabric Addict! There links are at the top of the page, under Link Ups.