It is that time of year. College acceptances and declinations are being emailed out to all sorts of college seniors. Julia and her friends have been texting like mad, announcing what universities they did or didn't get into. It is a very competitive process these days. I remember back in the day; you know, when I was walking five miles to school (up-hill) each way in the snow, it wasn't such a huge deal to apply for college. I went to our local community college for two years and when I finished up the general education classes, I chose a four year university and picked a major. My main decision point was, in all honesty, where was my boyfriend going to attend? Sounds terrible, but it's the truth. I also remember that in 1980 when I started college, the tuition fee each quarter was $69 ($207/year). I applied and just assumed I would get in. It wasn't thought to be a big deal. I took the SAT's but didn't do anything amazing with those. My grades were reasonable but certainly not more than a 3.4 (or so?) GPA.
Oh how things have changed! The tuition at my alma mater is now up to approximately $3,200 per quarter ($9,600/year). Last year of the 55,000 applicants about 16,000 were accepted. There were 10,000 applicants with GPA's of 4.0 or more who were turned down. The competition is fierce. College juniors and seniors take the SAT and ACT tests multiple times and when they aren't satisfied with their scores, they work with SAT prep tutors. GPA's of 4.0 and higher are prevalent and these kids are fighting for their spot.
Julia was fortunate in that she applied to four universities and was accepted at each one. We have done tours, walked campuses and, of course, talked and talked and talked. Julia had several decision points when choosing where to go but the most important was….. the swine unit! Once we got to this one, I knew her decision was made!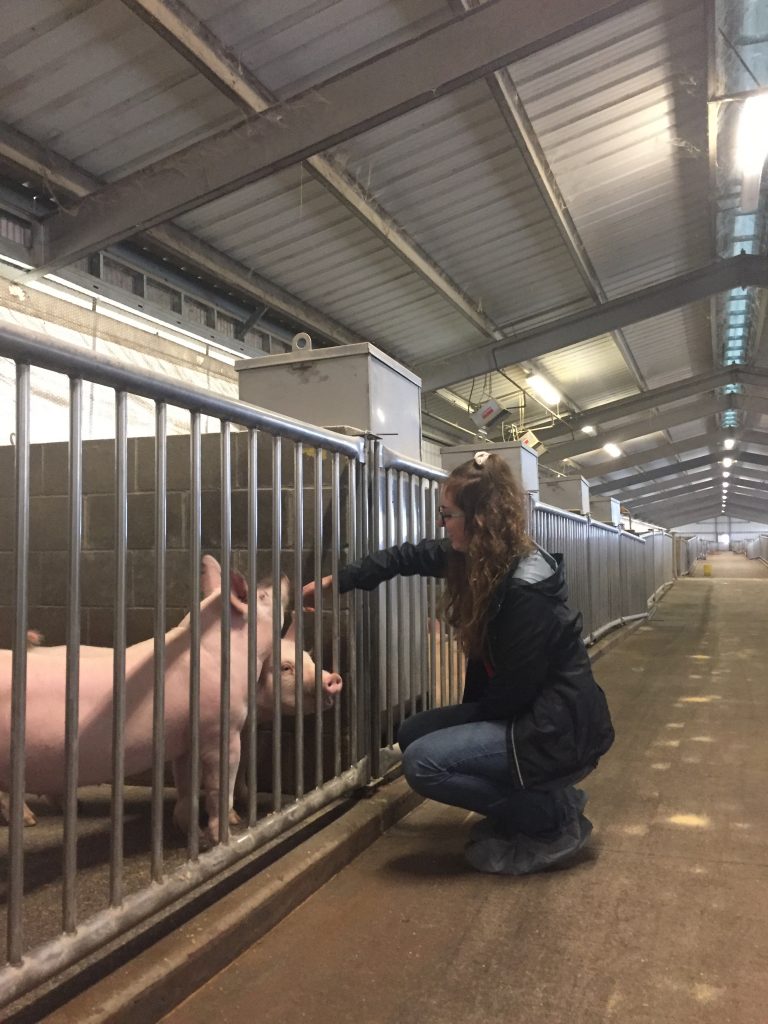 The swine unit at this particular university is gigantic. There are approximately ten litters born each month. We saw the nursery area and drooled over these tiny piglets.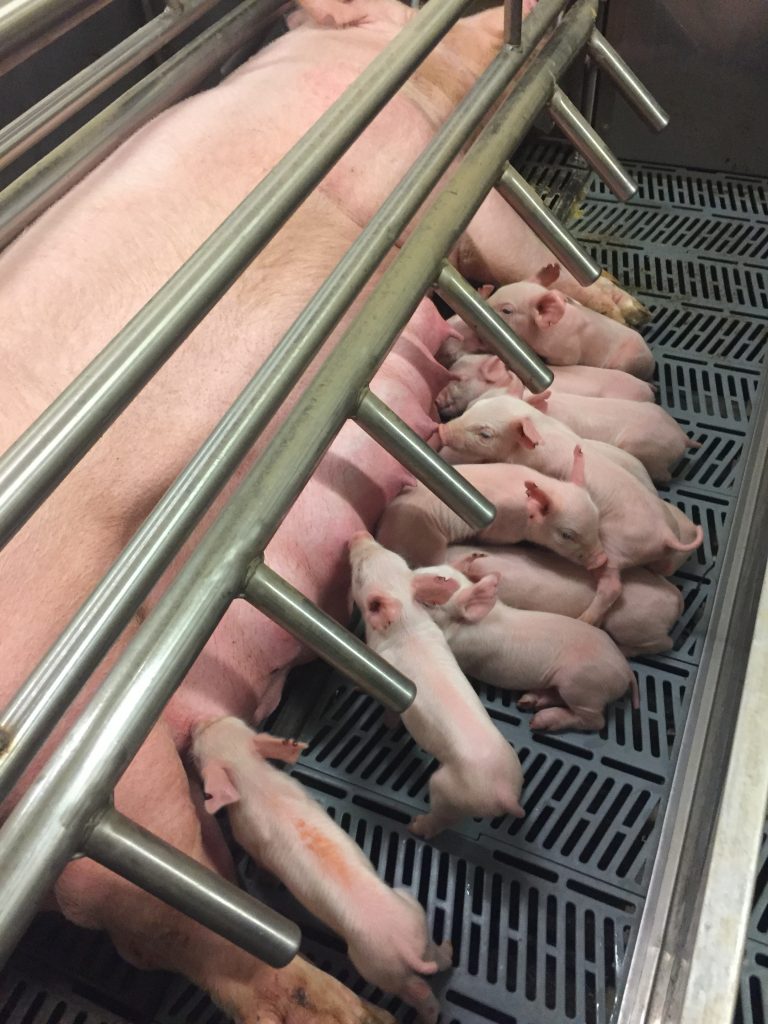 We had toured the swine unit at other universities last year and while they were nice, they just didn't compare.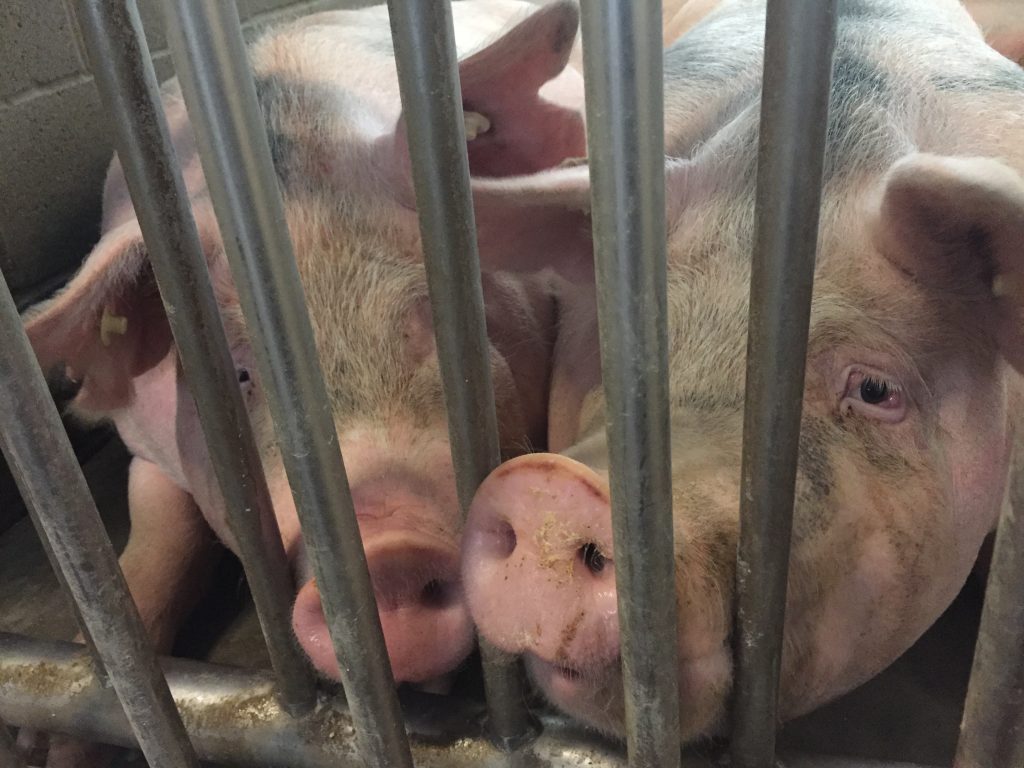 We went home from this particular tour and my daughter thought and thought about her choices. We called and cancelled our flights and the campus tours which were scheduled for next weekend.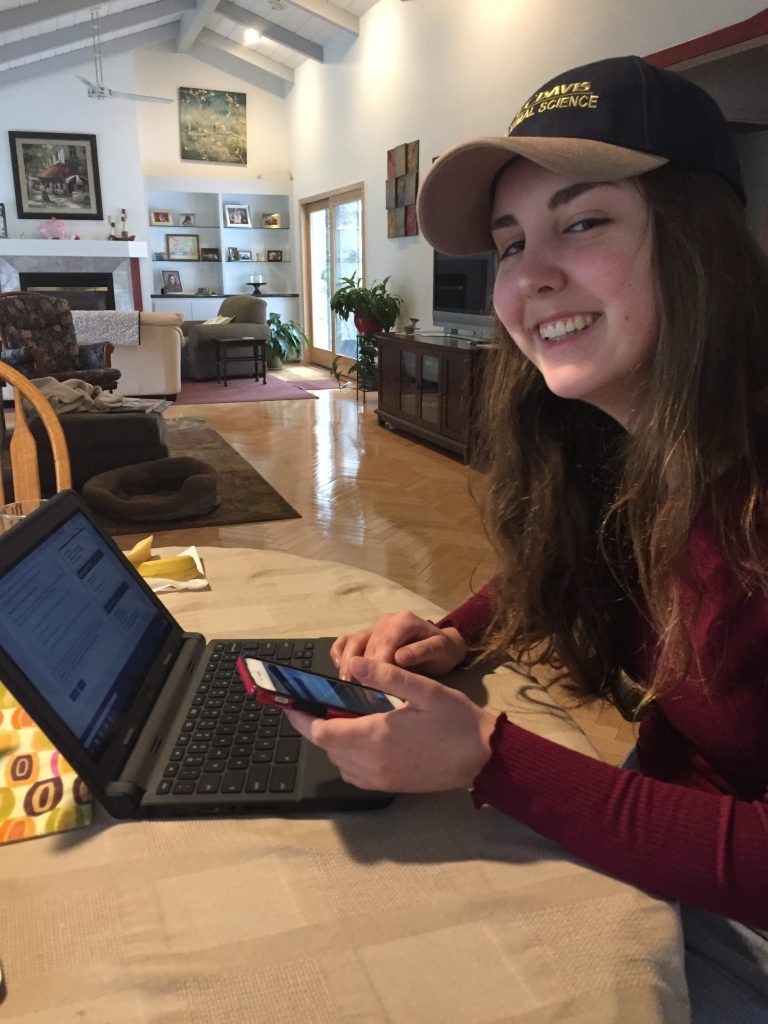 Last Saturday she committed and is officially going off to college in September! This is such a milestone in her life. (Mine too! She is the last kiddo at home – the chicks will have all flown the coop!!) Here she is accepting the offer and of course, you know what the next step was. "Mom, what credit card should I use for the deposit?" Here we go!
I thought I would make a little something to surprise her – to celebrate this important decision. Looking through my stash, I remembered a piece of fabric Julia picked up last fall during a trip to Ben Franklin. It was a Riley Blake piece with piggies wallowing in mud and it made her smile.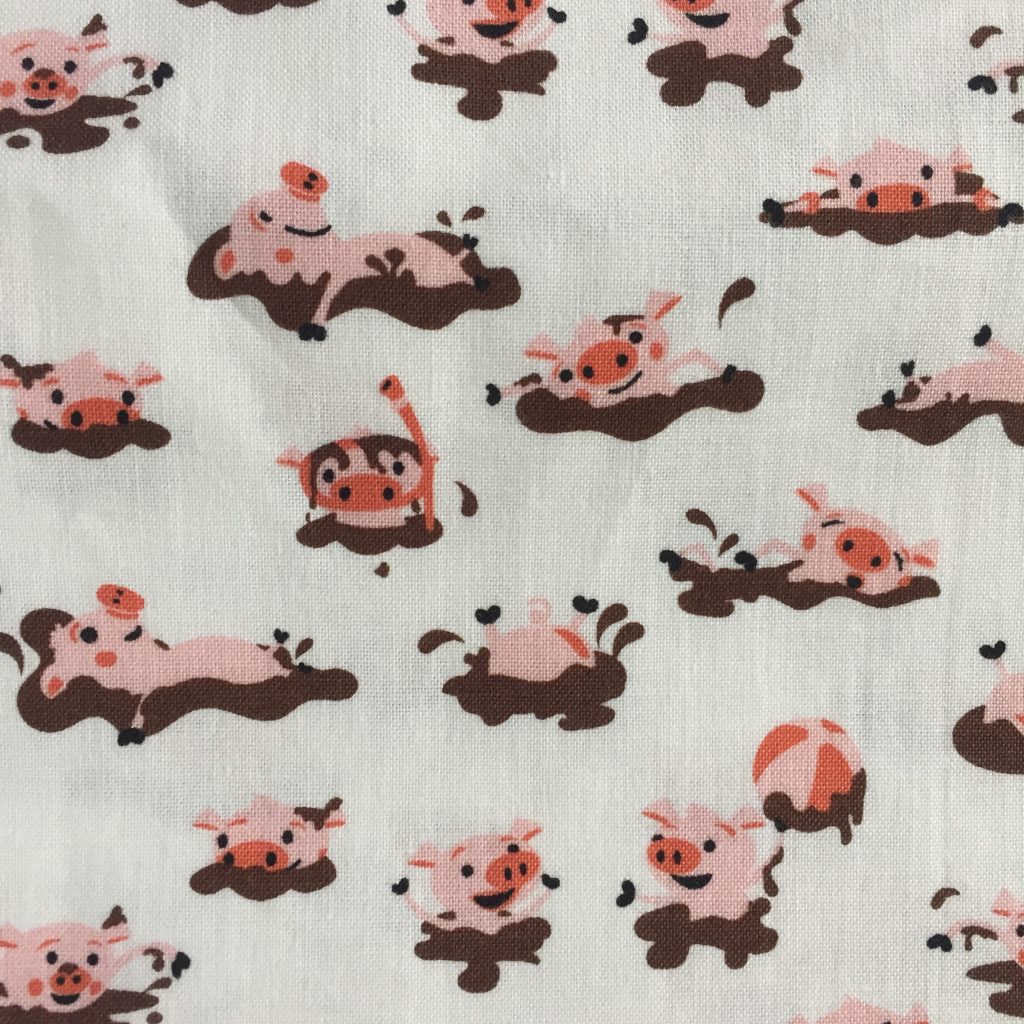 Pigs truly have a love of mud. Julia usually keeps a nice sized mud puddle in the pen for her piggies to play in and cool off with.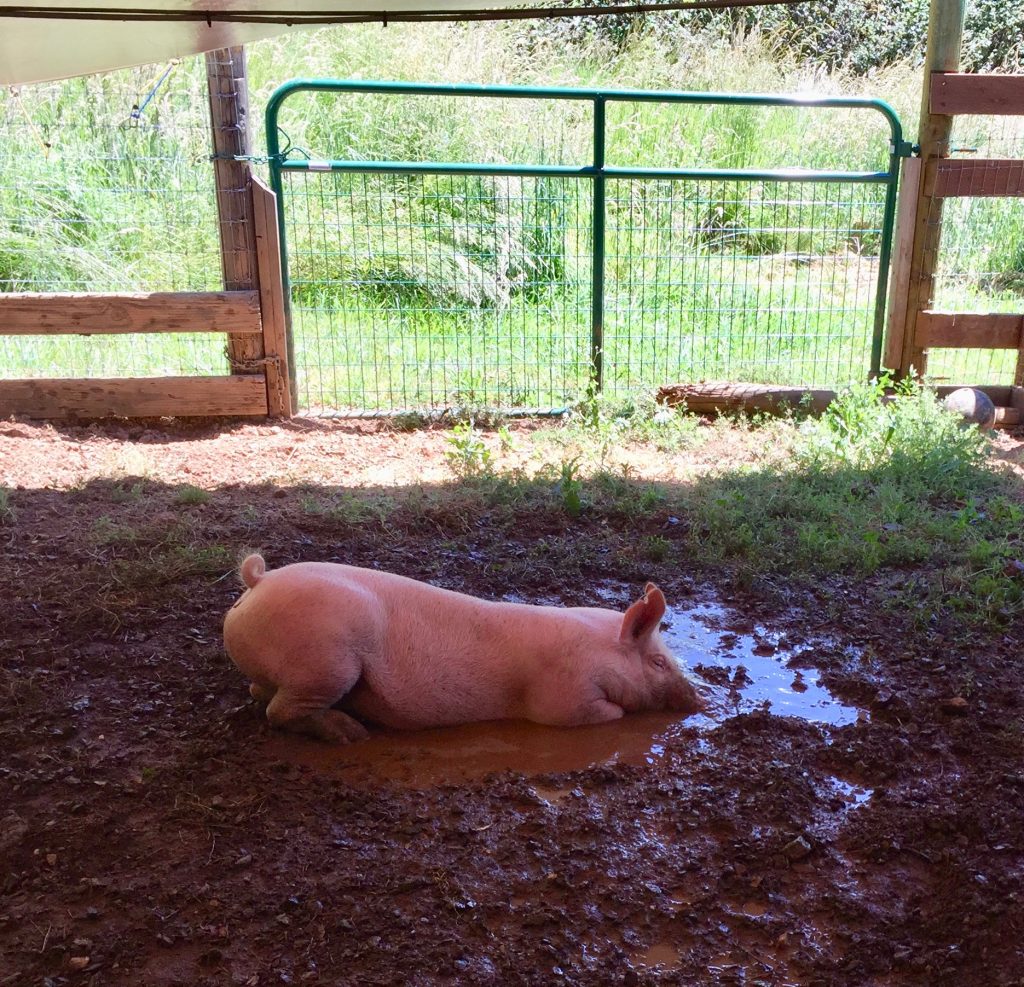 Anyway, my thought was to make a couple of pillow cases. They are simple and so fun to make. It had been a while since I had made these so I looked at the tutorial at the Seasoned Homemaker to refresh my memory. These are super easy to make and look so nice when complete. Using French seams creates a lovely finish on the inside.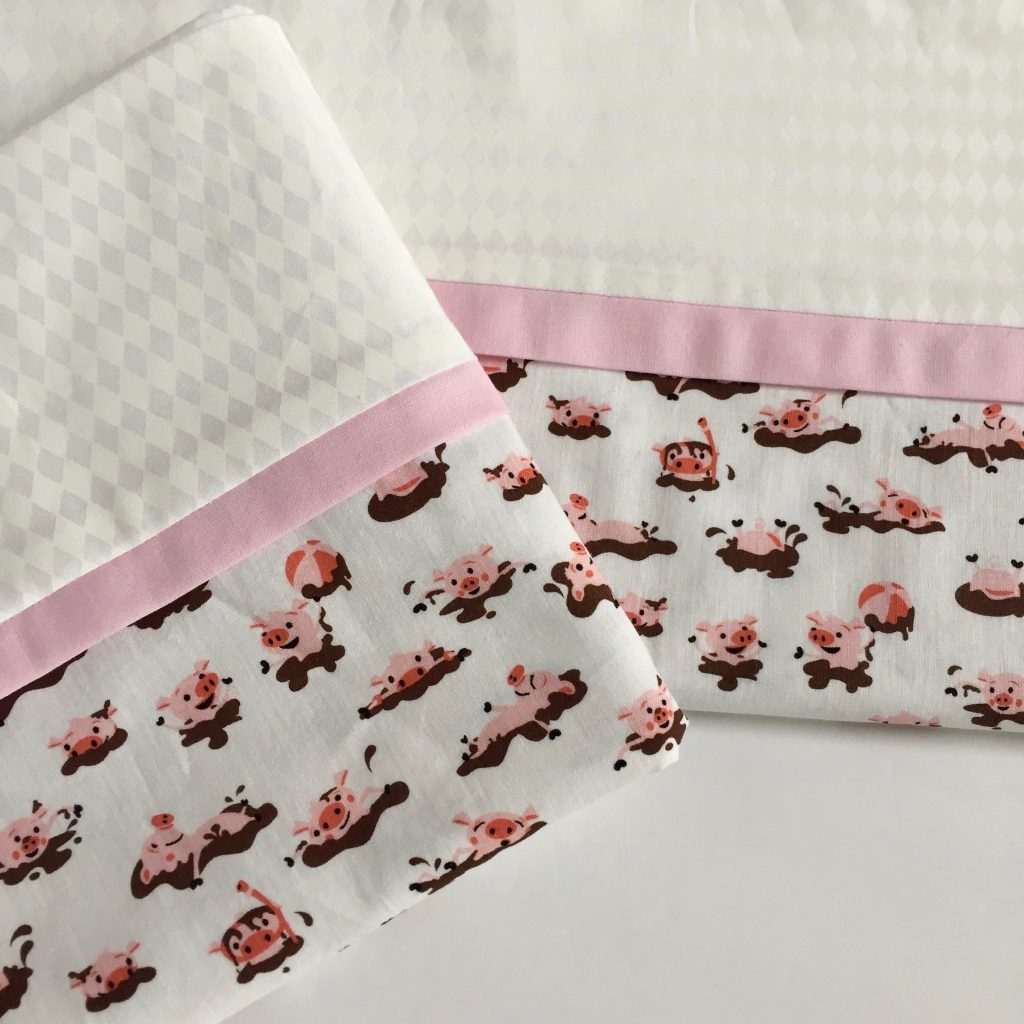 These took very little time to whip up. I used a white on white fabric called Fool's Gold from my shop. It is by Libs Elliot and the white is absolutely crisp. I think it dresses up the look just a bit (if that can happen with pigs playing in mud?!?) The soft pink trim was a scrap I had (always nice to use those up!)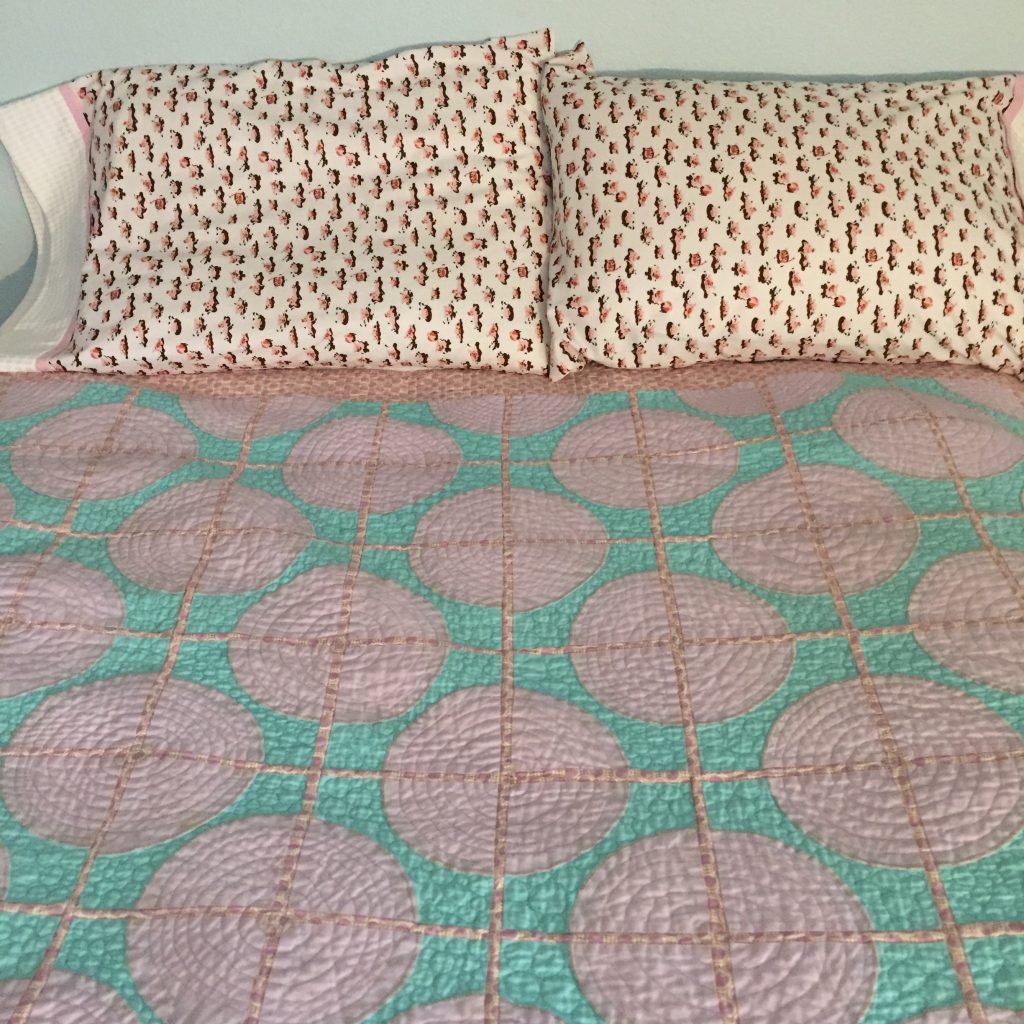 I know the match isn't perfect for the quilt she has on her bed but they are cute nonetheless. Julia is excited these days because there is so much going on with the last semester of high school! Next weekend she will select her piglet for this year. Photos to come!
If you haven't tried making these 'burrito style pillowcases', I encourage you to give it a try. They look so pretty and are not at all difficult. Is it time to personalize your bed with some nice new pillowcases?