This quilting obssesion is such that I am always, always, always thinking of what's next?  I have two quilts in progress and two projects that I am in the process of finishing up the binding.  Isn't that plenty?  No, not even close.  If you are reading this, you probably understand.  I don't know what drives this.  Is it all the amazing fabrics out there?  Do they  create this continual desire to start the next thing? Maybe it is the satisfaction of creating something? The peacefulness that comes over me when I am piecing something?? Honestly, it is almost always in the back of my mind; the next project.
So, here is "what's next", for today anyway.  On a whim, I purchased a bag of scraps from Southern Fabric.  Have you taken a look at their on-line shop?  It is filled with a huge assortment of really nice fabric.  I follow them on Instagram and Facebook because they are always having a sale on something.  One day it was bags of strips.  They were half off (regular price is $12.00).  The only thing guaranteed was that the strips were from a coordinated line from Moda.  Good enough for me.  Really, is there any line that I really wouldn't want to work with?  Doubtful. (By the way, this isn't a sponsored post.  I just love their shop.) With rapid speed, I received my bag of surprises in the mail. (I love a good surprise too!) I was so thrilled.  Look what I got: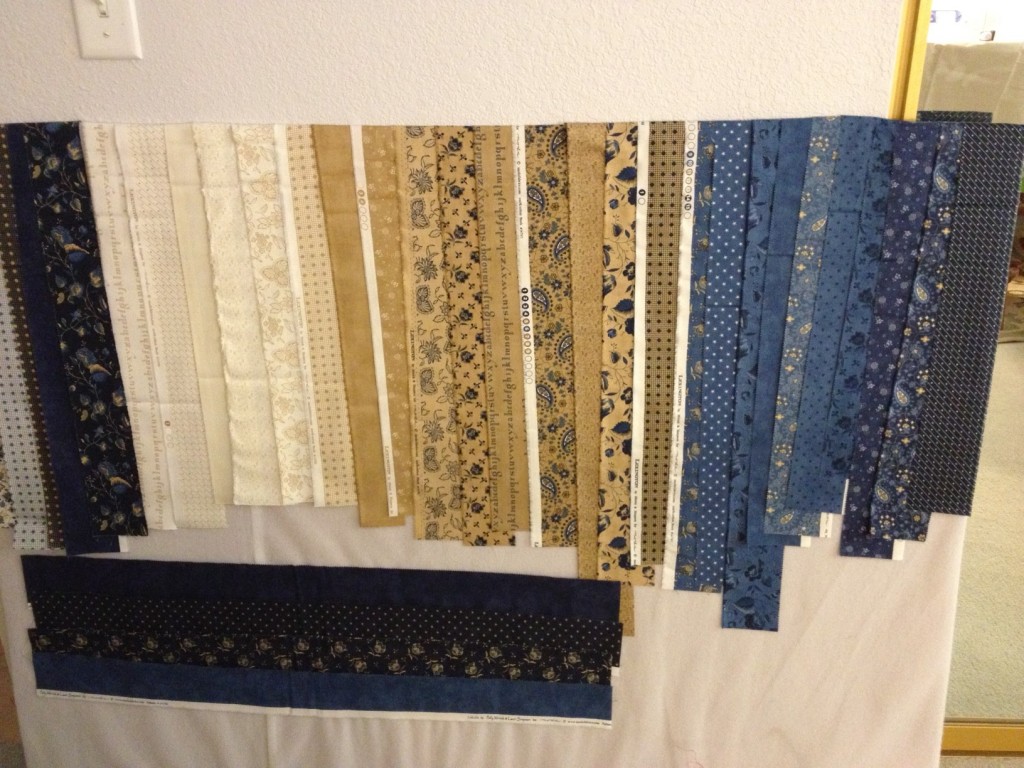 The strips are from the Lexington line designed by Minick & Simpson for Moda Fabrics.  I love it.  My favorite pieces are the text prints that just repeat the alphabet.  Really sweet.  I think I need to order some yardage in that text print.  Two strips just isn't going to do it for me.
It was easy to come up with a project for these strips.  I decided to make a string quilt. The tutorial that I liked best was found on Quiltville.com. The blocks are strip quilted on a  rectangular piece of fabric and then triangles are added to the sides to create the block. First I trimmed the selvages off and cut my strips into various widths between 1 1/2 inches to 2 1/2 inches.  I used a sheet that I cut into rectangles for the foundation fabric. For the triangles, I have some low volume fabrics that work perfectly.  Check these out: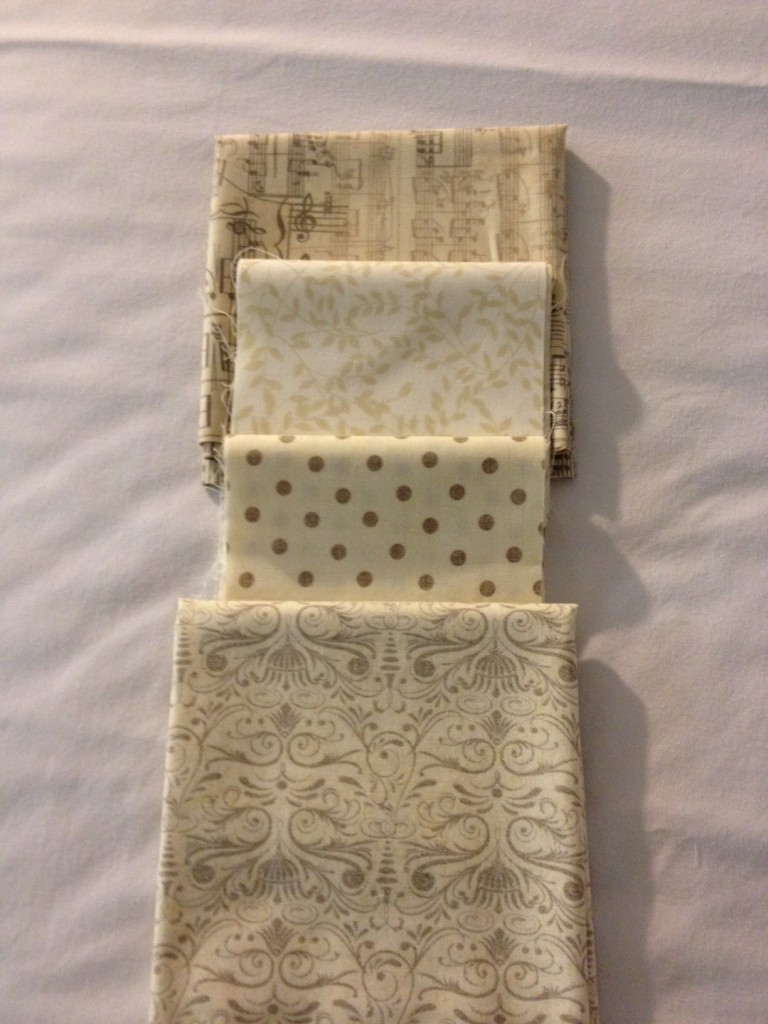 These are such pretty pieces and I love them with the blues and tans of the Lexington line.  Here are the blocks that I have thus far. As I have mentioned before, I lean toward the precise side (that actually is a bit of an understatement) so I've decided to sew some of the strips slightly wonky and try to enjoy the freedom that allows.  Not so bad to relax and accept a little intentionally crooked piecing! If nothing else, it is kind of freeing.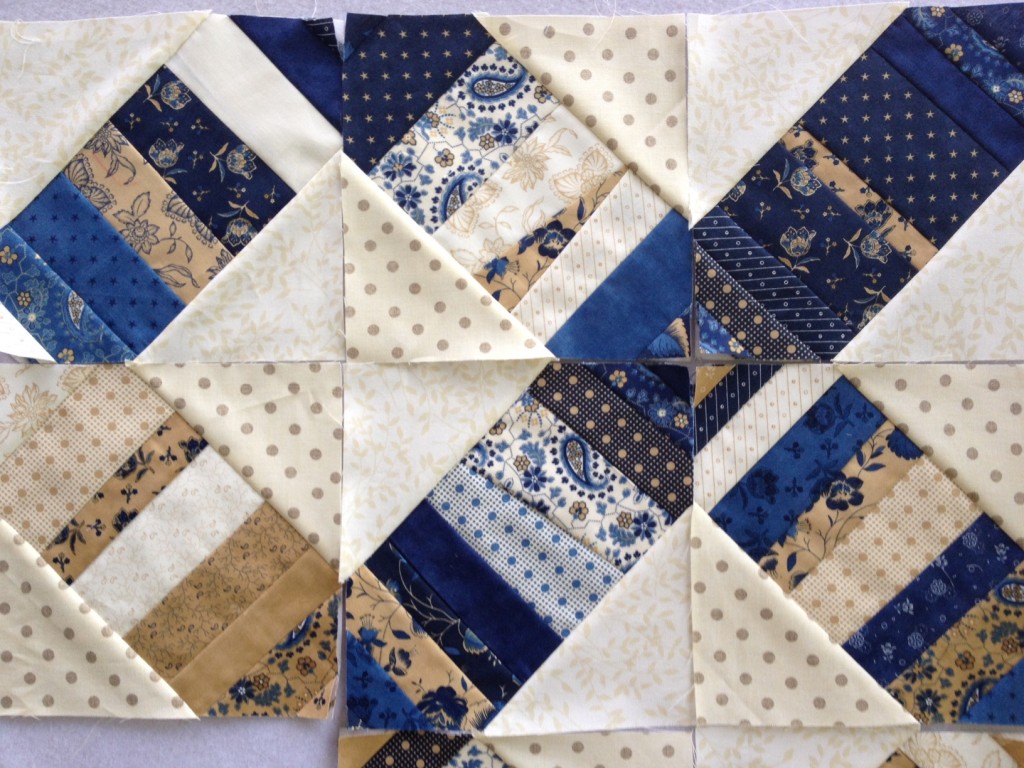 The blocks are fun to make – they require almost no concentration.  The only (small) downside is pressing the strips each time one is flipped over.  Usually I will sew one from each end, starting at the center so I can press two at a time.  Kind of a hassle to do the pressing.  Other than that, easy peasy.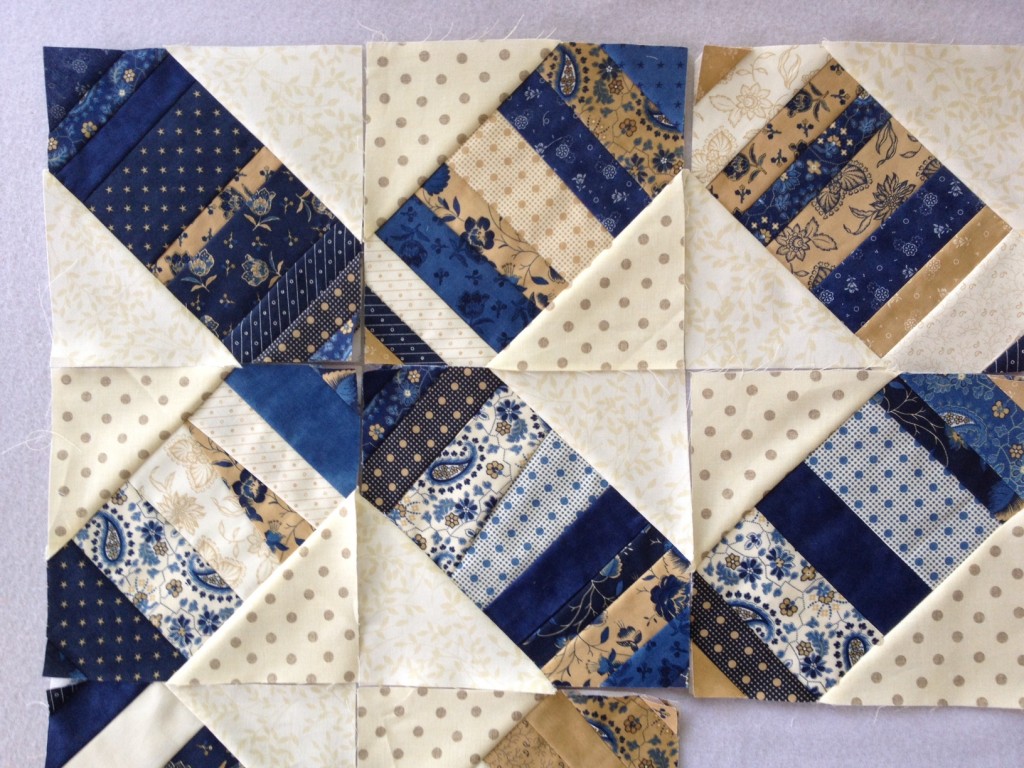 I am taking off this afternoon to go visit my son for a couple of days.  He just got his first job after graduating college so I am looking forward to hearing how things are going. I suspect I might be able to find a few local quilt shops during my travels! (a given, right?) Hope you are all enjoying your fabric craziness as much as I am.
Linking up with:
Marelize at Anything Goes Monday; Alyce at Blossom Heart Quilts, Connie at Freemotion by the River, Heather and Megan at Randi at Fabric Tuesday. How about with the lovely Lorna at Let's Bee Social?