Back in October my daughter told me her friend was wanting a new bathrobe. To which I replied (as you would I am sure) "Oh, well why don't I make one for him?" Any excuse to sew something, am I right? Anyway, Balam (her friend) was excited and even told me no one had ever made any clothing for him. I certainly didn't need to hear anymore than that.
A few weeks later, Balam and I met at Ben Franklin to choose a fabric. I had hoped for a thick terrycloth or a nice fleece. No luck finding either one. I steered Balam over to the flannels. You need to know Balam has some wild taste in clothing. He is often wearing really bright Hawaiian shirts. He and Julia like combing thrift stores for fun clothes and both of them usually have on some pretty crazy socks. When Balam spotted a section of tie-dyed flannels his eyes lit up. I tried to steer him over to the blue and green tie-dyed flannel but clearly it was far too subdued for him.
I have been calling this project the Coat of Many Colors or the Robe of Many Colors since I started working on it. I got home with the fabric and washed it with several color catchers and then dried it in a hot dryer. After cutting out the pieces, Julia and I were looking at it. It felt too thin for a bathrobe. With the one layer of flannel, it just didn't have a cozy feel to it. This was over Thanksgiving weekend. We hopped on-line to see what was on sale at Jo-Ann's. There was a teal blue flannel for $2.99 per yard and it was a great match. Score!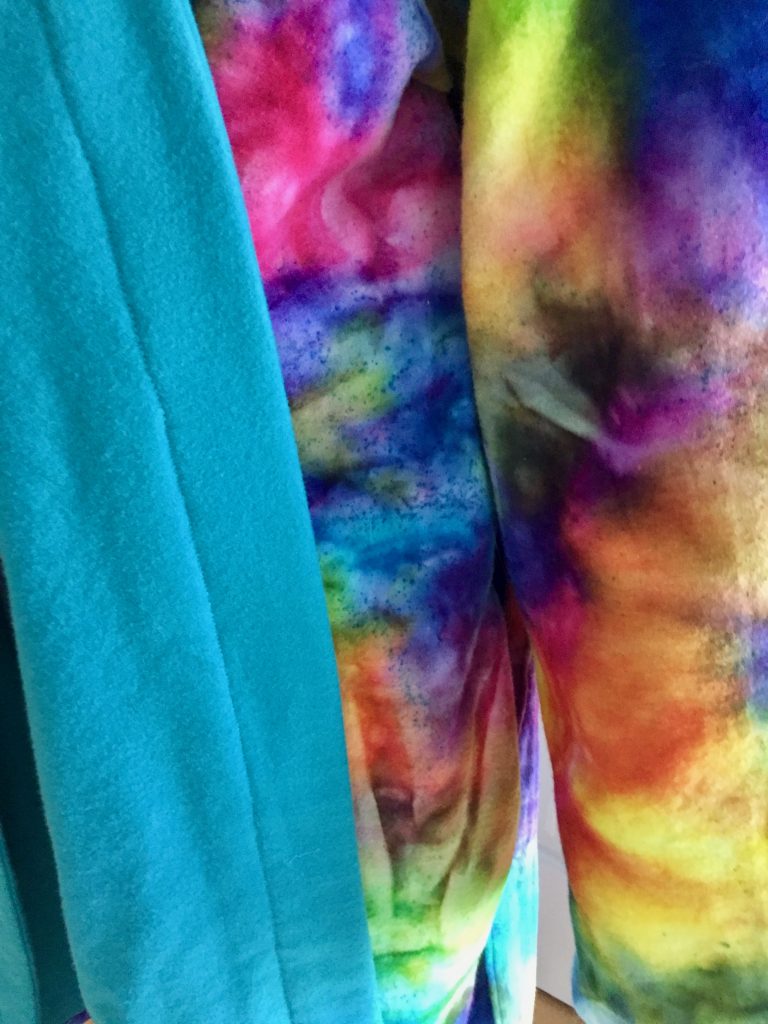 When the solid flannel arrived a few days later, I cut out the same set of pieces (front, back and sleeves). I had already constructed the outer portion with the tie-dyed fabric and now I put the blue lining together. It went together very quickly as this was a super easy pattern. Inserting the lining, wrong sides together with the outer fabric was simple. Then I carefully pinned the edges together along the neckline and all the way down the front opening. I top-stitched the outer robe and lining together at the shoulder seams to anchor everything. Then I ran a basting stitch around the entire open edges, up each side of the front and around the back of the neck.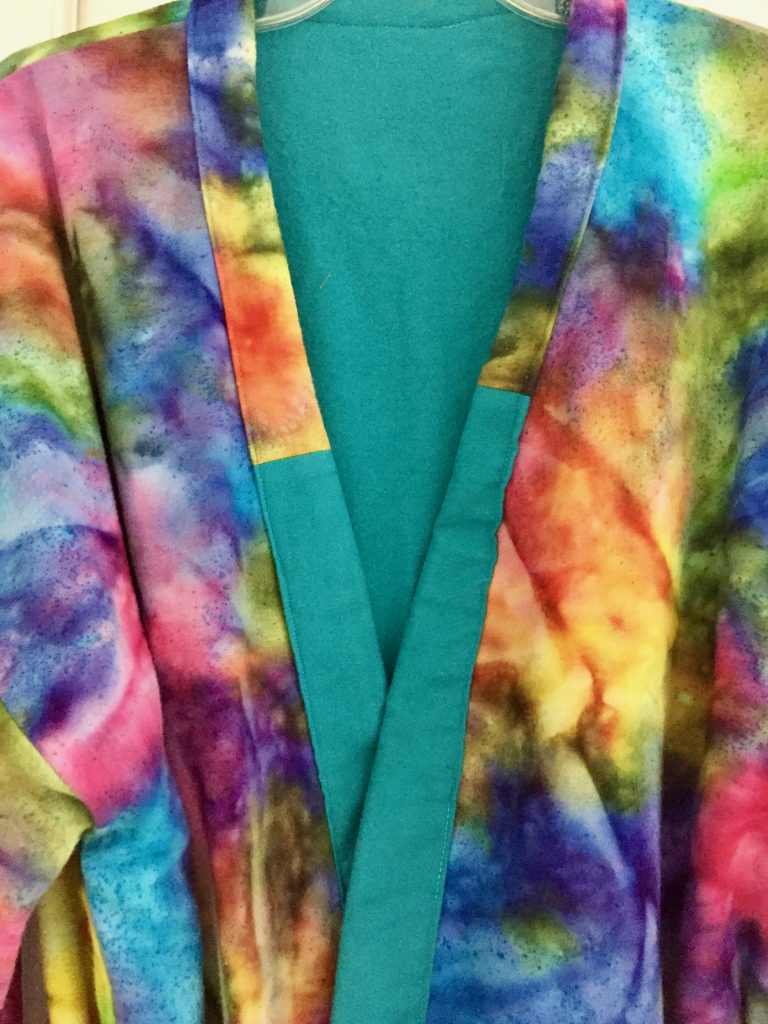 I was ready to finish the open edges in front when I realized I didn't have quite enough of either the teal fabric or the brightly colored fabric. So I used both. I put the bright portion around the back of the neck and slightly extending into the front. The rest was finished in teal.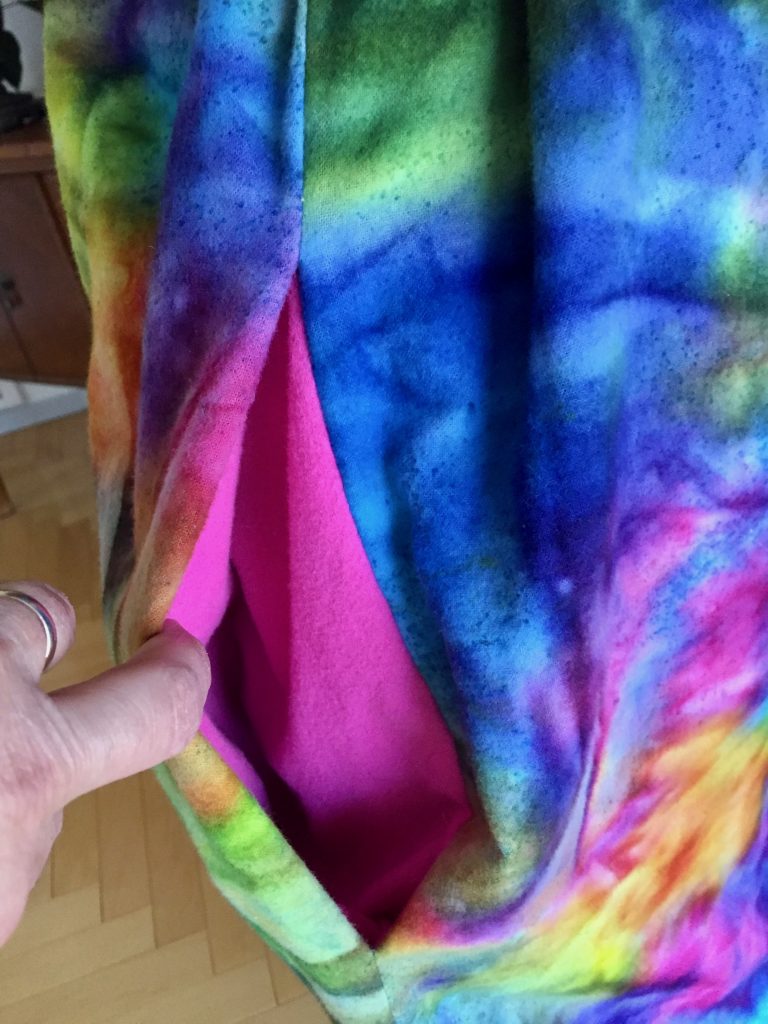 For fun, I used a hot pink flannel for the inner pockets, which Balam really liked. He was so appreciative when he received the robe yesterday. All smiles and he wore it over his jeans all the way through dinner. Isn't that the best?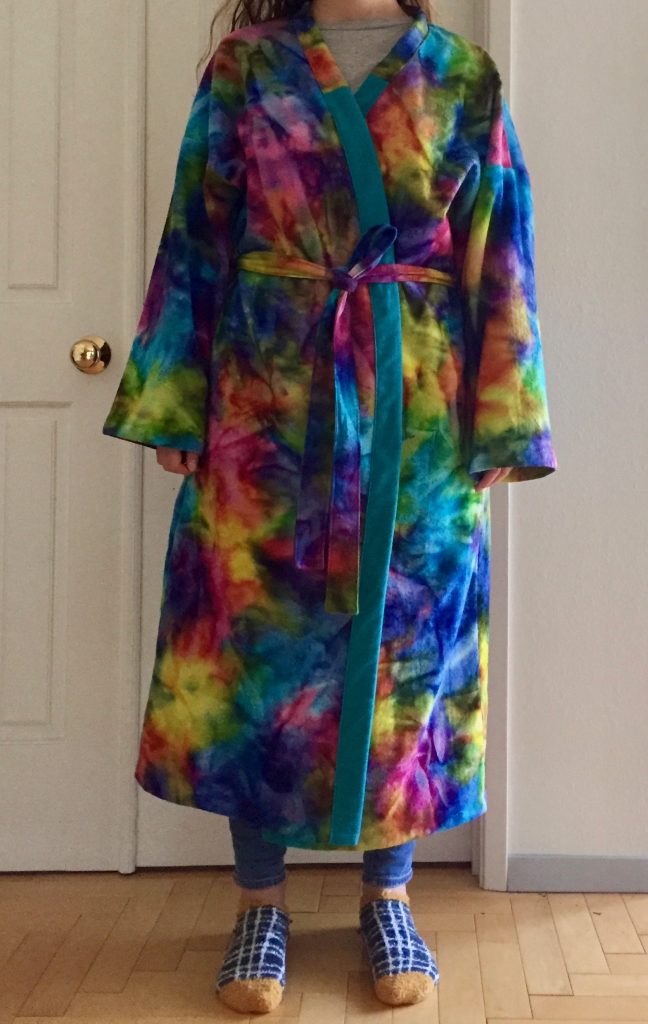 This was a super fun and very easy make. Balam is really happy with it which makes me so satisfied. Most likely this will be my last finish for 2019.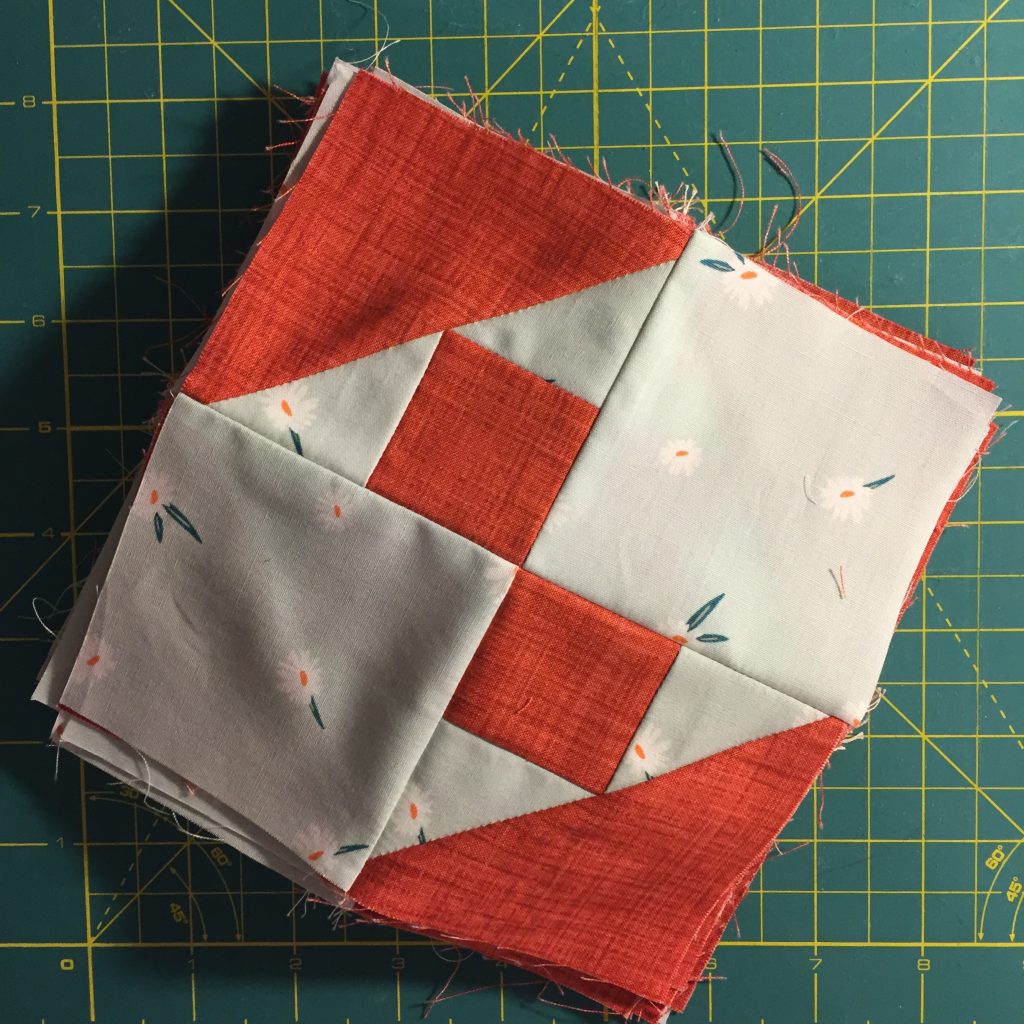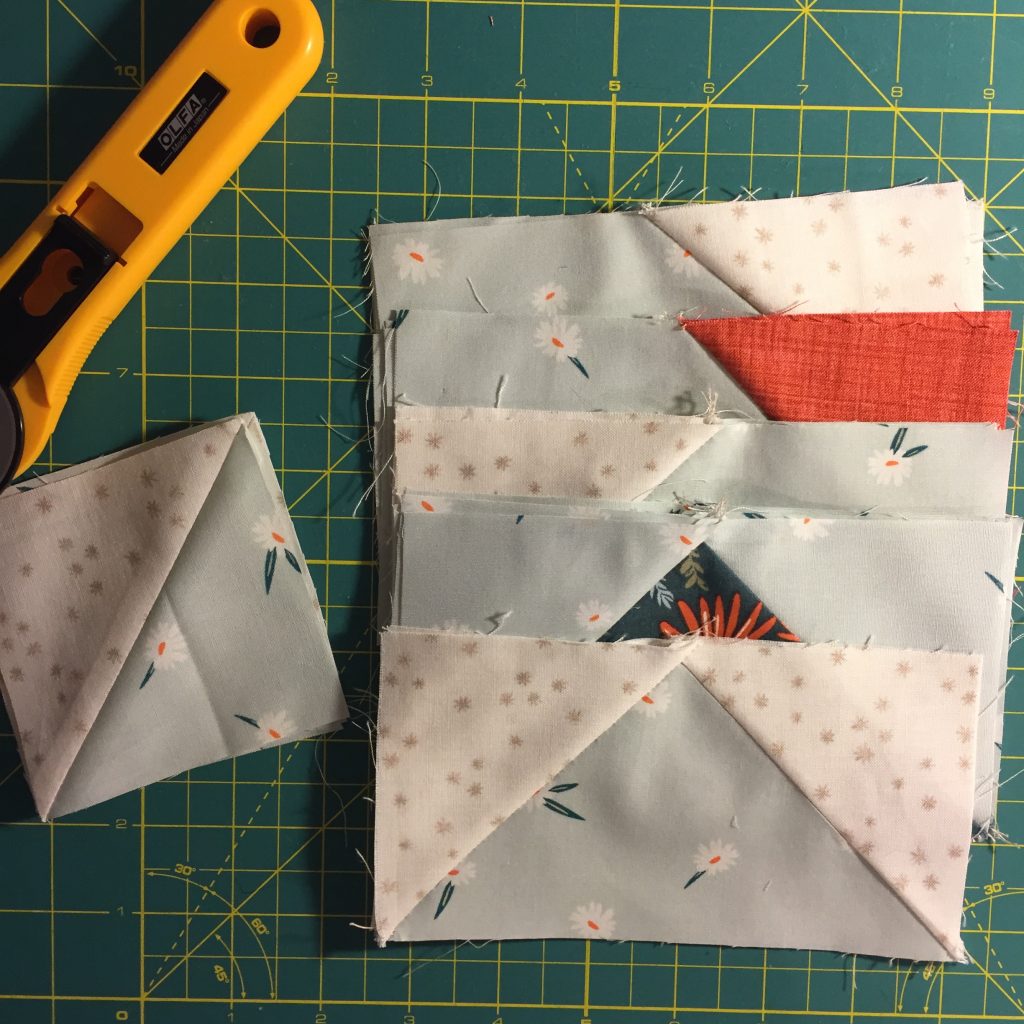 Today I worked to get caught up on my piecing for the Mosaic Mystery QAL. I have to say, I am tickled to have these finished up. For one reason or another, it seems like I rarely keep up with these quilt alongs. Because I was sick a lot in late November and early December, I fell way behind. But with a few nice, long sewing sessions, I am all caught up! Now I can begin piecing this quilt when the next set of instructions are released. WooHoo!!! Since I am on top of this QAL, I think I will go ahead and start the Push-Pull QAL with Quilting Jetgirl in January. I keep looking at fabrics for that one and haven't quite made up my mind yet. Decisions, decisions…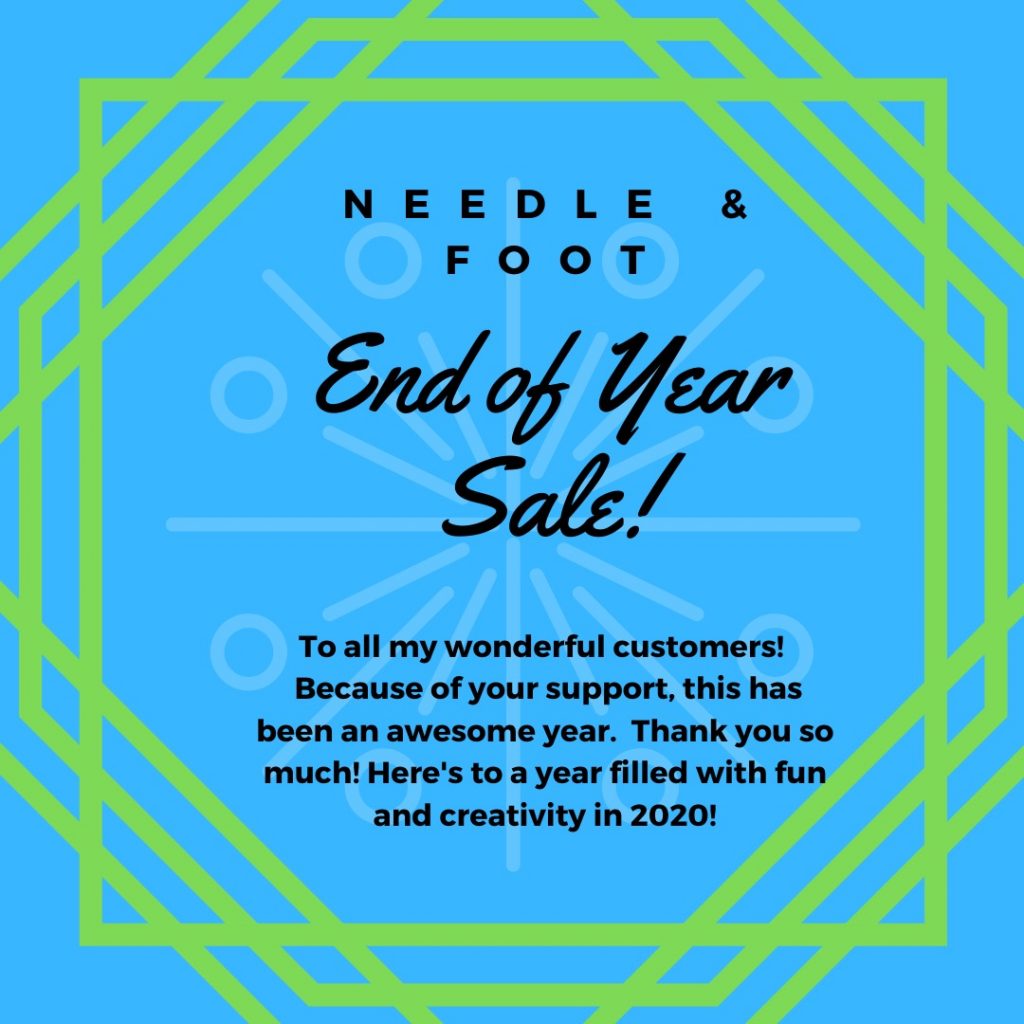 Here we are at the end of 2019! I would love to reduce the inventory in the shop for end of year and tax purposes! How about a huge sale? Just in case you are inclined to help me out with this??? For today and tomorrow only, 20% off all yardage! Even better, 50% off Clearance, Remnants, Bargains, Winter and Autumn fabric, and End of Bolt pieces. This is a sale not to be missed!
Happy New Year everyone! I am looking forward to all sorts of fun, creativity and quilting in 2020. How about you?