The topic of today's post is so exciting to me! I have mentioned many times before my difficulties with selecting color, choosing fabric pulls, and understanding the values of various colors. Over the last five years, I believe I have improved. When I look at quilts from some years back and those I have made recently, I see a larger variety in scale and value. But could I learn more or improve? You know it. Fabric selection and especially color palettes, make or break the quilt (in my opinion). It seems like this knowledge knowledge of color and placement is intuitive with many quilters but it isn't for me.
In order to improve my abilities, I have just purchased the upcoming Color Mixer class being put on by Creative Spark. When I saw this opportunity pop up in my email it seemed so perfect for me. The live event is on March 30, 2023. After the event, recordings of each talk will be available online for quilters and sewists who purchased a spot at the event. This means if you are unable to attend on the 30th, or cannot watch the entire event that day, it is forever available to you beginning April 2nd.
The keynote speaker for Color Mixer is Jean Wells, founder of the super popular Sister's Outdoor Quilt Show in Oregon each summer. Jean has written many books and is an extremely talented quilter. Honestly, hearing her speak was one of the main draws for me in buying a ticket for this event. Here is the panel of talented quilters who will be giving talks on various subject revolving around color. The collective wealth of talent here is amazing.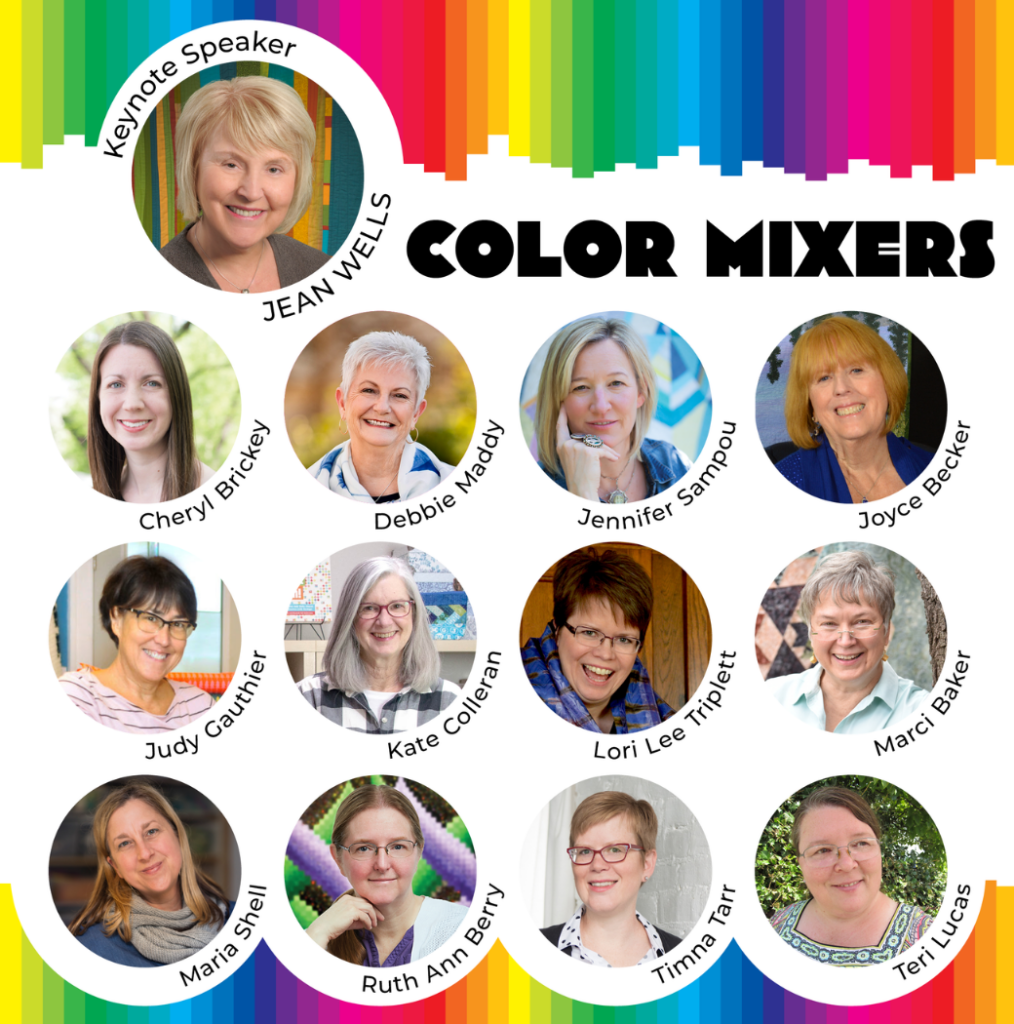 There is a tremendous amount of knowledge to be gained by listening to classes given by the quilters on this panel. If you would like to read the specifics about the talk each of these quilters will be giving, click here.
To explain the event a bit further, the live event lasts four hours on the 30th. There will be break out sessions with several talks scheduled for each time. You'll choose those you want to listen to on the 30th and then when the recorded event is uploaded on or after April 2nd, you can catch up and listen to the rest of the talks. For me, I am most looking forward to listening to Marci Baker, Debbie Maddy, Jennifer Sampou, Cheryl Brickey and Maria Shell. But each of the speakers offers something interesting and helpful. If taking an online class is unfamiliar to you, I wouldn't worry too much. Creative Spark has great support throughout the event and will be helping attendees get to the class they want.
Here is the schedule of events –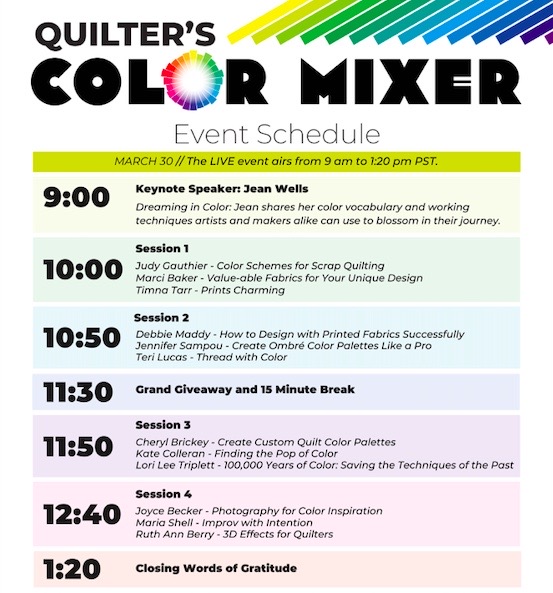 Quilt classes are a lot of fun and I have taken some that I really enjoy. But I am not one to go to any of the really big quilt shows (think QuiltCon) due to the cost of these events and the fact that I truly dislike crowds. This is our chance to hear some of the same designers and teachers who teach at the bigger shows for a really reasonable price and from the comfort of your home. This is my kind of event!!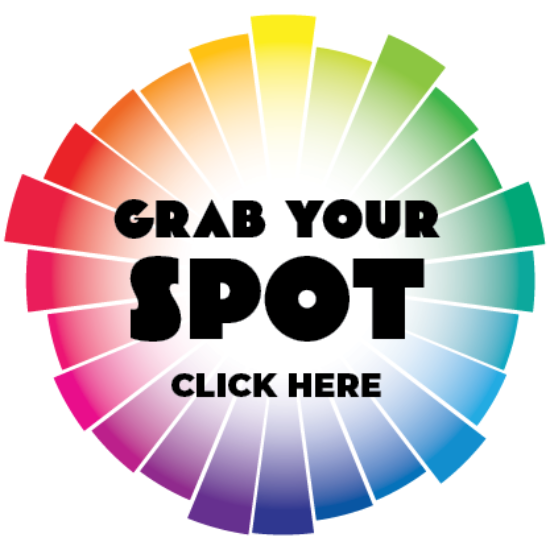 No event is complete without a swag bag and prizes. There is a grand prize which each student is entered into the drawing for. Also a (virtual) swag bag is provided to each attendant. Fun stuff!
Hope you will join me in attending these classes! If you click here or on the color wheel above, you will receive a discounted price of $29.99 for the event. Are you as excited as I am? Let me know which instructor you would most enjoy learning from in the comments below!
**************************************************
(Likely, you already know this but I am an affiliate and thus will receive a small payment for each person signing up through my post. This happens at no expense to you.)