With the onset of the pandemic and especially when everything shut down, my shop went nuts. It took me by surprise, never having owned an on-line business during a pandemic before. (Who knew??). Anyway, I was happy to provide fabric to the many, many people making masks as well as quilters who were not able to physically go into their LQS. As a result of this increase though, I was really busy and had almost no time to sew.
Things have changed and many people are venturing into brick and mortar shops (which is good for the shop owners, as long as people are being careful and masking up.) I think the frenetic mask making has slowed down a tiny bit as well. Thus my shop has gone back to a more realistic level of sales for one person to handle. What does this mean? More time to sew!! Hurray.
This week I had the opportunity to learn to use my friend Sophia's Baby Lock Tiara sit down quilter. It is a dream. The wide throat is incredible and it sews with a nice even stitch. So much easier than using my Janome (which while it has a bigger throat, is getting old and tired) for FMQ.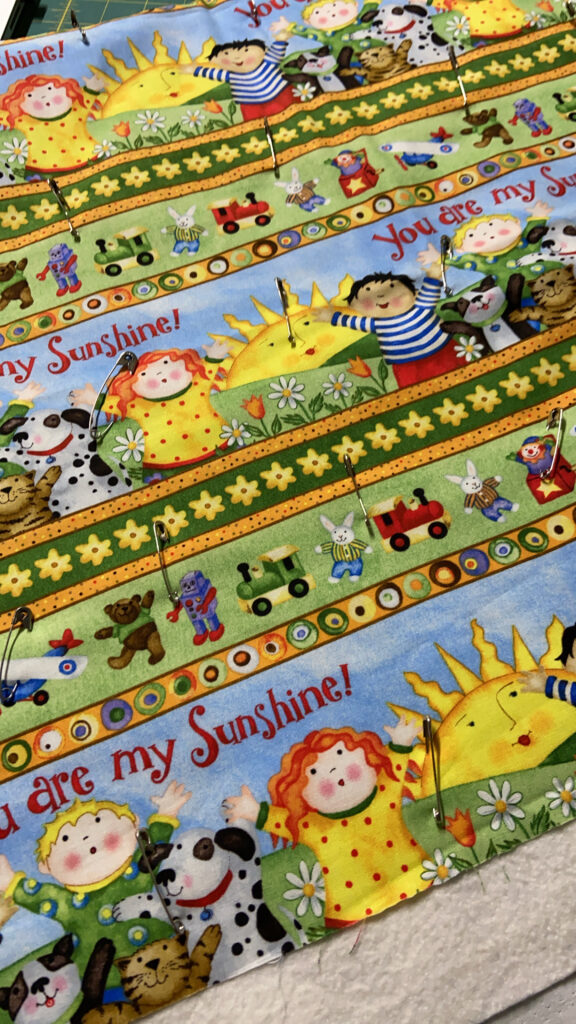 When I wanted to first try it, I decided to just bring a piece of cloth over – I wasn't sure how successful I would be and didn't want to bring anything I had pieced. I have had a yard of this cute fabric sitting on the shelf for a good 4 or 5 years. I am sure it was a border print made for a panel but I think it is adorable. I used to sing this song to my kids when putting them to bed and now I love hearing my son sing it to his girls.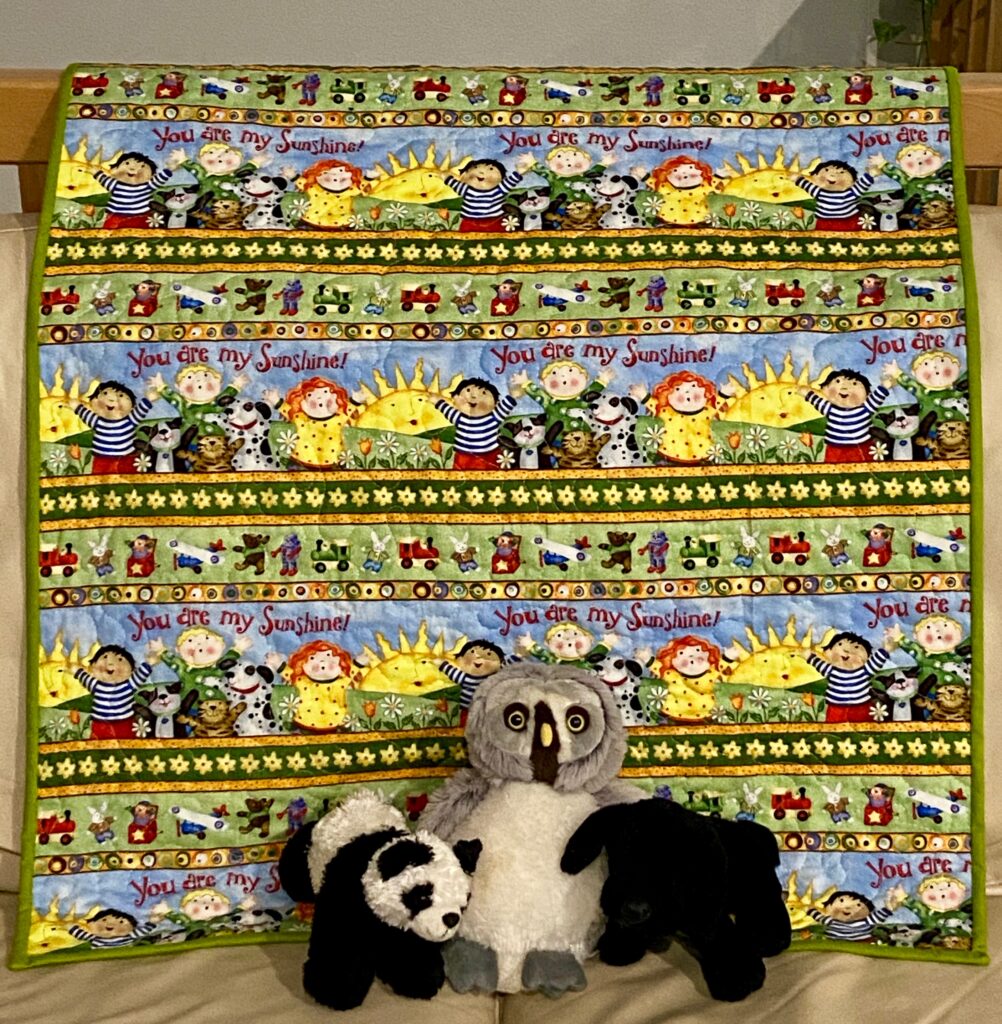 I decided to use it as a whole cloth baby quilt for donation. To practice with Sophia's machine, I just stippled this. It was so fun and so incredibly quick. It took (almost) as long to pin baste it as to quilt it.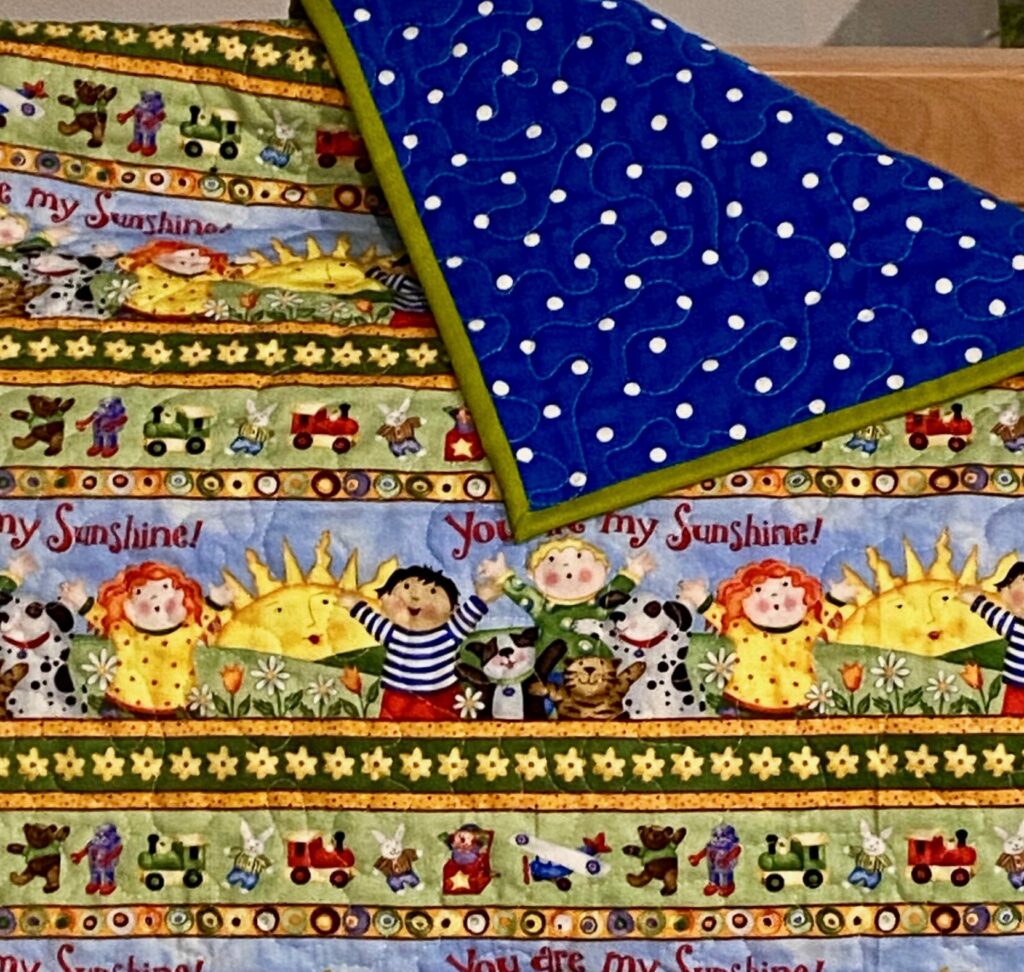 The bold blue polka dots on the back are really cute. You can see the stippling a bit better on the back side. I used an off-white thread which doesn't really show on the front.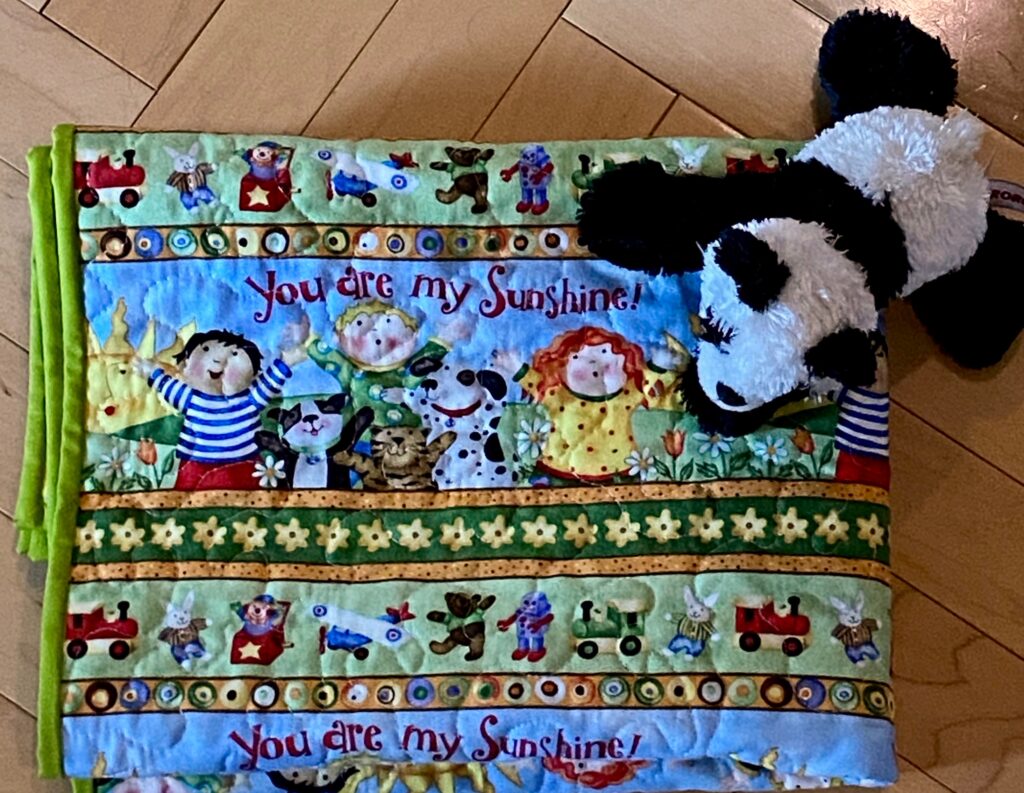 Now there is a cute baby quilt ready for donation and I have a little practice under my belt with the Tiara machine. It is rather tiny in size (30 x 36″) so I will need to see which organizations can utilize a quilt of this size.
So that is a (small finish for me! Used a little bit of fabric off the shelf, learned to use a cool machine and have a donation ready for someone! My next project with the machine will be the jelly roll quilt I recently pieced. I am looking forward to getting some tops finished up! 🙂
Updating to add:
Linking at the following –