As many of you know, this month is a busy one for quilters participating in Hands2Help 2019 making donation quilts. This wonderful event is sponsored annually by Sarah of Confessions of a Fabric Addict. She coordinates the donations of hundreds of quilts to several organizations. This year Mercyful Quilts is one of the very fortunate recipients of these quilts.
Last month I received a number of gorgeous quilts. Some I shared on Instagram but haven't shared them on the blog. I want to be sure everyone gets a chance to see the amazing works of art that have been donated to Mercy Hospital. I can't show all of them because that would make for a very long post. But here are some that have arrived recently. (Just in case you are new to my blog, please read about the Mercyful Quilt drive posts – click here and here to get the general info on this project.)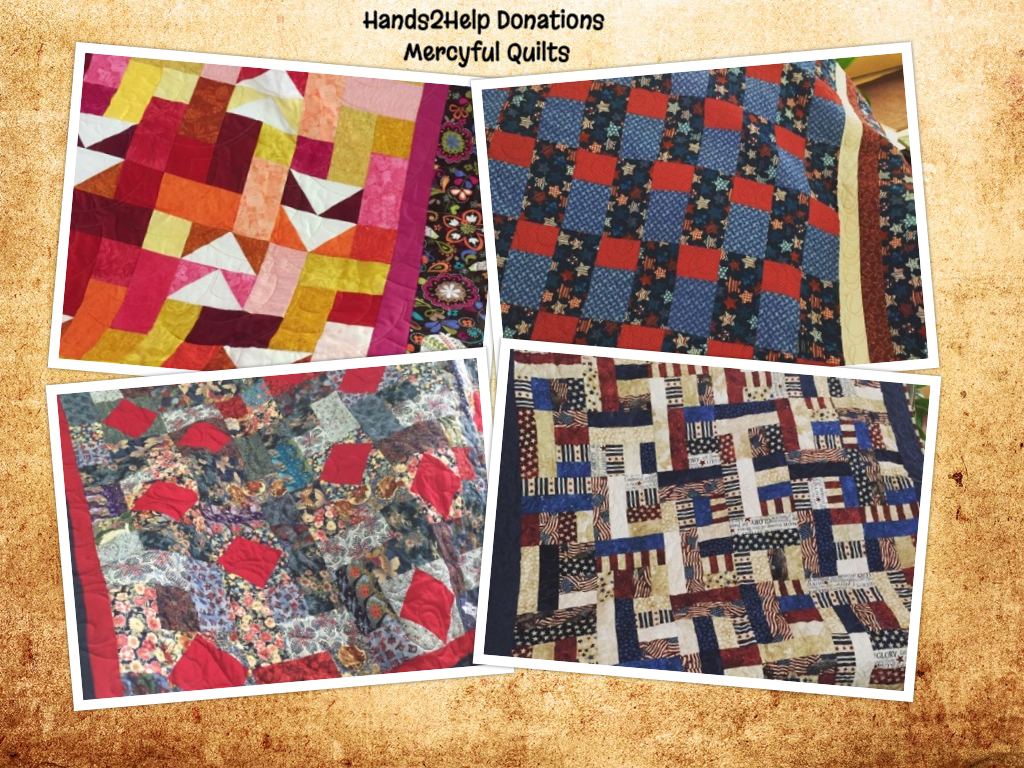 It is fun to be the person receiving these quilts. I love seeing everyone's work – so many fun colors, patterns, pretty fabrics, beautiful quilting. Really, I am so fortunate to be the organizer of this project. It is like Christmas when the UPS truck drives up the driveway!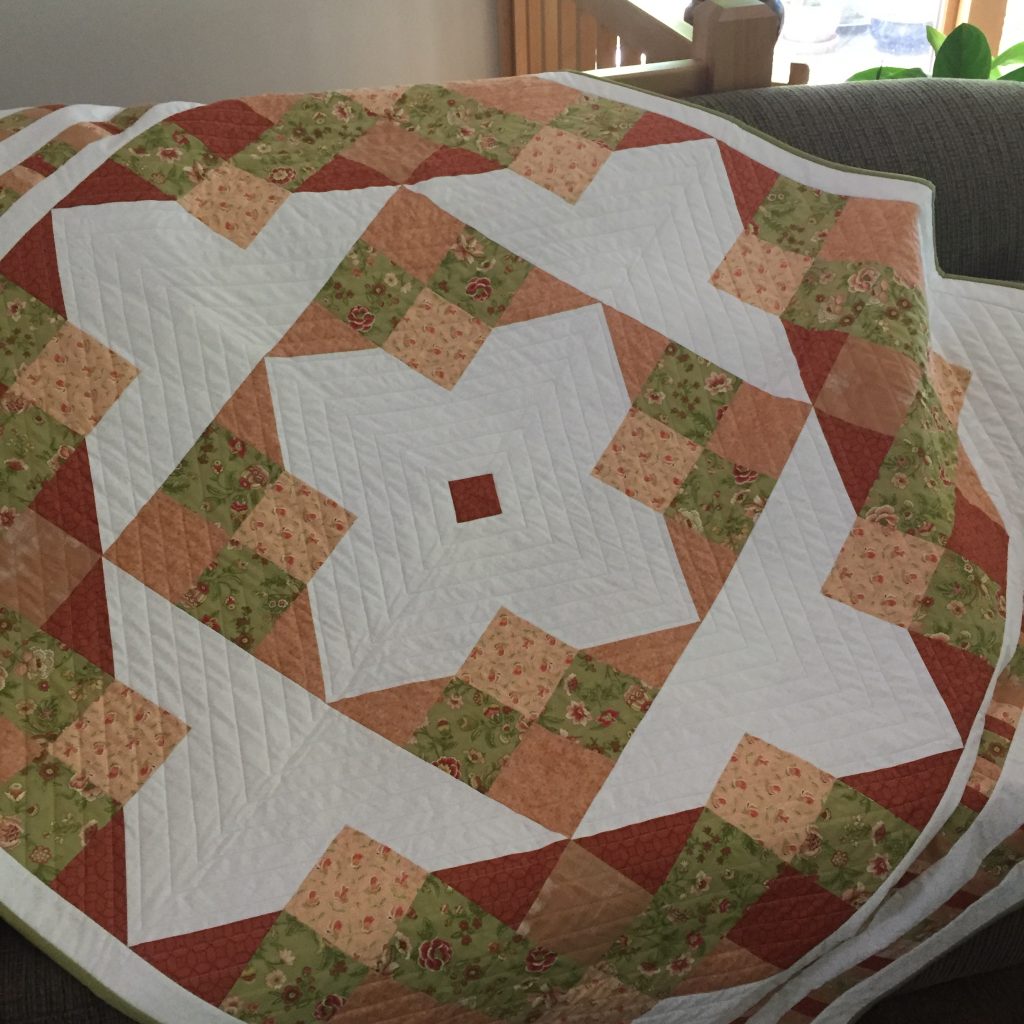 Each one is so unique and all of them are beautifully made.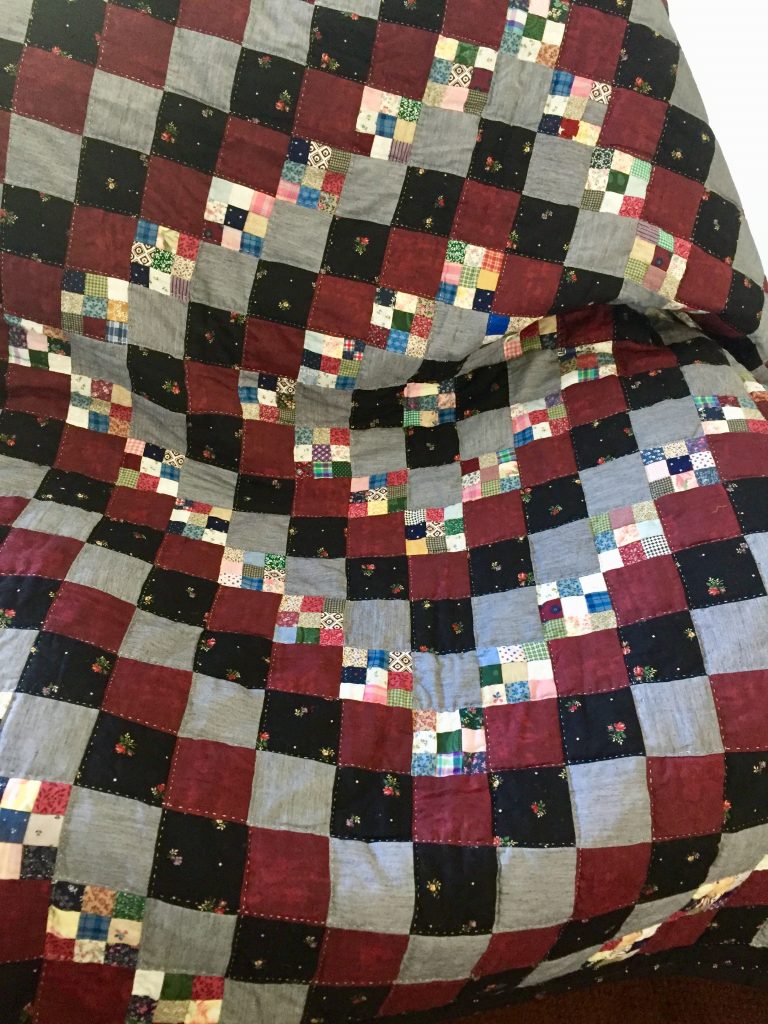 This quilt was completely hand quilted. I was so surprised! What a treasure.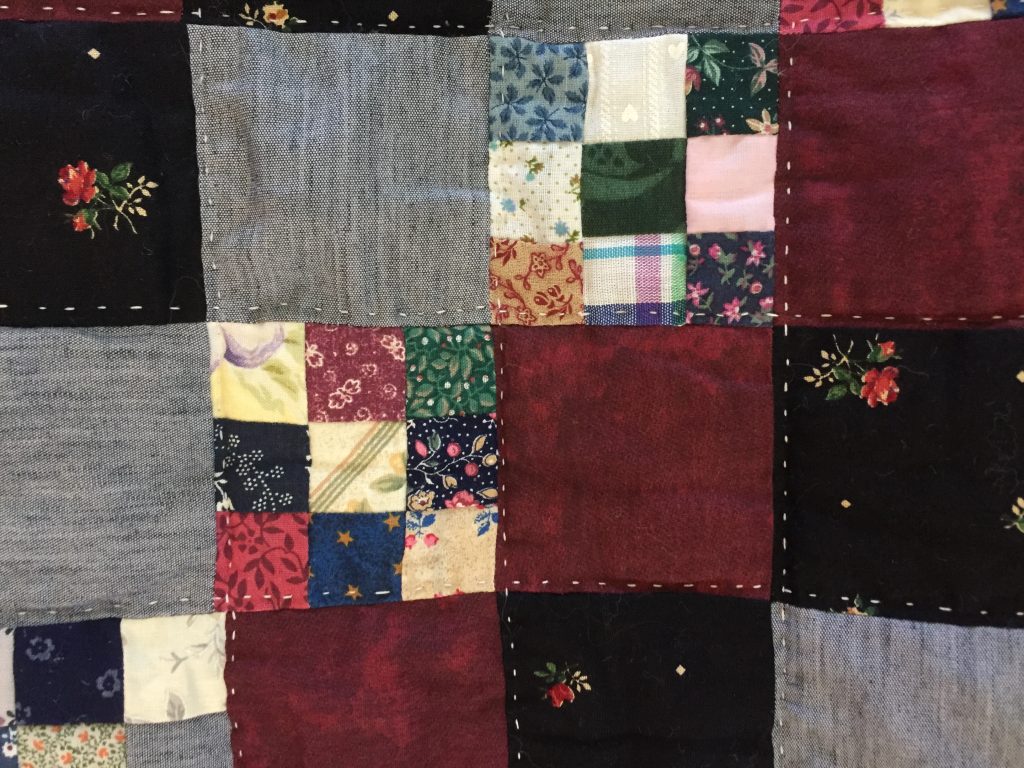 So many stitches went into this. It is lovely!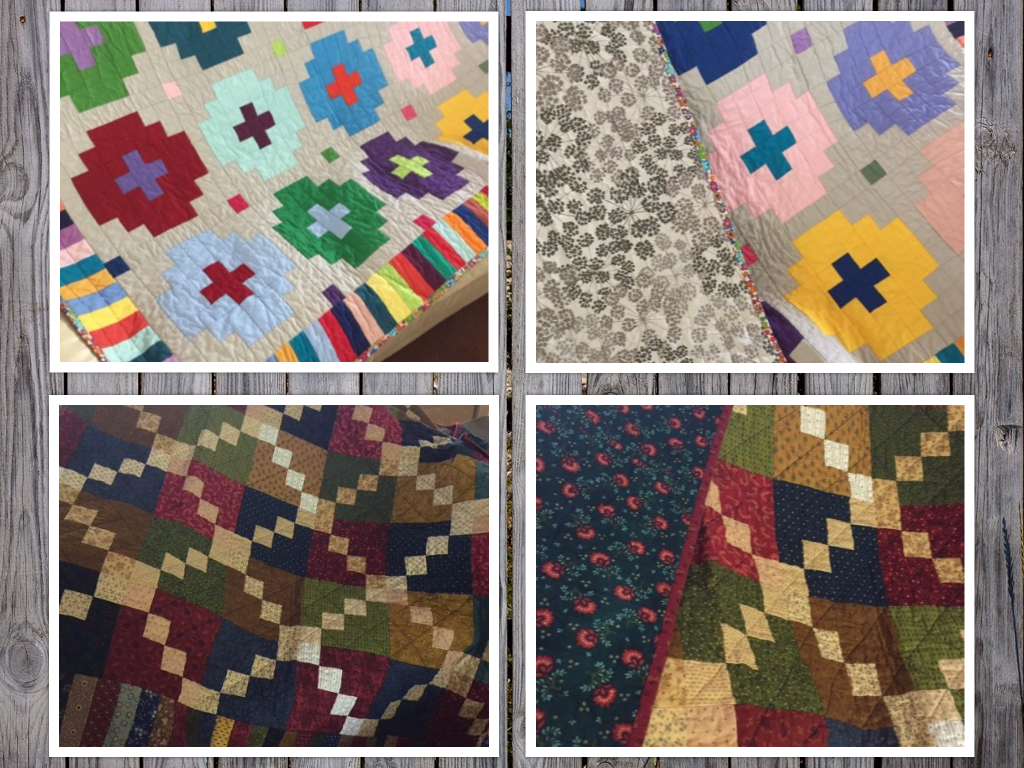 Both of the quilts shown above came from the same quilter. I appreciate her choice to make one more traditional with colors that would appeal to a man or woman. The other quilt with the rainbow of modern blocks and the piano key border is striking and very different. When families choose from all of the quilts it is nice to have a selection to select from. I hope they pick one that is somehow representative of the loss they are dealing with. Maybe that will bring an extra level of comfort to the family.
Not all quilts come via the UPS truck. Yesterday I had the pleasure of meeting up with a quilter from the Sacramento area. She emailed me to see if I had any plans to be in the area so she could give me the quilts personally. Heck yes! Any excuse to meet another quilter and have a cup of coffee with her.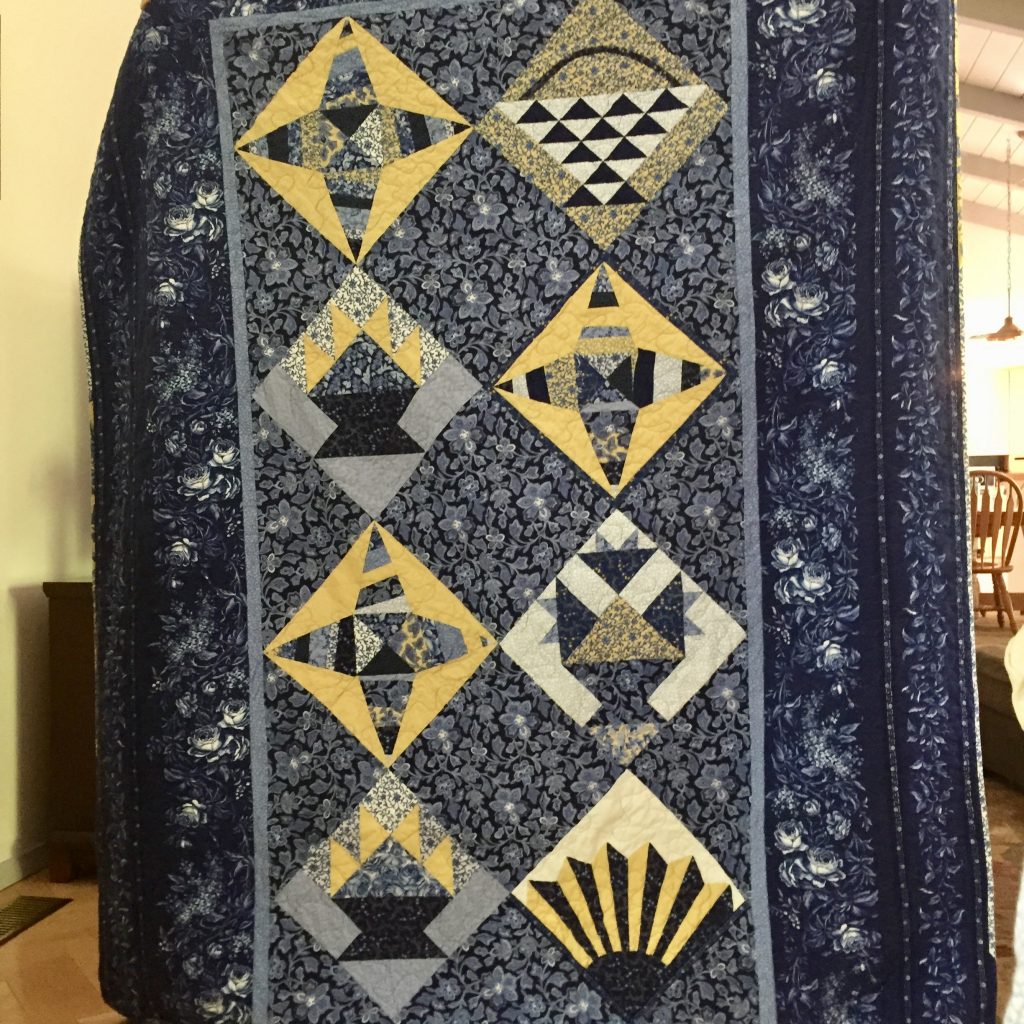 Karrin blogs over at Karrin's Crazy World and she donated three pretty quilts. Two are blue and yellow which is a fantastic color combination. The third one is a patriotic quilt which might just suit the family of a veteran. I am so happy to have these three quilts to add to the stack. The photos taken indoors don't do them justice – the colors are more vibrant than shown.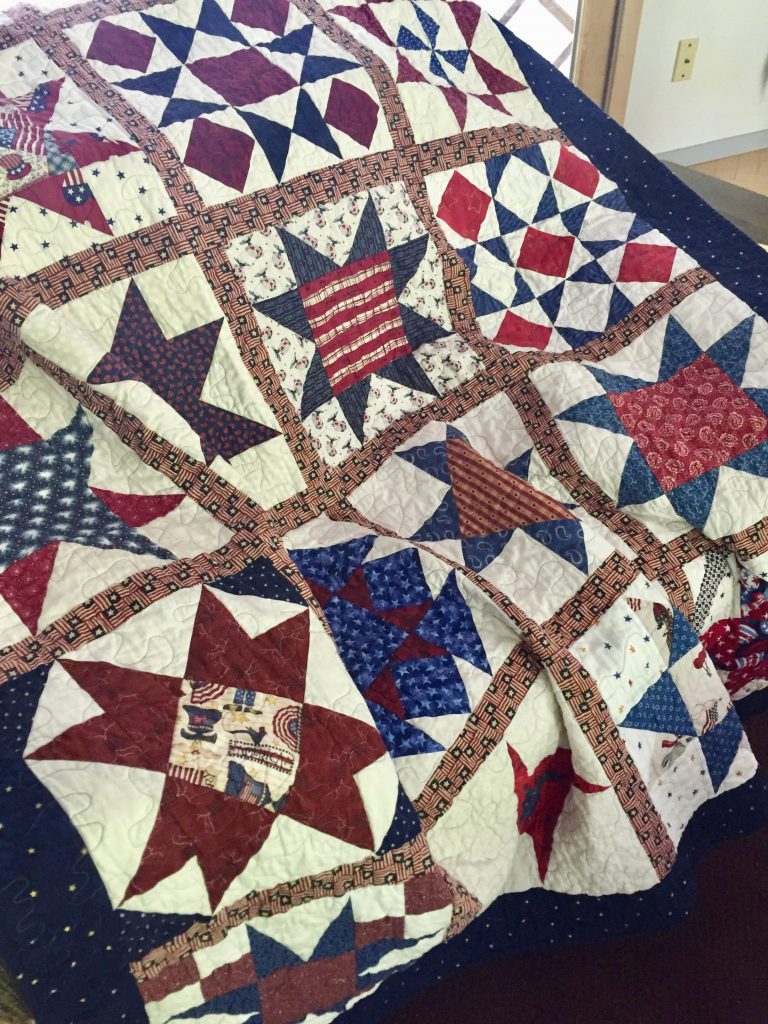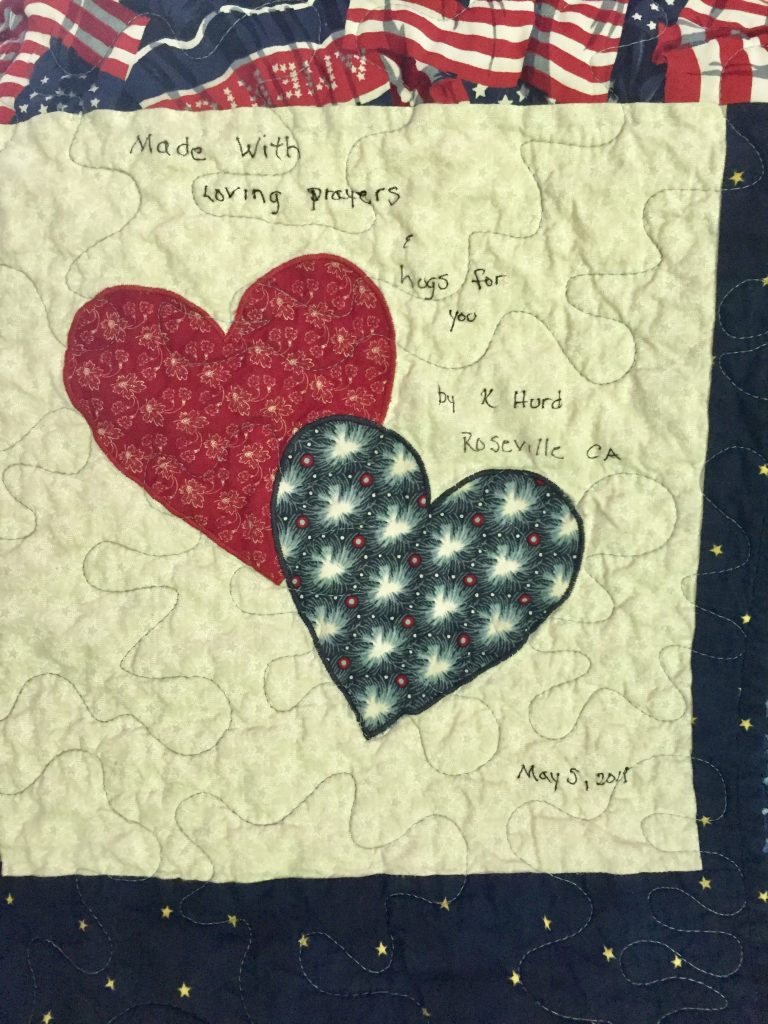 Karrin and I had a nice long visit – Isn't it crazy how two quilters who have never met can just sit down and start up a conversation? It comes easily and we really enjoyed ourselves. Karrin, I hope we can meet again to talk fabric, stippling, color preferences, batting and life in general! What a fun trip to Starbucks.
I am grateful for all of the quilts received thus far. I know more are on the way. Please know that once the Hands2Help event ends, the need for Mercyful quilts does not! I am happy to take quilts any time you want to donate one. The palliative care team over at Mercy Hospital is truly appreciative of these beautiful gifts you are making and sending to them. Thank you, thank you, thank you!