Welcome to the fourth installment of Meet the Designer. I began writing this series of posts in February. So far, we have gotten to know Sarah Golden, Maureen Cracknell and Kim Schaefer.  I feel incredibly fortunate to have gotten to know these talented designers.
This month I chatted with Sharon Holland. Sharon is a designer with Art Gallery Fabrics whose fabrics are a mix of muted florals, leaf and vine motifs, and nautical themed prints among others.  While each of Sharon's five fabric lines are different and unique, there is a definite common thread of personality connecting each to the other.
When Sharon and I spoke, we talked about how we each began quilting, way back when.  Sharon grew up as one of three children. Both of her parents were quite creative. Her father was an electrical engineer who had some very artistic hobbies. He was a woodworker, loved drawing and drafting, and also enjoyed gardening.  Her mother was a stay at home mom who was often knitting, sewing, and crocheting. She was able to draft patterns (which is something I very much admire) and made her clothes as well as clothes for the children. Clearly, Sharon grew up in a household where making things was a favorite past time.
However, neither her mom or her grandmother quilted. Sharon was in high school when she decided to try quilting. Going through her mother's fabric scrap box and looking at the various prints was intriguing to Sharon. She decided she would make a patchwork pillow. She selected her fabrics and hand stitched the squares into a patchwork, often using stripes to create patterns. She made the patchwork into a pillow cover. Not long after, while in college, Sharon was married. At around 20 years old, or so, she decided to make a quilt. Checking books out of the library and reading up on the process, she made a queen size quilt with a rather complicated block. She couldn't remember the name of the block but definitely remembered the pesky Y seams that were involved. When she described finishing her quilt with an envelope style backing (no binding required!) and yarn tying the blocks, I had to laugh. That is exactly how I finished my first quilt back in 1979. I had no idea about binding and the idea of actually quilting it was daunting so I yarn tied it. Sharon has been quilting ever since.
I think one of the things I enjoy about Sharon is the scope of her talents. She writes, paints, draws, designs fabric, quilts, sews clothing, and drafts patterns.  She seems to approach new ideas and experiences with gusto. After graduating from college with a BA in Art and Design she found herself raising her family in Coal City, Illinois. Around this time she began upcycling retro or vintage objects and selling them at an antique mall.  Some years later the family moved to Ohio when her husband's job took them there. She continued to pursue creative outlets which lead her to take some classes at the local community college to learn to use software for desktop publishing and printing. Her love of fabric and her newly learned computer software skills enabled her to start playing with surface  designs and block printing. She designed four lines of fabric for Fabri-Quilt as well as several quilts for various quilting magazines.  Following this she was hired by Valu-Publishing to bring two magazines to print. As the Assistant Editor, Graphic Designer and Photographer, she was instrumental in developing Quilt It…Today and Sew It…Today to the customer.  This experience developed her skills in fabric design as well as graphic design.  The perfect combo!  Leaving the magazines, Sharon decided she really wanted to design for Art Gallery Fabric.  She developed a portfolio and made an appointment with AGF owner and designer, Pat Bravo, to meet at the 2014 Spring Quilt Market. (How scary and exciting that must have been to put herself out there like that!!)  Pat was very pleased with Sharon's work and hired her on the spot!
This brings us to Sharon's current work! She has completed five lines of fabric for Art Gallery Fabrics over the past several years. Her fabric collection is a beautiful compilations, each incorporating gorgeous color schemes with nature, coming together to tell a story. Her newest line is Bountiful.
I enjoyed hearing about the process Sharon goes through when working on a new line. She explained deciding on the theme, or the story, the fabrics will tell is the first step in her design process.  For example, her latest line, Bountiful, tells the story of living in the mid-west.  I remember when I was looking at this line when it released a few months ago I had not yet read about Sharon's intent. However I knew right away the collection was a depiction of rural life in America.  When I ordered the selection I offer in my shop, I loved the nostalgic mood of these fabrics. Perennial Optimism, a main focus fabric, is a gorgeous floral that is reminiscent of the vintage sheets I enjoy collecting. Tartan Field Midnight reminded me of looking down over the Sacramento Valley whenever I am flying home from a trip. The organized squares of farmland are perfectly represented in this print.  Hearing her explanation of the inspiration for this line confirmed my thoughts. What a lovely way to tell the story of life in the mid-west.
Each fabric from a collection is treated as an art project of its own . When she was drawing the pattern for Tartan Field, it took her about five iterations before she got to a version she loved. She came up with the idea for this print while flying home from a Quilt Market show. Creating Perennial Optimism, Sharon said she was channeling her love of artist, Vera Neumann. This makes total sense when I look at Vera's work and Sharon's Perennial Optimism print as they are quite similar in style and mood. To created Haymow, she cut a wood block to the shape she liked, printed the pattern and uploaded it to the computer for further manipulations.
Finally the Aborescent piece, a combination of leaves and flowers, was made with some leaves she picked up while walking her dog. She took the leaves and painted them to make prints. These were uploaded and manipulated on the computer to the finished version we see. It was really interesting to learn that Sharon first works on the inspiration or story behind her line. As she creates the designs for the fabrics to tell her story, she is working in black and white at first. Color is not important when she is developing the initial designs. The process of determining the scale and the repeats in the print are treated as a puzzle. She enjoys working out these details in the design process.
We talked a bit about all five of her lines. She, like many designers, could not name a favorite. She said she usually favors the line she is currently working on and considers each line to be it's own unique experience.  I mentioned how easy it was to mix her fabric lines together because many of the colors are shared between lines.  She said she usually tries to pull a few colors from the previous line forward into the new line so people can mix them. I really appreciate this as we so often purchase a number of pieces (if not all of them) from a line. After using them we have leftovers, right? It is great to continue to use them with the next line. Curiously, Sharon also mentioned that she is working on a new line (hopefully it will release at the end of the year or the first of 2018) where she is pushing herself to work with colors that are outside her norm. If you are familiar with her fabrics, you will remember she often uses muted tones with lots of blues, greens, and pinks. I cannot wait to see what comes with the next line.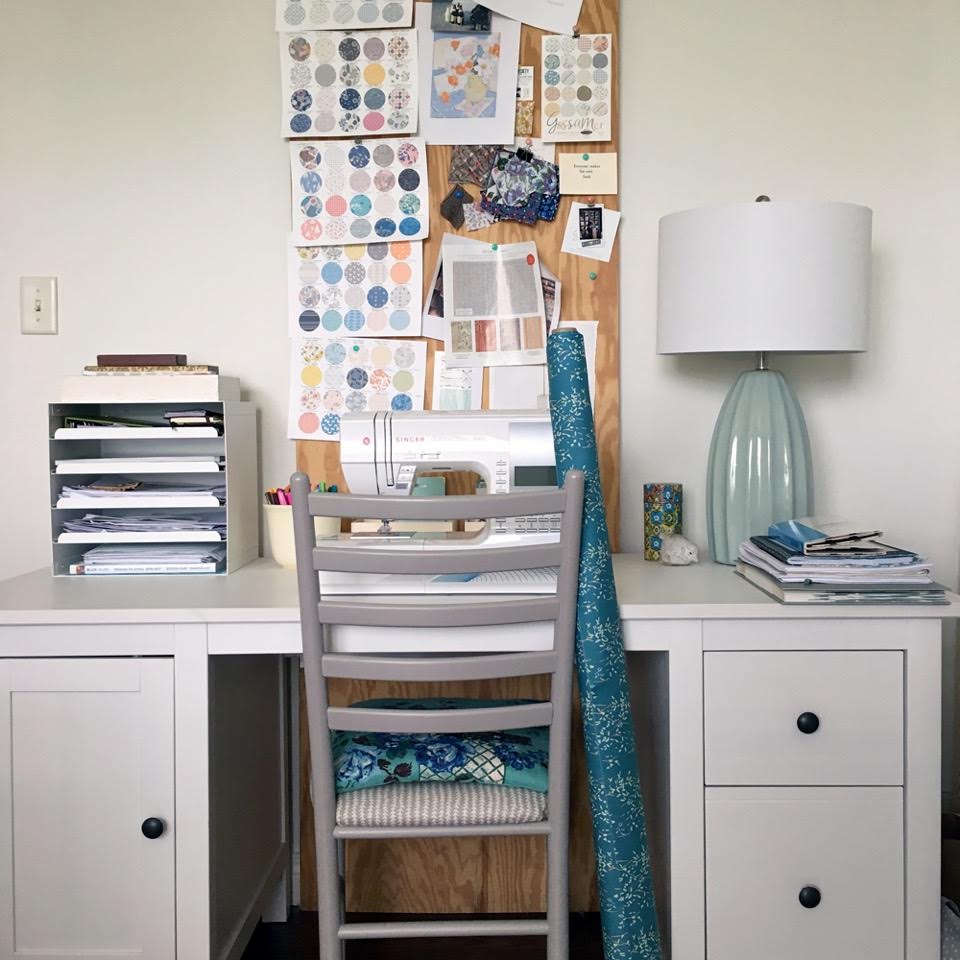 Each time I interview a prolific artist I am impressed by the amount of work produced. So much effort goes into developing a fabric line, from the first ideas, to creating each design, working with the colors, telling the story.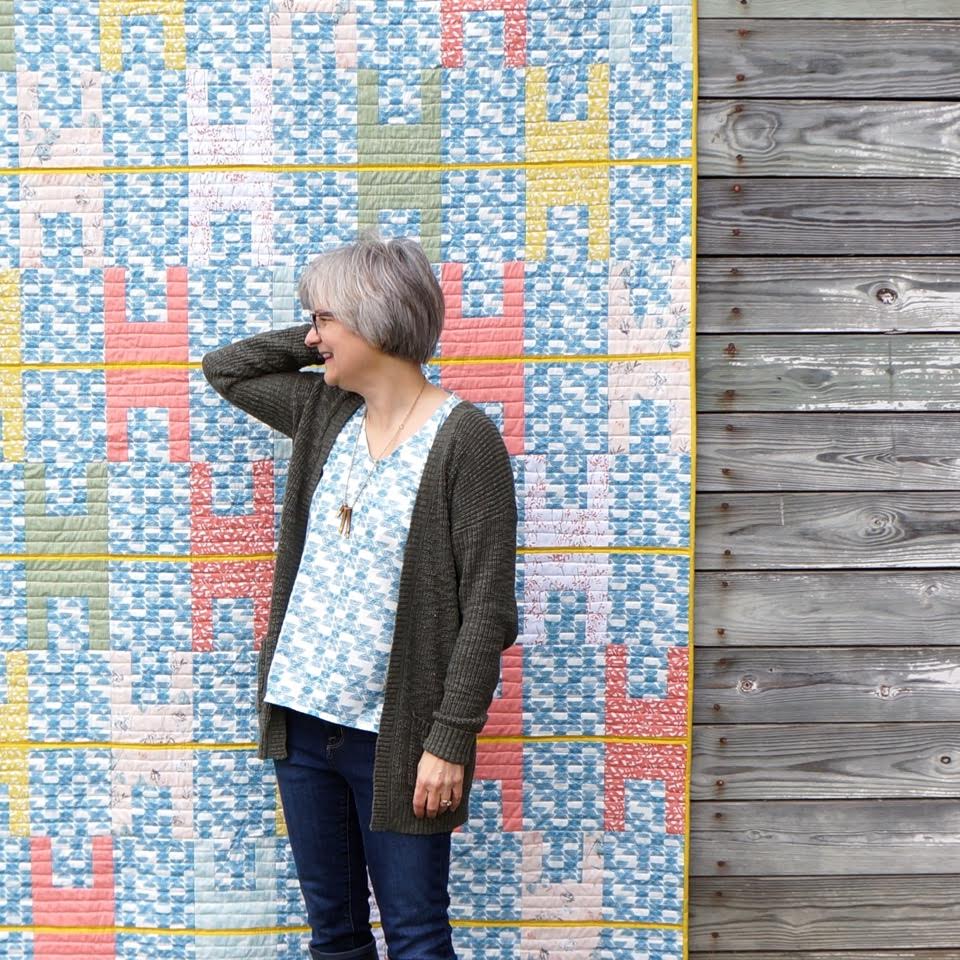 Once the fabric is created, there is the promotion of the line – samples to be made, social media to interact with, trade shows to attend. Asking Sharon how she manages all of this, she told me she has to focus on one thing at a time. She doesn't multi-task when she is creating something.  This makes sense and it clearly leads to a lovely result for her. She only maintains a presence on her blog and Instagram. There just isn't enough time for too many social media platforms.
We talked at length about the effects of increased usage of social media. It is difficult to have this barrage of images of all of these wonderful creations without feeling somewhat disillusioned by it all. Does that ring true for you? There are times I come away from Instagram thinking my work is sub-par after looking at so many amazing quilts;  such gorgeous artistic work made by others. Sharon's take on this is to use social media less often.  In order to stay focused on your project, leave the phone or tablet alone while you are making. It is all to easy to derail the creative process with the abundance of imagery out there.  Each of us is in our own place creatively and to compare our work with that of others can defeating. She (wisely) suggests each of us "own and experience our individual creativity". She admits to sometimes overusing social media and refers to it as "feeding the monster".  All things in moderation, right?
I am one of many people who claim 'I am not an artist because I cannot draw'. When I said this to Sharon she was very kind and encouraging. She has a degree in art but said as a young girl she was not one who could draw beautifully. However her sister was a wonderful artist. She envied this a bit and was determined to learn to draw.  In Sharon's opinion, people can learn to draw.  It requires we learn from the right teacher or book. Then practice, practice, practice.  She suggested a book titled Drawing With the Right Side of Your Brain, by Betty Edwards. Originally published over 40 years ago, this book is readily available on Amazon and there are tons of used copies to be bought inexpensively.  Just after we talked about this book I read some reviews of it. I am going to give it a try. I have reserved it at our local library. Hopefully it will help me get past the idea that I can't draw so I am not artistic. (Why are those two so heavily linked in my mind?)
As you might remember, I have been sewing along with the Sewcial Bee Sampler quilt along, hosted by Sharon and her dear friend Maureen Cracknell. This has been a great event which was created by Sharon and Maureen's desire to further build community amongst quilters on-line.  I am incredibly impressed by the organization and quality of this event. Sharon and Maureen decided to do this last fall. They spent several weeks working on nothing else until they had blocks designed, instructions written, sponsors signed up (I am one!!  Look for a giveaway by Needle & Foot once in June and again in July!).  There are many people sewing together and it has been a blast.  If you haven't checked it out, please do. My quilt is coming along so well and really, it isn't too late to join in.
Finally, I asked Sharon how she spends her time other than designing fabric and hosting sew alongs (is there even any time left over at this point!?) She surprised me by saying she has a book in process.  Titled, Utility Style Quilts for Every Day Living, it is being published by Landauer Books. The quilts she designed for this book are based on traditional blocks with a scrappy look. She encourages the reader to use up their stash with these fun projects that were in part influenced by Gees Bend quilts. I am looking forward to seeing the book when it comes out in the early fall. With the modern slant Sharon gave to the blocks we are making in the Sewcial Bee quilt, I know this book will have some great ideas and patterns in it.
I hope you have enjoyed getting to know more about Sharon. She was just a joy to chat with and I feel fortunate for having had this opportunity to learn about her and share it with you!  In celebration of Sharon's work, I have a sale going this week on her Bountiful fabrics as well as her Gossamer line. Both of them are lovely and if you desire, they play together nicely. No coupon code needed as the prices have already been reduced 15%.  The sale runs through the end of the day on Friday!  Click here to see what I have in the shop.
If you haven't already done so, you might want to sign up for my newsletter. Look to the right side of the page and scroll down a bit.  I would love to let you know of new fabrics and promotions going on in my shop!