Balance (for me) is never easy. Lately I feel I have ignored my blog slightly as I work to get my fabric shop up and running. There are a limited number of hours in the day and I find myself divided between regular life chores, sewing, writing, listing items on Etsy and shipping a few orders here and there. The other distraction for me is social media. Oh how easy it is to be sucked into it and look up 30 minutes later, wondering how to get that last 1/2 hour back. This week I have tried to stay with one task to completion before moving on to the next.  I have also tried (with limited success) to stay off of social media and check it less frequently. I love seeing everyone's posts on Instagram but really, it isn't the best use of my time!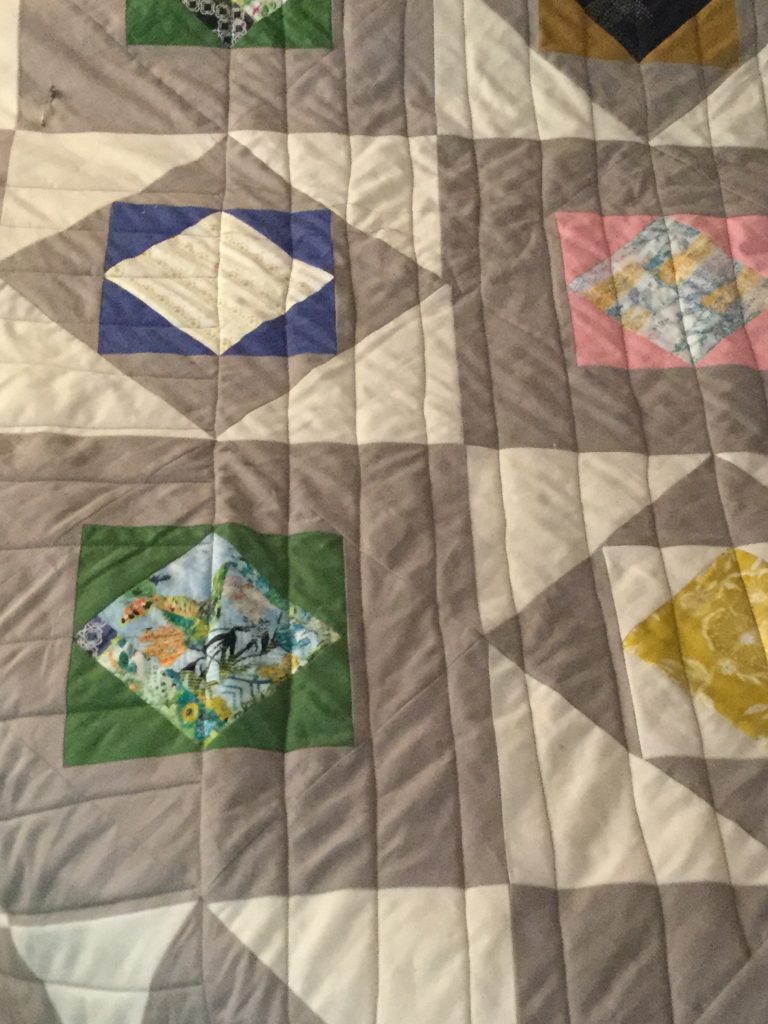 Earlier in the week I made it my top (sewing) priority to finish quilting the Harmony quilt that I made last fall for my nephew. I really wanted to quilt it at the long-arm shop where I can rent time on their machines. After scheduling and rescheduling appointments several times, I gave up on that wish and decided to quilt it at home. As luck would have it, my Janome 6500 (which has a nice big throat) is being very cranky. This means I am quilting it on my little workhorse – an older Janome with a narrow throat. As a result, I switched over to standard straight line quilting. To add some interest, I am quilting it in two halves. Starting on the center diagonal line, I began vertical straight lines. Those vertical lines continue to the far corner. Then on the other half of the diagonal, I am quilting horizontal lines. (Does this even make sense?)  At first I spaced them out about eight inches to anchor everything down. Now I am working on filling them in to about two inches apart.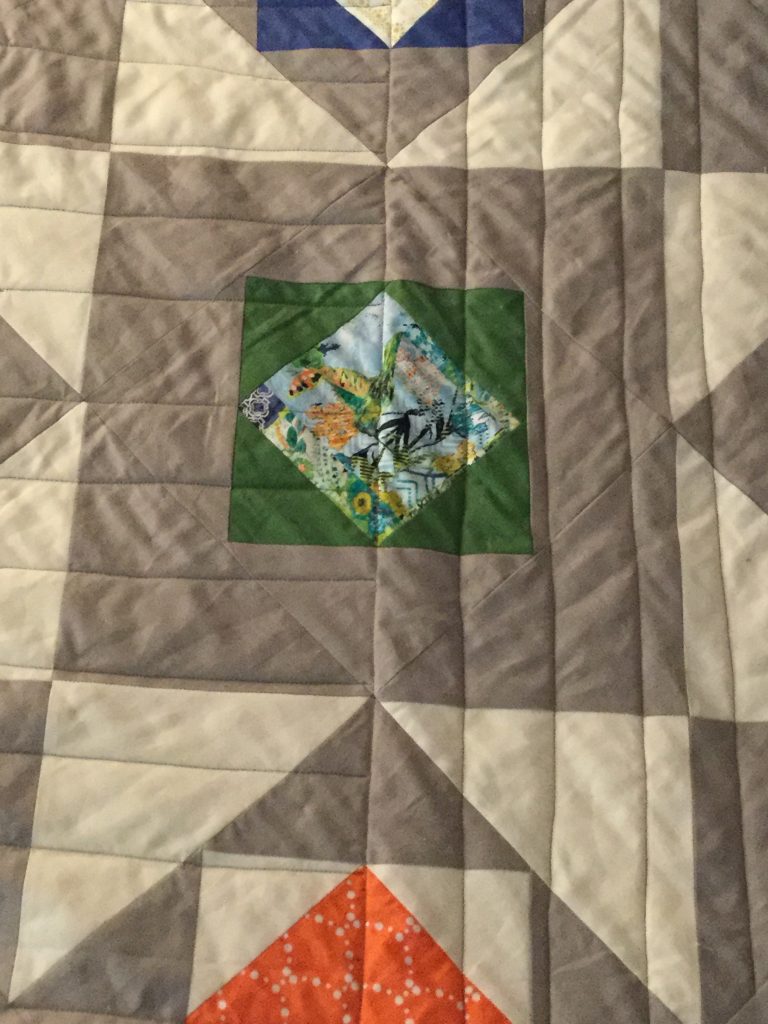 I think it is working quite nicely and I should be finished with the quilting in the next couple of days. Selecting a fabric for binding it is still up in the air. I am aiming for a scrappy binding with the leftover fabrics but I am unsure if I have enough.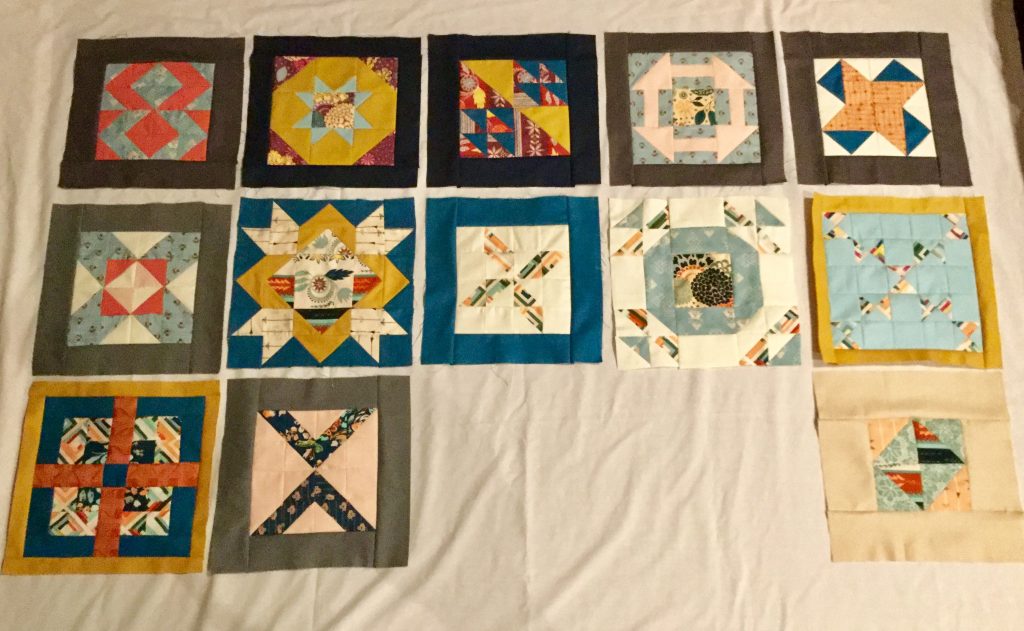 Moving on, I have been playing catch up with the Sewcial Bee blocks. This weekly bee is hosted by Maureen Cracknell and Sharon Holland. The blocks are fun and relatively simple. But I got behind and have to make about three more blocks to catch up. (Remember the first paragraph – just not enough hours to get it all done!) I am (was?) trying to use only my Fleet & Flourish scraps (by Maureen Cracknell) for the print fabric and various solids to tie everything together. As I create the blocks though, it is becoming clear I won't have enough Fleet & Flourish to stay with this plan.  Now what to do???  Decisions, decisions. My choices are to:
 Add in some Garden Dreamer (also .by Maureen Cracknell and would probably blend reasonably well) and since I carry it in my shop, it is readily available to me
 Buy more Fleet & Flourish.
To be very careful with the scraps I have and make it work by adding in a larger percentage of solid fabrics for the last 12 blocks.
Looking at these three incredibly important choices, my thoughts are these. Buying more fabric is silly.  I have more than enough fabric on hand and should be able to avoid buying anything.  Number three would probably be unsatisfying because I would have to use a whole lot of solid fabric to make it work and I don't think the result would be to my liking. So, number one for the win. I will go slice six inches or so off several of the Garden Dreamer bolts downstairs in my shop and combine both lines. Phew! I am relieved to have gone through the process and made up my mind.
Before I close and go off to quilt a few more lines and make a Sewcial Bee block or two, I want to share some pictures with you. Remember I mentioned Julia was going to raise two piggies for her 4-H project? I have to say, these animals just crack me up. Here are some recent pictures with photo credit to my daughter. She is really enjoying this project and has done a great job with these two goofy pigs. They are growing like crazy but then that is to be expected considering the amount of feed we are going through!
Off to the sewing room now. Wishing everyone a wonderful weekend!