It is the end of the month and I scrambled to get a few things done for April. Seems the April came to a close much sooner than it was supposed to as I wasn't really ready.
Yesterday was a housecleaning day. The obscure chores just get pushed back until finally the oven stinks whenever it is heating up and there is no choice but to clean it. That was not a fun chore but it is done and the oven is all ready to go again! I also had to give some of my houseplants a bath. The larger ones get dusty and it is easiest to take them on the back deck and just hose them off, let them dry and bring them back in. Yikes they look so much better now.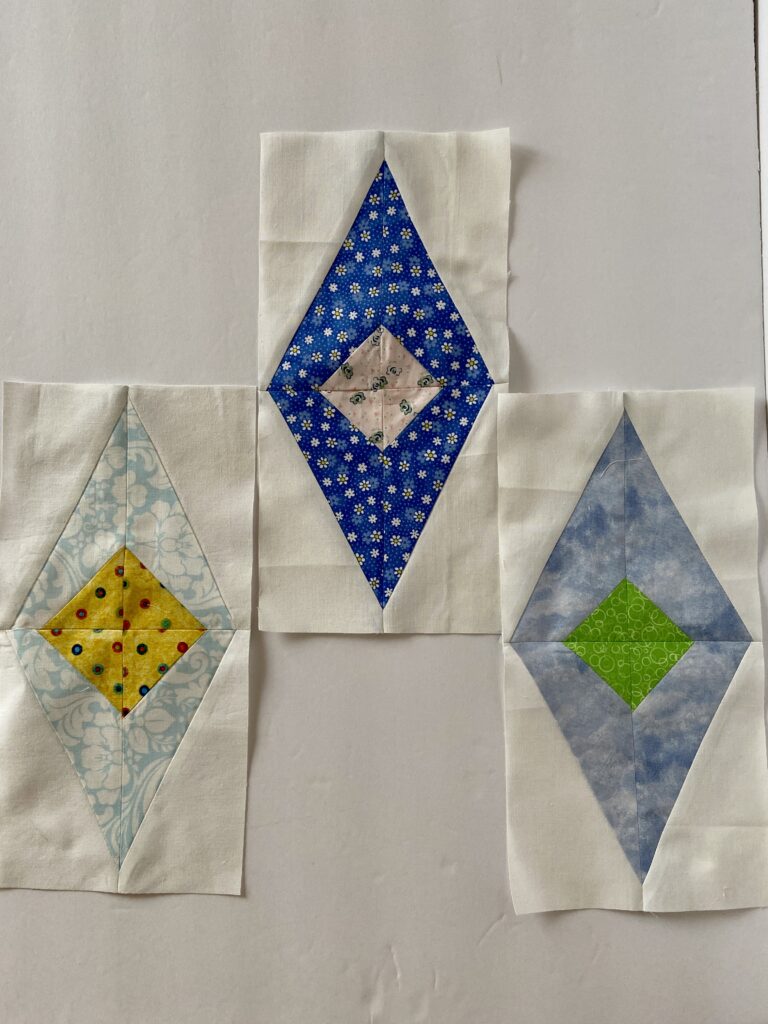 After that nonsense, I managed to finish the RSC blocks for April. I used three very different shades of blue for these blocks. The diamond blocks are fun to make and not at all difficult. They finish at 6″ x 12″. I have been pre-cutting the neutral background triangles making it simple to put them together (making one wonder why I would wait until the end of each month??) Sigh.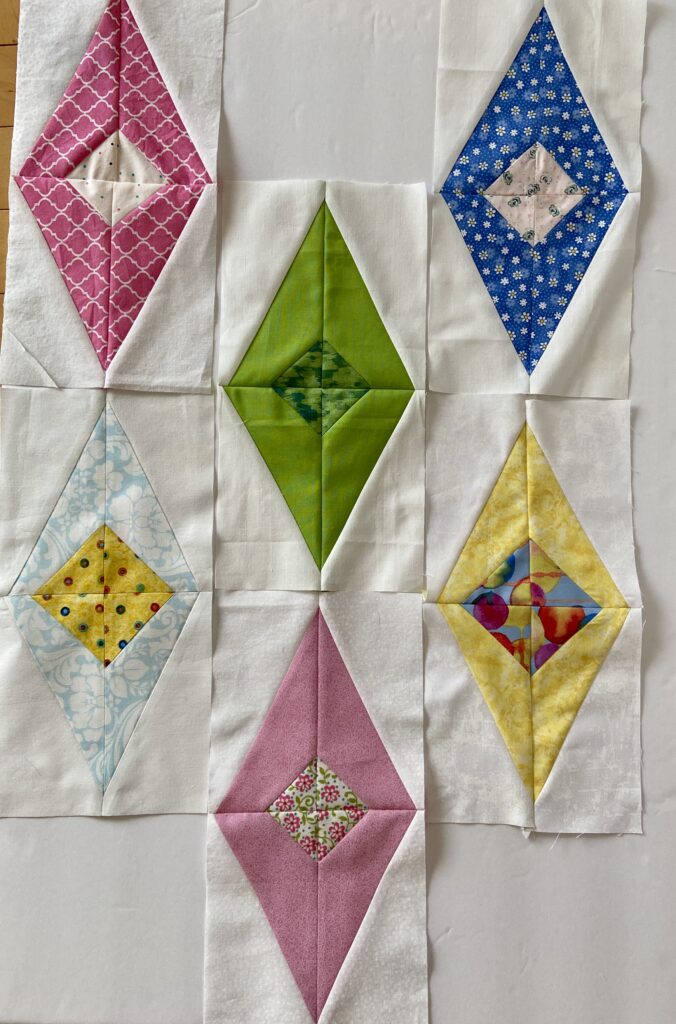 Here are a few of the colors put together. I am sure I will need more than three of each color (which is what I am currently making). Seems best I make a few more pink, yellow and green blocks so I won't have to do it all in the fall. But will I??? We all know the answer to that. Motivate me. Tell me how happy I will be come October, if I have the right number of blocks made. Tell me how it will make it so much easier to assemble the quilt and if I don't have the right number of blocks made, I will likely put this in a project bag and let it languish. Tell me, ok???
In the meanwhile, I have also been working on a panel challenge hosted over at Prairie Moon Quilts. A while back, Shelly challenged quilters to use one of the panels in their stash and make something with it. Too many times, the panels in shops attract a quilter and are purchased without a real plan how it might be used. Panels are so fun and can be used in any number of ways. To see a few of my favorites, check my Pinterest board.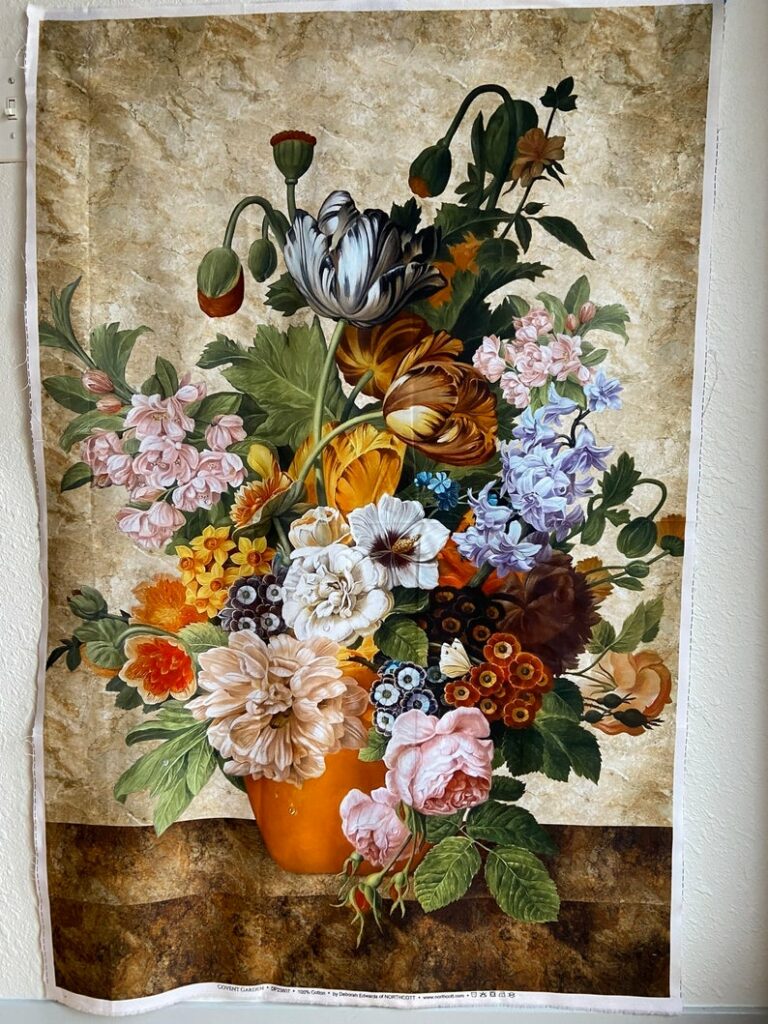 I chose to use this beautiful panel from Northcott's Covent Garden Line. I do have it in the shop if you love it as much as I do! It measures 28″ x 42″. The colors are amazing. It was designed by Deborah Edwards.
When I first got this panel in the shop I wanted to just quilt it as a whole cloth and hang it somewhere. But as time went on, I was less convinced this was the right choice. When Shelly presented her challenge, I decided to cut it up and piece it.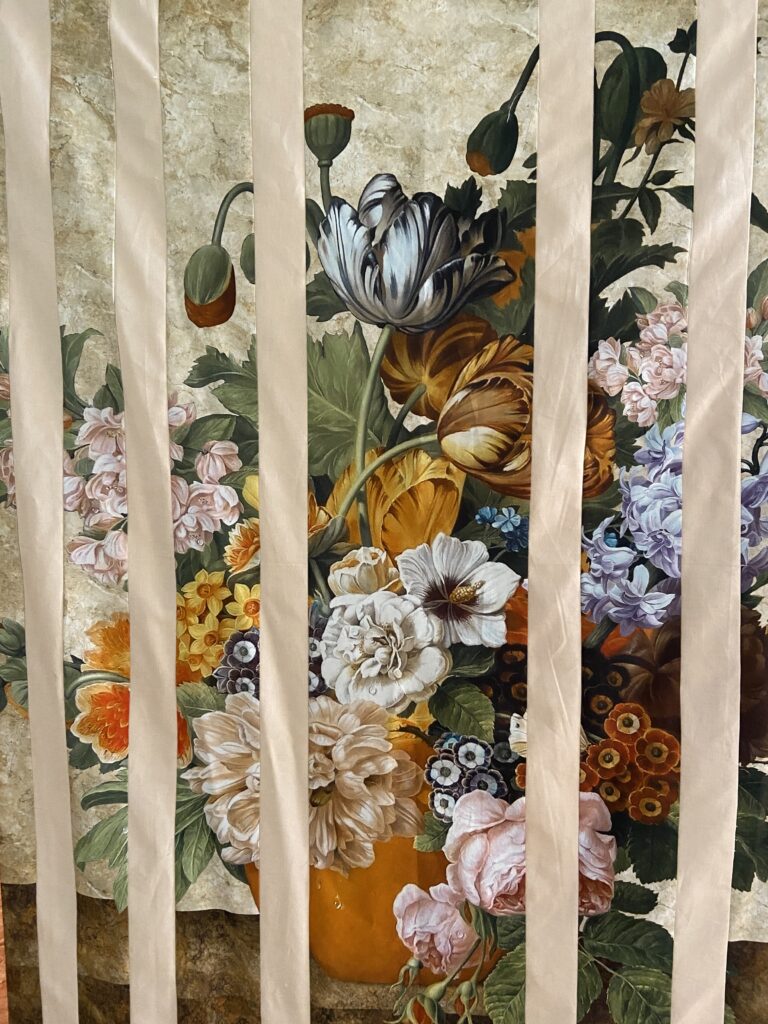 Next decision was how much to cut?? Not much was the answer I came up with. So I sliced it into columns. The center measures 9″ wide and moving out from there the size decreases. The next strip was cut at four inches, followed by three inches and the narrow outside strip was 2 1/2 inches wide.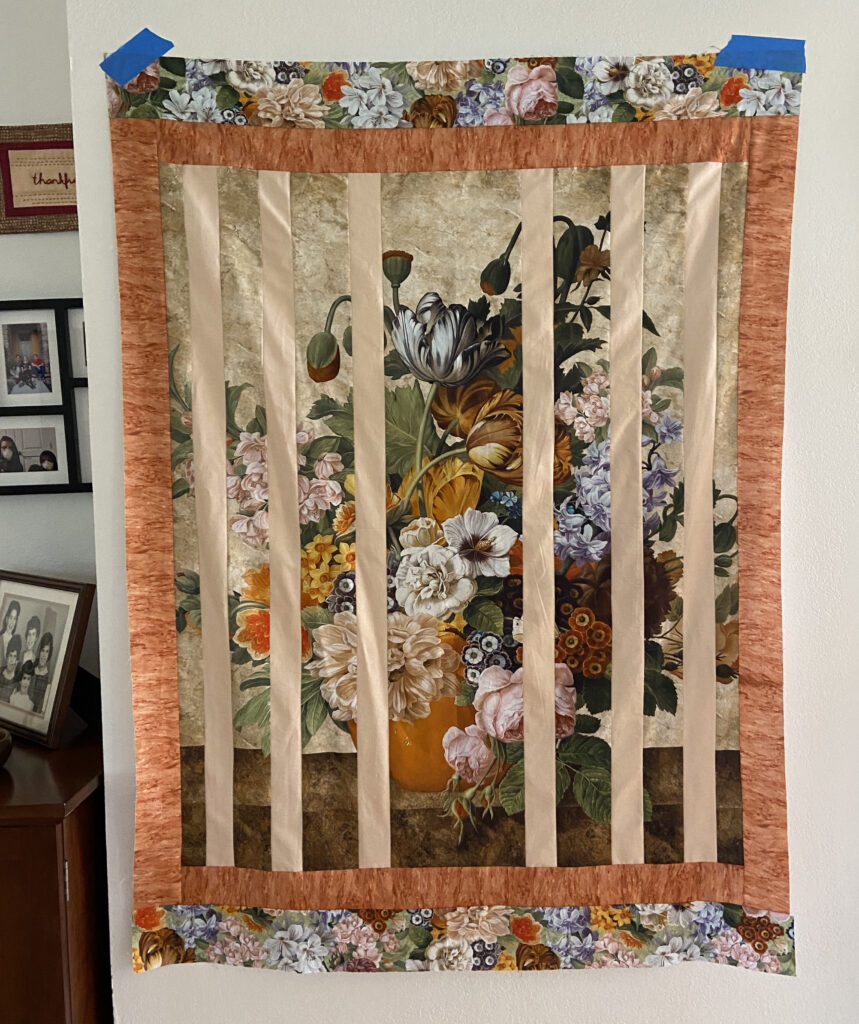 For the first border, I used a piece of fabric from PB Textiles. I liked the rusty tones with the flowers. It was just about square at this point and my brain felt like it should be a rectangle. Adding a four inch floral strip at top and bottom made this happen and my brain was much more content. Shelly will be showing all of the quilts made for this challenge and will have it open for viewers to vote. I hope you will hop over there on Monday to look at all the different projects everyone has made. I am looking forward to it!
What a huge difference this made – There are so many ways to use this columnar method with a panel. Some quilters will move the panel pieces up and down so the picture is not totally lined up. This looks great with panels showing pretty landscape scenes. I also love when a panel is cut and made with attic window blocks. One idea that attracted me was seeing a quilt where part of the panel was cut and appliquéd to the quilt. The design looked wonderful. To see the panels I have in the shop, click here.
Thanks to Shelly for motivating me to play with this panel. Now it is time to baste and quilt it. I have a few quilt tops lined up to be finished. I think I will baste one this weekend to begin that process. What are your plans for the weekend? It is going to be rather warm here and there is plenty to do out in the yard during the cool of the morning and then in the sewing room in the afternoon.
Linking with my usuals. Check them out at the top of the page, under Link Ups.