This quilt has been in process for quite some time. I finished the quilt top last March. The piecing was quite fun – I used two different charm packs from Benartex that both had a vintage feel to them. After sewing a 2 1/2″ wide strip to the top of each one, I sliced the block in 1/2 and flipped one side upside down. That gave me the rectangular blocks you see here. To add some size to the quilt, I sashed between rows. Finally I added a deep purple border all the way around.
I knew I wanted to try hand quilting and this seemed a good project to learn with. Wanting to think just about the hand stitching and not worry about the durability, I stitched in the ditch along the sashing lines and around the inner border. This was really helpful in keeping everything together.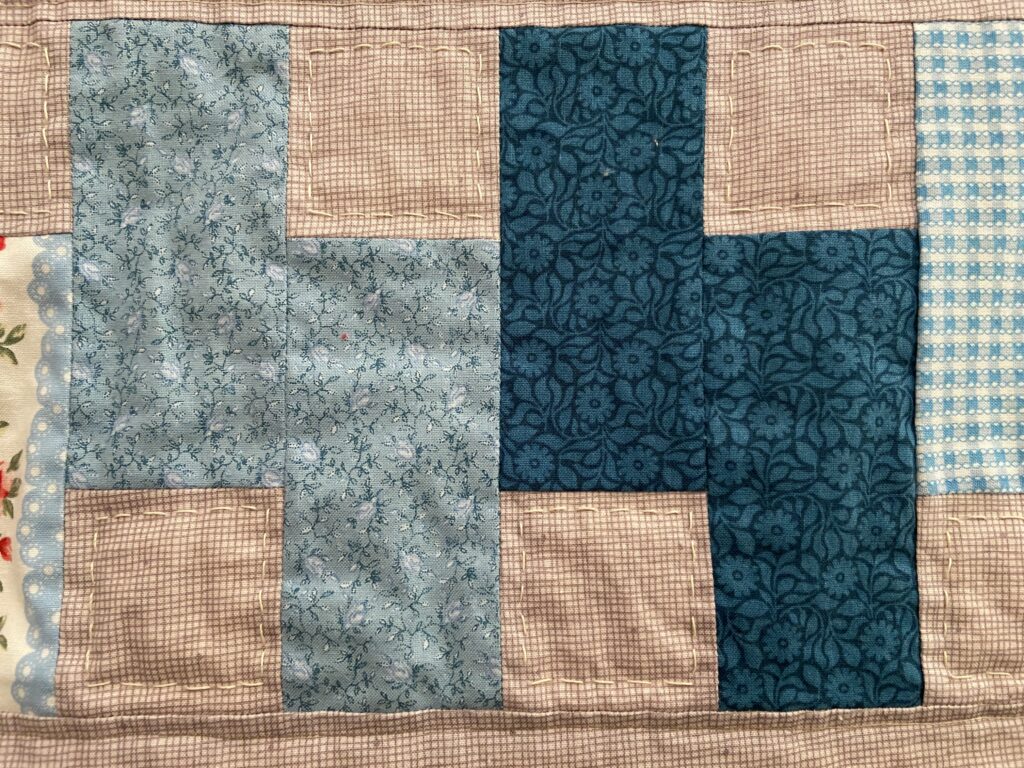 There are many who would say I might have used a darker color thread but again, this was my first time and it shows! The stitches are inconsistent – honestly, I didn't want them to be the star of the show here. I quilted around each smaller square and was ready to call it good there. However, what was the rush? I enjoyed quilting this in the evenings so I decided to go around the inner border once.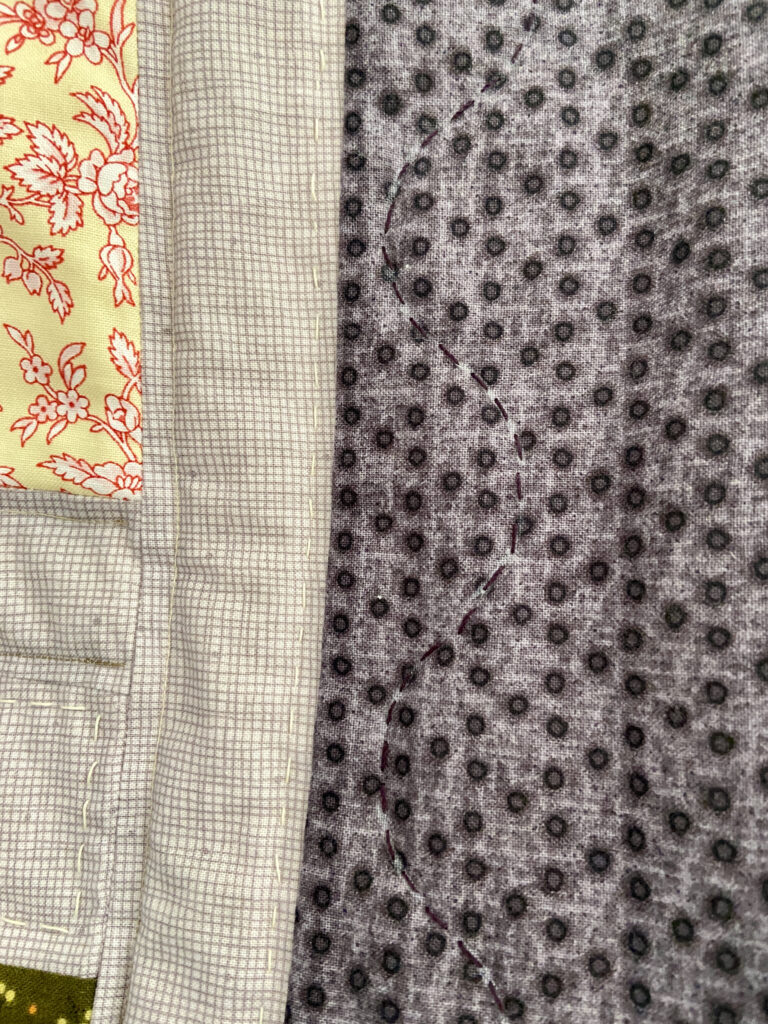 Then it came to me I might want to do some stitching in the purple border. I used a stencil to trace the curves here. I felt like I was done at this point so I put the binding on. For some reason, it was a challenge to find a binding I liked with this quilt. The neutral fabric used as the background is gone so that wasn't going to work. There was enough of the purple fabric though and I decided I liked the simplicity of using the same fabric for binding and the outer border.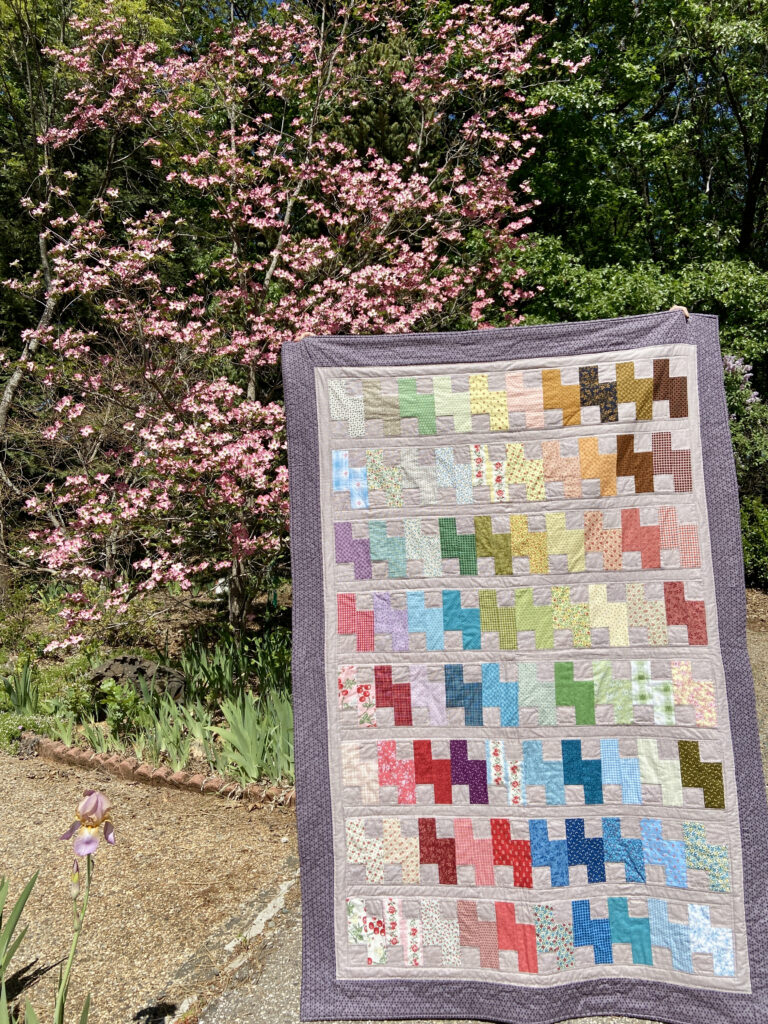 This quilt is sooooo cozy and soft. The only reason I haven't yet washed it is there is one more thing nagging at me. I think maybe I should quilt another wavy line on the purple so it intersects and makes a bit of a chain. What do you think? Add more, or leave it as is?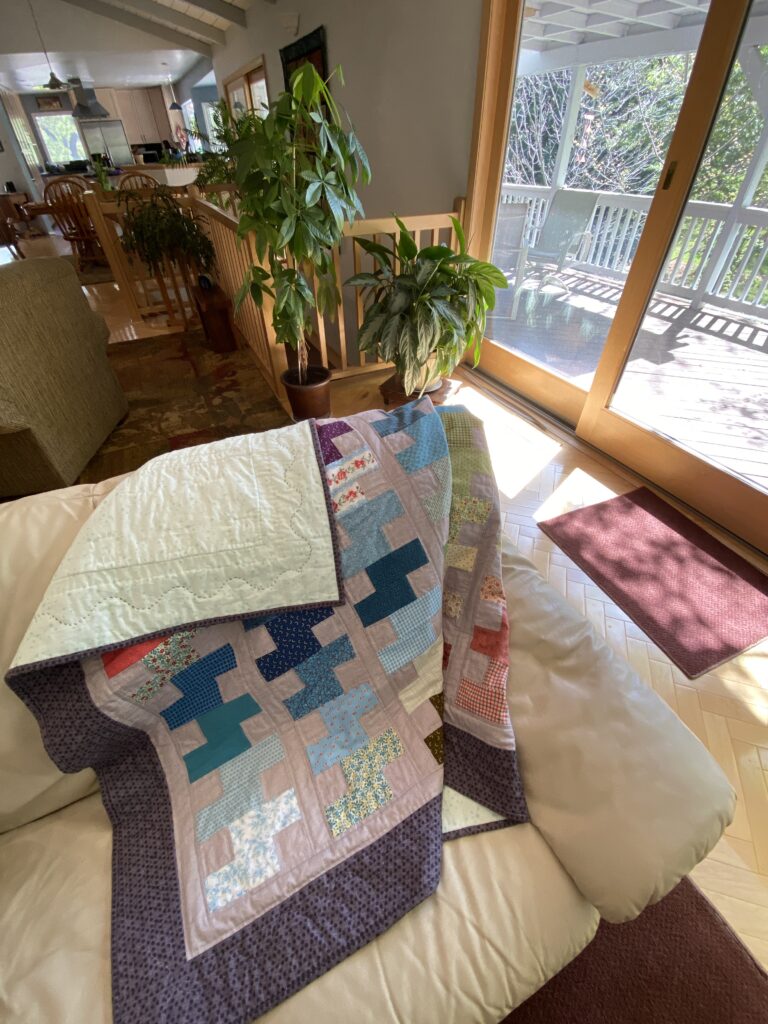 Hand quilting was quite satisfying, especially since I was in no rush to finish this, and I knew I wanted to keep it so there wasn't the pressure of it being just perfect for the recipient. I have a long ways to go. The back of the quilt doesn't look so amazing. My stitches on the back look so tiny. I need to learn how to stitch so the front and back are more uniform. A few times, I forgot to pull my knot through and now it seems like it is too late. This doesn't really bother me but you know…. it is a learning curve.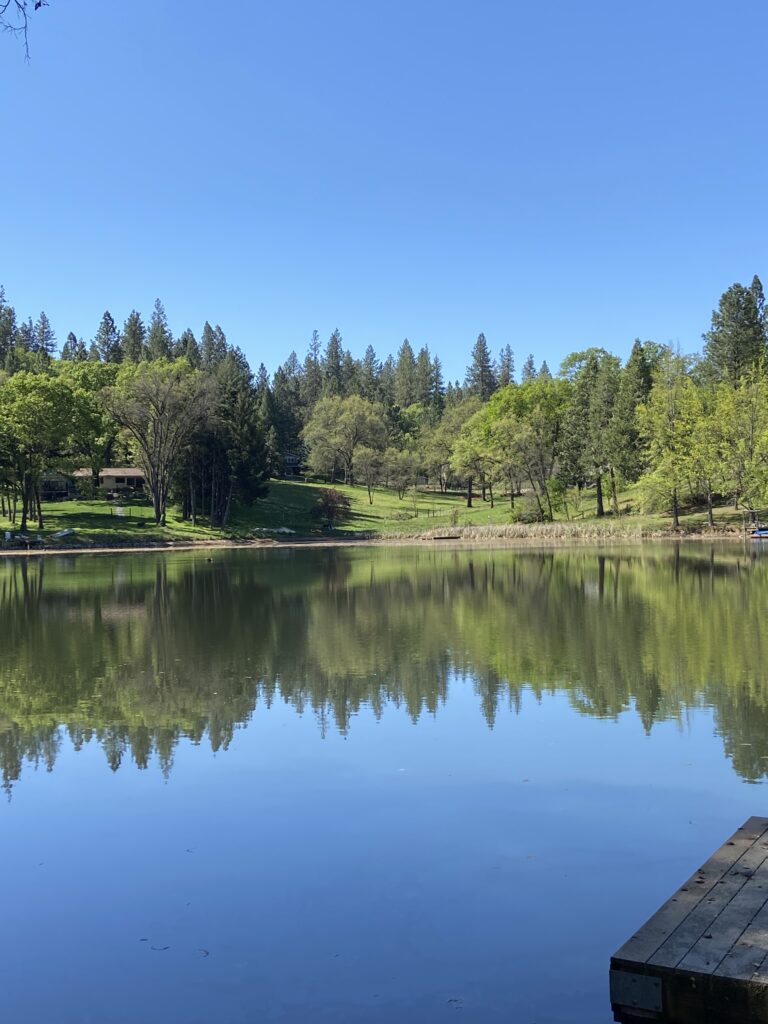 Spring is surely here! This pond is on the edge of our property and there are geese galore right now. Ray has seen a mama and her goslings swimming but I keep missing them.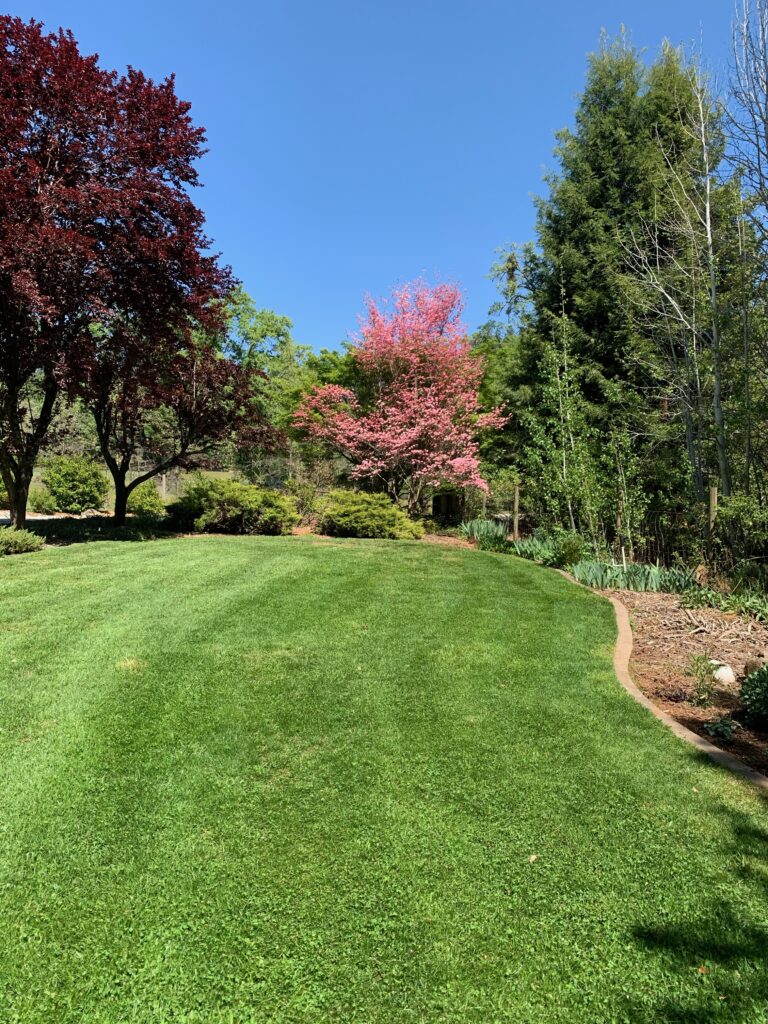 Our yard is at its best in spring time, before it gets too hot and the plants become stressed. The iris are pushing loads of blooms so they will be putting on a show soon.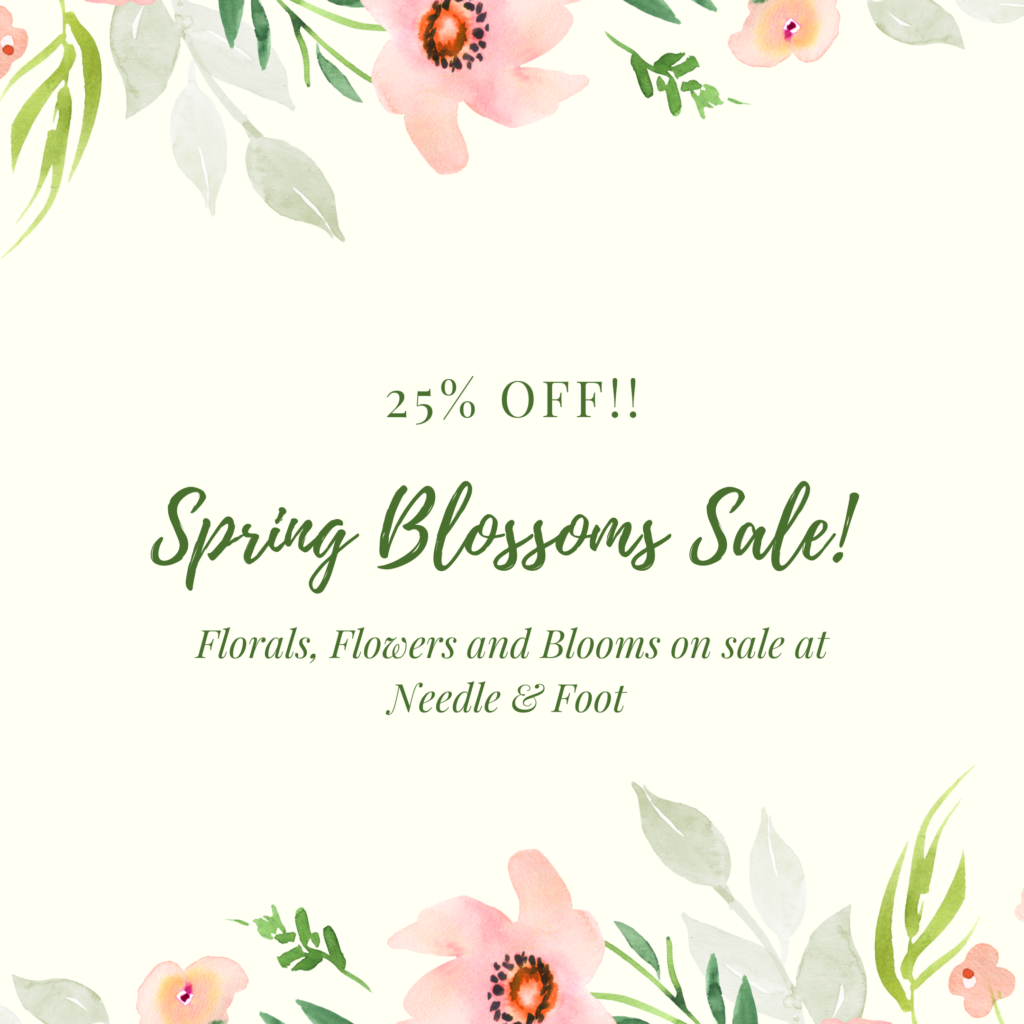 This weekend I am celebrating spring flowers with a sale for you. All fabrics with flowers and blooms are 25% off. Sale begins today and runs through Sunday, April 25th! Enjoy!