I am thrilled to be a participant in the Blog Hop celebrating the new book No Scrap Left Behind. This book, written by Amanda Jean Nyberg of Crazy Mom Quilts, is an excellent book. The second book for Amanda Jean, she includes 16 projects which are sure to inspire you to pull out your scrap bins and start creating. You might be familiar with her first book which she co-authored with Cheryl Arkinson, Sunday Morning Quilts. I have that one as well and love them both!
Amanda Jean is the queen of scrappy quilting – if you are not already familiar with her work, please check out her blog.  This blog was one of the first ones I discovered back when blogging was becoming such a resource for information and tutorials.  I remember one of the first quilts I made was based on her (free) pattern, Fair and Square.  Since then, I have been a loyal follower who has learned an incredible amount by reading Amanda Jean's blog.
Back to the book, I ordered this just as soon as it was released. After reading through it, I was pleased to find out the quilts were divided into sections. Some quilts use strings, some use squares and others, triangles. There is also a section on tiny bits and pieces where she outlines the methods to made adorable pin cushions. (Next to her scrappy quilts, I think Amanda is known for her deep affection for pin cushions and polka dots!)  Another facet of the book is Amanda's explanation of color with some of the projects. She designed quilts that are great examples of projects using different scales, or sizes, of pieces as well as a broad selection of color and value.  The explanation of fabric and color selection is clearly written and very helpful. She gives several ideas for alternate ways to make the projects which enables the reader to find just the right project.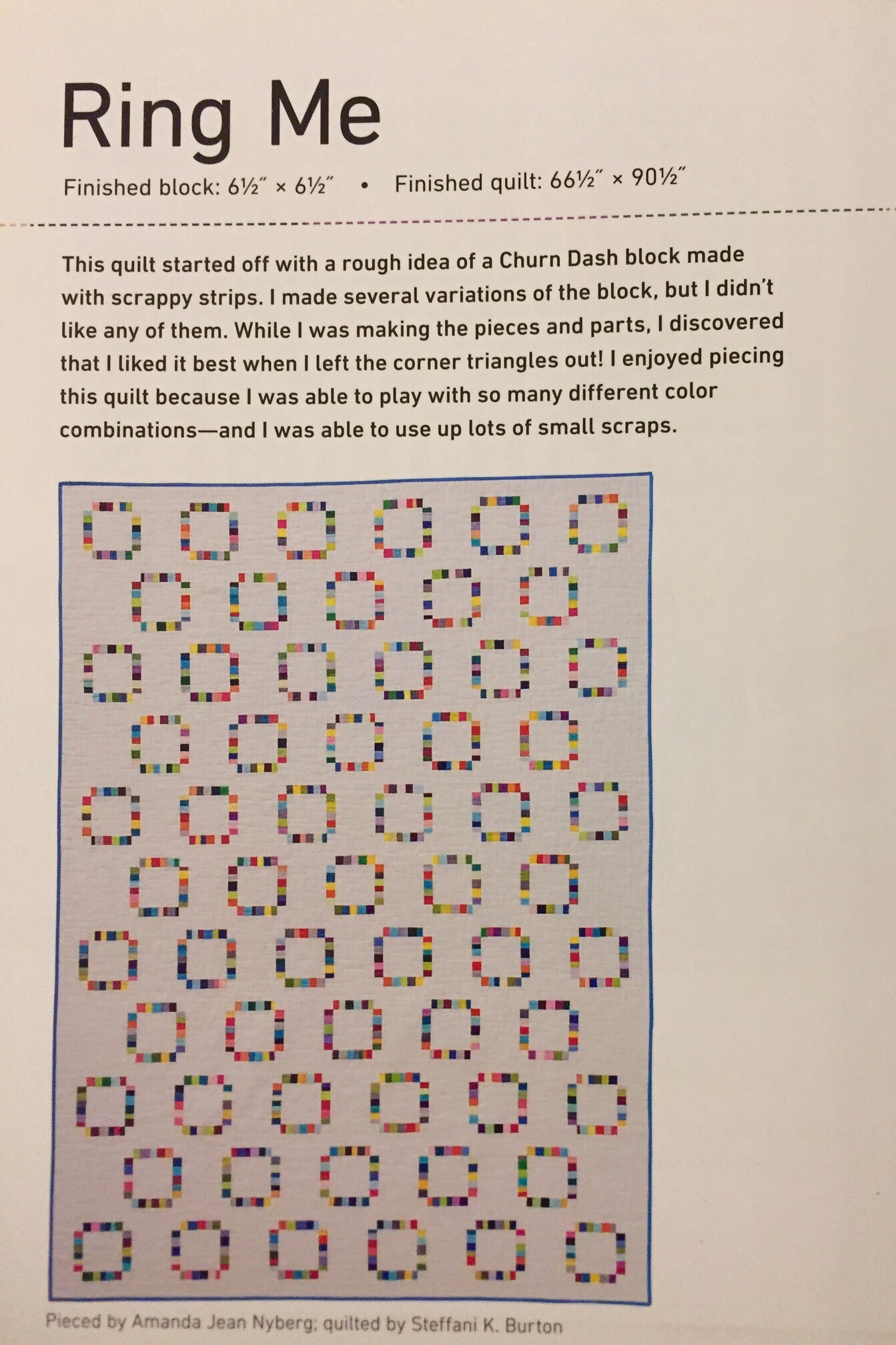 Looking through the book, I was tempted by several different patterns. For the purposes of this hop, I chose to make the Ring Me quilt. I love the effect of the stripped piecing and the open, solid background. Trying to stick with using my stash, I chose to use a gray background. I had a large piece of Bella solid in Graphite and love the depth it gives the quilt.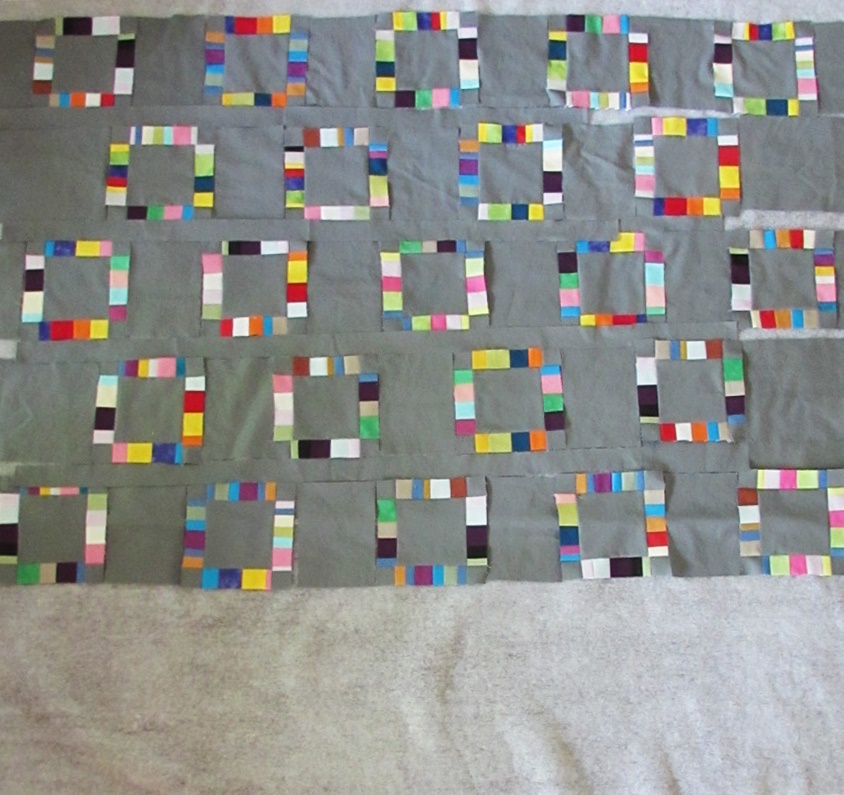 I must admit, I was overly confident when I told Amanda that I would be able to get the quilt top finished for the hop. It looked so simple when I looked at the pattern. And it is simple!  But oh my gosh, it is a fair amount of piecing going on there! Losing just over a week to my Vermont trip earlier this month didn't help matters either. For a few days I tried to push myself toward a finish but I (thankfully) decided to slow down and just share my progress for this post. I really like how this is coming along and didn't want to hurry it and end up with a lesser finish.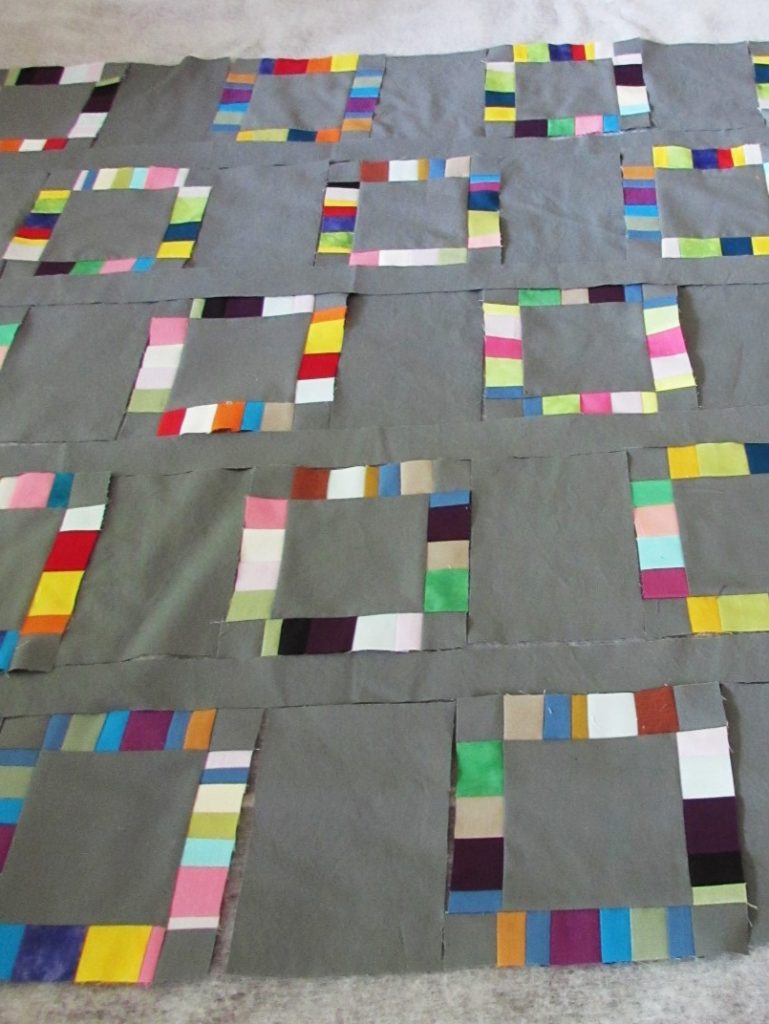 For now, progress shots will have to do. Like I said, the pattern is quite simple. I strip pieced the colorful rings around the solid gray blocks. The only trouble I had was the strips are prone to stretching. When using scraps, they are cut every which way and not always with the grain of the fabric. Attaching the two strips to the top and bottom of the block was fine. The problem seemed to occur when I added the background squares to the pieced strips. I think I am too careless with the iron and you know what those rock star quilters are always preaching, "press, don't iron".  I was ironing and it stretched the strips and I would end up with corners that don't quite line up. For the most part, I don't think the lack of precision there will really matter. The overall effect is still going to be good.  Once I realized the problem, I started to watch this part of the process and be more careful with the iron. This is helping and my precision is improving.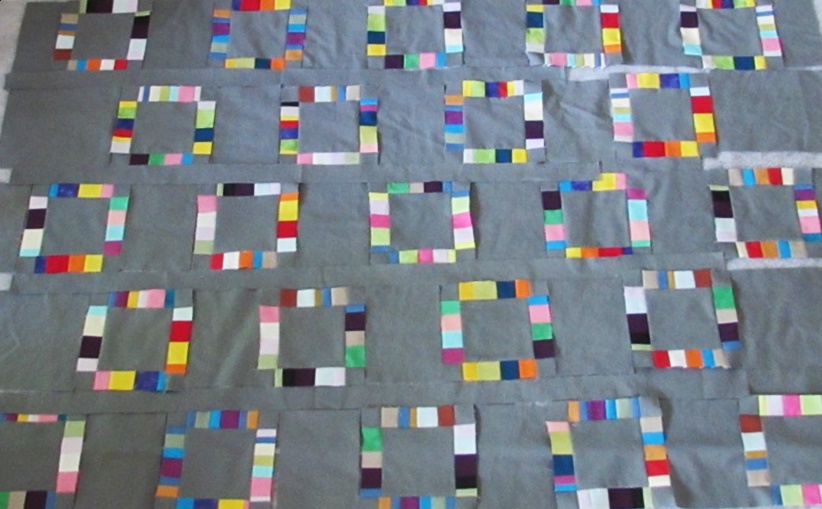 Finally, I love the exercise in color this quilt provides. As I grouped strips and stitched them together, it was satisfying to try different colors together. As I have mentioned in prior posts, color can give me trouble at times. This was a nice side benefit to this project. At any rate, I love the quilt so far and should finish it up soon. You can expect another post when I have a finish to share!
As part of the hop, we were also asked to share our scrap sorting and storage methods with you. Being a fairly organized person, I do have all sorts of scraps sorted and stored. My scraps that are less than say the size of a fat eighth, are sorted by color and kept in shoebox size bins.  Each are labeled by color which probably isn't entirely necessary since I can basically see through the bin enough to know what is in there. The shoe box size is really not big enough and currently my blue and green bins hardly close since they are just bursting with scrap. My solid scraps, of all colors, are kept in a separate tub. Until this project, the solids tub was overflowing. It will close now but still, it is quite full. Do you see the large zip lok bag between the print and solid scraps? That contains my extra bits and pieces of improv or 'made' fabric.  These are left over trimmings from improv projects and certainly couldn't be tossed!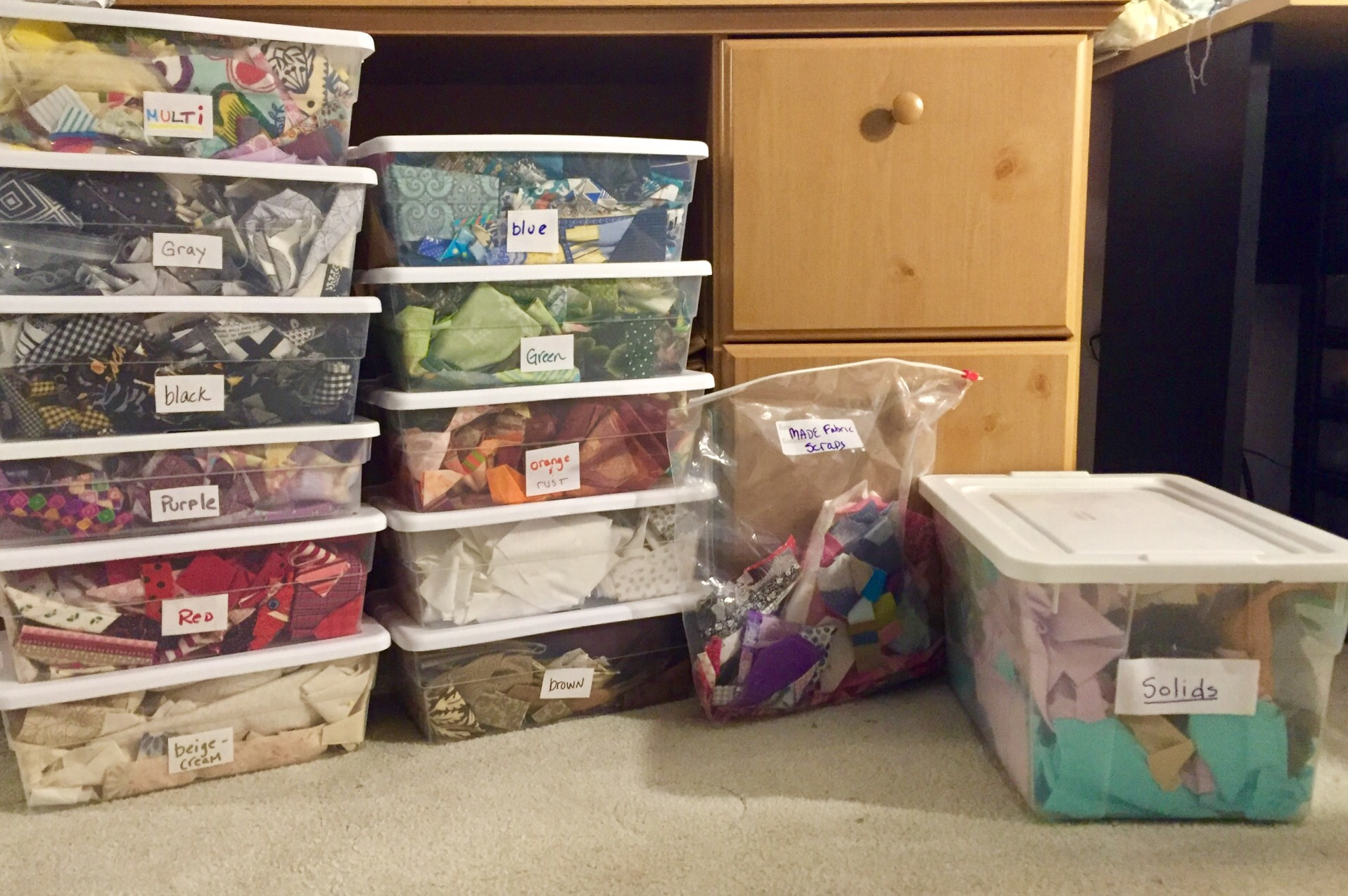 This isn't all though, nope not by a long shot. I also have zip lok bags for squares. When I am cutting and happen to remember, I will cut my scraps into squares. I cut charms (5″ squares) as well as 3 1/2″, 3″, 2 1/2″ squares.  Those are just stacked by size and kept in a bag.  Well, except for the charms, which are kept in a box and marked. Trimmings from flying geese blocks, you know, those tiny HST's, are in their own bag too. Finally, I keep holiday fabric scraps in their own (very large) bag.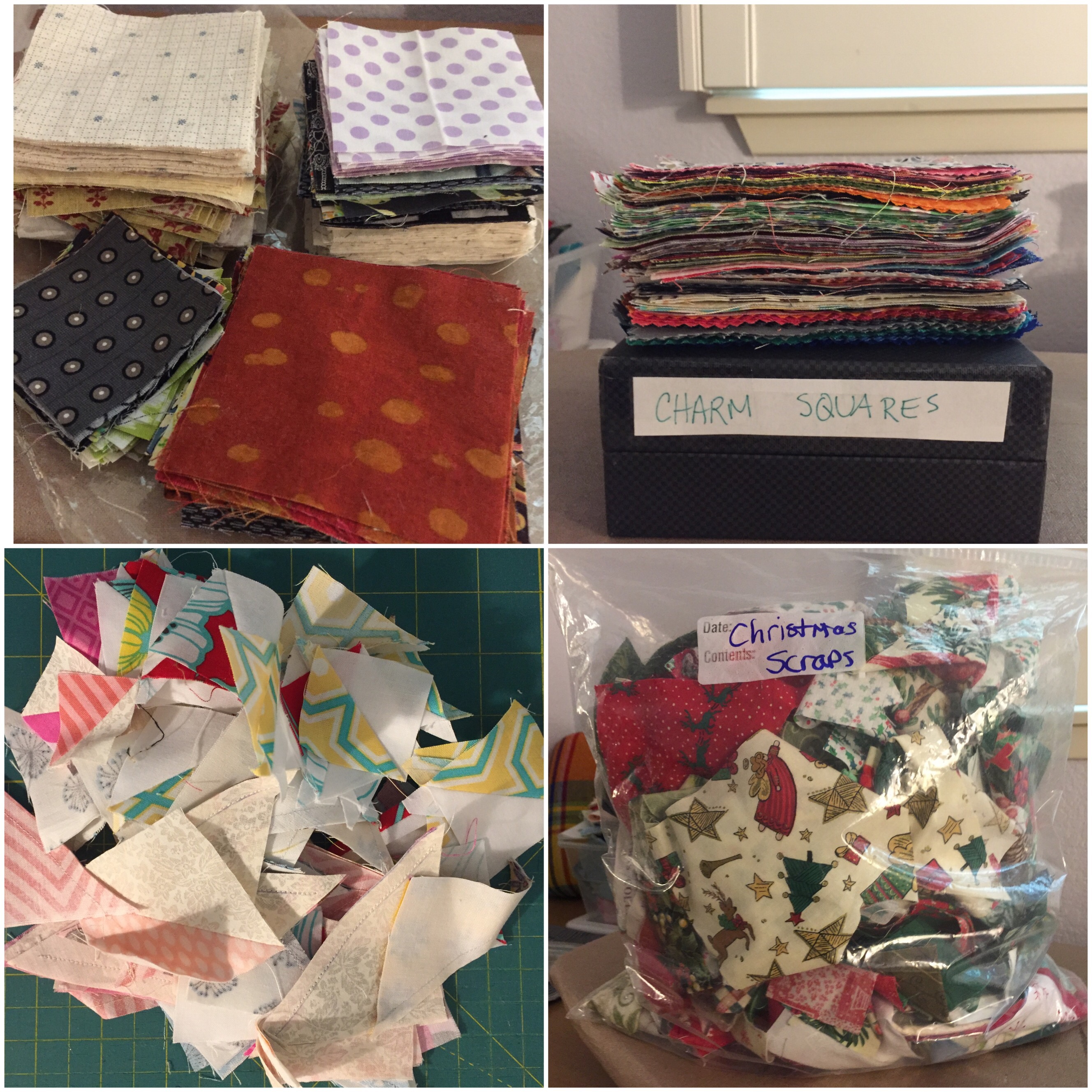 Reviewing all of this, I am not sure whether it is the sign of a very organized quilter or someone who may end up on the reality TV show, Hoarders. Is this a problem — is an intervention needed??? Will I ever use these bits and pieces? I hope so and having both of Amanda's books, Sunday Morning Quilts and No Scrap Left Behind, should help me use them.
Do you have a similar problem? Are you a scrap hoarder like the rest of us? The first step is always admitting the problem, right? The second step is to win this book!  C&T Publishing and Amanda Jean have offered a giveaway for each blog on the hop. If the giveaway is won by a USA participant, they will receive a paper copy. International winners will receive an e-book.  Either way, this is an excellent book to add to your library!! To enter the giveaway, please share your scrap busting habits or your scrap storing and sorting methods. Help us out here. Some of us are drowning in scraps.  Help!  For an extra entry follow me on Instagram, Facebook or the blog and then let me know how you follow.   The giveaway will be open through the weekend and a winner will be selected Monday morning, May 1st. Good luck!
NOTE: this giveaway is not closed. Thanks to everyone for participating!
There are many more chances to enter the giveaway to win a copy of this book! Here is the schedule for the hop. I hope you will check out the other projects and interpretations of the quilts in this book. You will surely be inspired.
Note: There are affiliate links in this post, meaning if you click through and make a purchase, I will receive a small payment as part of the sale.