Yesterday I had the pleasure of introducing you to Kim Schaefer in my third Meet the Designer post. I hope you enjoyed getting to know her.  I have been playing with the fabrics in her Sweet Tweets line and have a few things to share with you.
First off, I have been making these cute stuffed blocks. I have shared a couple of photos on Instagram so you probably have seen these in process. I used a simple tutorial provided by Abby Glassenberg at While She Naps.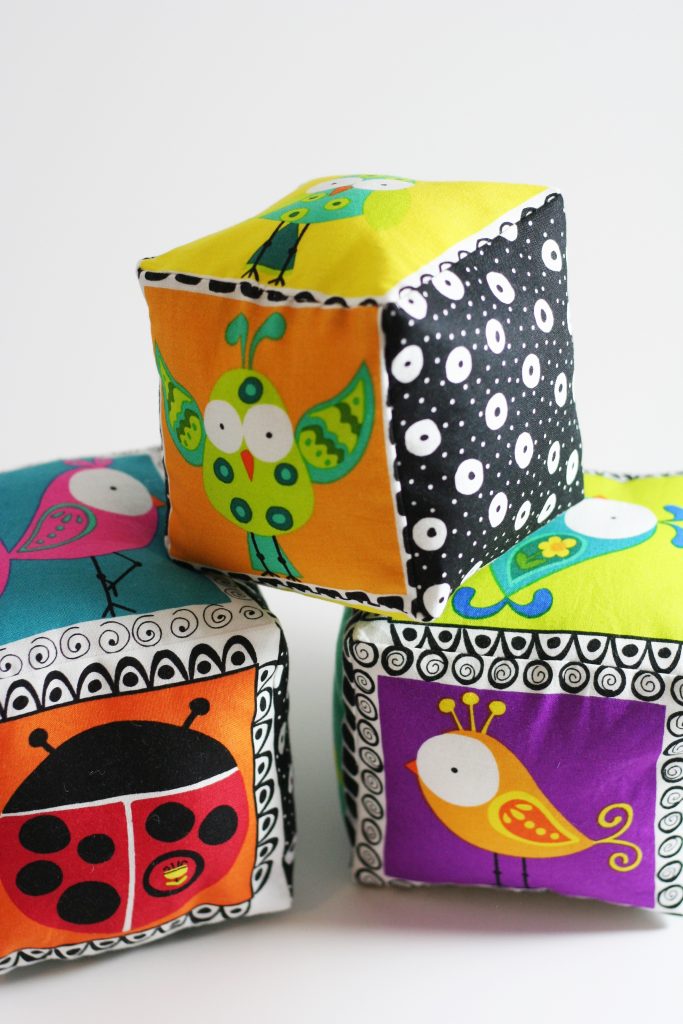 Cutting the panel into blocks, I used four critters and two black and white squares from the Cheerios fabric for each block. I experimented a bit with the blocks. I made two of them bigger, utilizing the full size of the critter block and for the third one, I cut it down a bit so the block would be smaller. Two of the blocks are lined with fusible interfacing. It was only because I forgot that I didn't line the third one. As a result, it is a bit on the mushy side – I like the result much better when the fabric was fused to the interfacing to give it some body.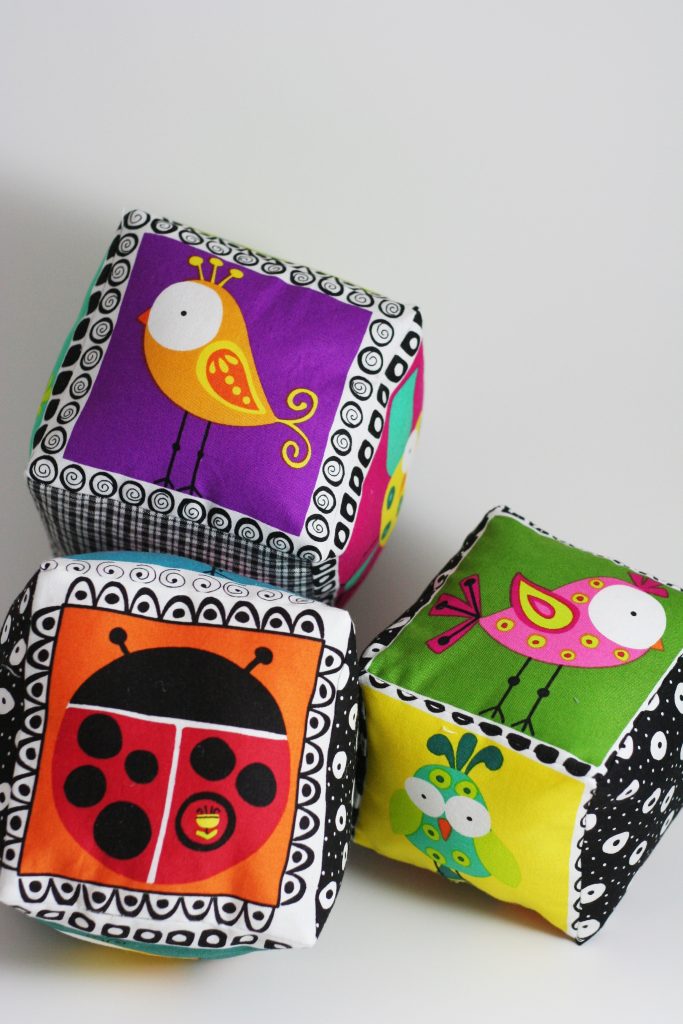 Also, I only put one noisemaker rattle in each block and now I wish I had put two. (Actually, as I type this, I realize it would be so simple to open up the block again and add another rattle. I will do this because I think they don't make enough noise with just the one rattle.)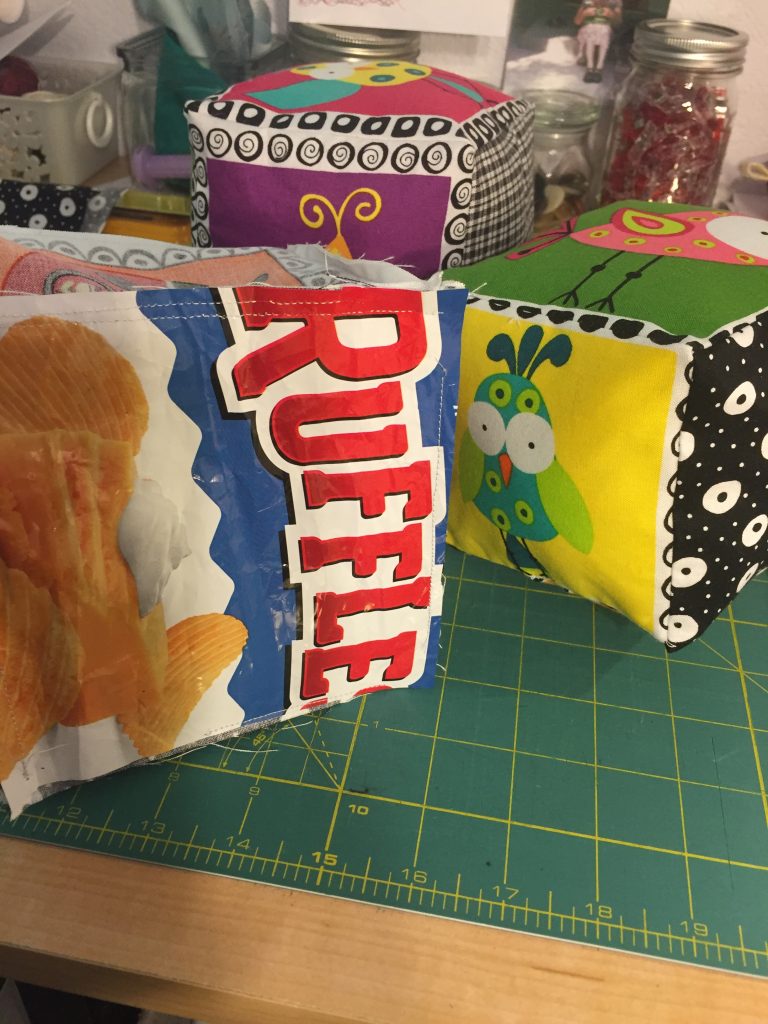 On one of the blocks, I lined one side with a clean piece of a potato chip bag. Abby had a list of suggestions for variations to try and I thought this sounded fun. It gives that block a crackly sound when it is manipulated. It was very simple to just wipe down the bag, cut a square and baste it to one of the sides. I did put the print side facing inward to the center of the block, just in case in might have shown through the fabric.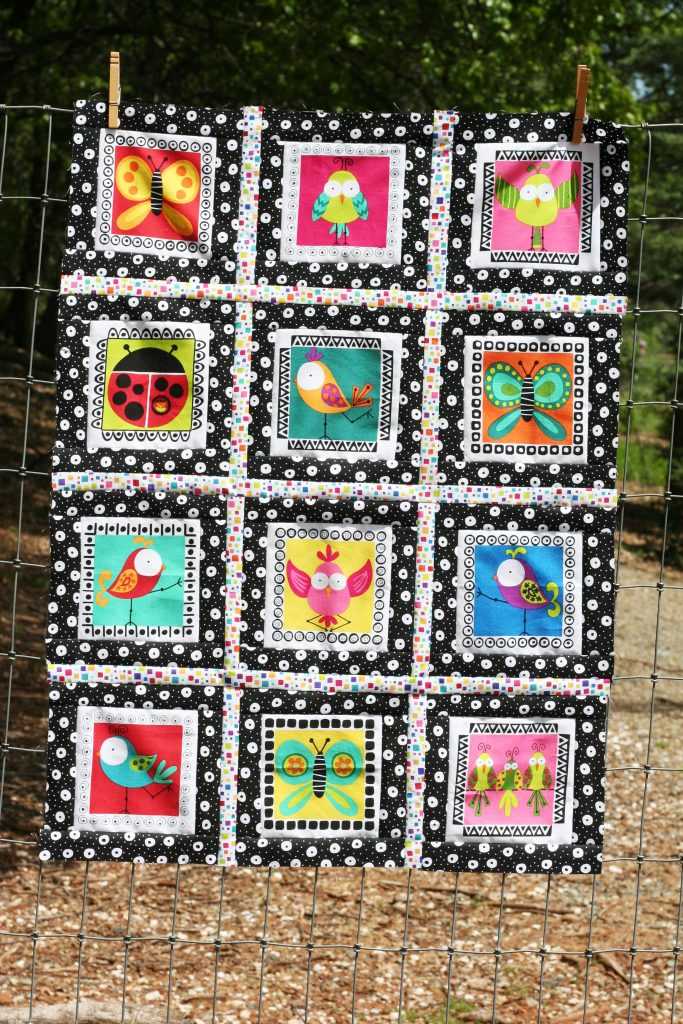 After making the blocks, I was on a tear and decided to make a baby quilt with some of the critter blocks from the panel. I started this on Tuesday afternoon this week and it came together quickly. I didn't have a pattern in mind and decided to just put borders around each critter and sash them in one of the brighter prints from the Sweet Tweets line. I think it is just adorable! Panels can sometimes be difficult to utilize but this one lends itself to a number of projects.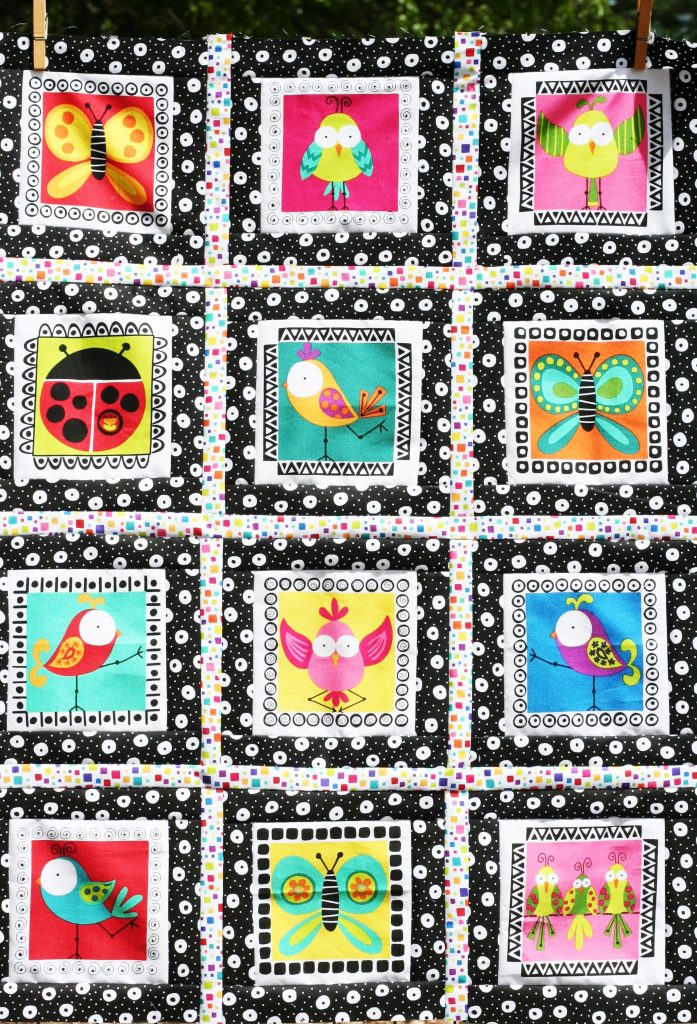 Each critter block was cut to a 6″ square and I bordered it with the black and white Cheerio print. That brought the blocks up to 8″. Next I sashed them with the Hip to be Square print in Rainbow. Like I said in my previous post, I love the bright colors with the black and white print. With just the rainbow sashing, the quilt top is a bit too small for a baby quilt. It currently measures 24″ x 36″. Adding the rainbow sashing print around the outer edge of the quilt will help grow it just a bit.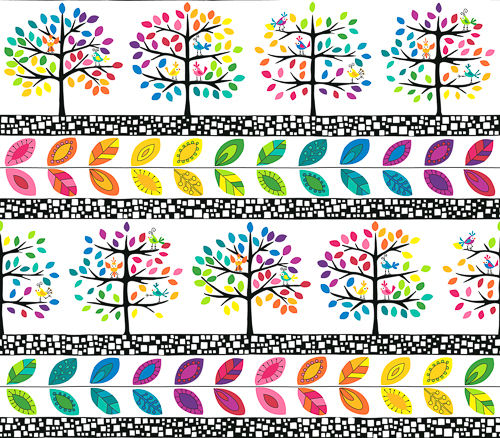 I have a bolt of this adorable border print coming in. I didn't buy it with the first shipment of the line and think it is a great addition to this collection. I am not sure how I will cut it up but it will make a cute border and then hopefully the quilt top will be big enough.
I think this line is great for kids. However the black and white prints and the rainbow prints are versatile in their own right.  Great stash builders, for sure.  Reminder that they are on sale in my shop through this Sunday, April 23rd.
Hope you all have a great weekend.  Julia is finally getting her piglets this weekend. She is so excited. That is what we have planned, how about you??
Linking to my usual favorites, including Finish it Up Friday at Crazy Mom Quilts.