Last week I posted a little catch up on the fair, Julia's pig Ella, and the purse I made for her.  In the comments, Yvonne of Quilting Jetgirl, reminded me I hadn't said anything about the quilts I entered in the local fair.  I had originally planned to enter three quilts and that is what I technically signed up for.  As I got the quilts out to add the hanging sleeves, I noticed that I had machine stitched the binding to the Positively Floating plus quilt. In all honesty, I can't remember why I machine stitched that one. Maybe I just wasn't in the mood to stitch the binding down? Usually I kind of enjoy that last bit of stitching on a project.  At any rate, it didn't make sense to enter that quilt because I was fairly sure the judge wouldn't appreciate a machine stitched binding. Additionally, I had procrastinated on making the sleeves, it was the night before I had to bring them over to the fairgrounds, and I was running short on time. So I didn't enter the plus quilt.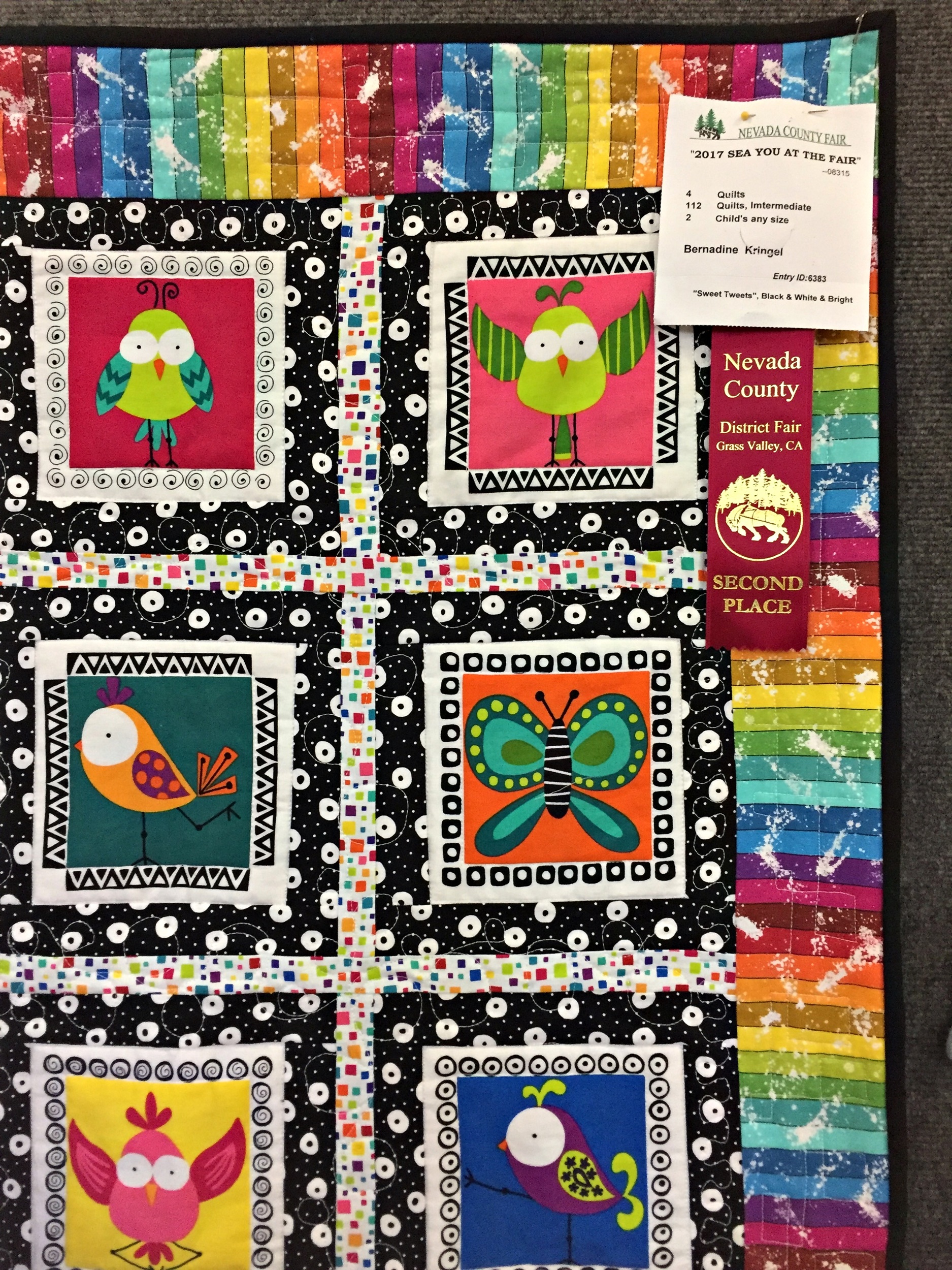 I did enter the relief quilted THREAD project and the Sweet Tweets baby quilt. I got a second place ribbon on the Sweet Tweets baby quilt.
I received a third place ribbon on the THREAD project. Now before we all get excited, I will tell you the rest.  I am nothing, if not honest, right?  This is a very small show – all contained within one room and may 150 entries at most (including all garments, stitchery, knitting and quilts)  In the baby quilt category, there were two entries.  In the mini quilts of this size, there were three.  As my sister Patti wisely told me, the glass is half full – you got a 2nd and a 3rd place.  But my logical side says, meh, I got last out of three and 2nd out of two.  Either way, I am happy. I think I got over my fear of having someone look at my project and pick it apart (no pun intended!)  It was interesting to read the comments.  Here is a bit of what the judge wrote:
On the baby quilt:  She liked the fabric selection and the fussy cut blocks. She found the quilting design appropriate and noted my stitches were not all the same length. Binding was well done but quilt does not lie flat.
On the relief quilt:  Thread play noted and appreciated. Starts and stops should not be visible, addition of quilted thread spools noted and appreciated. Binding needs improvement.
So – it was an interesting experience.  I am not a terribly competitive person so usually, I don't feel compelled to think of the judge's perspective as I make projects.  I suppose if I decide to enter things again, I need to pay more attention to the details.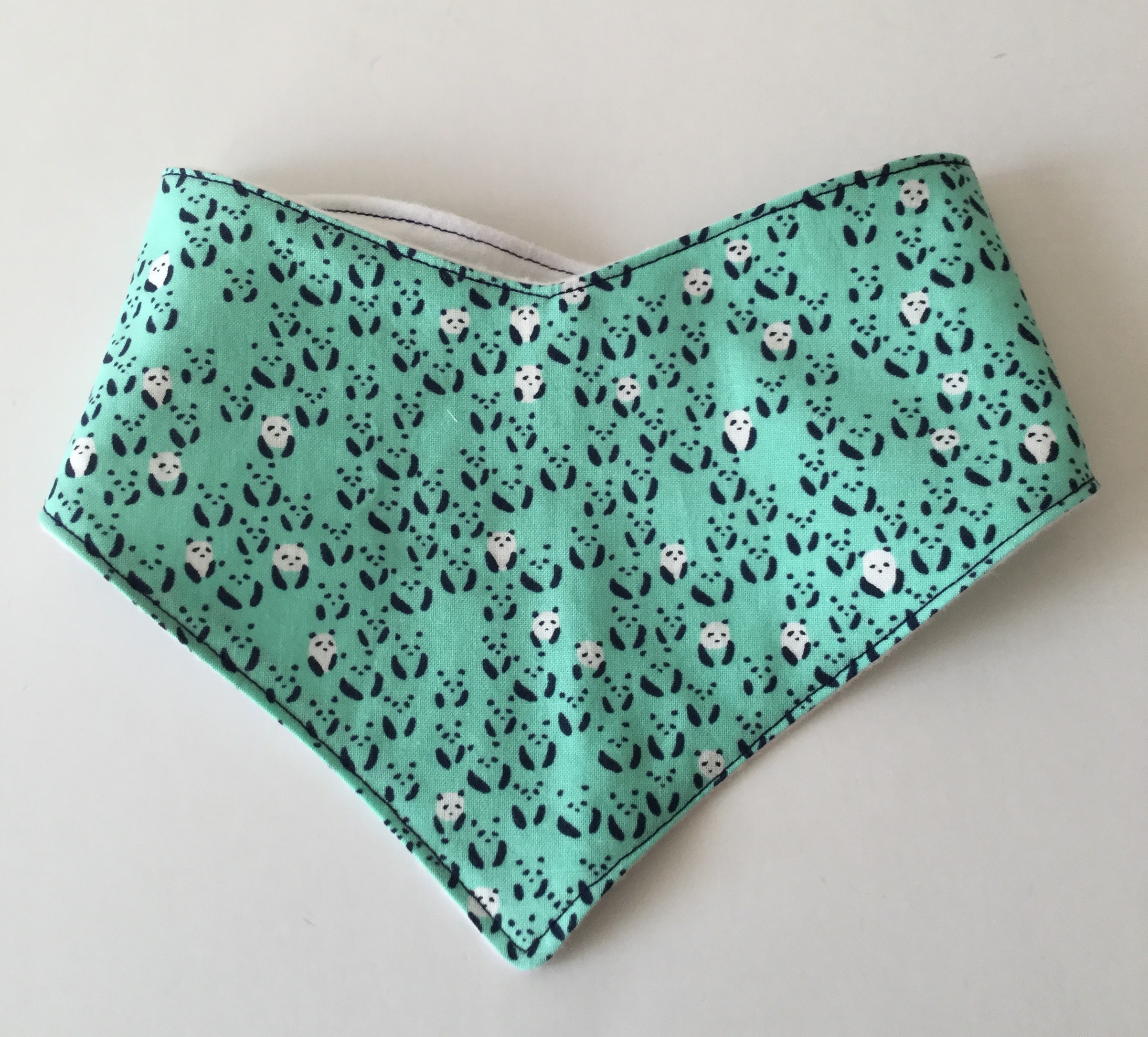 Yesterday I was having fun making a few bandana bibs for my little grand baby.  My son, his wife and the baby got to California yesterday after a few flight delays and weather issues. They are spending time in the Bay Area, about 150 miles from here and will come up here Wednesday.  The baby will be working on teething soon which means all of that drooling that comes with it. I thought bandana bibs might be nice for this. The first one is made with a Cotton & Steel print, Panda Bebe, a white flannel backing and a tiny velcro closure. After I made it, I decided it might be a tad bit on the small side.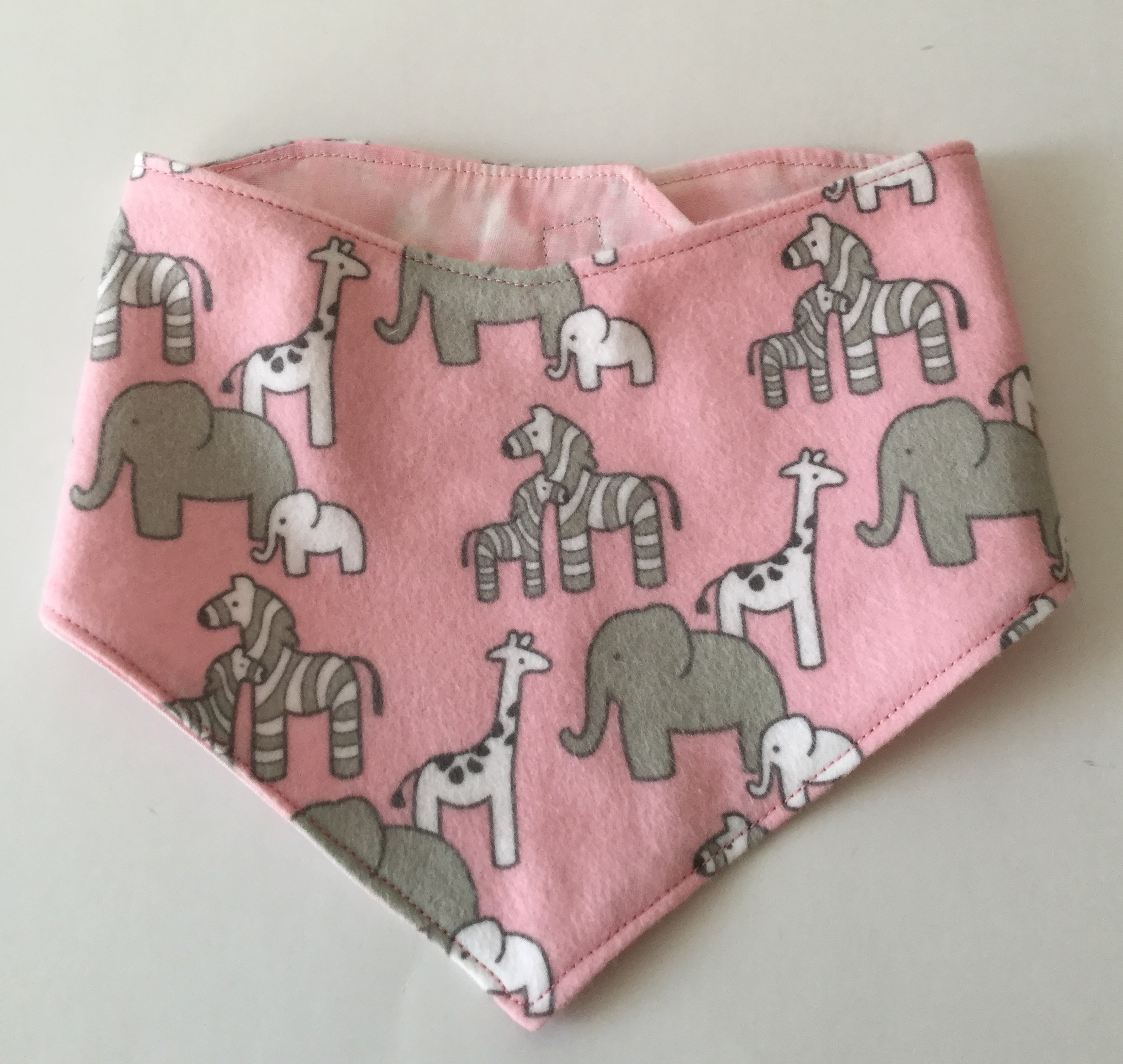 I took the template and cut it to be a couple of inches longer. The second bib was made with a cute flannel scrap I had and a pink lining.  I suspect this one is long enough. They were fun to make and such a quick project. The template I used was from Grey House Harbor, a DIY website with lots of tutorials. It will be fun to see if these fit baby girl when she gets here.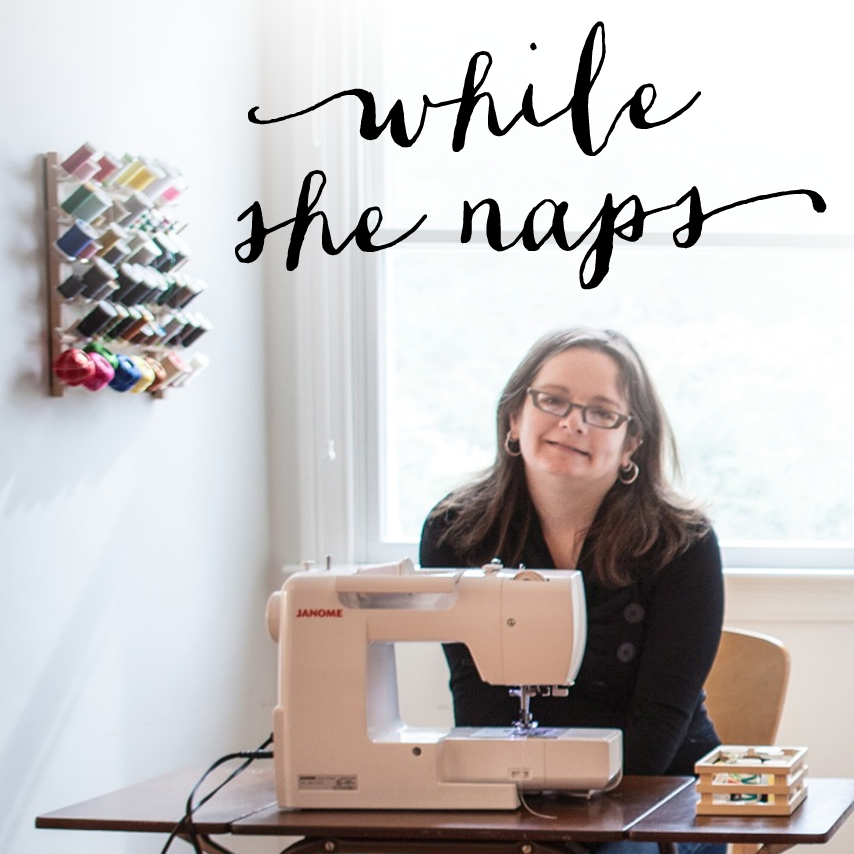 Finally, today Needle and Foot is the sponsor of this week's podcast at While She Naps. The host and author at this site, Abby Glassenberg, is someone I have long admired. So much so, I wrote a review of her newsletter and podcast a while back. When the opportunity came about to sponsor a podcast, I was more than happy to do so.  Abby's strength lies in the breadth of subjects she covers both in her blog, newsletter and podcast. I hope you will click through and listen to today's interview with Jamie Chalmers, otherwise known as Mr. X Stitch. His site boldly claims to be the world's best contemporary needle crafts and embroidery site. You may have noticed that embroidery and cross stitch, among other styles of needle crafts, are trending these days.  Jamie's hugely popular site features "Cute Things, Arty Things, and Rude Things as well as all other sorts of stitchy goodness". I am looking forward to hearing the podcast today and getting to know more about Chalmers. As added incentive, Needle and Foot will be offering a discount to Abby's and Jamie's fans – you'll need to go over and listen to find out the details though!