This quilt has been a long time in the works. It is 'just a patchwork', no complicated piecing, no fussy blocks, but oh I have wanted to make it for a really long time! There are a some really gorgeous quilts made with very bold colors which totally appeal to me. A while back, I started to collect pieces with powerful color and scale. When I had my shop, I would cut 1/3 yard of pieces that appealed to me and set them aside in a project bag. I got lucky at thrift stores and garage sales a number of times and picked up pieces that I knew would work in this quilt. Mixing the scale and the lights and darks to make sure there was a good variety was a lot of fun. Finally the project bag was full to bursting and I knew I had enough to work with.
Doing some very complicated math, I decided to cut 11″ blocks and end up with a quilt measuring about 100 x 110 inches. This is by far the biggest quilt I have made. The piecing was not a big deal. I laid the squares on the floor and moved them around for a bit trying to keep like fabrics from touching. Other than that, I didn't worry too much about a particular layout.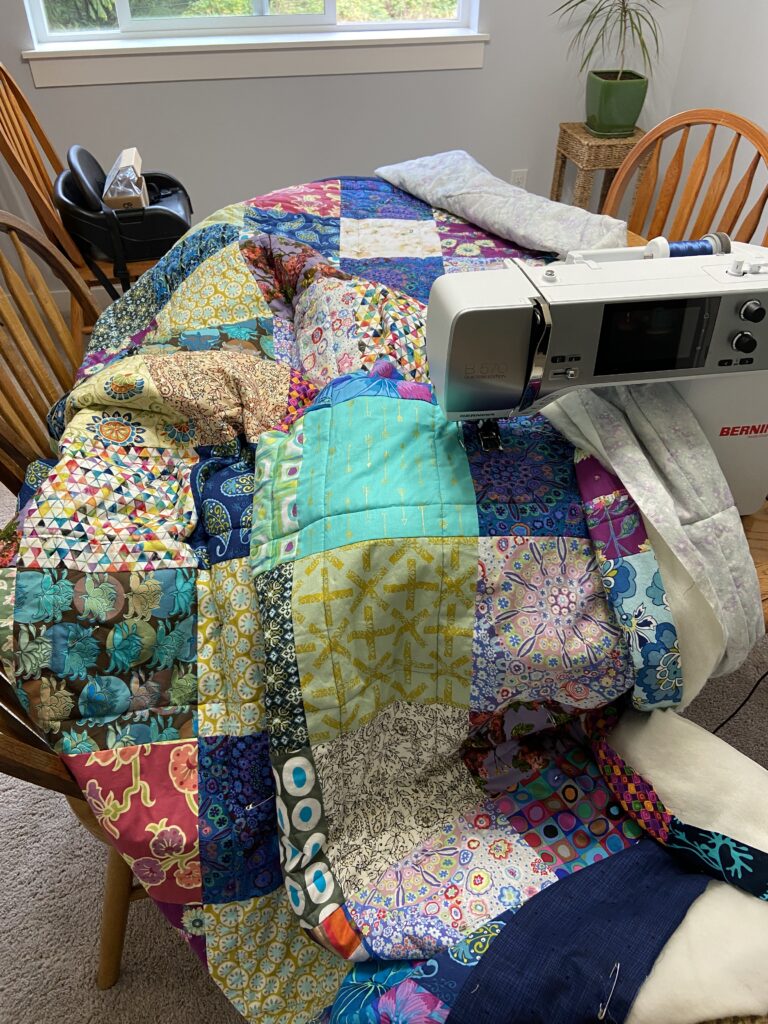 Once the top was assembled, I had to move furniture around to be able create enough floor space to baste it. Honestly, this is a monster size quilt (for me anyway)! The backing is a wide back I saved for this project when I closed the shop. I am fortunate to have a reasonably sized sewing table but it wasn't going to work for this. So I commandeered the dining room for a couple of days to quilt this. I don't know how I could have free motioned it – there is so much weight. Instead, I bought a walking foot (hurray!!) and stitched straight lines, two inches from each seam.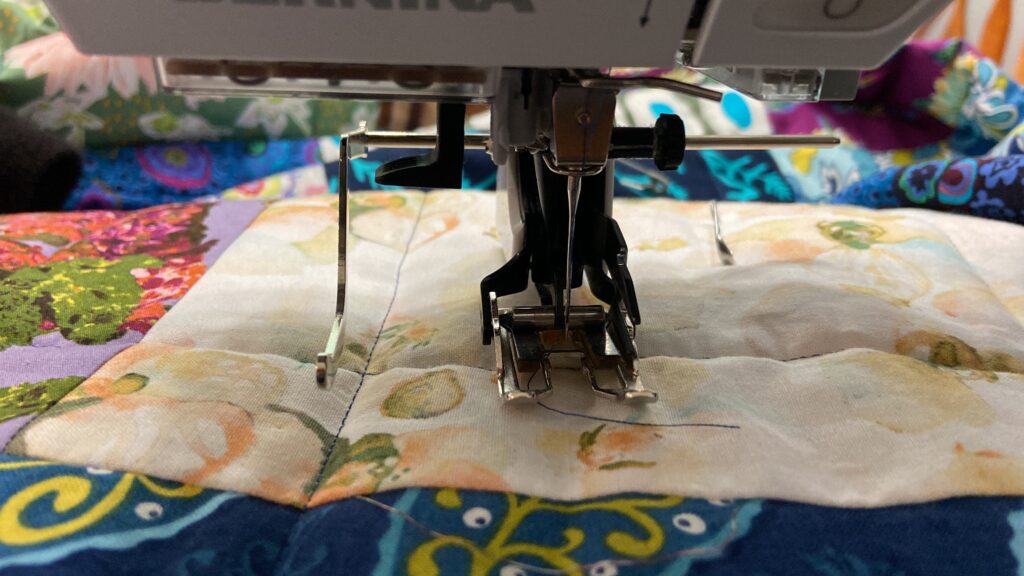 I do love this bar for projects like this. The walking foot came with one for the left and another for the right side. It really wasn't too difficult except for when quilting the middle sections – there was a lot to stuff through the throat of the machine at that point. It all worked out though – save for a few puckers on the backing. I took a bit of time and ripped out some stitching to fix a few of the puckers. For the most part though, I left them as is. After all, it is the back side of a utility quilt. Who is going to see those puckers?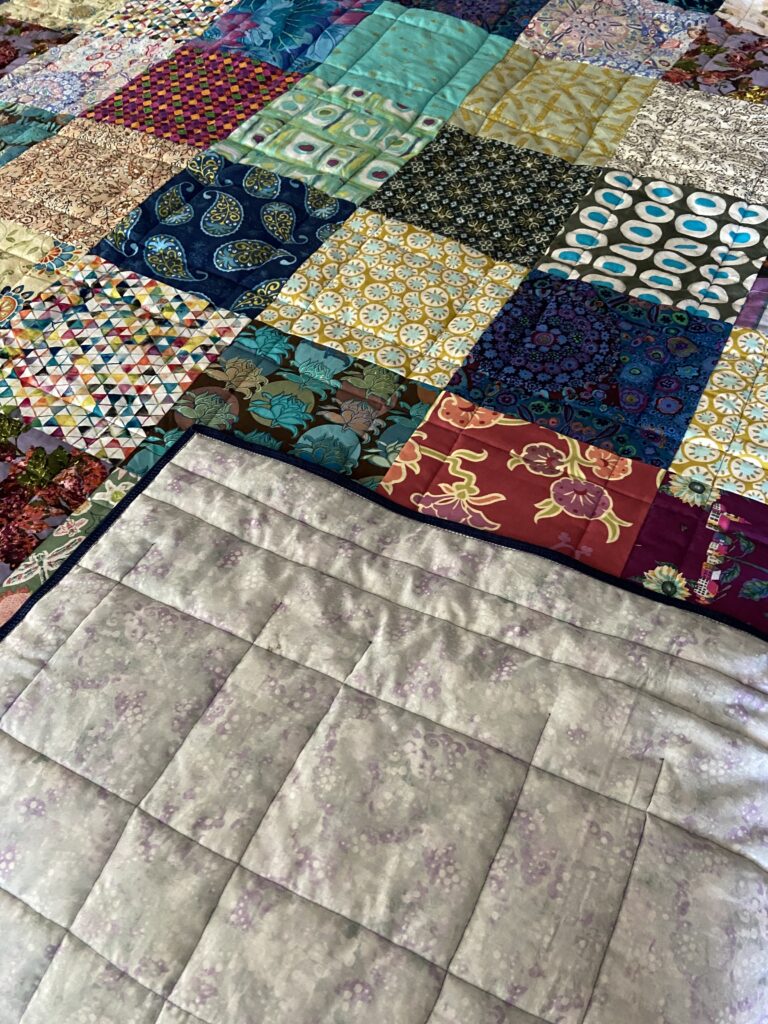 It doesn't show in the photos but, on a whim, I decided to use the blanket stitch on my Bernina for the binding. I can't give a reason for this – I just thought it would look cool. Which it does but, oh my gosh, it ended up taking fooorrevvver to bind this.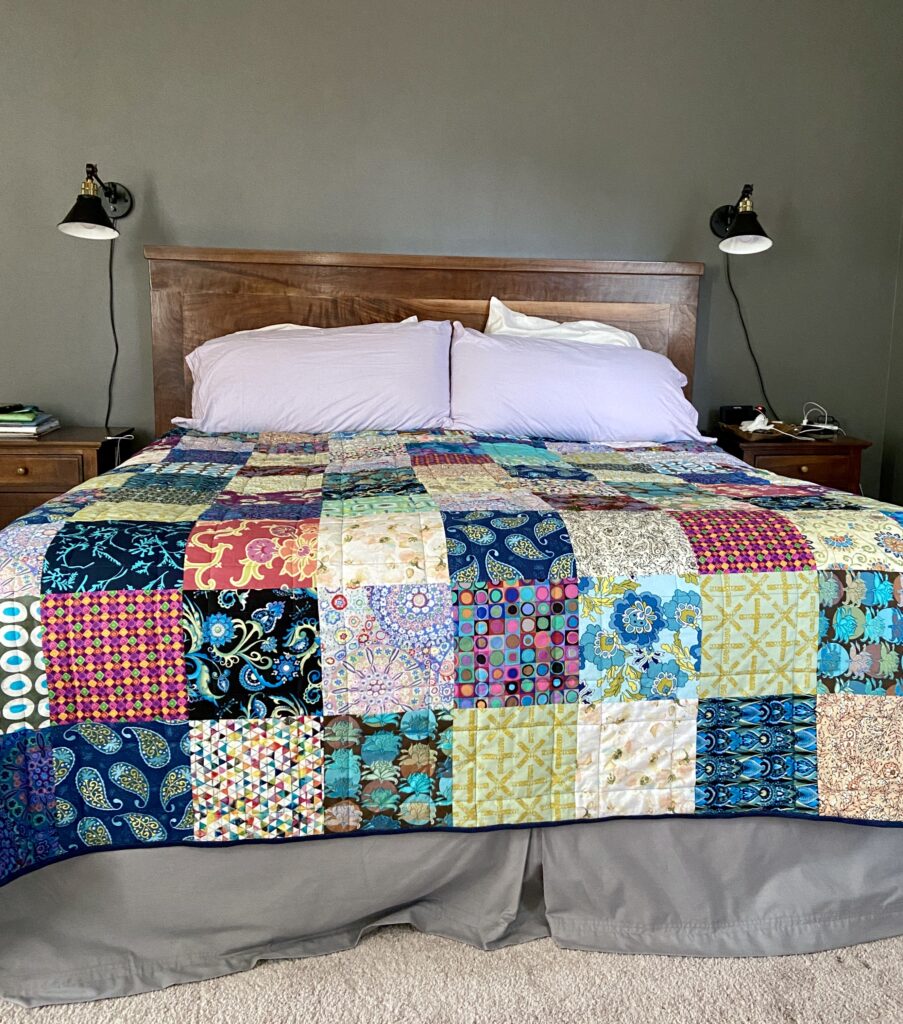 This quilt is a bit like a quilter's I Spy quilt. See if you can find fabrics by the following designers: Alison Glass, Sharon Holland, BariJ, Kaffe Fasset, Malta Dubrowsky, or Amy Butler – there is something from all of them. (Plus many where I cannot tell you who designed them)!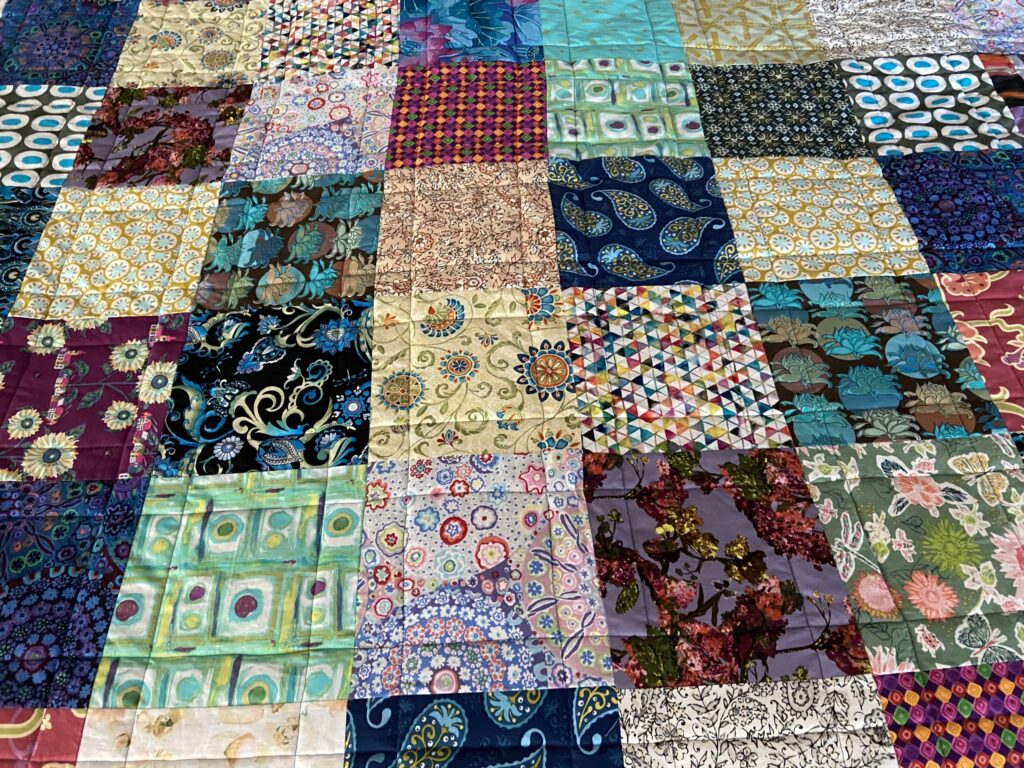 Another fun fact – this is the first time I filled a quilt with wool batting. It surprised me how different it was to work with. Much puffier (more loft) so the quilt is thicker. When I cut my usual 2 1/4″ strips of binding, I didn't know there would be such a difference and it was a bit challenging to wrap that binding over the side. Next time I will definitely cut a 2 1/2″ binding. That should work better. I love the feel and heft of the quilt plus it feels warmer.
I have fabric set aside to make a couple of matching pillow shams. This is going to happen very soon. Shams will finish this off nicely!
Thanks for reading folks! Big quilt equals long post I suppose!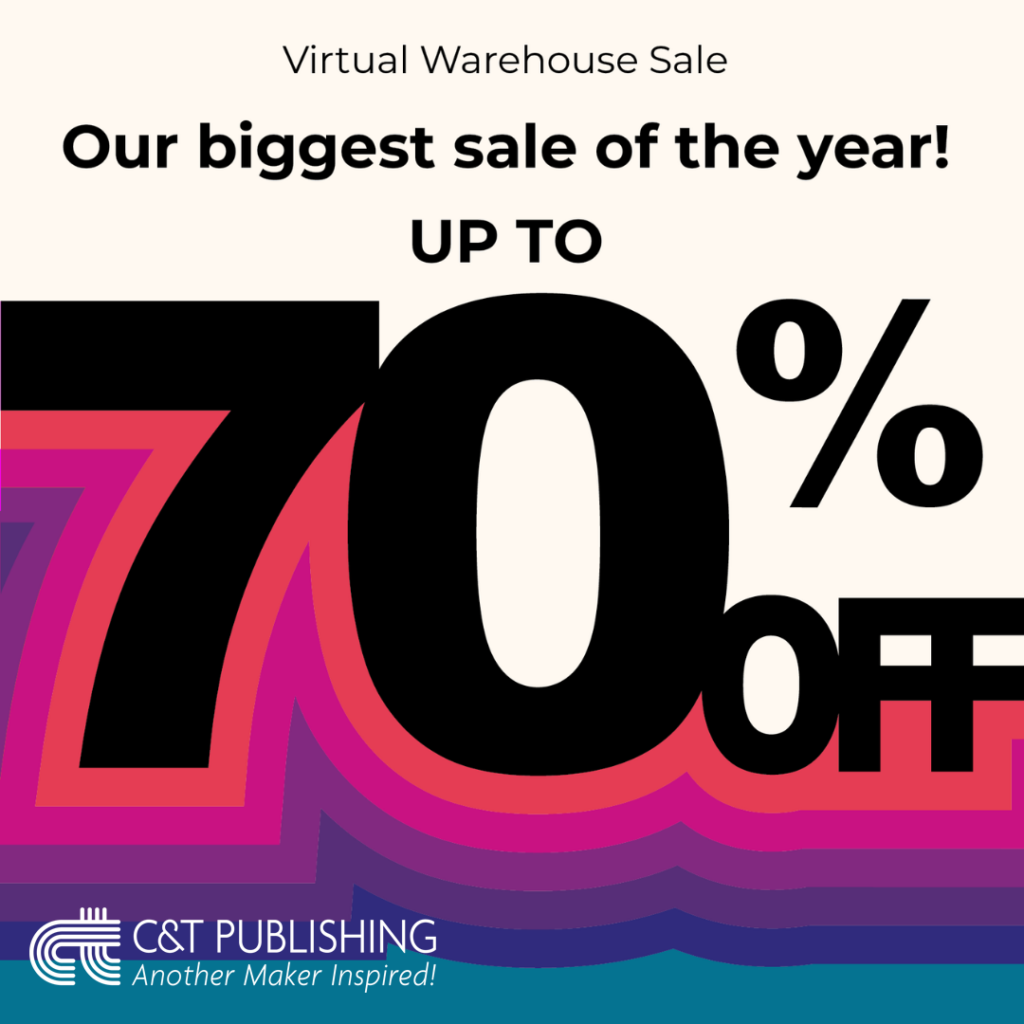 Beginning today, C&T Publishing is holding their warehouse sale! I love this event because they clear out some excellent books at great prices. Enjoy up to 70% off of loads of titles! Sale runs through Sunday, September 25, 2022. (Yep – this is an affiliate link!)
Linking with my usuals, found at the top of the page under Link Ups. Check out some of these sites to see what everyone is making!