I just picked the last of my mums and have enough for the table. The flowers are now finished until the rhodies and azaleas come to life in about February. We are getting ready for Thanksgiving tomorrow.
Today is a baking day. Thanksgiving will be up at my mom and dad's home this year. Two of my five sisters, their kids and grandkids are coming to celebrate. I love this holiday. It is probably my favorite of all of them. It is a day to enjoy family, eat wonderful food and visit, visit, visit! What better way to enjoy a holiday! I have been assigned dessert so Julia and I are making two kinds of fudge and a Chocolate Mousse Cheesecake (a layered deal that looks amazing.) I am also bringing the Cranberry Sauce and have a recipe that I love making each year. It is very simple.  Just in case you are looking for something new to try (could be for Thanksgiving or Christmas), here is the recipe. (I have had this clipping from a Bon Appetit magazine of years ago.)
Spiced Cranberry Sauce with Zinfandel
1 3/4 c red Zinfandel (or any rather sweet red wine)
1 cup white sugar
1 cup packed brown sugar
6 whole cloves
6 whole allspice
2 cinnamon sticks
1 large strip of orange peel
1 12-ounce bag of fresh cranberries
Combine all ingredients except cranberries in medium saucepan. Brting to boil over medium-high heat, stirring until sugar dissolves. Reduce heat and simmer until reduced to 1 3/4 cups, about 10 minutes. Strain syrup into larger saucepan. Add cranberries to syrup and cook over medium heat until berries burst and sauce slightly thickens, about 10-12 minutes. Transfer to bowl. Cover and refrigerate until cold. (Can be made up to 1 week ahead. Keep refrigerated.) This is soooo yummy plus your house smells delicious when it is cooking!
I have so much to be thankful for. All the simple things – my husband, kids and my amazing family, a home that I love in a community that I love, good health, good friends and, yes…. two sewing machines!! Not only that, I am also thankful for this quilting community that I so enjoy. 🙂 I am grateful! I hope all of you are feeling as fortunate. It feels good to remember how very much we have to be thankful for.
As far as sewing goes, this week was not entirely productive. We were gone last weekend and with the holiday, this is a short week. Also, there's some procrasination going on here. I have not one or two, but three quilt tops that are finished and ready for quilting. I have to be in the mood for quilting – it takes a lot of focus for me. Probably because I don't have tons of experience so it doesn't just come automatically to me. Anyway, I haven't been in the mood.
In the interest of avoiding all the quilting that needs to be done, I decided to make some drawstring bags to use for Christmas wrap. This will avoid some of the huge amount of paper waste that comes with Christmas morning. I can put them away and use them year on year.
I have a drawer full of Christmas fabric. All sorts and sizes of holiday scraps. I pulled out anything that was of decent size, ironed and squared them up. Sewing them into drawstring bags took no time at all. (If you haven't made anything like this, there is a quick tutorial on www.diaryofaquilter.com. Amy Smart does it again!)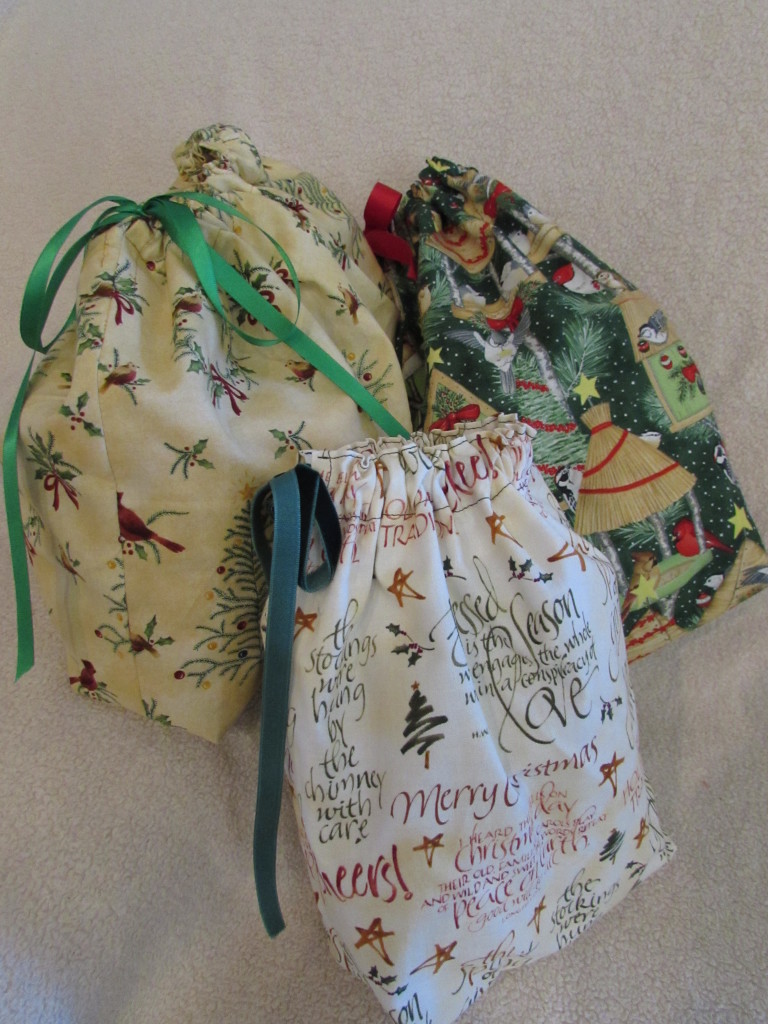 Aren't these cute? Fun to use up these scraps and a great way to put off quilting the three quilts that are staring me down.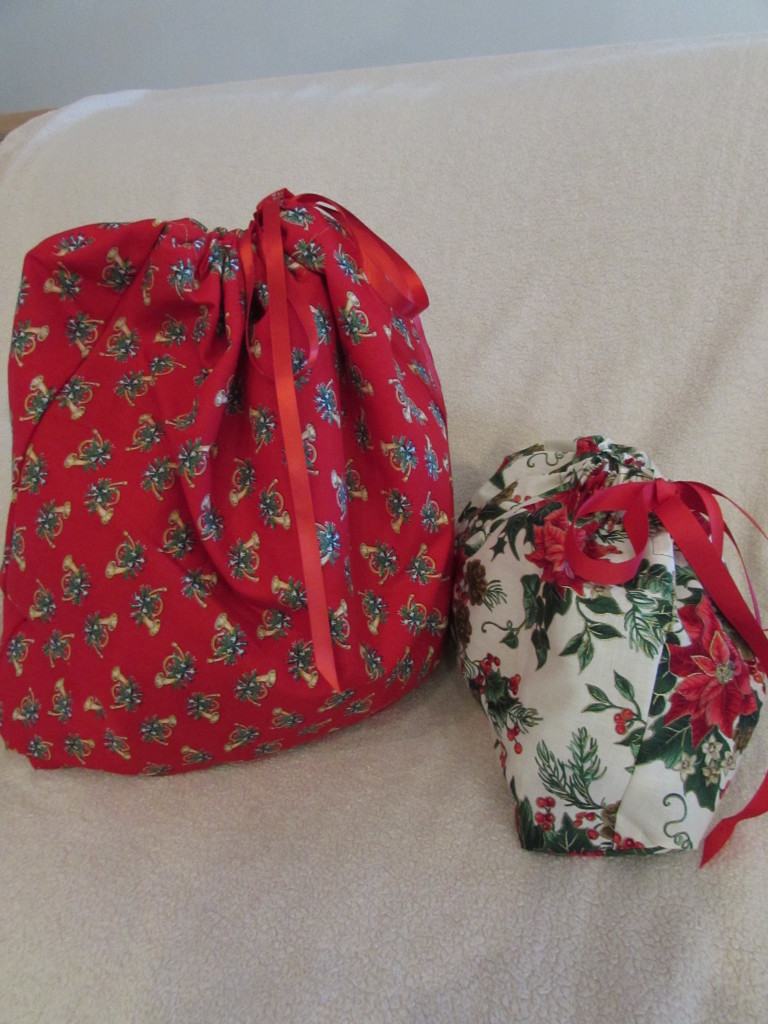 Wishing everyone a wonderful, safe holiday.
Linking to: Sew Cute Tuesday and Let's Bee Social. As always, links to these sites are located at the top of the page, under Link Ups.