I live just far north enough that we get to enjoy a colorful autumn.  Right now it is spectacular.  I have lived in Pennsylvania and I know that what we enjoy here is not on par with the colors that splash the countryside this time of year in the East. However, we do have some really lovely leaves on display these days! This was taken in my neighborhood  yesterday when I was walking the dog.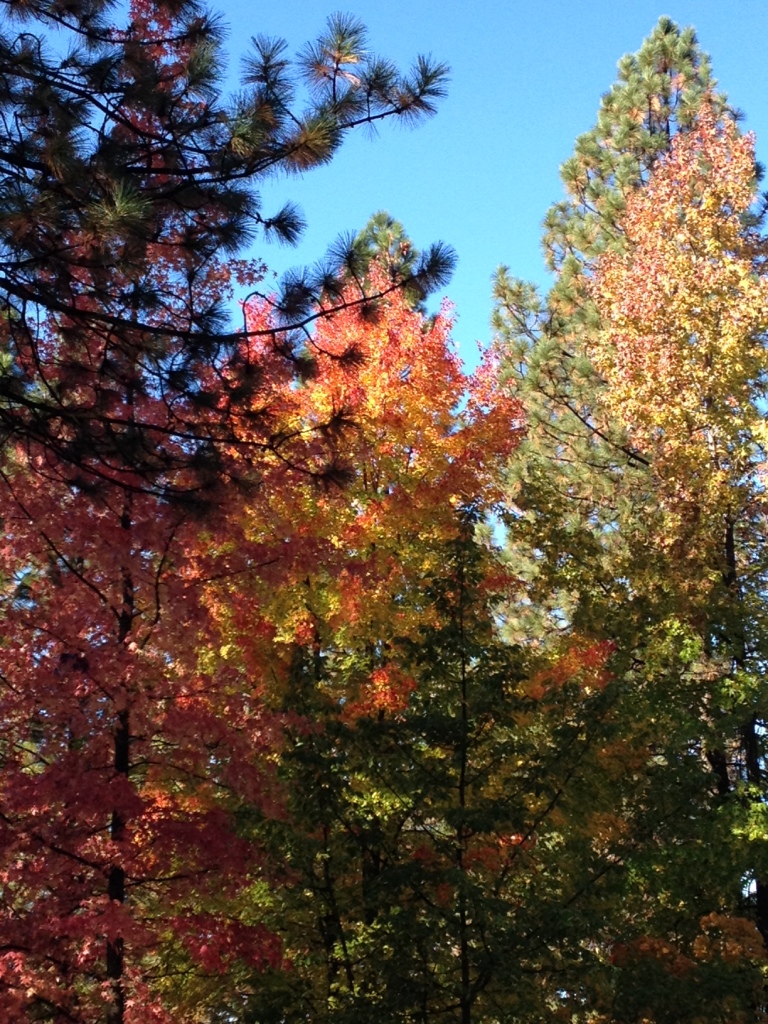 Ok – moving over to the sewing room….. I was really productive this week. For starters, I had a few sales in my Etsy shop which is always exciting.  Now that fall has arrived, I have been selling the cozies that I make for Chemex coffee pots. If you aren't familar with Chemex pots, they make the best drip coffee. However, because the pots don't sit on a hot burner or stove, the coffee cools quickly. I have been making these insulated covers for a while now.  With this mad rush – 😉 – on Chemex cozies, I figured I had better make a few more for my shop. These came together quickly. I have been cutting them in batches when I have the time and then sewing them sort of assembly line style. I love the fabric on this one.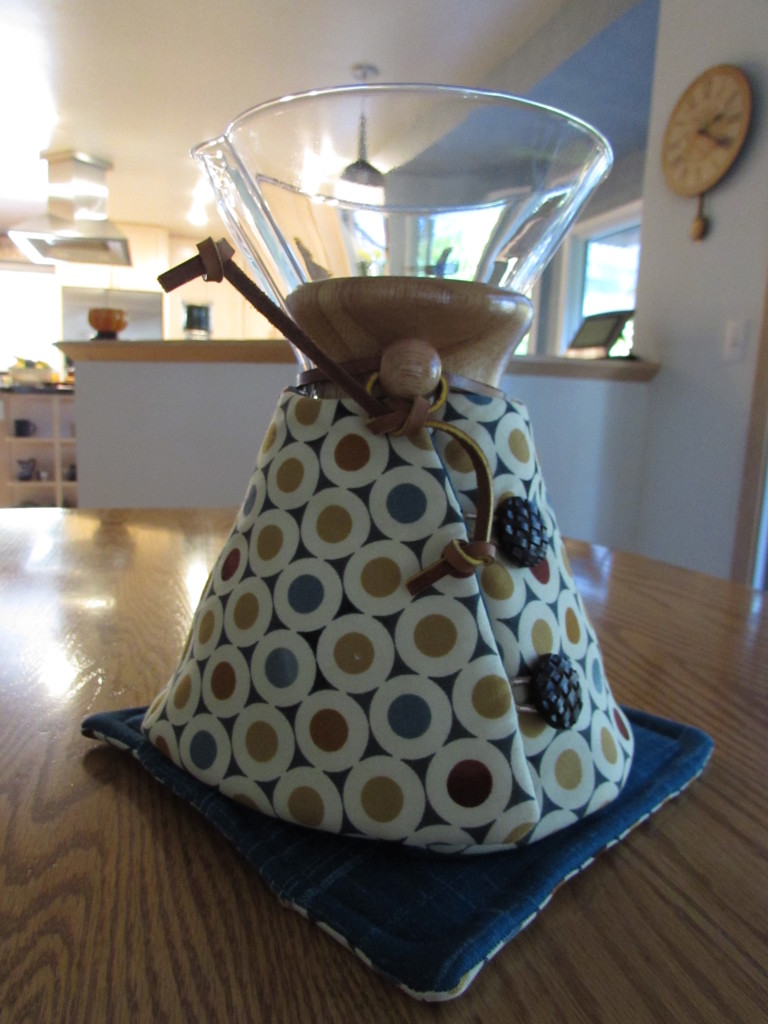 Here is another one. I had purchased this home dec fabric to use as a tablecloth but the piece I bought was too small so I am using it here.  Lovely!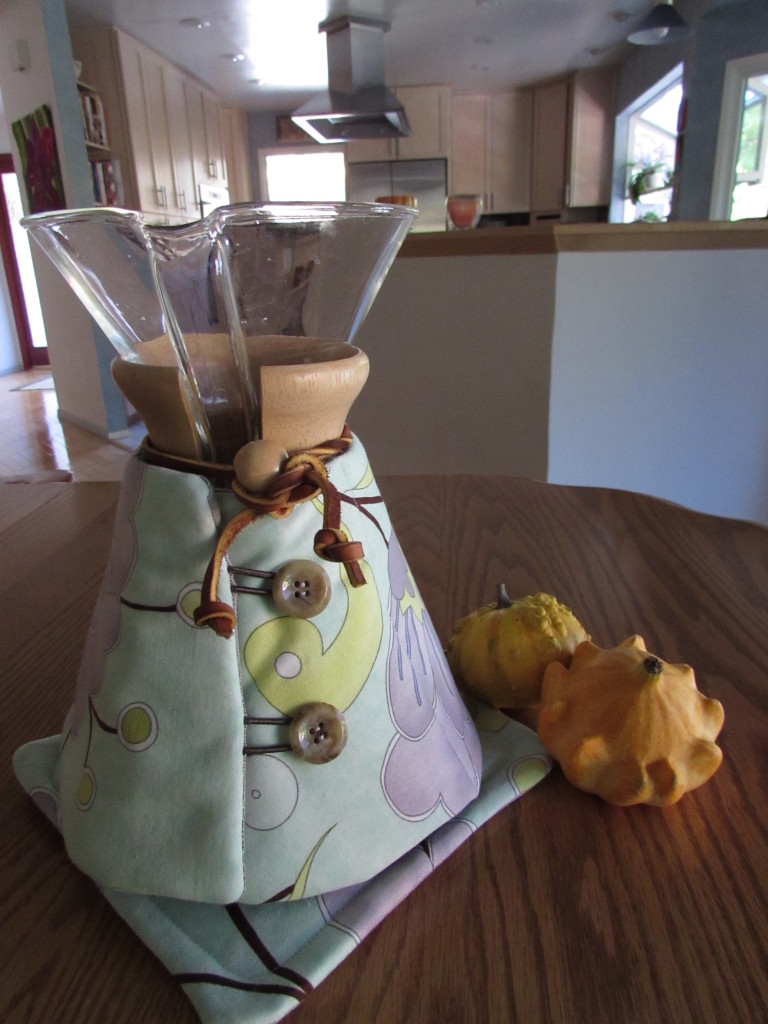 As an aside, I was taking some packages (Etsy orders) to the post office to mail. When I was there I saw that I had estimated the shipping fairly closely for one and had overpriced one package for a couple of dollars (not quite $2.00) I sighed and was telling the postal clerk that I can't always come close when I quote the shipping charges and I wasn't sure if I should refund the overage. She knows me since I have been there regularly lately (benefits of small town life) and said I shouldn't only consider the post office charge.  She asked why am I not considering the time it takes to prepare the package, go to the post office, stand in line.  "That's the 'handling' part in shipping and handling."  Honestly, I never really thought about it and was always only charging for the postage. It made me feel better. This little Etsy shop has taught me a lot in the past few months. Very nice!
My main finish for this week is my Christmas Lattice Quilt.  I finally finished quilting it and even got the binding sewn on.  Yay!!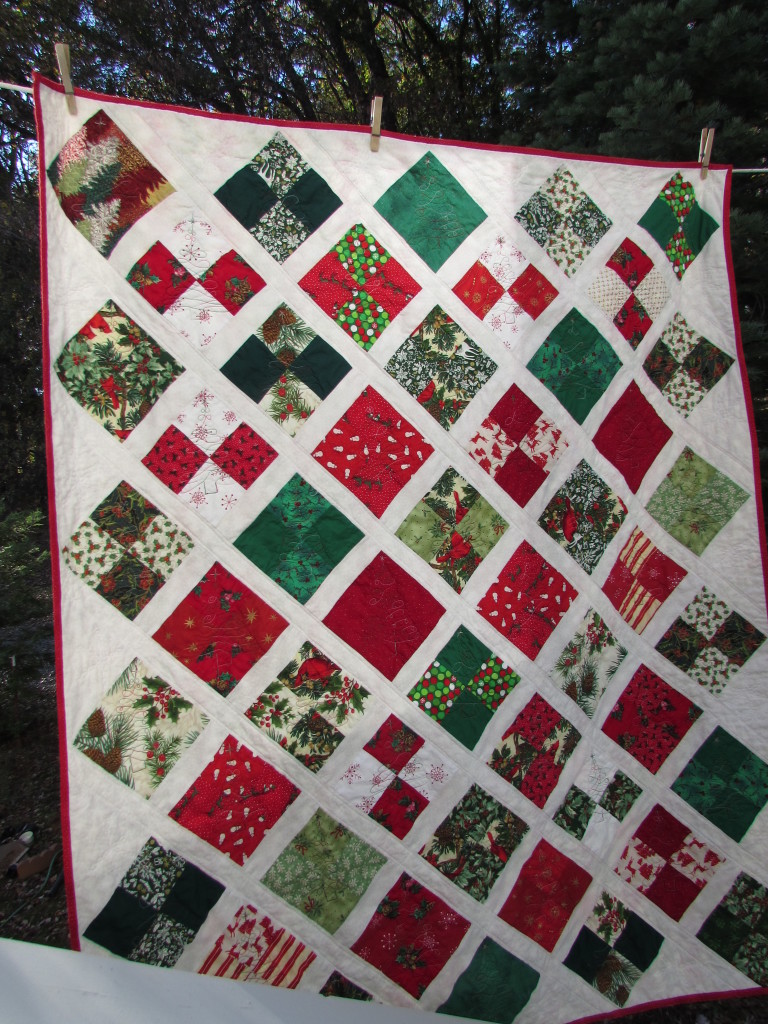 Overall, I am pleased with this project. I quilted it by free motion quilting a little Christmas tree on each block. As always, some turned out great and others, not so much! They were just free-hand, though I did use chalk and draw two guidelines forming a basic triangle to follow. They don't show up all that well since some of the fabrics are busy prints. I also straight-line quilted the sashing.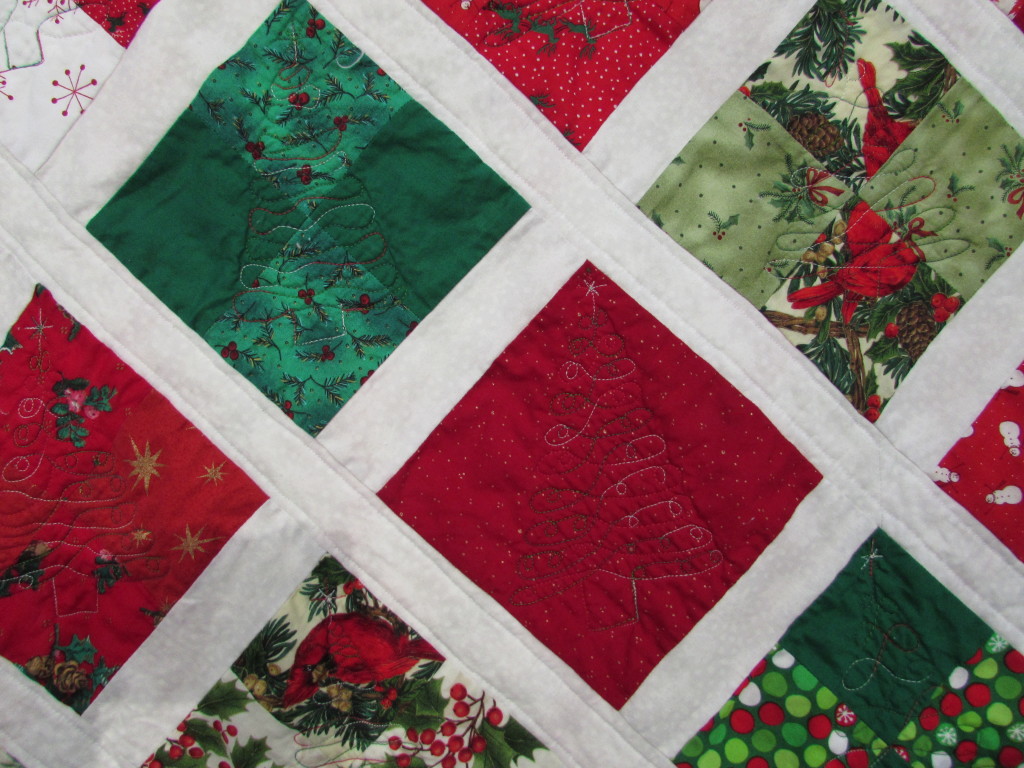 On the setting and corner triangles I FMQ'd snowflakes. These were really fun – again just free hand. I'm very happy with how these turned out.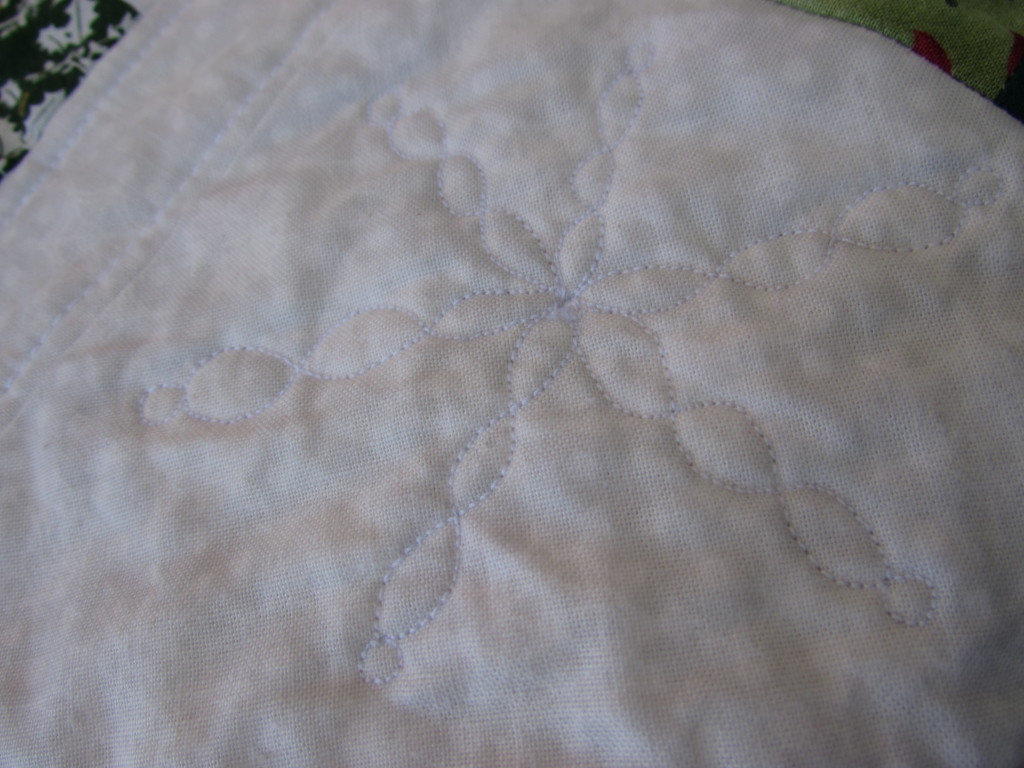 The front of the quilt is pretty.  The back….. Yikes! With each project there are lessons learned, right? Let's just say that this quilt should only be viewed from the front. I had a remnant of a red and green chevron print that I used as the backing.  The trees look absolutely awful against the chevron.  They don't line up with the geometry of the print and the bright green thread that I (for whatever reason?!?) used in the bobbin looks, ummm…. horrid. I should have used white and maybe the trees would have been less noticeable on the back.  At any rate, by the time I saw how poorly this looked, it was too late to change.  So, when I am a world-famous quilter and all of my work hangs in a museum 200 years from now, they will look at this one and just wonder what on earth possessed me. Shudder.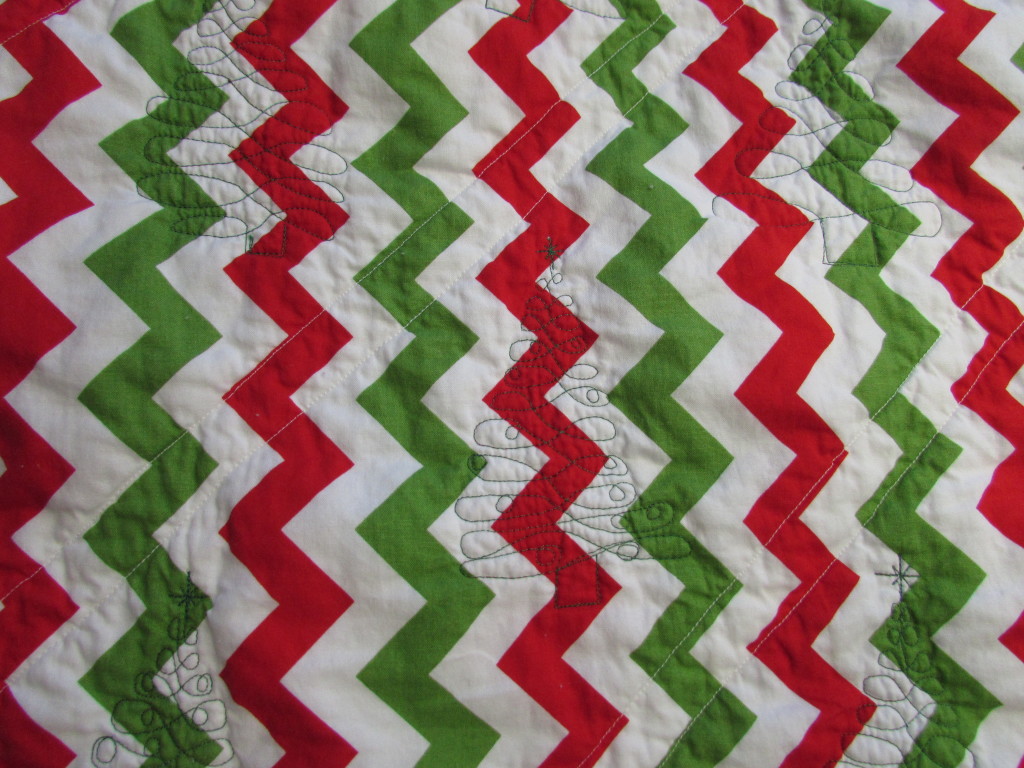 I am really trying to finish all of my WIP. Much as I am dying to make a new quilt top I need to finish up what I have already started. I hate having things stacked up. Tomorrow I will make the backing for the 1600 jelly roll quilt top that I made at the beginning of October. Hope to at least start the quilting on that one over the weekend.
In closing, does anyone need a good book recommendation?  I have read a few of the best books lately.  Here you go:
Me Before You by Jojo Moyes.  Excellent story with the best characters. Total tear jerker so have a box of tissues nearby. Basically the story is about a young woman who desperately needs work and finds a job as a companion to a very unhappy, cynical quadriplegic. There are some really funny parts as well as some very sad. No more details though as I don't want to spoil the story.  Great book though.
The Namesake by Jhumpa Lahiri is wonderful. Again, great character development. This is a story of a couple in India that marries as arranged by their families. They come to live in the US in the mid 1960's and raise two children. The story follows their assimilation into America and that of their kids. The insights into their culture are so interesting. Loved this book –  a really, really good read.
The Birthhouse by Ami McKay is a story about midwifery during the World War I era. The details are fascinating and the story is excellent.
What have you been reading lately? I would love to hear what is good and what's not so great. Let me know!  Have a great weekend all.  🙂
Linking to Let's Bee Social, Needle and Thread Thursday, TGIFF, & Crazy Mom Quilts. As usual, links to all of these wonderful sites are listed at the top of my page, under Link Ups.