This week I finished the quilt top for the Aurifil 2014 BOM. Kind of strange since this is only November and the Aurifil December block hasn't even been released yet.  Allow me to explain…. (or as Ricky Ricardo would have said, I 'have some splaining to do'. How about that for dating myself.)
In June I discovered the Aurifil block of the month and decided to go for it even though I was already half way through the year.  I quickly made the blocks for January through June.  I had a pile of wonderfully bright fabric by Malka Dubrawsky, "A Stitch in Color", that I wanted to use. (I did need to supplement with a few additional fabrics.) I posted about this a while back which you can read here if you want.  With the first 6 or 7 blocks, I was really happy with the look that was coming go together. There were a few issues though.  First of all, and this may be my naivete showing through, but the blocks varied in size. Some of the original designs were sized for a 12″ block and others were designed to be 12.5″ blocks. What is that all about? I kept thinking it was my error but no, that is how the designs were. I think the blocks should all be the same, strange isn't it? Also, as new blocks were released (in September and October) I kept looking at them and playing with the fabric, trying to figure out how to piece them. It wasn't working well at all.  The blocks were fussy with little pieces.  This fabric is bold and high volume – big prints running throughout. It just didn't look good.  I kept setting the project aside and working on something else.  (Like procrastinating would magically fix the problem.)  But then……
I had an epiphany!  Just because I started this project with the Aurifil blocks, I didn't have to finish it that way.  Yikes, this was a huge revelation for me.  You wouldn't know this, but I am a rule follower; I don't veer off the path very often. I started the Aurifil BOM, therefore it should be finished with the Aurifil blocks, like the Aurifil police would come and confiscate my quilt.  Not so. I decided these fabrics really only look good (to me anyway, and it's my project, right??) in a big, chunky looking block. I decided to finish the quilt with blocks of my choosing.  I'm such a rebel.
During this same time, I found out about the app called BlockFab-HD. If you are an iPad user and haven't tried this, it is wonderful! There are most of the commonly used blocks in the library. The user can determine the size and quantity of the block and the app will tell you the size of the pieces and the  yardage. It may not be EQ7, but it's FREE! Works for me. You can put in different colorways and can look at the blocks tiled, sashed or separated with solid blocks.  Yes, it is limited but it suits my needs for now.
FIrst I chose to make a pinwheel block.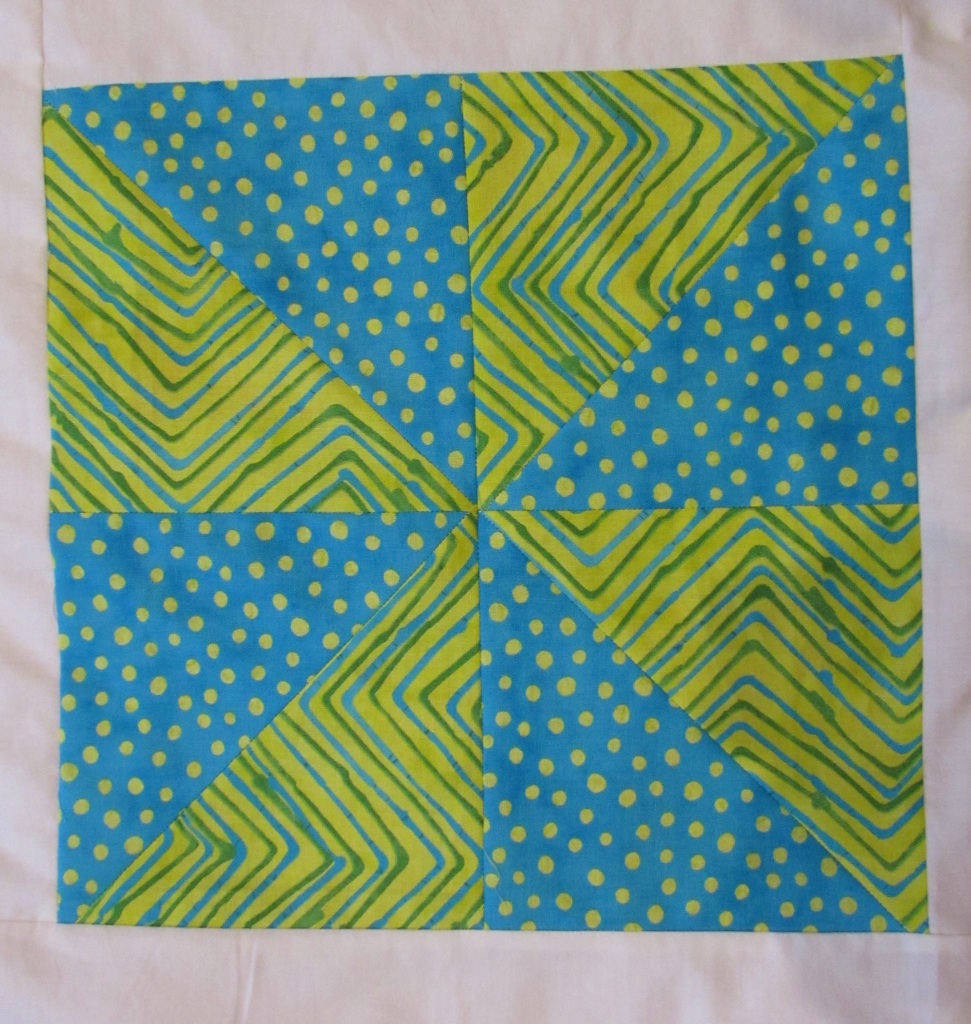 Then I made a plus block.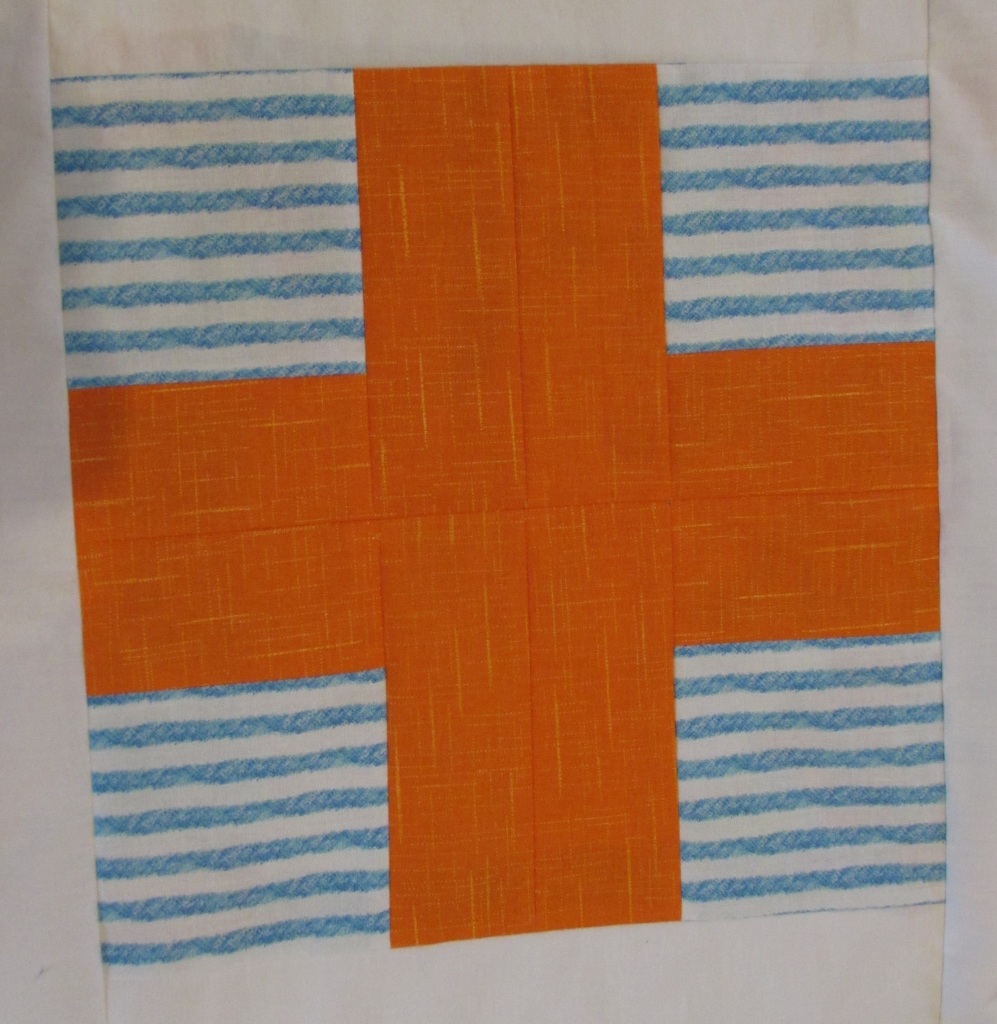 Finally, I did a square in square block. (I like this one quite a bit!)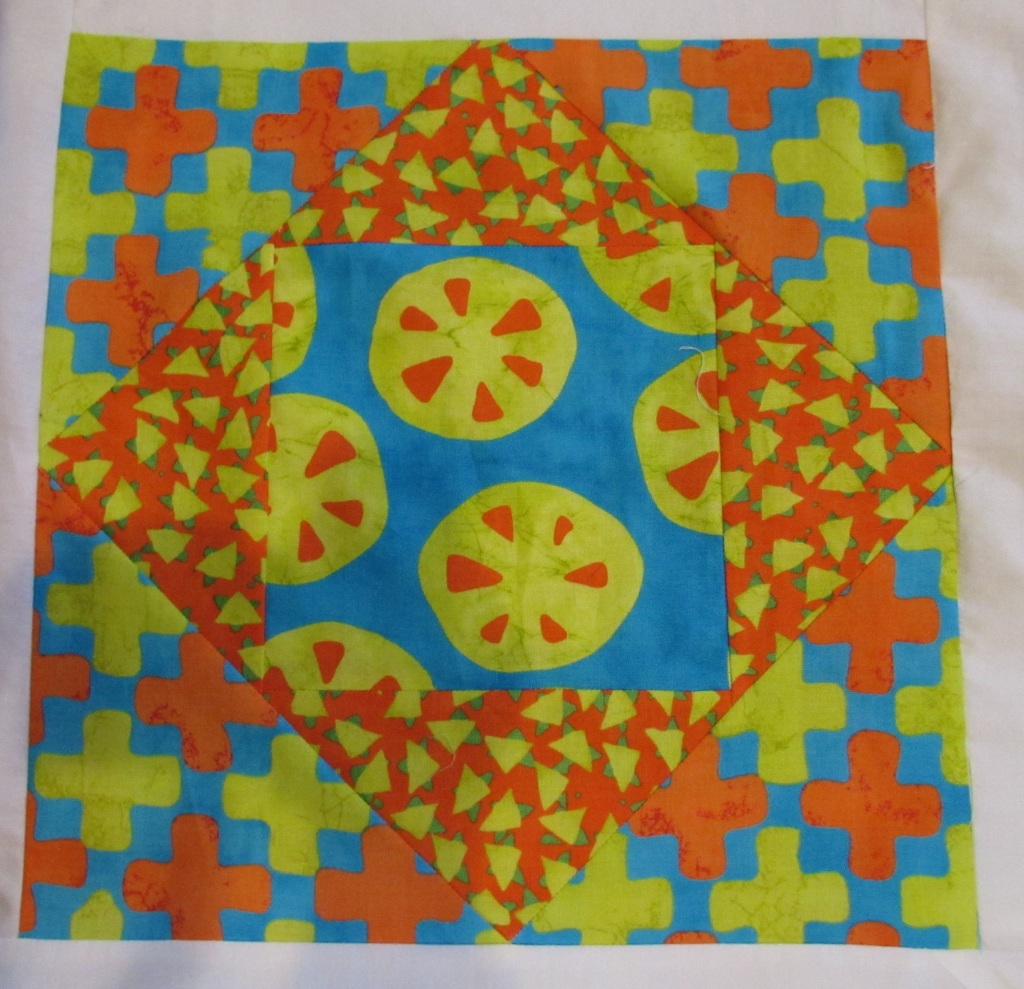 My biggest challenge in assembling the quilt top was dealing with the variance between the 12 and 12.5″ blocks. I couldn't cut down the 12.5″ blocks or I would lose the points and ruin the block. I ended up sashing all of them with white. Sashing hides a multitude of problems and it worked for me with this project. I had to cut the sashing wider for the 12″ blocks so everything doesn't line up perfectly. It isn't very noticeable though. Look at the second and fourth rows – they have wider sashing between the blocks. I bordered it with the solid orange fabric to frame everything. Here is the resulting quilt top: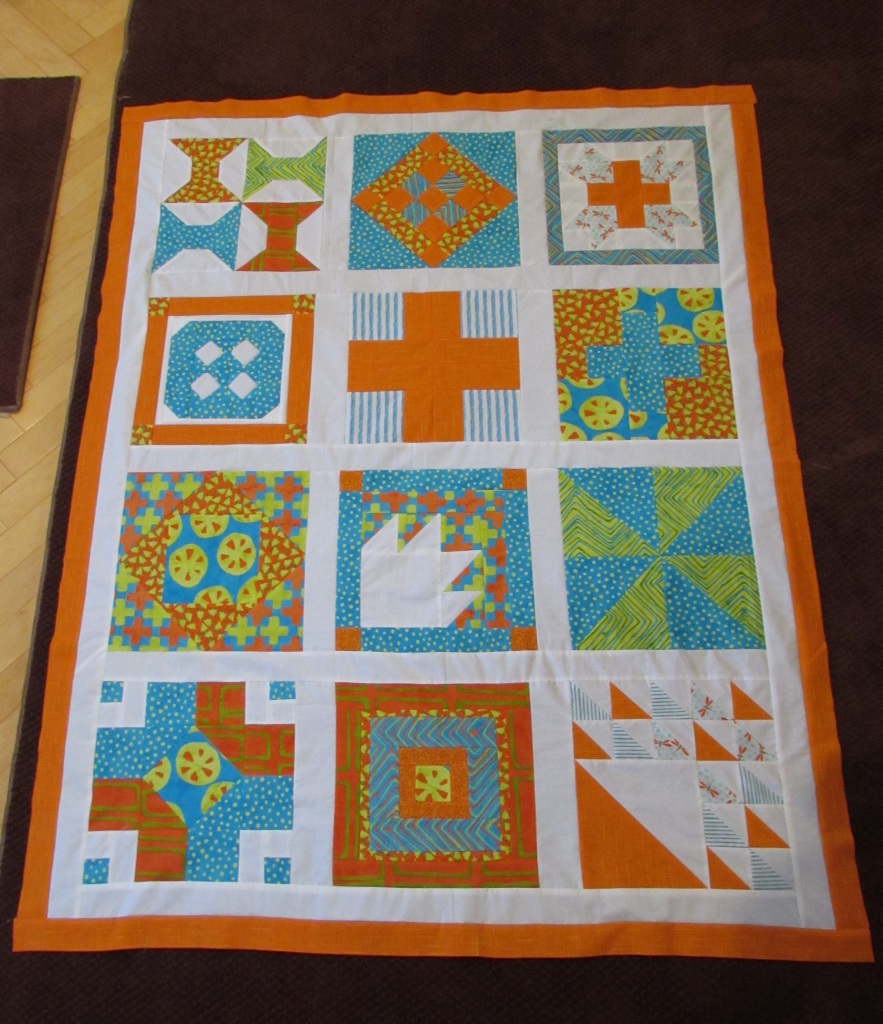 My borders are ruffling which is a pain. I will need to work on them before I quilt this. I haven't selected a fabric for the back yet, but for the binding I plan to piece it with the leftovers. I think that will be so cute against the orange.
Lots of learning from this one, to be sure. For me though, that is what it is all about.  Learn something from each project and improve. I am so happy with the overall look of this.  It is vivid and happy as well as being wayyy outside of my usual work.
Looking forward to this weekend. My son will be home for a visit. It rained the last day or so and the air is fresh. Yay!!  Hope you all enjoy your weekend and get to enjoy some time at your machine.
Linking to Freemotion by the River, Needle and Thread Thursday, Let's Bee Social, Crazy Mom Quilts, & TGIFF. As always, links to each of these sites are listed at the top of the page under Link Ups.
Comments are always appreciated and inspiring. I will answer them all.  🙂