The 2023 Positivity Quilt Along has begun! The first post went up about a week ago at Sew Preeti Quilts where she shared the pattern choices as well as fabric cutting instructions. I am very excited about this year's pattern(s)!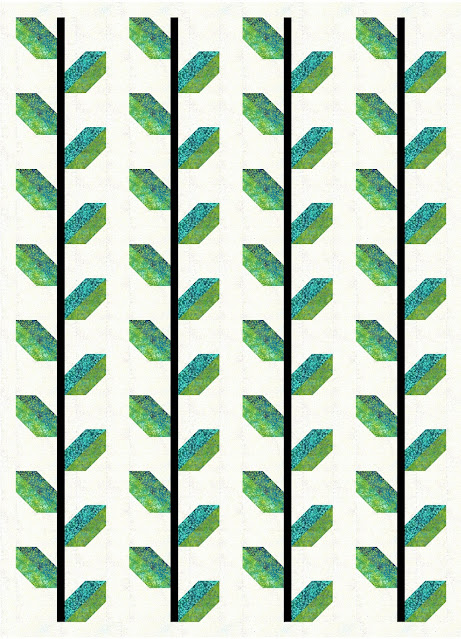 Above is a quilt based on climbing, leafy vines which Preeti has aptly names Positivity Grows. Very pretty, super simple and quite effective!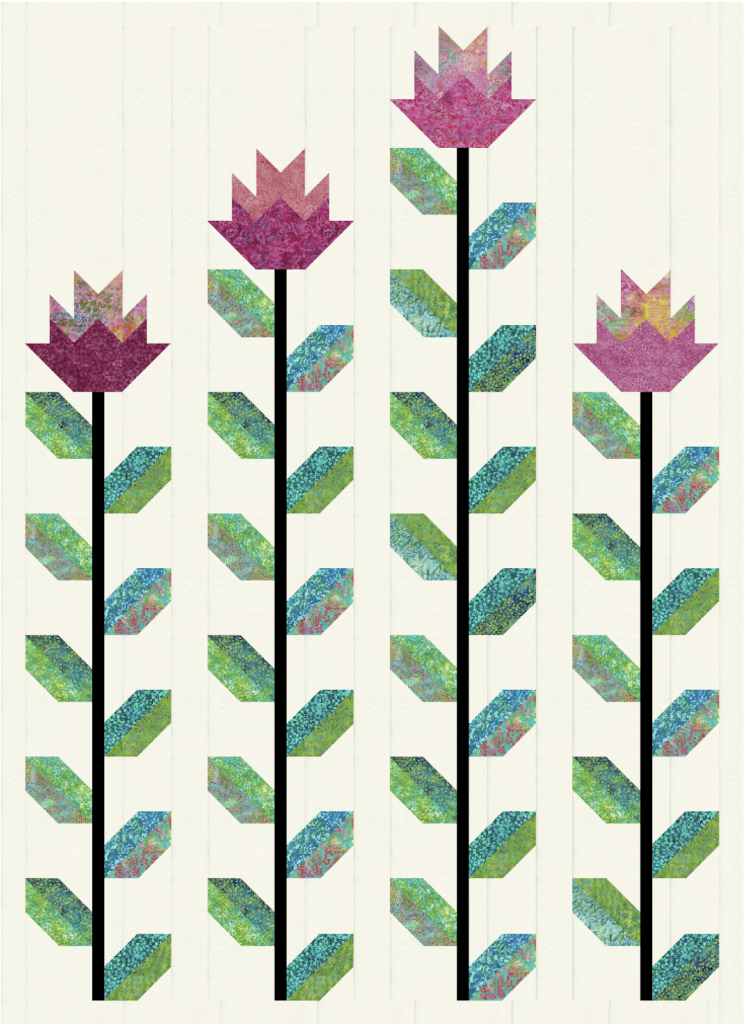 The other version, namedPositivity Blooms, is shown above. I am planning to make a version like this. I chose this version for a couple of reasons.
When I looked at fabric in the beginning, I was going to use one of two jelly rolls I have on the shelf. But as I considered each of them it was clear neither was going to work well. They really didn't work for a botanically themed quilt. Some of you will pull this off and it will be lovely but I couldn't figure it out. After this, I vacillated between buying a jelly roll or using scraps. I have sooooo much fabric and surely there was a way to use what I have. I found two large pieces of solid green fabric in two shades. I cut strips of these for half of each leaf. Then I went through all sorts of bits and bobs of green prints, cutting as many strips as I could. But not many of these were full width of fabric so this presents a bit of a challenge. My blocks won't easily work out mathematically. But this is ok. If some of my leaves are different sizes they will just mimic nature that much more. The standard block goes together much easier than this! Please check Preeti's recent tutorial explaining the process.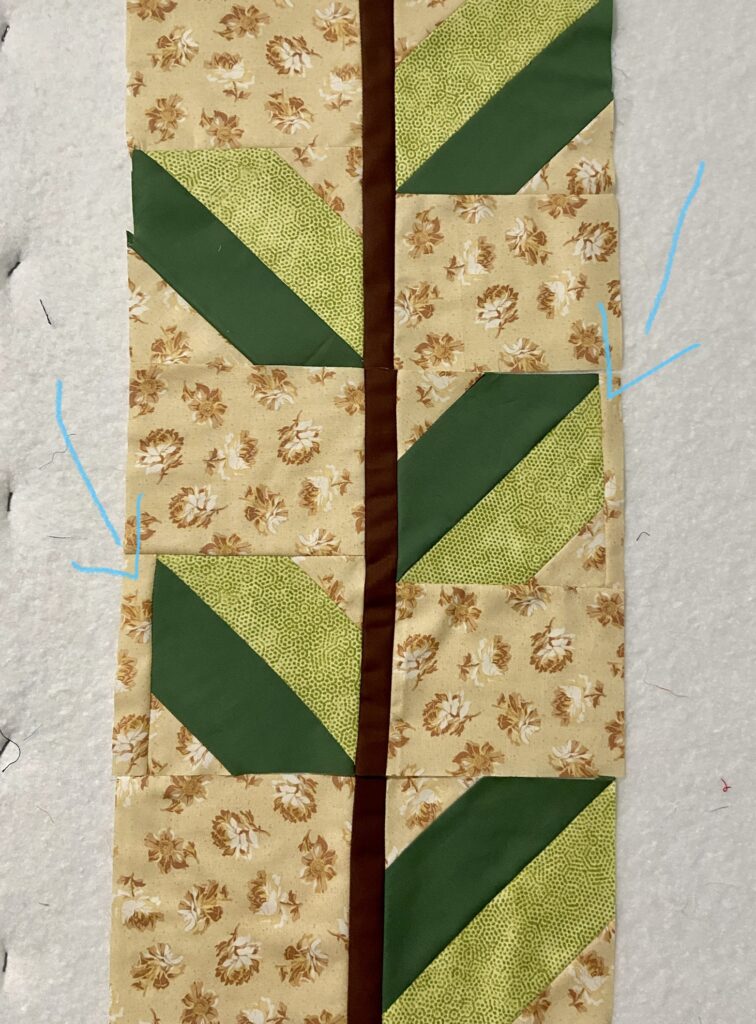 It will take a bit more time, but I can make it work. See the extra border I added to two of the leaves above? Even if a bit time consuming, in the end it will add a fun variety to the sizes of my leaves. Also, since I don't have a lot of each of the patterned green fabrics, my leaves will be scrappy with a variety of shades in the leaves. I am not sure how I want to mix them together but I can figure that out later.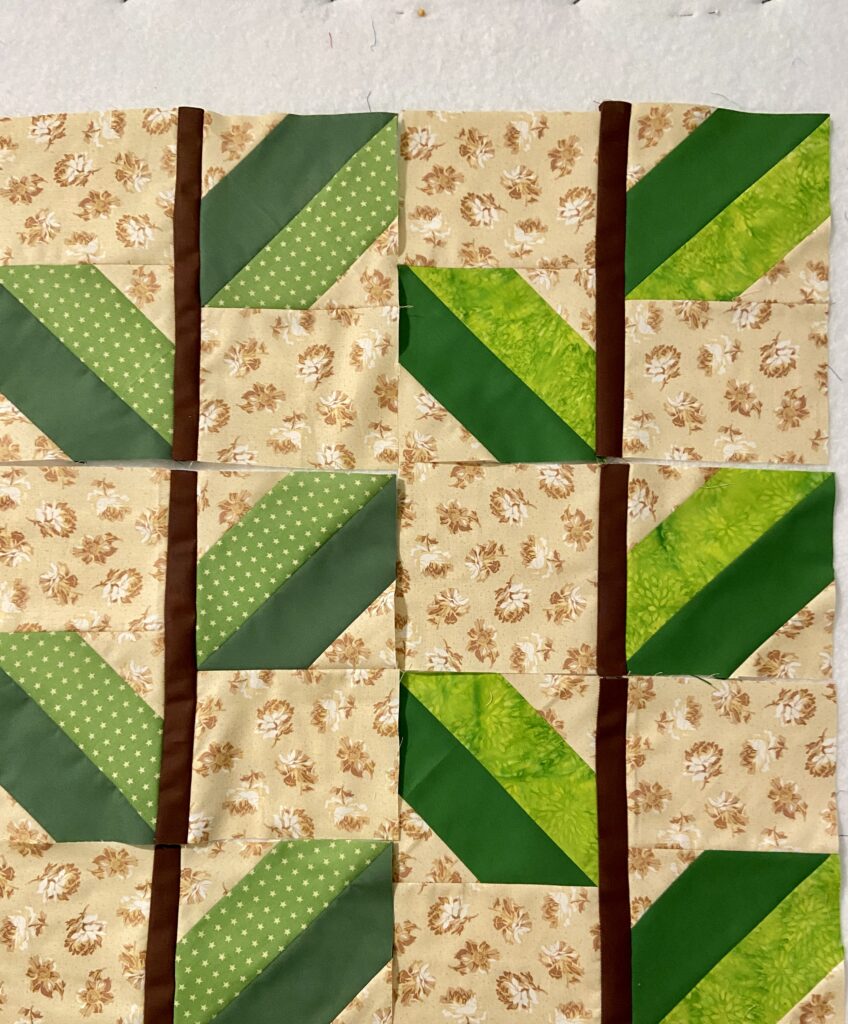 Not all of my blocks will be built in matched pairs. You can see above, on each column there is a single leaf. On the right column, look at the third leaf down. This will occur here and there due to the amount of leaves I can get out of the random size strips. Again, nature does this sort of thing all the time, right? As for the blooming version of the quilt, I thought this would be a good one for me since I have less than ideal amounts of the green strips. Making the blooms means making less leaves. I like the earthy colors of the background fabric. I hope it will give this quilt a bit of a fall feel to it.
So far I am having a lot of fun with this. For now though, I am setting it aside. Tomorrow I fly to Brooklyn NY to see my son and his wife. Normally they fly out here for visiting but this time, I am heading east. We have a few plans but mostly I just want to soak in the family and enjoy lots of visiting. I don't see them nearly enough so I am super excited.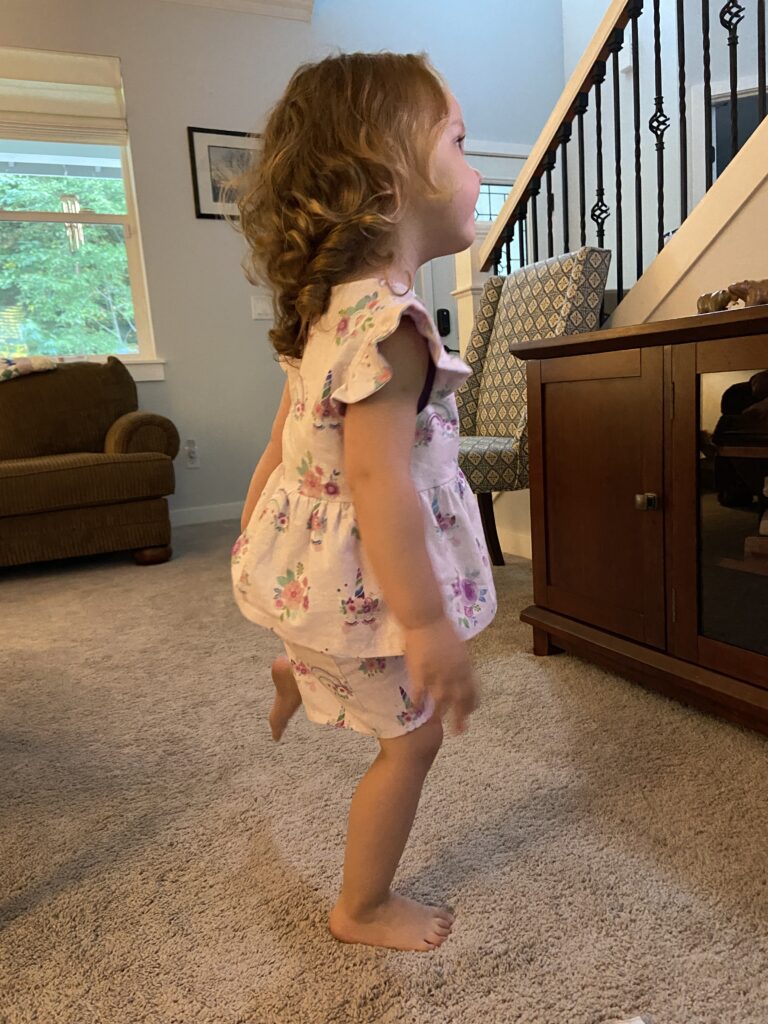 This isn't the best shot but I wanted to share a picture of A wearing the pajamas I made for the girls. They fit but wow, it won't last long. I made a size 3T and wish I had made the 4T. Oh well, for now they look adorable. (She was engaged with some TV show and wasn't not at all into modeling for me.) Most importantly, she likes them and that makes it all worth it.
Time to do some laundry so I can pack for tomorrow's trip! While I am away, my parents will be up here house hunting. Hopefully they will find just what they want!!