After enjoying time with one of my kids, leaving is always, always a challenge. Do all mothers feel this? The love I feel for each of my four children is endless.
I just spent four whole days with Kyle. He is my middle child; my second born who entered this world in 1987, ten days early and came into the world in just 26 minutes. The doctor didn't have time to put on his surgical gown and I am fairly certain the (white) shirt and Mickey Mouse tie he wore that Sunday evening were never worn again. I was still wearing socks and a -tshirt when the hospital registrar came in after Kyle was born and said, 'well now, let's do your paperwork'.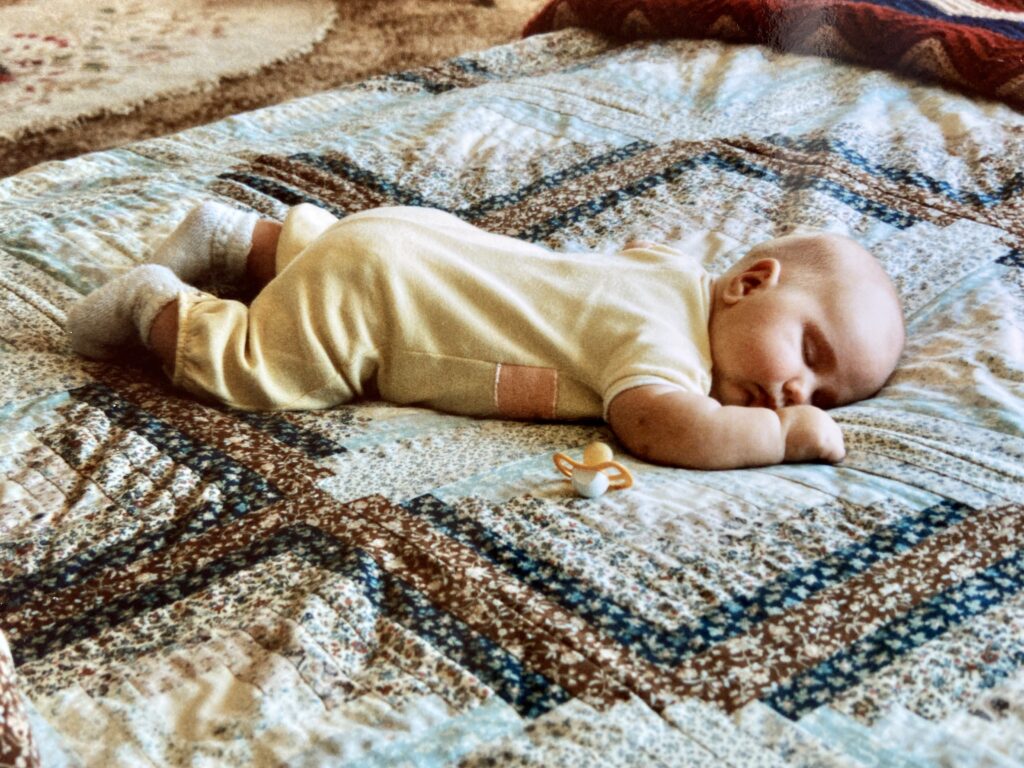 Having time alone with any one of my children is time treasured. Because he lives across the country, this doesn't happen often enough for me and Kyle. But this week…. This week I had four entire days. We talked about all sorts of stuff, from silly to serious. We walked over 60,000 steps wandering all over Brooklyn. One day we did venture into the city for a walk through Central Park but mostly we stayed in Brooklyn.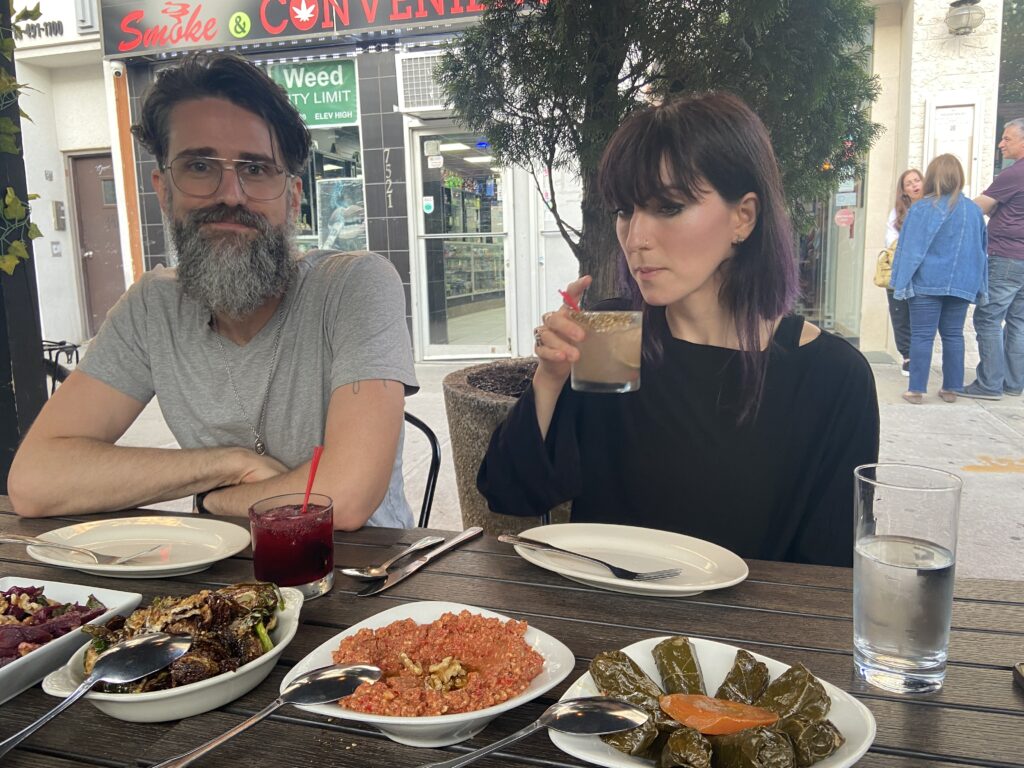 Kyle and his wife were very gracious hosts. They chose amazing restaurants, and even found a lovely quilt exhibit in a small museum (worthy of a separate post). Knowing I was really there just for time together, our time wasn't booked up with tours and back to back activities. It would be easy to do this in New York and maybe someday we will. Instead we just walked and talked.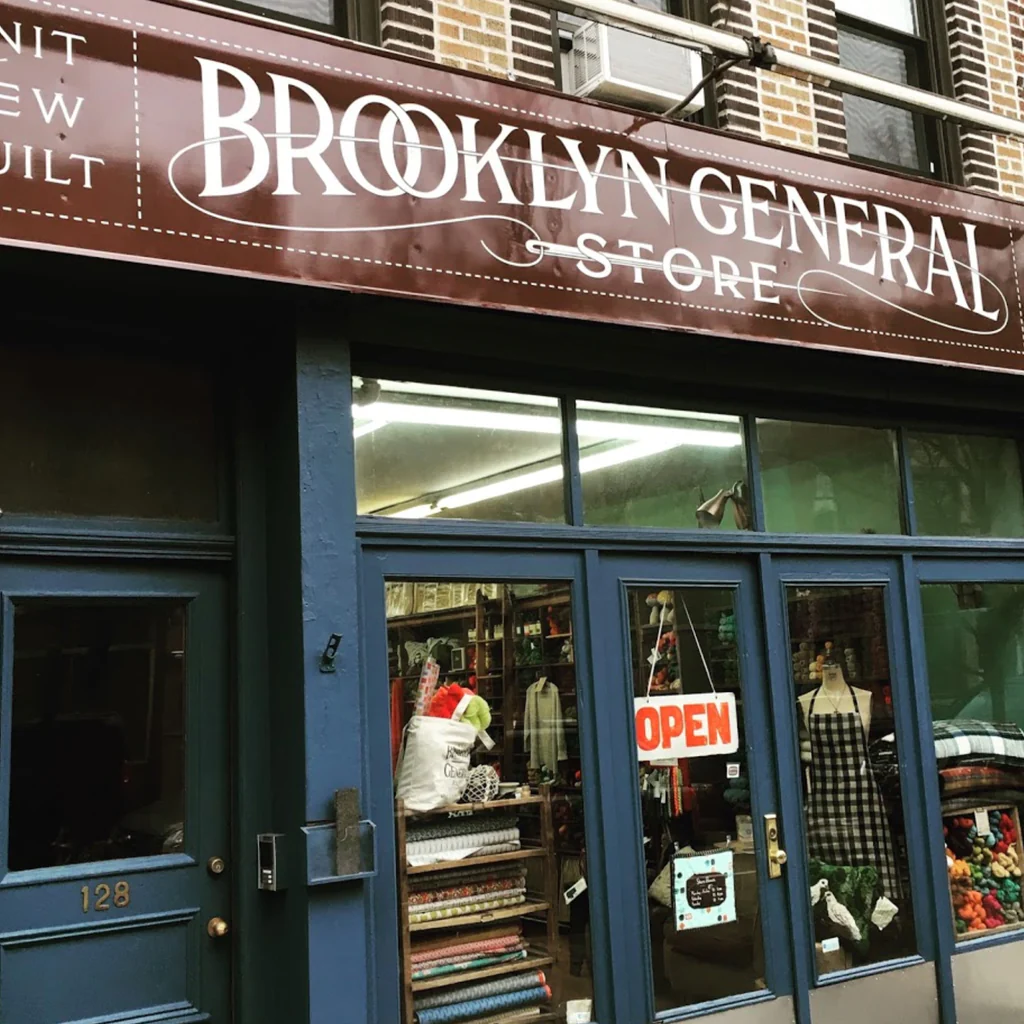 On Thursday we enjoyed hanging out together. My daughter-in-law was unable to take as much time off as Kyle. We decided to go to Brooklyn General so I could ogle the fabric. Their focus is yarn but do have a great selection of garment fabrics and some quilting cottons. I knew I wanted a linen blend to make a summer top. After choosing one, my DIL found some pretty batiks. I chose one and plan to make a pair of loose fitting, comfy pants.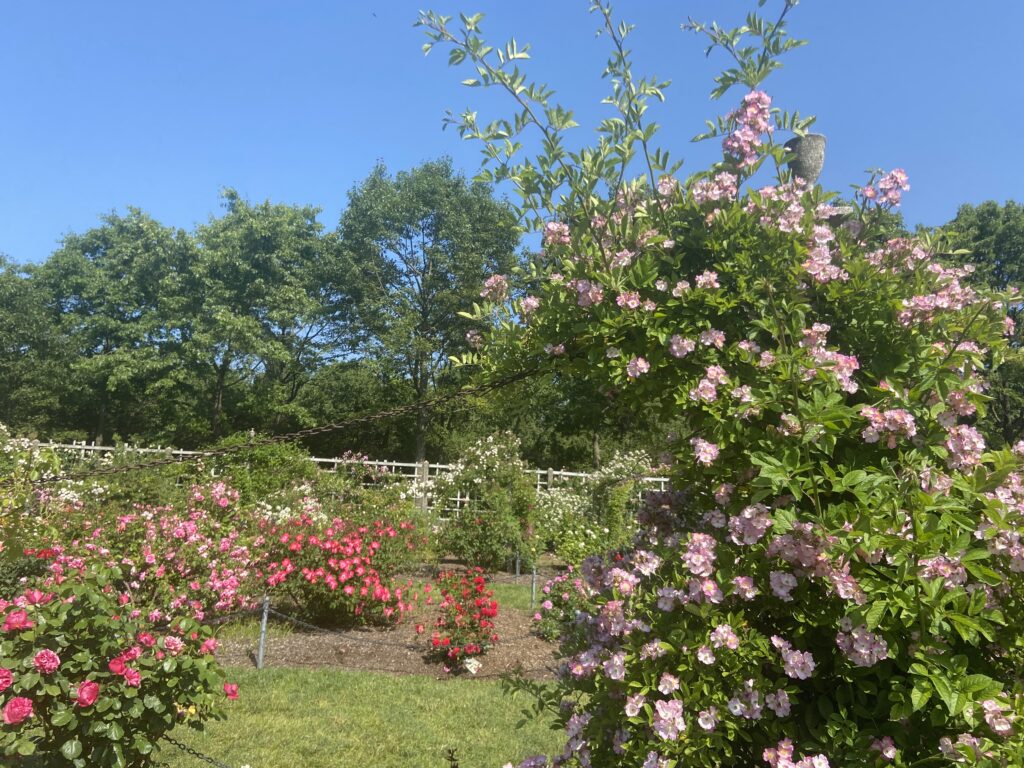 Next we headed over to the Botanical Gardens. It was a warm, slightly humid day. We wandered the garden looking at the roses choosing our favorites and smelling the fragrance as we wandered. What a surprise to see how far ahead the blooms were compared to my roses at home in Washington. The gardens here were fully blooming but mine still have tight buds.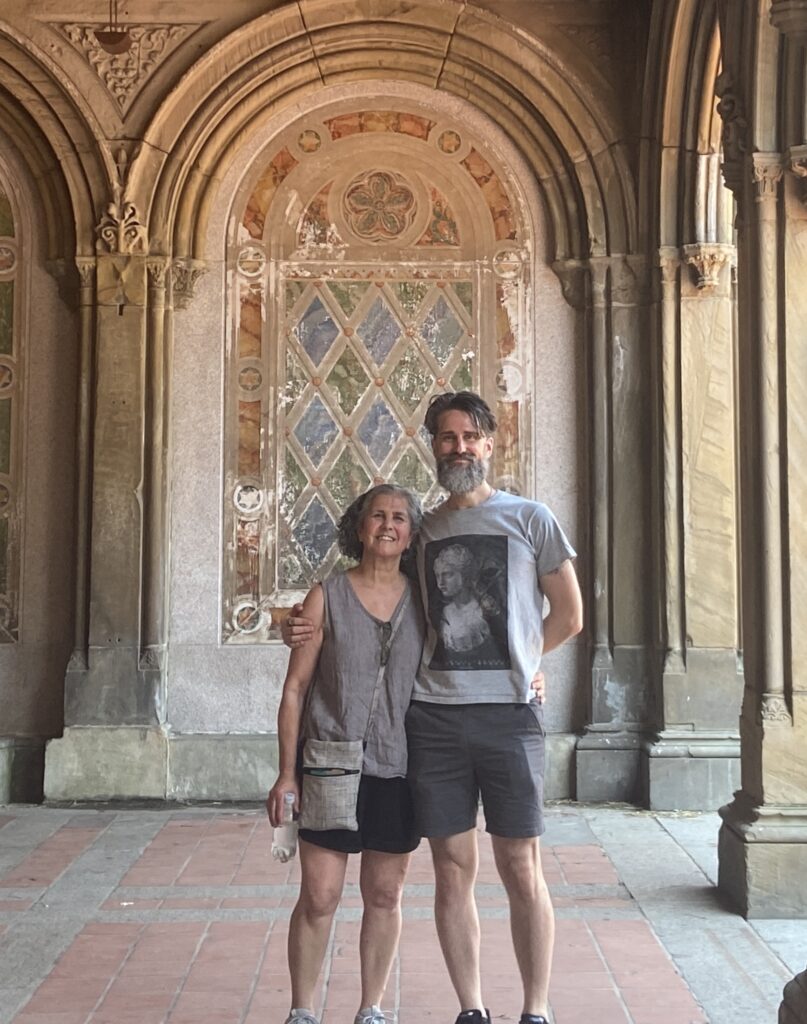 Another day we took the subway into the city to see Central Park. What a beautiful space. It was Friday and it didn't feel at all crowded. We listened to a number of musicians. Of course in the Strawberry Fields area the music was songs by the Beatles. We watched a high school age dance group practicing a dance routine involving some line dance steps with boots and hats mixed with some hip hop and gymnastics. I LOVE watching kids dance so this was super. We also sat on a bench for a long while to listen to a young woman with a gorgeous voice sing. She did some Alycia Keys and knocked it put of the park (pun absolutely intended). As we walked under a gorgeous archway, we watched a wedding party having professional photos taken. The bride wore a stunning full skirt of silk with tones of bronze. I was mesmerized by her outfit and I am sure Kyle expected me to go ask her what the skirt was made of! I (barely) controlled myself.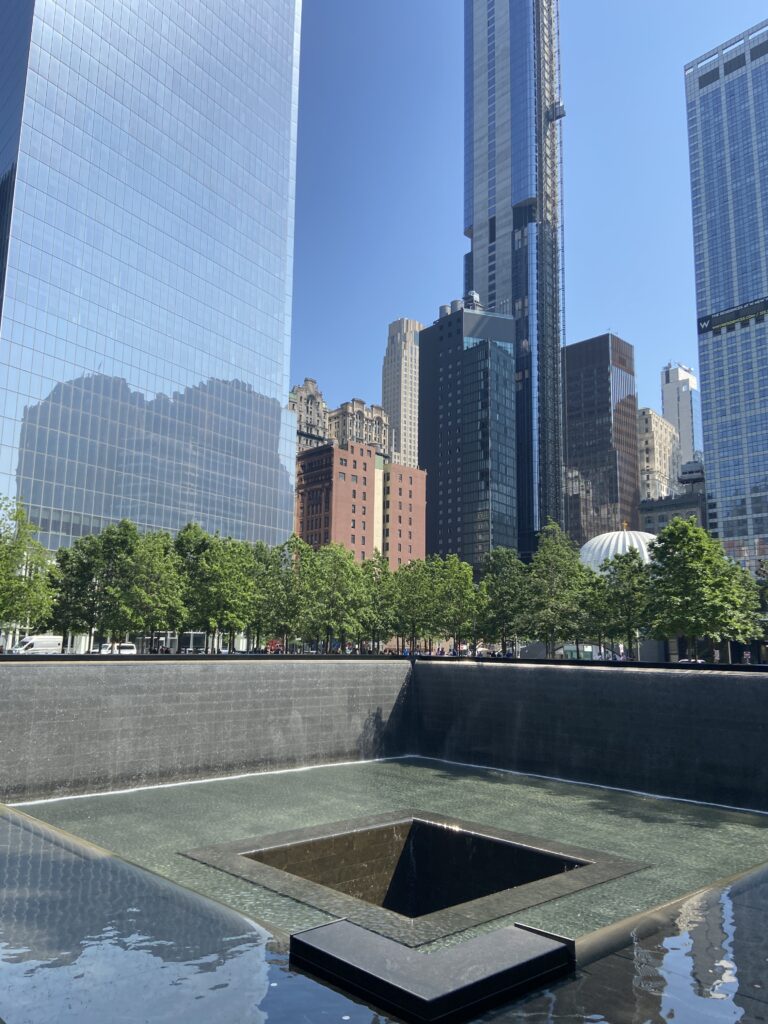 Next we headed over to see the Twin Towers monuments and take a peek at the Statue of Liberty. It was a somber moment to see both of the monuments. Very severe looking with the angels and the water but a strong representation of what the size of the towers were and the loss caused on that day. There were a few single rose blooms placed on a name here and there. Kyle explained there is a group of volunteers who place a flower on the name of anyone who would have celebrated a birthday that day. As far as the Statue of Liberty, I am happy I saw it but was underwhelmed. Not sure why. Maybe because I had seen photos of it so many times. But I can check it off the list now that I have seen it.
On Saturday we walked through the Greenwood Cemetery in Brooklyn. This historical graveyard has been in Brooklyn since 1838. It is also an arboretum. The mature trees and rolling hills spread over 438 acres make for an incredible park. People use it as a local green space which is so needed when living in such a populated city. During lockdown, Kyle and his wife would often walk through here to be outdoors. He would tell me of their 'walk through the cemetery' but I had no idea it was anything other than a small, local cemetery.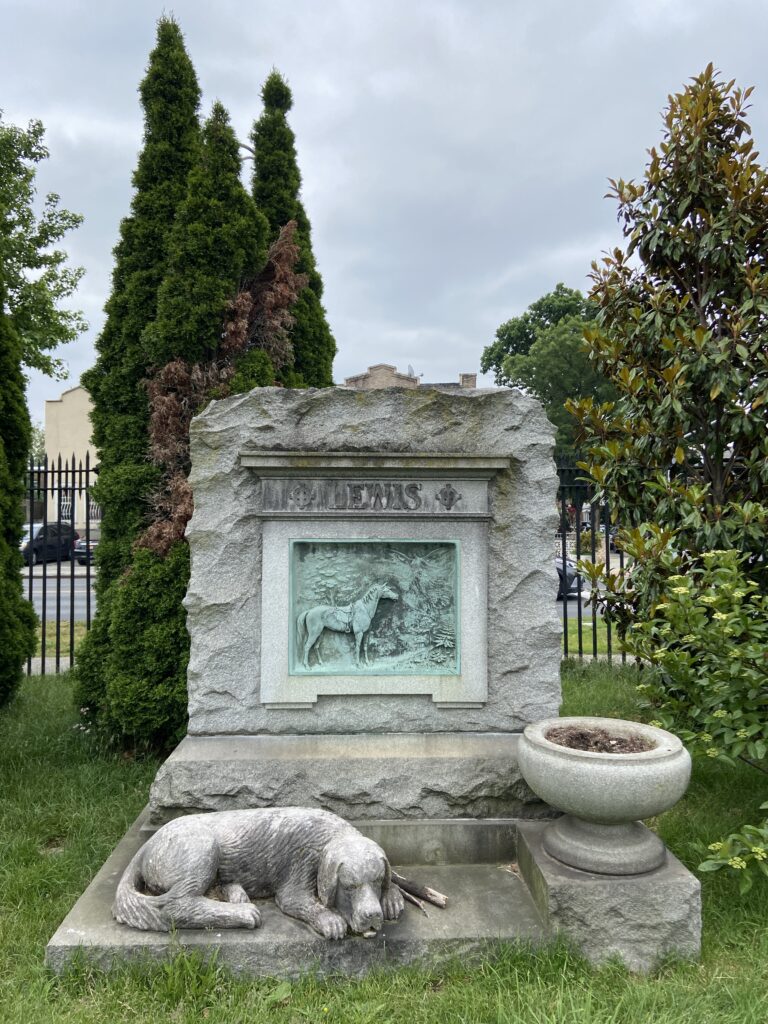 The gravestones and markers are really interesting. Some are ornate and some could even be described as gaudy. Others are touching such as the one above with their family pet immortalized.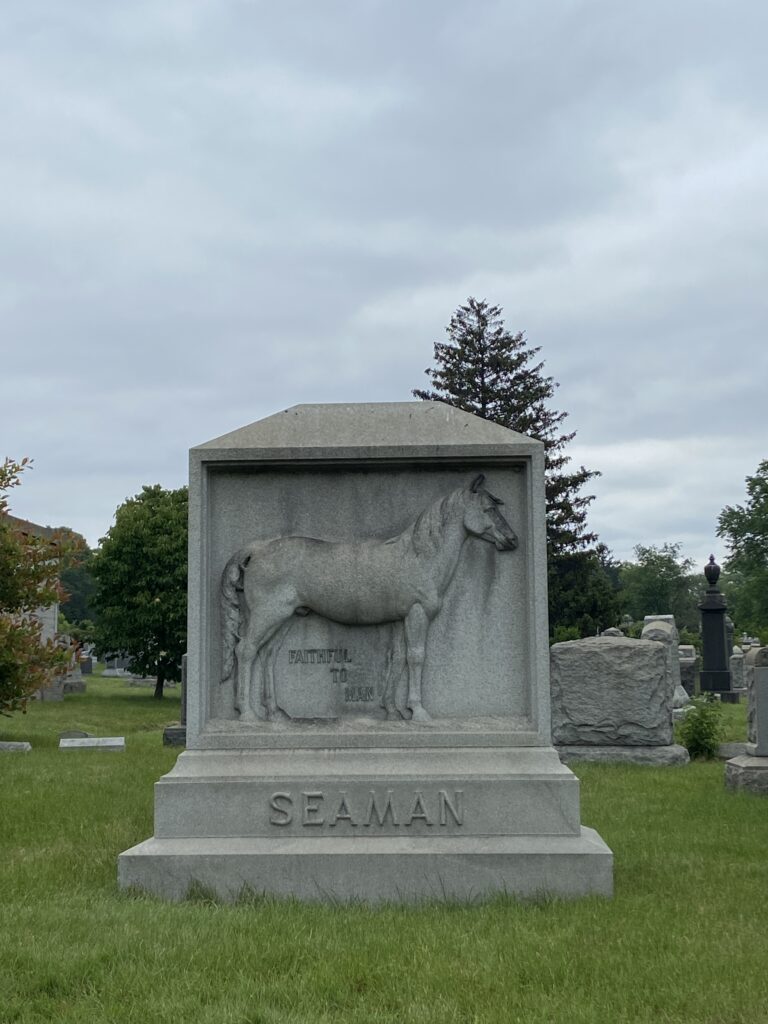 Some are mysterious, leading us to google the name on the headstone to see if we could find out details about the person remembered there. I tried briefly to look up this memorial to see if it was actually a memorial to the horse or to the owner of the horse. I wasn't successful though I admit I didn't try very hard. This marker is huge, taller than me.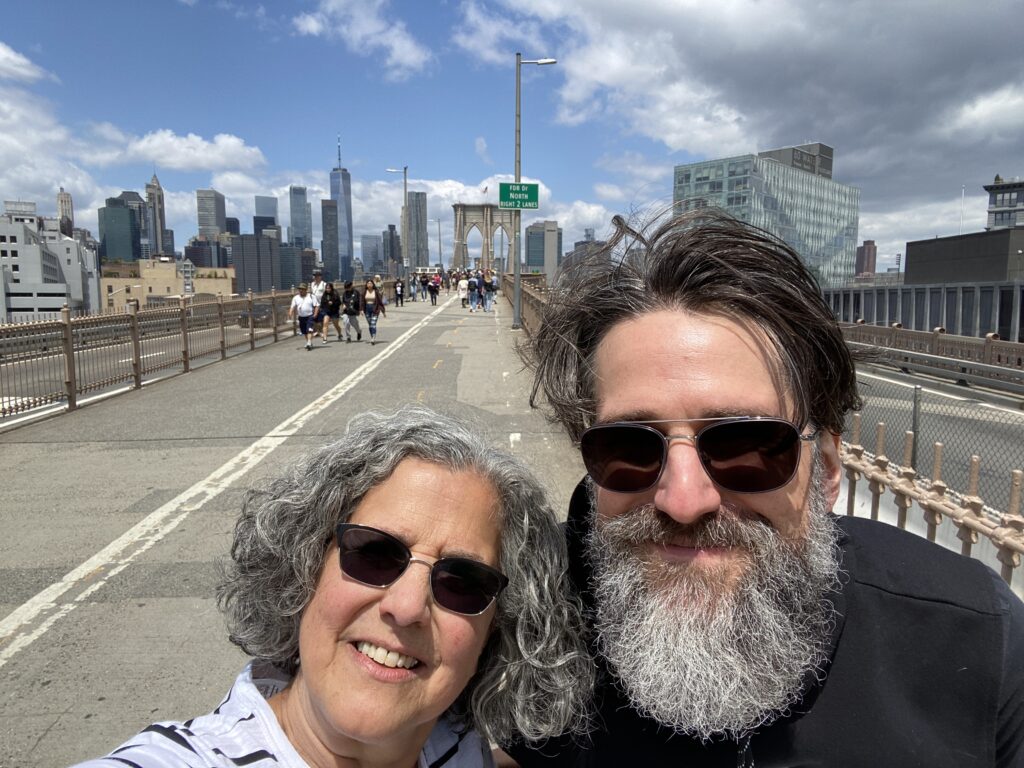 Sunday was spent wandering the Dumbo district in Brooklyn. Along with oodles of others, we walked across the Brooklyn Bridge. (Picture above isn't great but it is the only one I have so I have to save it!) It is one mile long and because of the crowds, we walked slowly. Talking, talking and then….. talking even more. People watching was crazy fun. We saw two (very unintelligent) people climb to the top of the rail (intended to keep people from falling off the bridge and into the highway traffic just below) to take photos. Really?? That is the picture you need to have?? Both people were young, pretty women who were dressed beautifully. I would assume this was for a social media post. Yikes. Our world is crazier by the day. They are climbing up there as Kyle and I discuss our jitters over the fact that the bridge is made of wooden planks and wonder if it is strong enough for the hundreds and hundred of tourists walking the bridge. We stopped and looked through the slats and realized that if the slat should crack and we fell through it wasn't going to be pleasant. Yep, we are of like minds, my son and me.
Returning home on Monday was the right thing to do; albeit not easy. But over the next few days the smoke from the Canadian fires was heavy. The La Guardia airport was even shut down for a bit. Seems like the air cleared a bit today but I know all too well the smoke comes and goes for such a long time.
In other news, my parents BOUGHT A HOUSE!! They are moving up here at the end of June and I just cannot wait! They are dealing with myriad details which is so overwhelming when moving. The new house is just five miles from mine which is perfect. Today I am heading to my son's house. I am the "mystery reader" in H's kindergarten class. Next we leave on Wednesday to head to central CA to watch Julia graduate from college. Life has certainly taken me away from the sewing room. Not sure when I will be back to having time for sewing. But this happens. Take care everyone. Back soon-(ish)!!