Remember the movie Planes, Trains and Automobiles?  Starring John Candy and Steve Martin, it was a comedy about their trials and tribulations during a trip home for the Thanksgiving Holidays.  It was quite popular in the mid-1980's.  It turns out Julia and I had the opportunity to re-enact the movie on our last trip home from Vermont. Well, that might be an exaggeration but our day of travel certainly reminded me of the movie.
The day before we were scheduled to fly home, I was checking in for our flights from Vermont to California.  A screen popped up explaining the flight was over-booked (a very common occurrence with many airlines) and asking whether we would like to volunteer to be bumped.  United Airlines asked how much money we would bid to accept in return for taking a later flight.  The choices were $800, $1,000, or $1,200.  Hmmm…..  the bargain hunter in me thought – this could mean an 'almost' free trip back to Vermont to see my adorable grand daughter.  We were supposed to leave on a Friday – would it really make any difference to us if we left on Saturday???
I talked to Julia, my son and my daughter-in-law and we all decided it would be good to volunteer. The pop-up screen explained that the lowest bids would be accepted first.  Not taking any chances, I selected the $800 bid.  Thinking this would be split between Julia and me, that would basically cover another flight out to the East coast.  Rules were, we still had to show up at the airport and check in for our flight.  They would then determine whether the flight was indeed overbooked (in case people with tickets for the flight failed to show up). If it was indeed overbooked, they would start calling from the list of people who had volunteered to be bumped.  Well we had quite the early flight scheduled but my wonderful son had us to the airport by 5:30 am.
We had to check our bags – they were too big to be considered carry-ons.  We got to the United area and we were shocked to see the line.  Have you ever flown out of the airport in Burlington, Vermont? It is so tiny.  Normally there are one or two people in front of us.   When we got there early that morning there were people everywhere.  Lots of skis and snowboards being checked in at United.  Vermont has excellent skiing and clearly vacations were ending and travelers were returning home.  We waited in line and checked our bags.  The security area in this airport is very small with one line walking through a small room. After going through security we checked with the attendant at the gate and asked if we would be bumped.  She said it was too early to tell.  We were asked to wait until the plane had completely boarded so she could figure it out.
All the while, my patient son waited in the hallway outside the gate.  In this airport that means he was on the other side of a window watching us.  He and Julia played 'rock, paper, scissors' and we all texted back and forth as we waited. Finally there were about one or two people left in line to board.  The gate attendant told us 'it looks like you are flying out this morning'.  So we waved to Andrew, he walked off and we waited to board.  Seriously, within two minutes, she looks up with a little panic and says, 'we are over by two.'  (Why she didn't know that two minutes earlier, I have no idea.). I texted Andrew and said "waitttttt!!!!!"  He came right back and was laughing – we were all laughing at this point.  It was early, we hadn't had coffee yet and this was a long process!
They try to retrieve our bags but the plane takes off with Julia's bag and mine is waiting somewhere in an office. The gate attendants were so nice and thanked us for volunteering.  I told her it was worth it for $800.  She looks up and tells me, well I have been approved to give you $1,000′.  I was surprised and said, 'yikes, $500 each?  That's great.'  She looks sort of perplexed and said, 'no, $1,000 for each of you.'  Julia and I look at each other with a big smile.
The attendant starts looking for a flight to book us on. She seems to be having trouble and keeps muttering under her breath.  It appeared that there wasn't a route available for both of us to fly home together. She could find a single seat here or there but not two seats.  Remember now, this is a very small airport and doesn't have a lot of traffic in and out. She looks for about 40 minutes – trying all combinations of Delta, United and American but doesn't find anything.  By now Andrew and I are desperate for coffee and Julia is practically falling asleep in a chair.  The attendant, clearly frustrated and not knowing what to do with these two people who need to get to California, calls her supervisor for help.  The supervisor comes up and starts looking.  She is rather incredulous as she realizes there really isn't anything for the next two days.  Julia was supposed to go back to school that Monday so we weren't willing to stay longer than a day or so.  Finally, after about an hour of this, I asked if it made sense to get us to another airport to leave from.  I asked if there wasn't some bus or train we could take? The women both looked up in total disbelief and said, 'you would do that'?? Well, if it means we can go home, yes – of course we would.  The supervisor looks at me and says 'we will bump you up to $1,500 each if you will do this'.  I looked and Julia and we just grinned.
They decide to send us home out of the Logan airport in Boston.  It is a three hour drive to Boston and they book a taxi.  I thought this was nuts as the cost was $500 dollars for the round trip to take us out there.  The United attendants felt awful for this hassle.  She kept offering things to us. 'Here is a voucher for breakfast while you wait for the cab.'  Then, 'let me refund your bag check fees'.  It was crazy.
An hour later we were off to Boston in a taxi.  By this time, we were so tired both of us slept and the ride passed quickly.  From Boston, we flew to Chicago.  Had a bit of a wait there and finally, late that afternoon, we took off for California.  The flights were great and all was relatively smooth but it was a long, 22 hour, day.  We arrived in California at 11pm which of course felt like 2 am.  We still had to go get the car and drive home which is just over an hour away.
What a long day but really, it was worth it. For one thing, neither Julia nor I are what would be described as spontaneous.  We tend to follow schedules and get rattled at times if there is a lot of change.  But we had a really fun day together.  We spent our layovers looking on line (thank goodness for wifi everywhere we went) at places we might travel with our $3,000 jackpot. We took naps on the flight and listened to music.  All in all, not a terrible experience. (This is saying a lot from someone who truly dislikes flying.)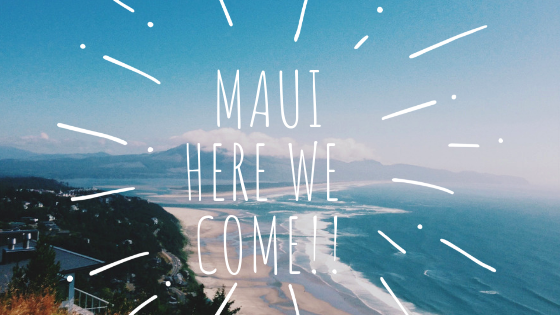 After some family discussion, we bought three flights to Maui in July.  What a fun way to celebrate Julia's high school graduation and have a great vacation before she leaves for college! Even with this trip, there is still about $900 on these vouchers left to spend. Well worth a 22 hour travel day home. Hmmm….  I wonder if we can get bumped from our flight home from Hawaii??
Have a great day.  I did manage to get some sewing done over the weekend.  I will get my thoughts organized and post an update this week!  Have a wonderful Monday everyone.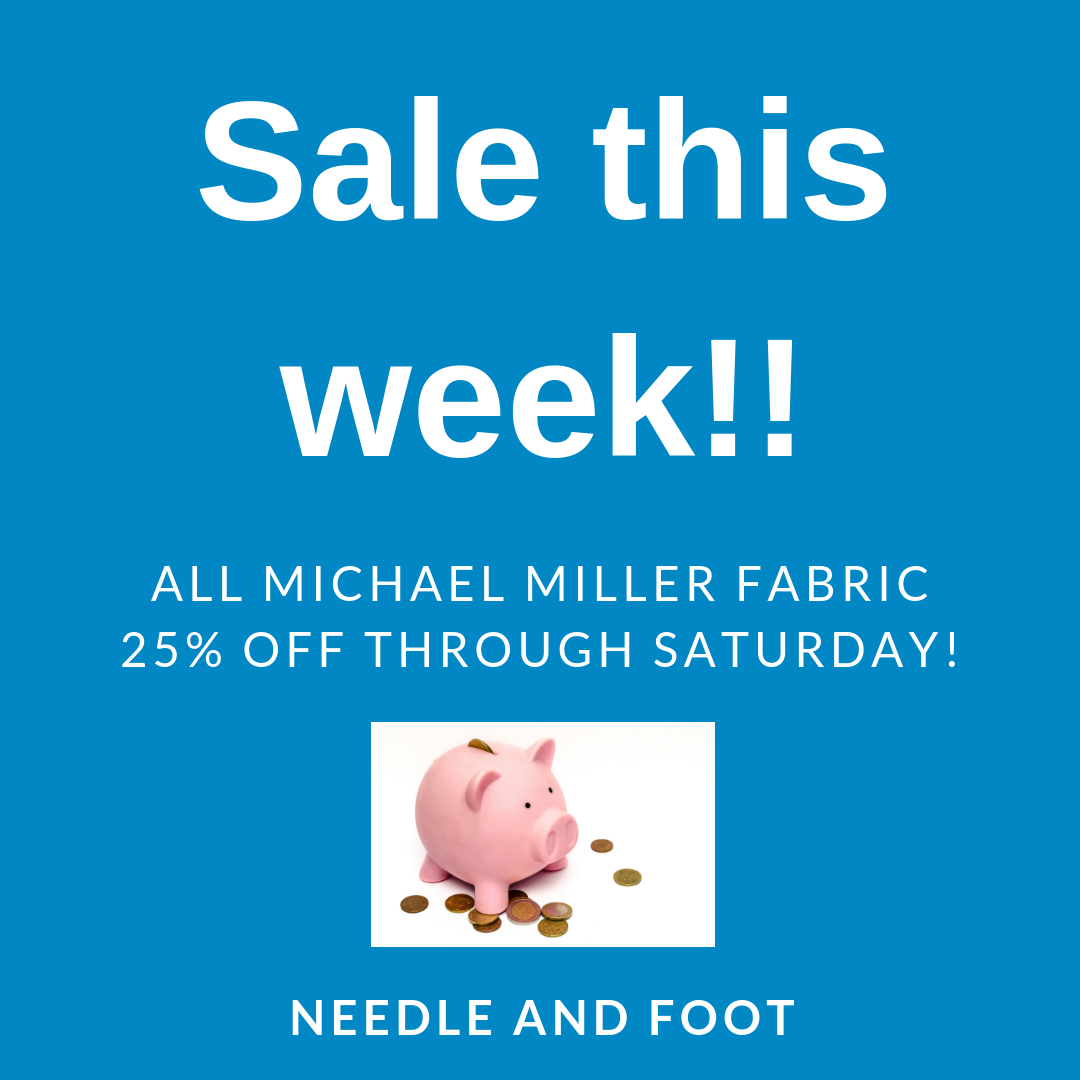 Just want to let you know of a sale over in the shop this week!  All Michael Miller fabrics are 25% off through Saturday, January 19th!!  Lots of gorgeous pieces to choose from – florals, feathers, stripes and bikes!! Also, there are some cozy flannels on sale too.  Come take a look!!