We just got back from a long weekend in Downieville. It is finally starting to come together! Remember we bought this little bungalow on the river last November? (Read more here.) Built some time prior to 1930, it needed a lot of TLC. My husband quickly started to work on the bedroom and bathroom as they were in the worst shape. This weekend was spent painting many pieces of crown moulding and trim pieces for the bedroom door, closet and window. (That was my job.) Ray was installing it as quickly as I could paint it and get them dry. Drying actually took very little time as it is really hot this week. What a huge difference Ray has made in the house so far. He has transformed it.
Ray had a helper when he installed the crown mouldings.  You can see there are two more windows to replace (on either side of the alcove.) Ray hasn't decided exactly what he wants to do there so that project is on the back burner for now.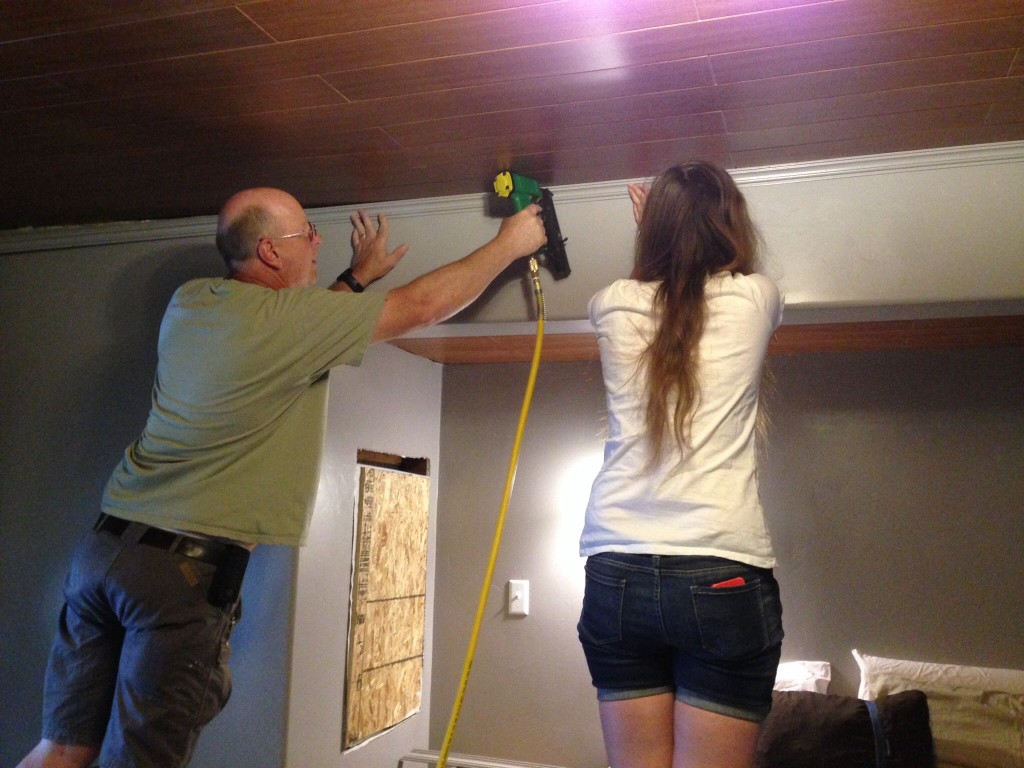 Here is another corner of the room (the closet.) This picture was taken last February when Julia was pulling nails from the studs for Ray.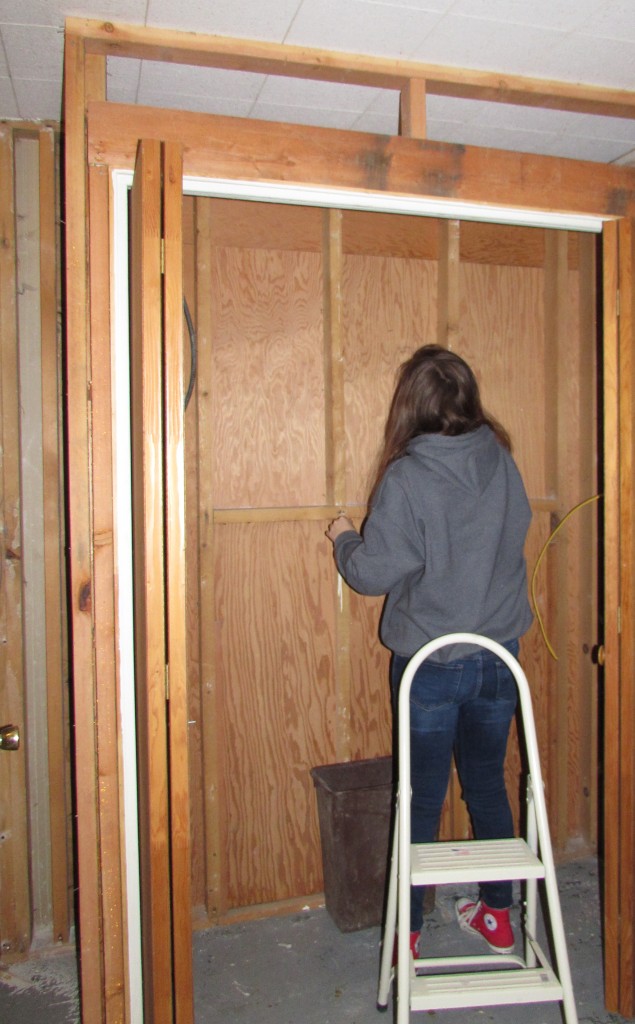 Here it is now! Nice work Ray.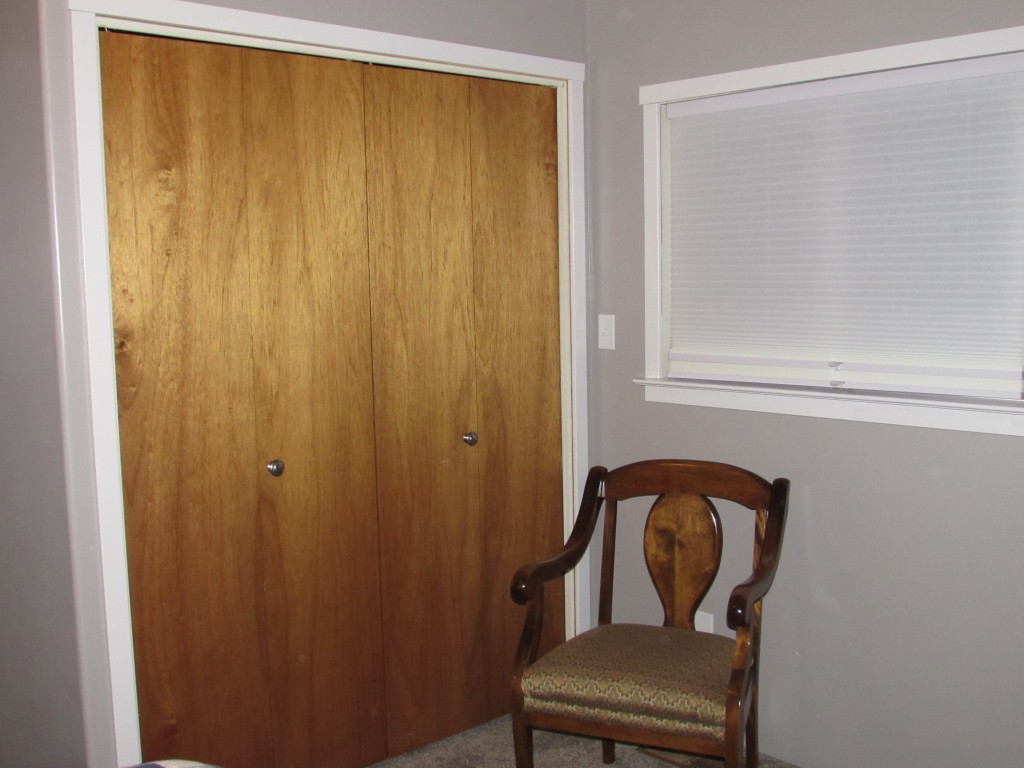 Gorgeous, isn't it? New drywall with actual insulation in the walls (prior to now the house only had minimal insulation in the attic.) Does it get better than that? Oh yeah. New window, paint, trim and carpet. After countless weekends, it is a bedroom!
Did you see that cute chair in the picture above?  Ray and I found that chair at a thrift store that supports Habitat for Humanity. My dad and I spent a fun morning together taking it apart, sanding the wood and staining it.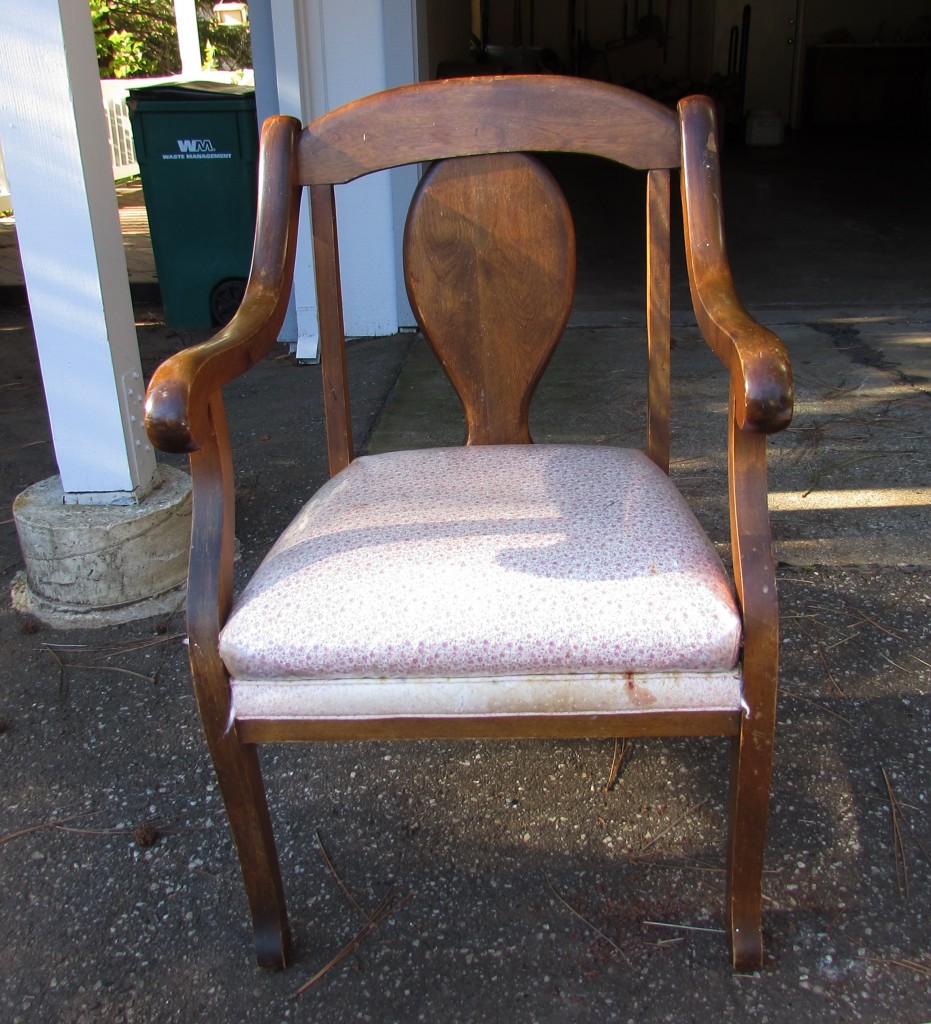 Can you see that the seat is covered with plastic? Lovely!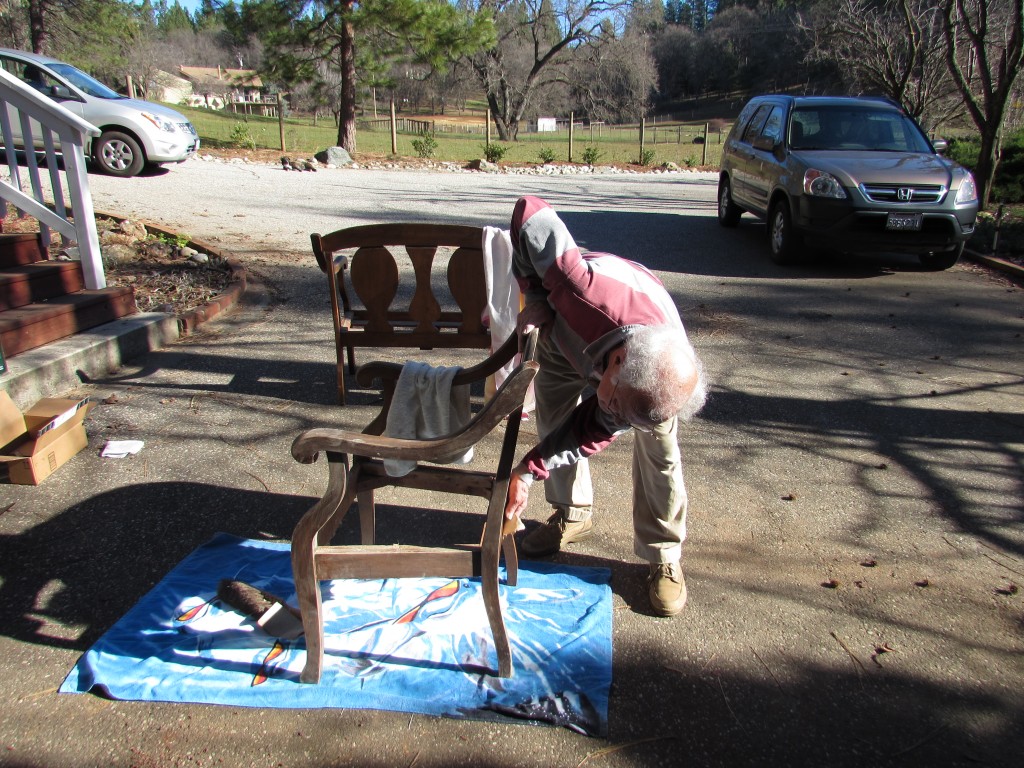 There were approximately 567 billion staples holding that fabric to the seat. Yikes!  We got it 80% done and then the chair sat in the garage for several months. I am sure you know how that goes. Ray and I finally found some time, weeks down the road, to put some polyurethane on it and reupholster it. Much as I loved that pale pink floral fabric covered with plastic, I like this better!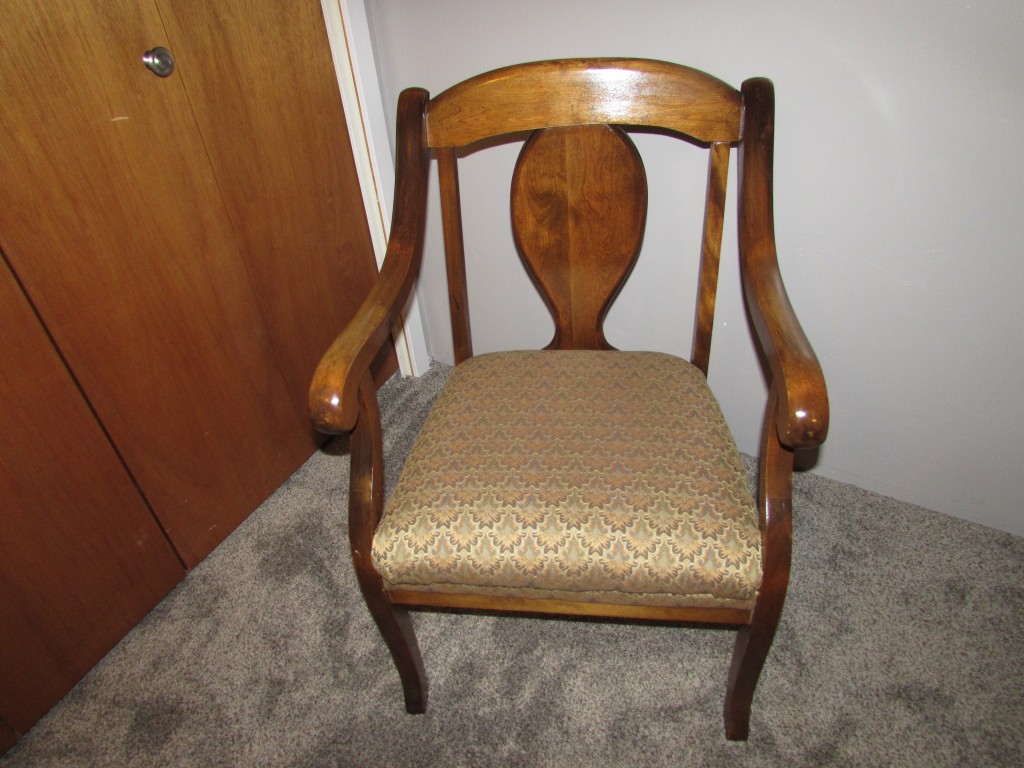 It looks so cute in the house as it fits the style perfectly. It is comfortable for reading but I do want to put a foot stool with it. I saved some of the fabric so that I can make a matching one someday.
Now that the home is coming along, we don't have the pressure to work long hours on it when we are up in Downieville. The pace is more reasonable which allows for some time to play. Over the weekend we had a great time on the northfork of the Yuba river.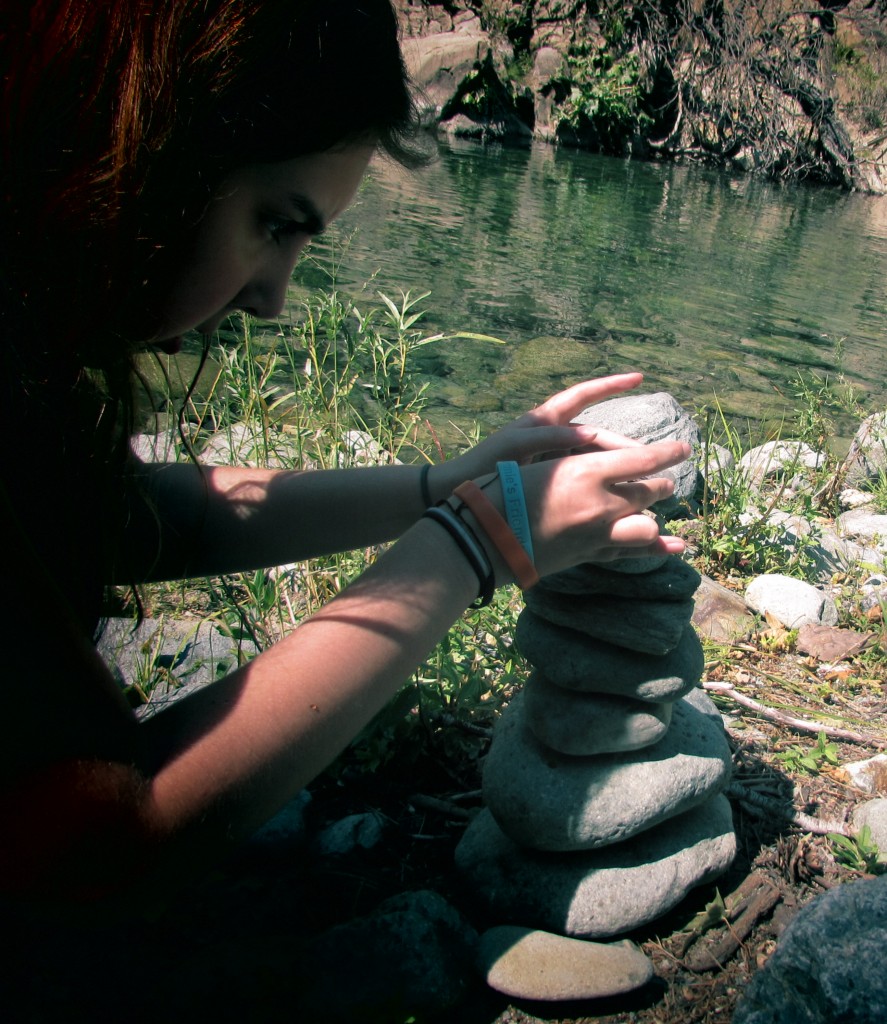 Julia's version of Stonehenge.  🙂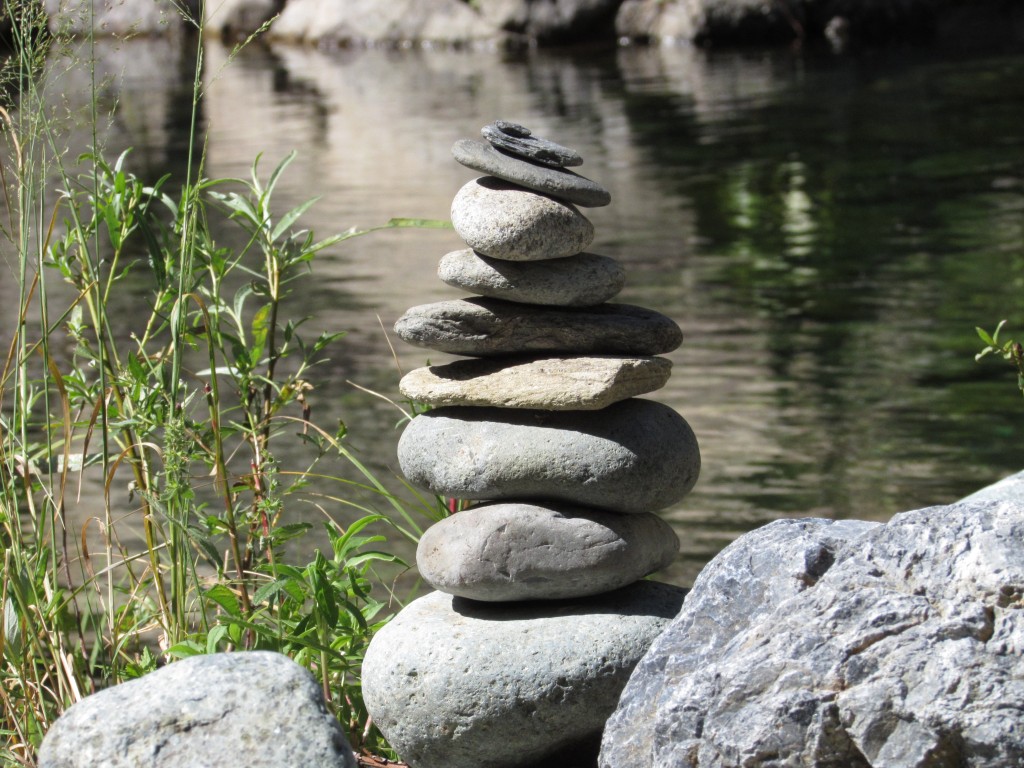 We also took some time to hike around a bit at Sardine Lake which is about 15 miles up the road from the house. It is gorgeous. Next time we will spend the day there and play on the lake.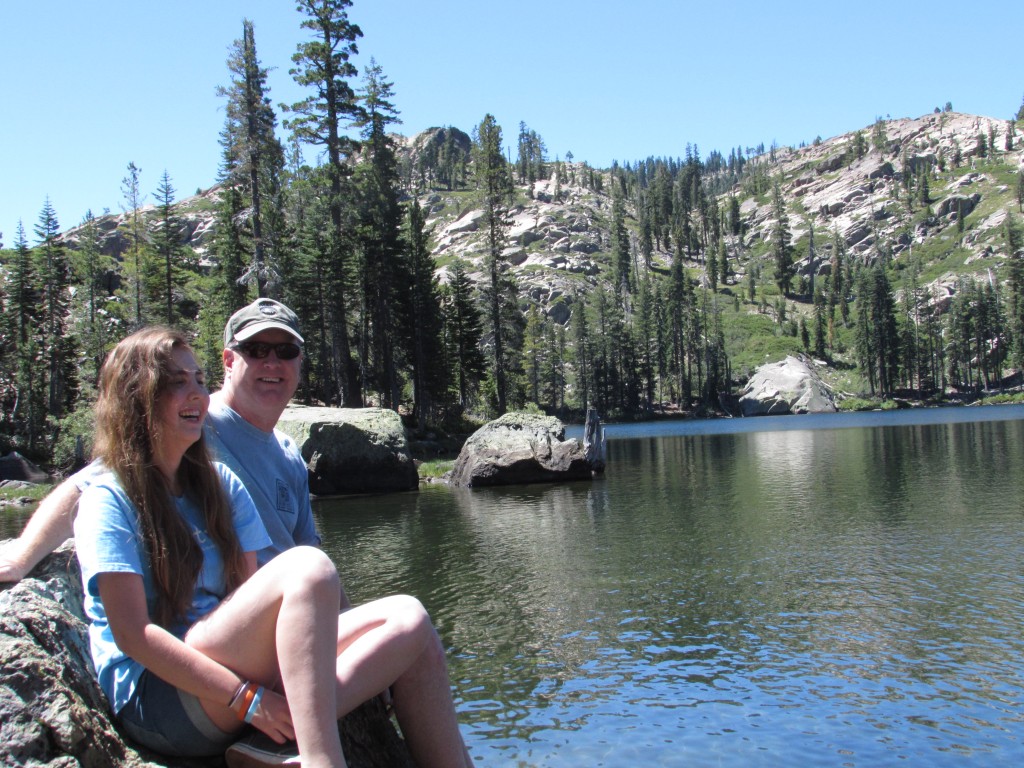 While we were up in Downieville, a large forest fire started right on the edge of Nevada City (maybe 15 miles from my house and probably less than 5 miles from my parents' house.) It is a bad one – not to be unexpected with the dry, hot, drought conditions we are dealing with. The fire is about 60% contained and is burning some 2,300 acres.  Currently there are 1,952 firefighter personnel working the fire. It is amazingly complex to control and battle fires of this size. The smoke is in the air but it is lessening each day. I am so grateful for the teams that are working diligently to contain this fire. Because this fire is consuming rural properties, many animals had to be evacuated and there are teams of volunteers taking care of them at the county fairgrounds. This is a great community. Yesterday a popular, local burger place fed firefighters for free during the day. That is a big undertaking as there are lots of hungry firefighters in town right now.
In case you are worried about my lack of stitching this week, fear not. I did bring up assorted fabrics and Insul Bright to cut and prep a stack of Chemex Cozies. I will be ready for a sewing marathon next week creating more Etsy product. I do love when I have projects all cut and pinned.
Enjoy these last weeks of summer everyone! We are headed to the coast for a long weekend with family to celebrate my in-laws 50th wedding anniversary. It will be a great escape from the triple digit heat and the smokey air!
Linking to Finish it up Friday (I consider the bedroom trim and the chair our finish for the week!)