This is the greatest story and it led to the sweetest quilt I have made yet. Get your tissues ready!
My daughter-in-law, Naomi, has a wonderful family. (Side note, isn't it cool that when my son married, I gained not just my DIL but also some really nice friends from her family??)  Included in her family are her mom, two brothers and her sister-in-law. Just today I finished an adorable quilt for her sister-in-law, brother and the baby they are expecting in September. The story of this baby is pretty darned amazing.
Margot and TJ (these are their real names – Margot blogs at Find Your Spark and uses their names publically so I have done the same) have been trying to have a baby for years. This has been a really rough time for them. Margot has been pregnant numerous times and has miscarried at various stages of pregnancy. (This post tells part of her story.) It has been really painful for both of them. I can relate somewhat to this sort of pain. I miscarried a child a long while back. It was my third child and I lost the baby at 14 weeks. It was a painful experience that took some time to grieve. But this happened to me only once. And it was after having two healthy babies and before having two more healthy babies. Margot has gone through this repeatedly and has not (yet) had the joy of holding her baby or bringing the baby home. That sort of pain and frustration is truly torturous.
After years of this, they decided last December to take an alternative route to their goal of having a family. Margot and TJ are working with a surrogate. You can read all about their decision and experience on her blog – the story of the surrogacy begins with this post.  The surrogacy agency they are using is located in Mumbai, India. To say that 2015 has been an exciting year for them is a huge understatement. They went to India at Christmas last year and were able to achieve a successful surrogate pregnancy. They have been in constant communication with the agency and the surrogate mother and everything is going along perfectly. Their sweet baby is due to arrive in September. Margot and TJ will be going back to India in several weeks to wait for the birth of their baby. I am so dang happy for them.
When a quilter knows a new baby is coming there is only one way to respond, right? Today I mailed off this quilt to New York and I am hoping that it brings great joy to Margot and TJ.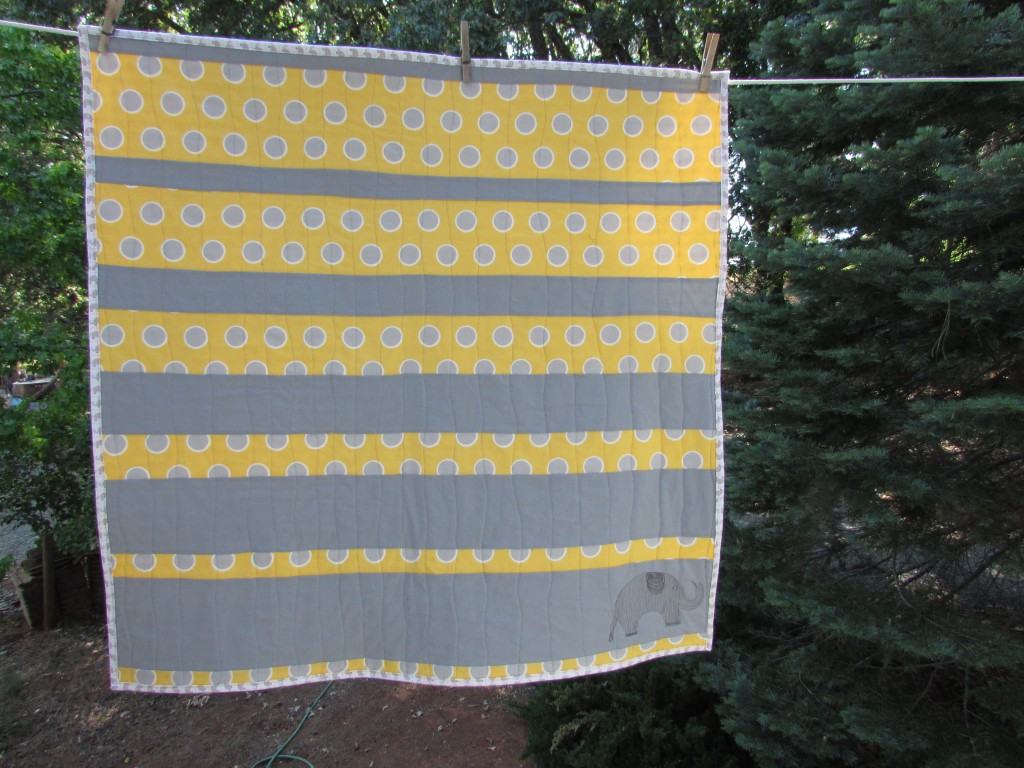 I know that they are incorporating elephants into the baby's nursery. Elephants are a symbol of good fortune in India and I am pretty sure that Margot and TJ will be forever grateful for this woman who has given of herself to birth their child for them. Good fortune? Oh yeah. In India, elephants  represent Ganesha, one of the most important gods in Hinduism. Ganesha is the god of success and the destroyer of evil and obstacles – perfect! For more details on this, here is a site to read. With elephants being symbolic for their family, I used that as the theme for the quilt.
The pattern is a simple stripe with the two focus fabrics cut in widths ranging from two to six inches. Just like the green and white quilt that I made a few weeks ago, I have the stripes arranged from narrow to wide widths, in alternating order. The pattern is Firefly, by Canoe Ridge Creations. I went with a color scheme of gray and yellow. They don't know the sex of the baby so these colors are gender-neutral.  Finding this elephant print, "Oh Boy" by Riley Blake was a perfect choice for the backing and binding.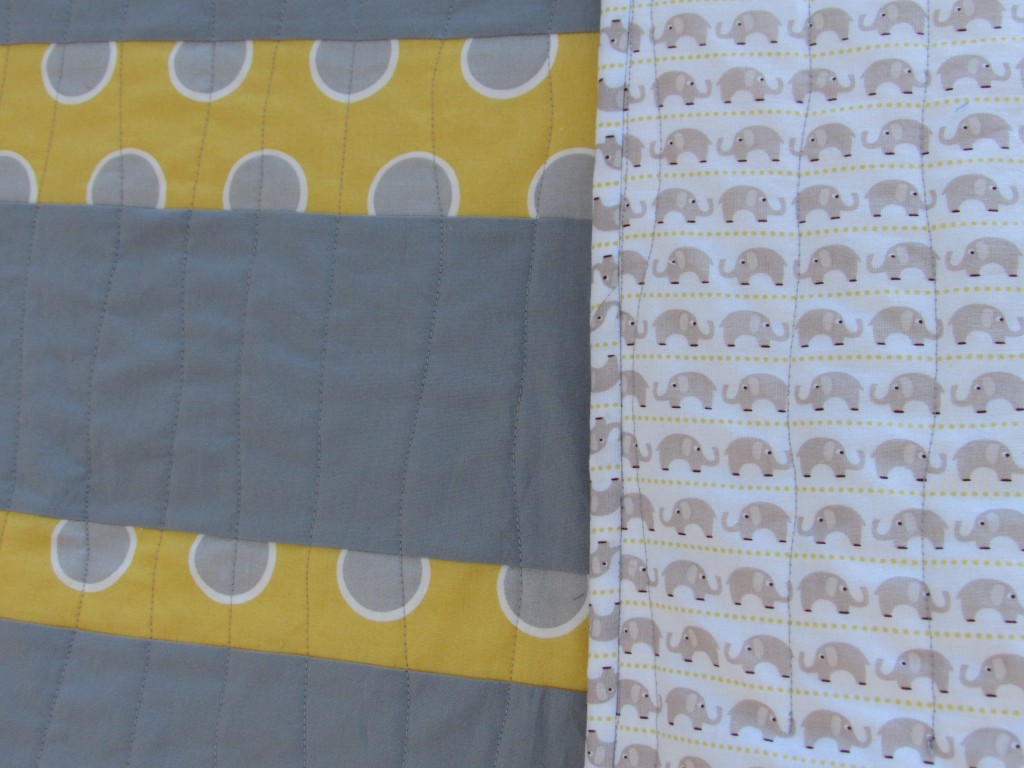 Those tiny elephants are sweet in every way. The yellow dot on the front is from the "Mixology" line by Studio for Moda. I can't honestly remember which gray I used. My favorite part of the quilt is the elephant that I thread sketched at the bottom, on the widest gray stripe.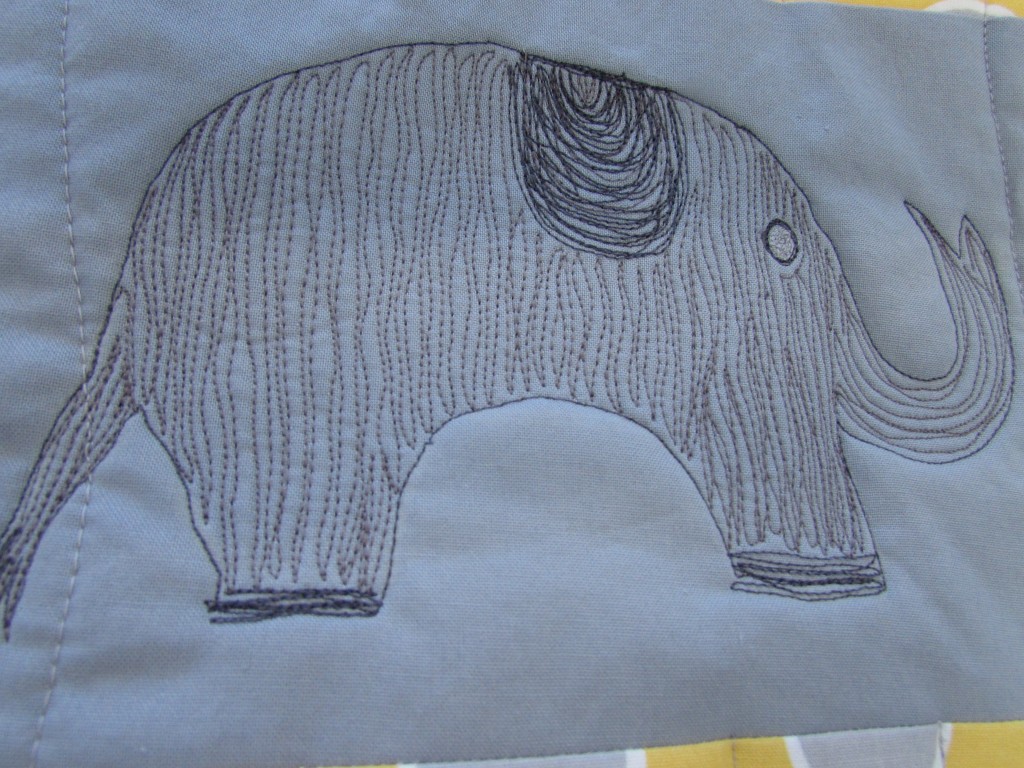 To create this little guy I took the backing fabric and made of copy of it on my printer/copier. I kept enlarging it until the size felt right. Then I cut him out and traced a rough shape right on to the quilt. (Actually I made several of them on practice fabric first.) It is hard to tell from the picture but I used three different shades of gray thread so that the elephant would have some definition. I love him. (Why do I keep calling the elephant 'him'? Is that an omen for Baby Guy? We will know in just two short months!)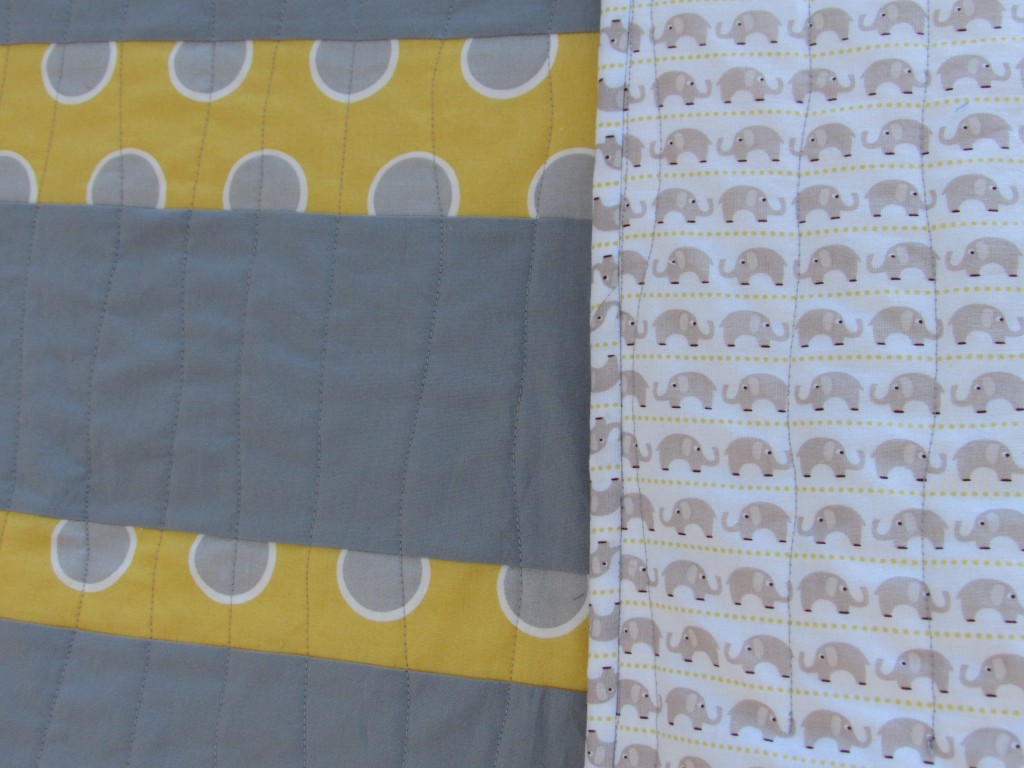 To quilt this piece, I used organic wavy lines that were sewn with my walking foot. I didn't space them too close as I wanted it to be really soft when washed. The binding is double fold as usual, and I machine stitched it to the front and back. Going for baby-proof durability here. After I washed it, the quilt measured 36″ x 36″. Hopefully this quilt will be used and washed and then used some more. It will hold up well for outings to the park, rolling around on the floor, tummy time, and then eventually fort making, pretend play, and so many naps.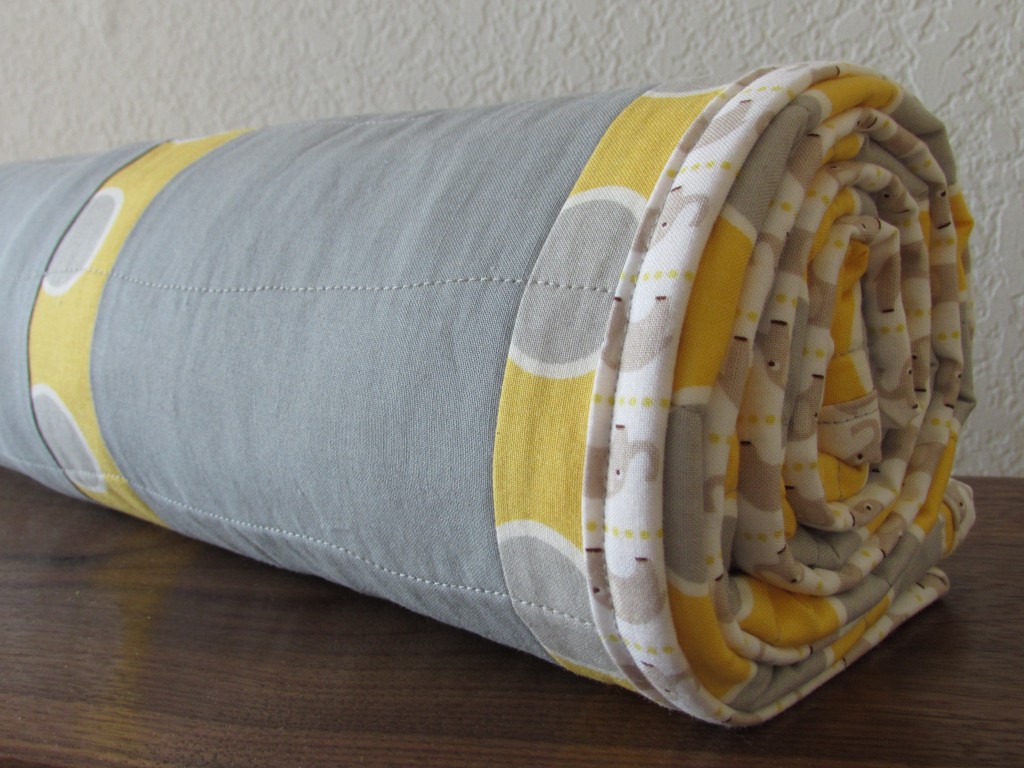 A quilt filled with good fortune and love all rolled up in one for a very special baby.
Linking to Lorna at Let's Bee Social and Amanda Jean at Crazy Mom Quilts.