Giveaways are pretty darn fun. Luck has been on my side and I have two wins to brag about. I know it isn't nice to be boastful but what can you do? Plus I want to show my thanks to the bloggers that sponsored these giveaways.
The first win was actually in late spring which means I am a bit late in writing about this one. I entered a giveaway on Linda Smith's blog, Scrapmaster. She and several others were writing posts to introduce their guild, the Maritime Modern Quilt Guild. I was lucky enough to win the draw for three lovely fat quarters! Thanks so much to Linda.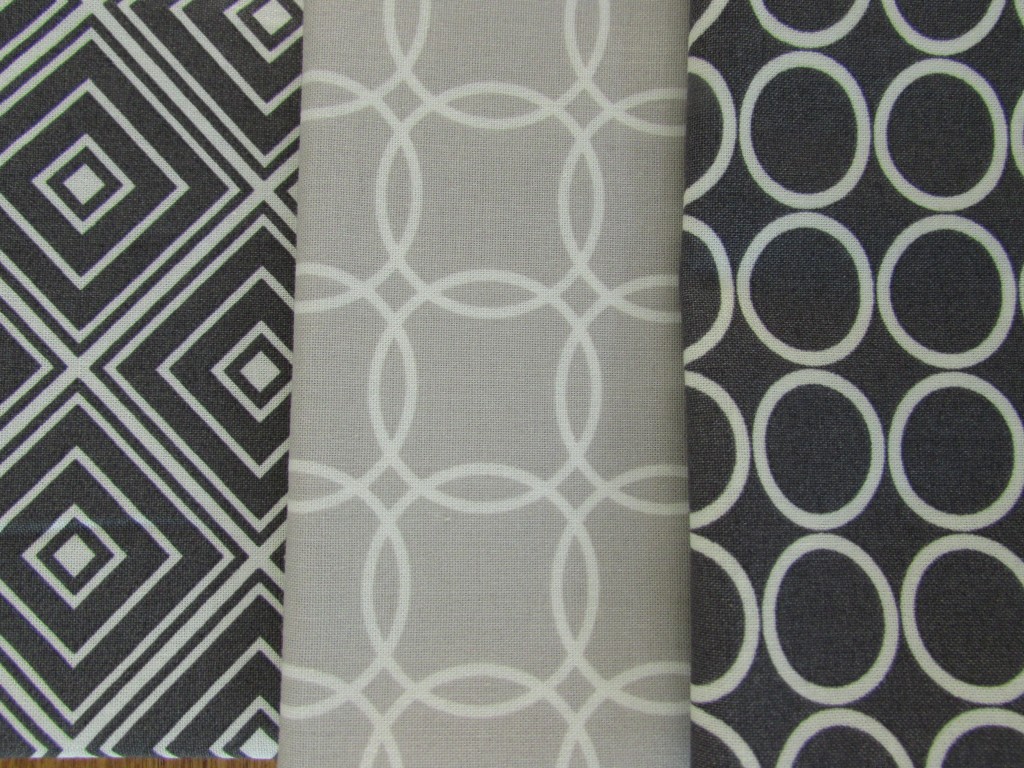 The dark and light grays in these prints are so pretty and they will be fun to incorporate into an as of yet unknown project.

The other prize I won was from the June giveaway for A Lovely Year of Finishes (ALYOF) which I have been faithfully linking to each month since January. (If you aren't already familiar with it, ALYOF is a fun link up. At the  beginning of each month you link one quilty goal that you have for that month. If you finish the goal, link again at the end of the month.  They have a number of prizes that they draw names for each month.) When I won, Kim Lapacek, of Persimon Dreams, gave me the pattern of my choice. It wasn't easy. She has a selection of really fun patterns that she has designed. Being a lover of dresdens (here is a post a bout the first, and so far only, dresden project) I chose her pattern titled, Dresden  Neighborhood Block.  This pattern is such a cute riff on a neighborhood. I plan to make a mini with it. If you want a closer look, the pattern is available here on Craftsy.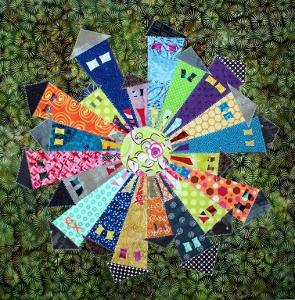 Thanks so much to these two blogger/quilters for their generosity! I do love this community of ours.
I have been squeezing in minimal time for sewing over the past few days. Instead of my sewing room, I have been in the kitchen dealing with the amazing number of peaches ripening on our tree. They are so juicy and sweet but really, we have more than we can handle.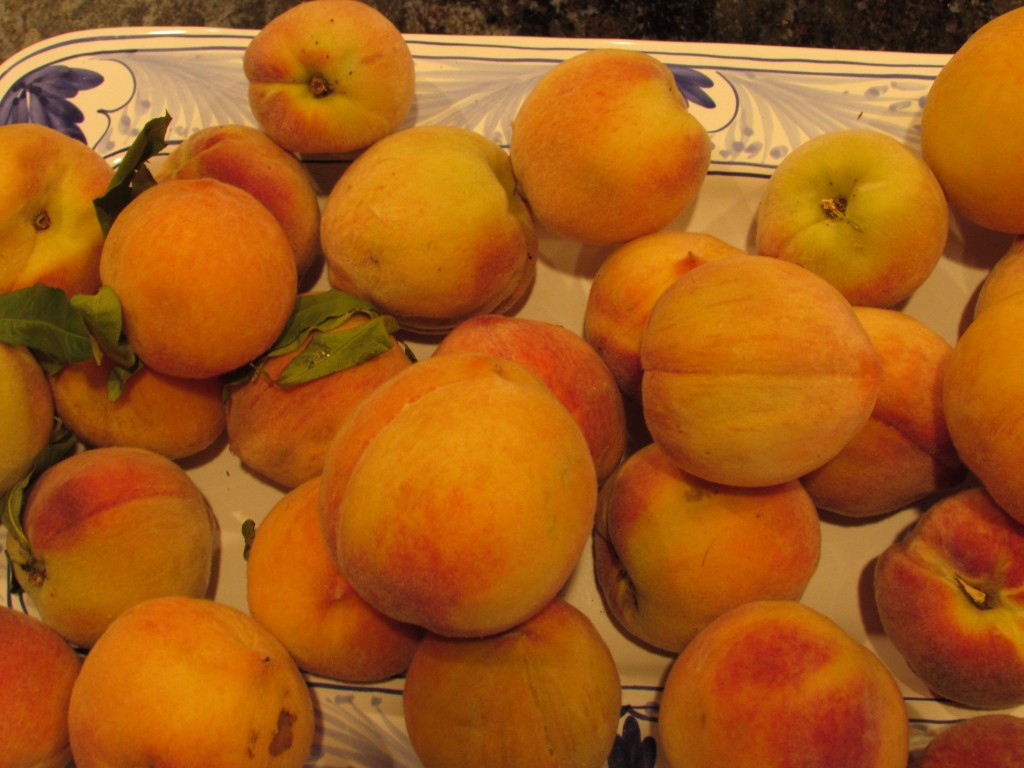 So far, I have frozen five gallon size zip lok bags of sliced, peeled peaches for making pies over the winter.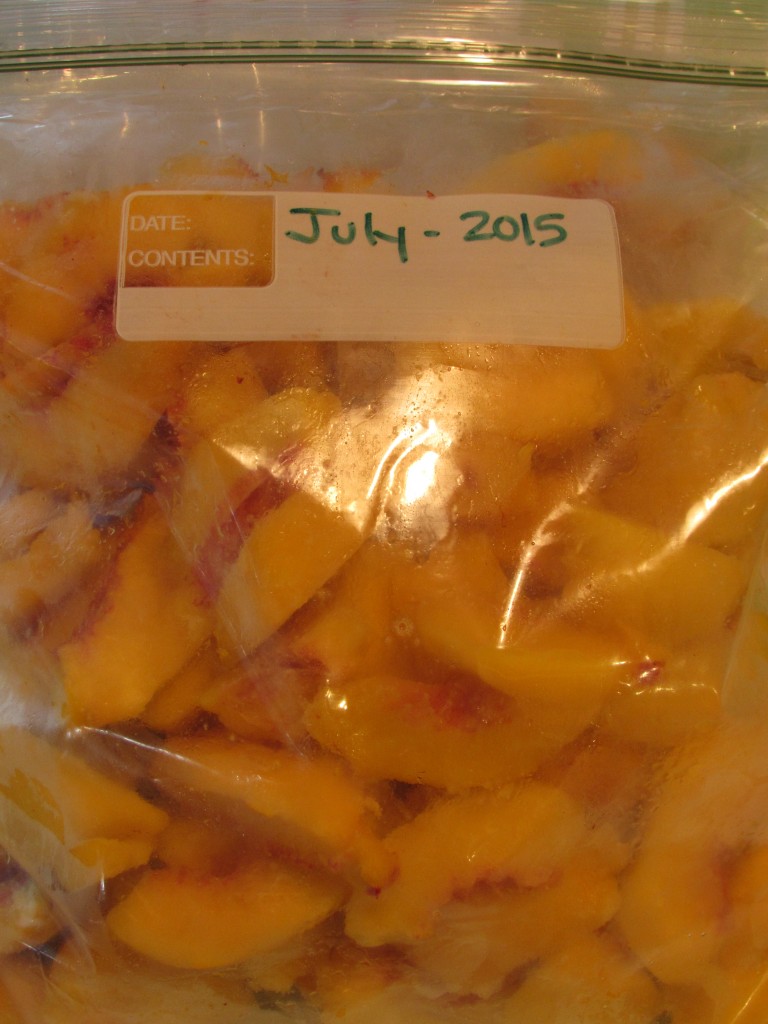 This morning Julia and I made a batch of jam using strawberries and peaches.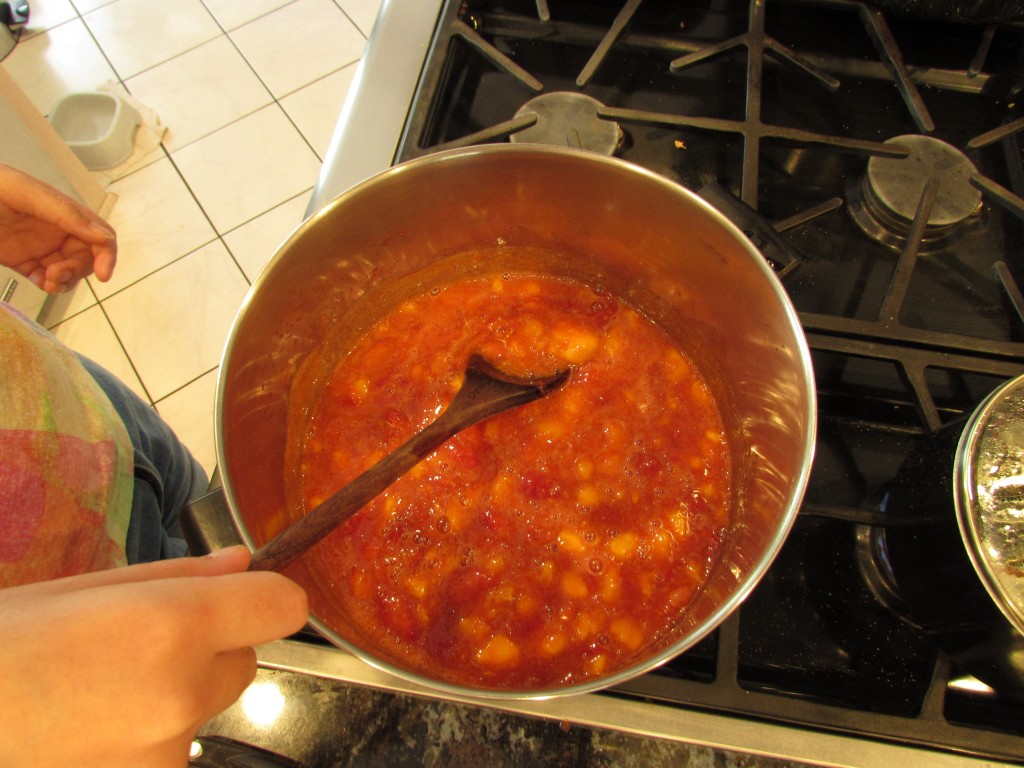 We canned 8 half pint jars and will do at least one more batch. I think peach jam on its own can be a bit bland so I like to add berries to it. Last year I did raspberry peach and it was really good.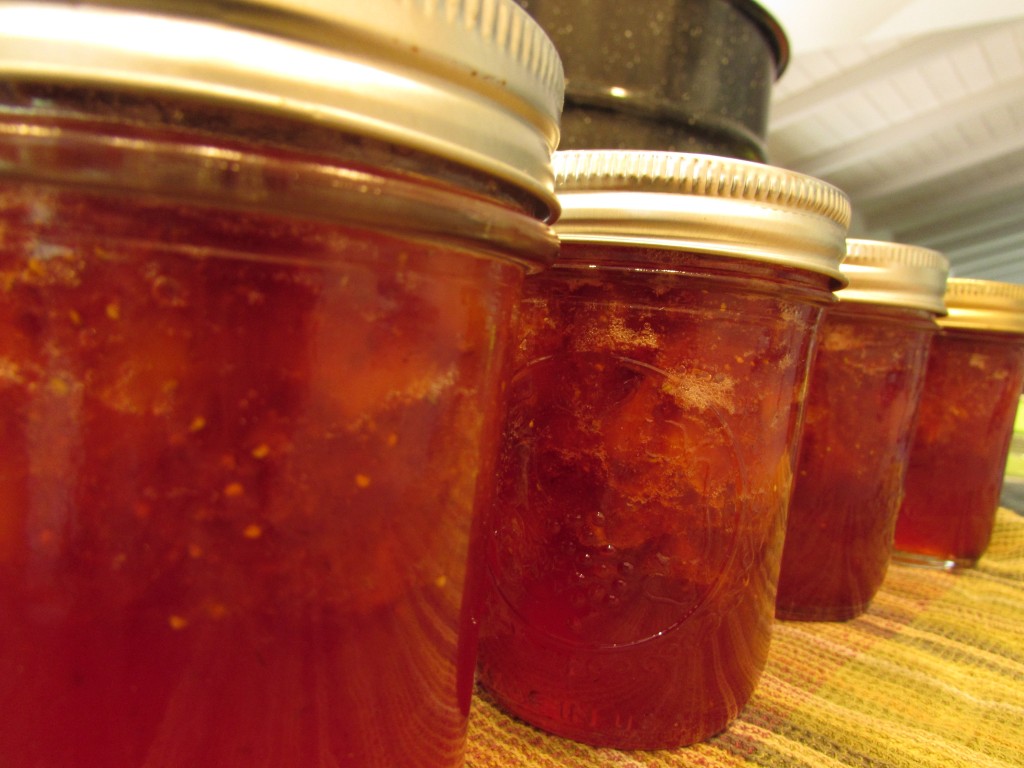 I am a bit worried that this batch isn't going to set up properly. It doesn't seem to be getting thick enough as it cools.  True confession time – my husband is really the jam maker in the family. He does a great job and just uses fruit and sugar, cooking it down until the consistency is perfect. Me, not so much… Last year I tried his method and ended up with a product similar to Jolly Rancher hard candy. I tossed the whole batch. I just cannot get a consistently reliable result. Today I used pectin and followed a recipe (which for some reason, Ray never needs to do) and I am just not confident it worked. We shall see. If this batch turns out to be too soft, I will just have to resign as assistant jam maker and leave it to the expert.
Post Update:  Yay!! The jam set up just fine. I will make a second batch now that I have seen success.  🙂
Summer is going so fast. Today Julia received an email from the high school with an assignment to read two books before school starts on August 18th. And so it begins!
Hope you are all enjoying your summers and savoring the days.
Linking to Freemotion by the River.