While I am making good progress on the vintage double nine patch blocks this week, I got a bit bored with them this afternoon. I decided to take a bit of a break today and I worked on my July row for my RSC15 project. I mentioned earlier that the block that Mari decided on for the month of July was a bit labor intensive.  Because of this, I opted out of the Classic Stitches BOM just for this month. I will go back for the August row.
Instead, I chose to make a row of simple bow tie blocks. Red is the color for July for RSC15 and that is a fine color for a bow tie. This will be my power tie row. I love the blocks and think they would make a great quilt all on their own.  Excuse the weird colors on the picture below. I took this in my sewing room so it the lighting was sub-par.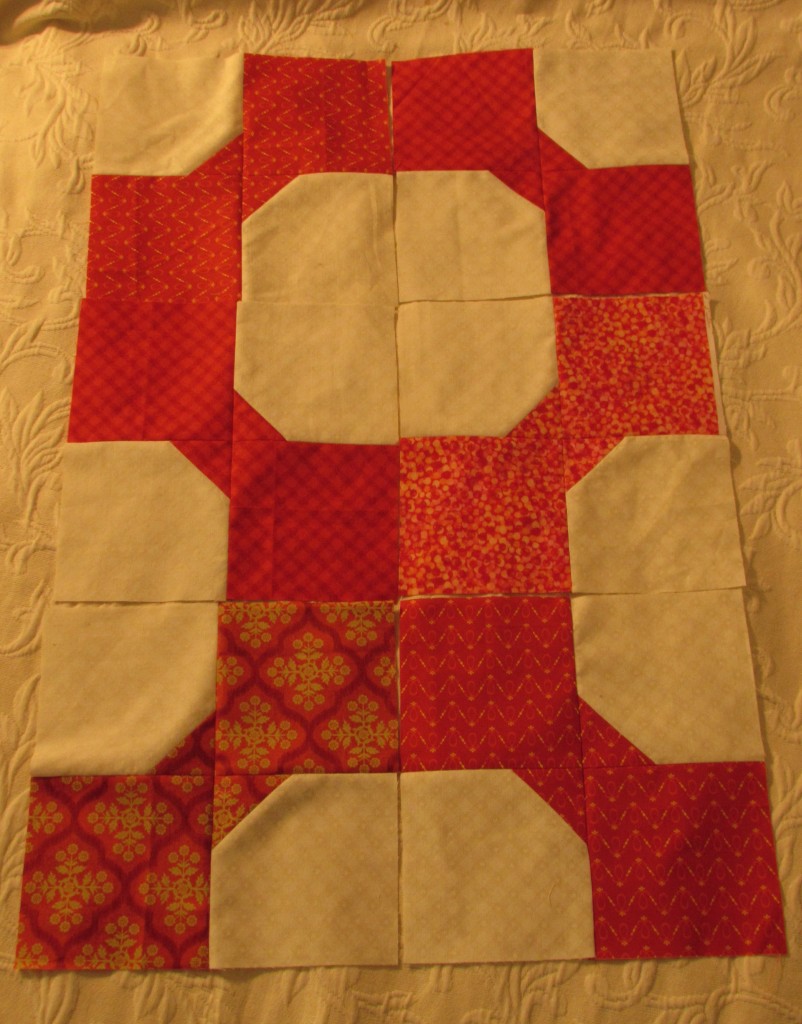 I wanted to add some bigger rows to the quilt. So far I have five rows that are made of six inch blocks, one row with 7 & 1/2″ blocks and this month I made 10″ blocks. To avoid doing the math needed to create 10″ blocks, I used the Block Fab HD app on my iPad that I have mentioned previously. While I like this row on its own, I am not so sure I like it with the other rows that I have made.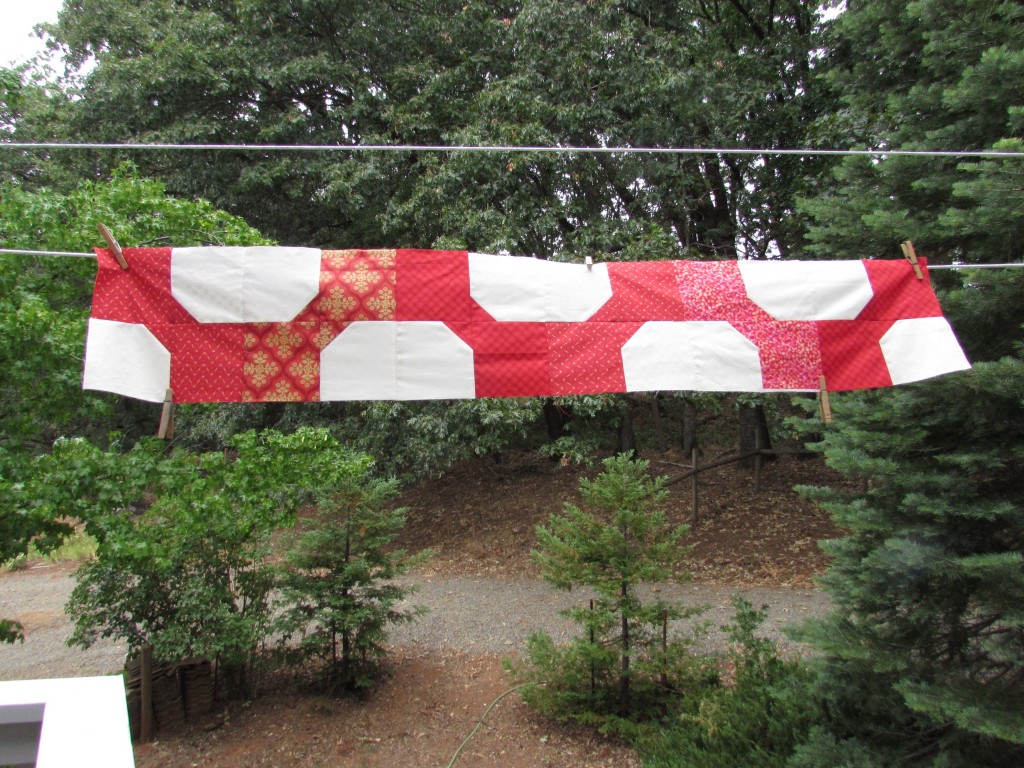 When I lay out the rows together, this row is so huge and chunky. I may just leave it for now and see what the block is for August. If I make another row or two of ten inch blocks, it might balance out. If not, I can easily make a new row of bow tie blocks. They go together quickly.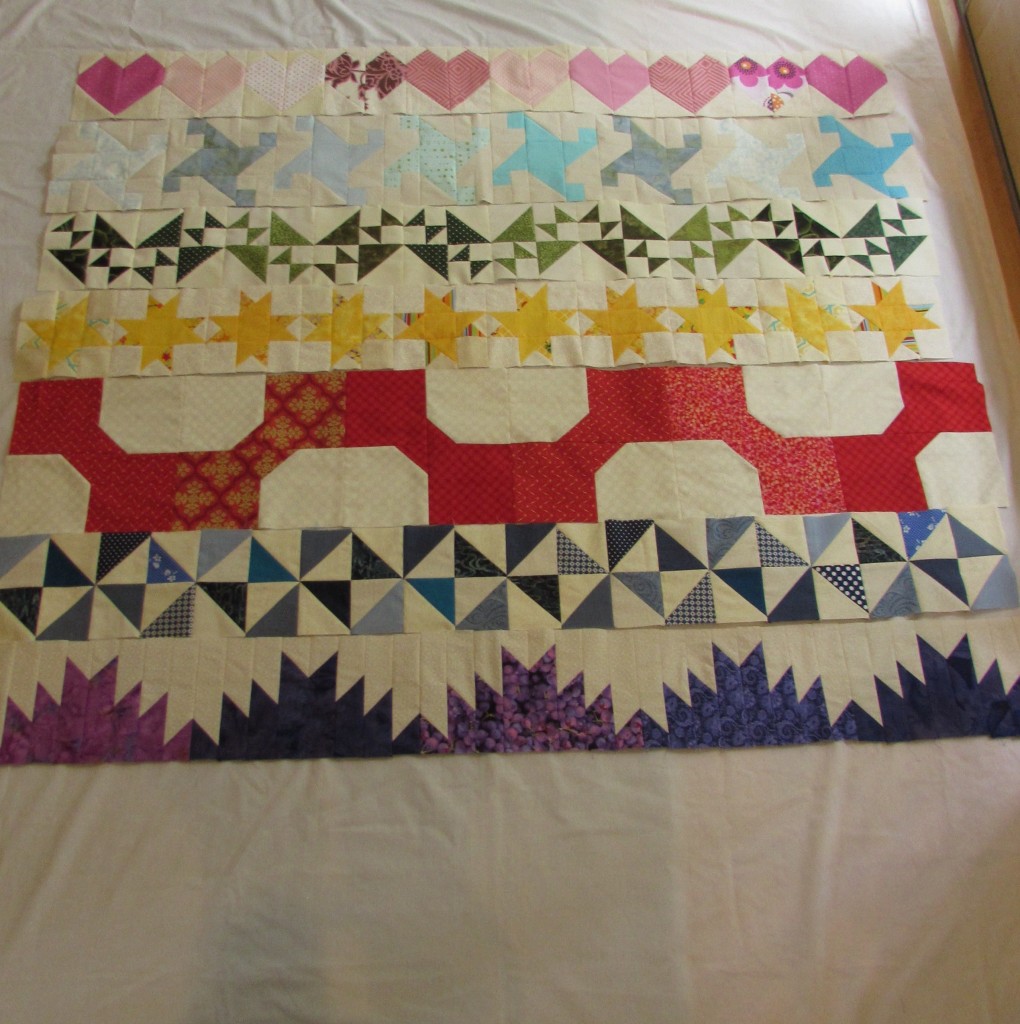 The more I look at this picture, the less I like the huge row of red. If I just shrink them down to 7 1/2″ blocks – that might give it the balance it needs. Then the bow tie blocks would be the same size as the light blue water wheel row and would be different from all of the six inch rows. Do I call this a finish for RSC15 for this month? I doubt it. Me thinks I will be making more red bow ties.
linking to Let's Bee Social, So Scrappy and Crazy Mom Quilts.