Summer has been going full force around here. This is a picture heavy post as I thought it would be a fun way to share the shenanigans going on in our family!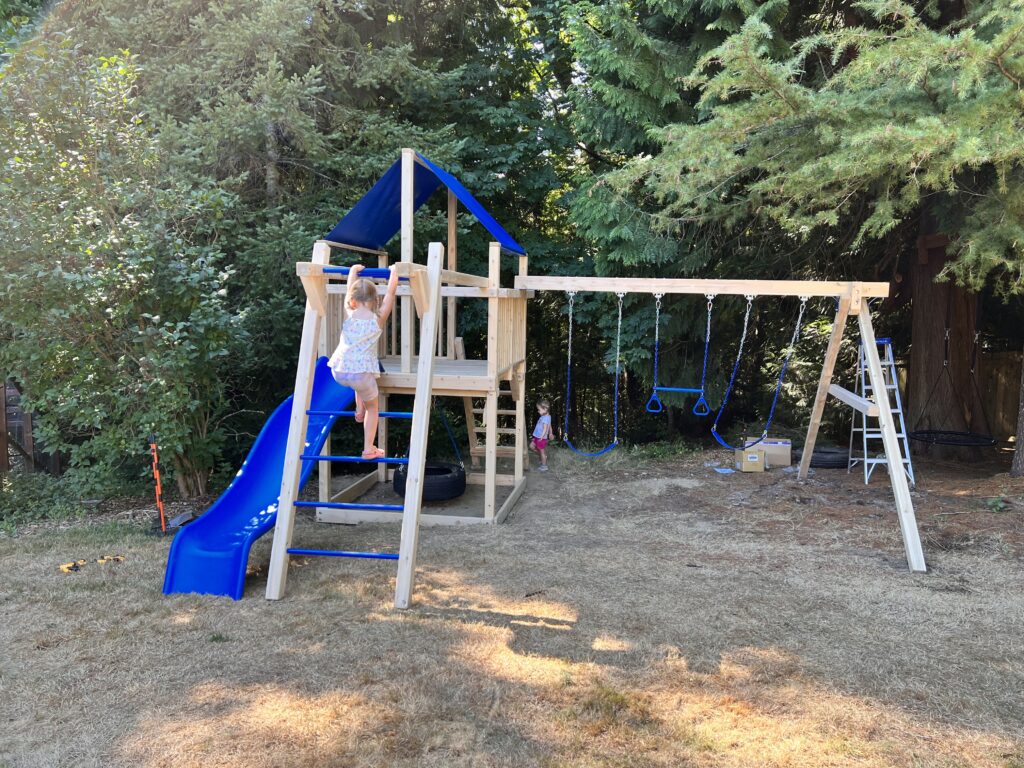 About two weeks ago Ray and I spent a few days at my son's house. Andrew needed some help building a swing set for the girls. Ray's helped with the building and I helped distract the kids from "helping".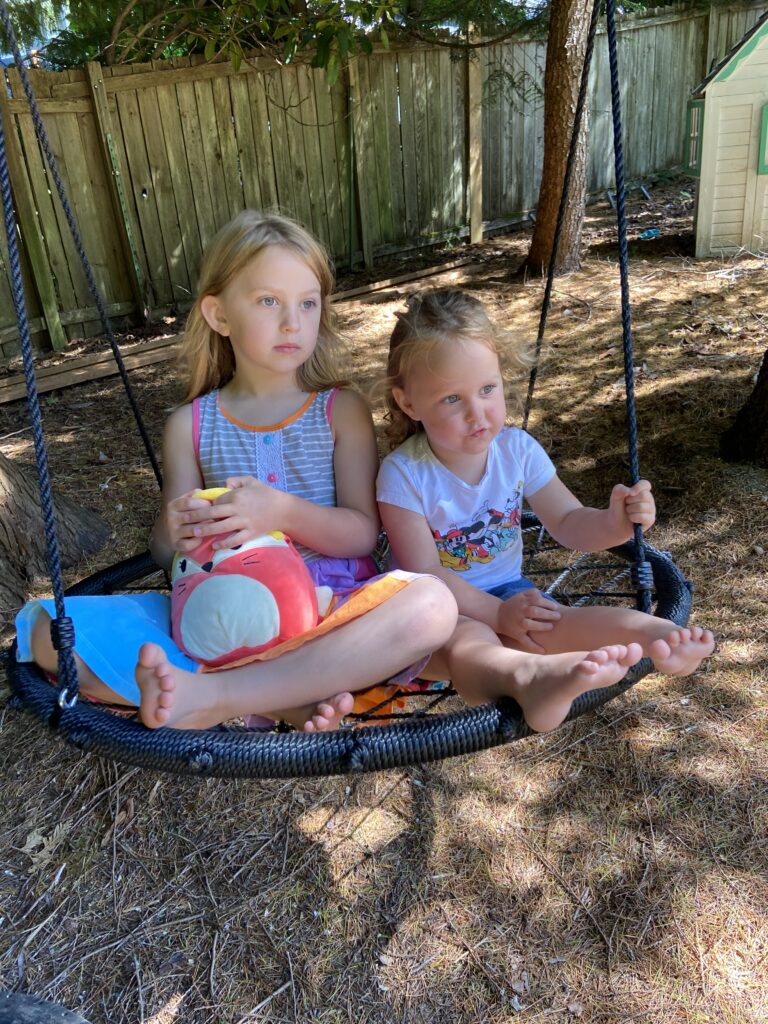 The chief supervisors of the swing set project sat in the 'spiderweb swing' and made sure all was going according to their plan.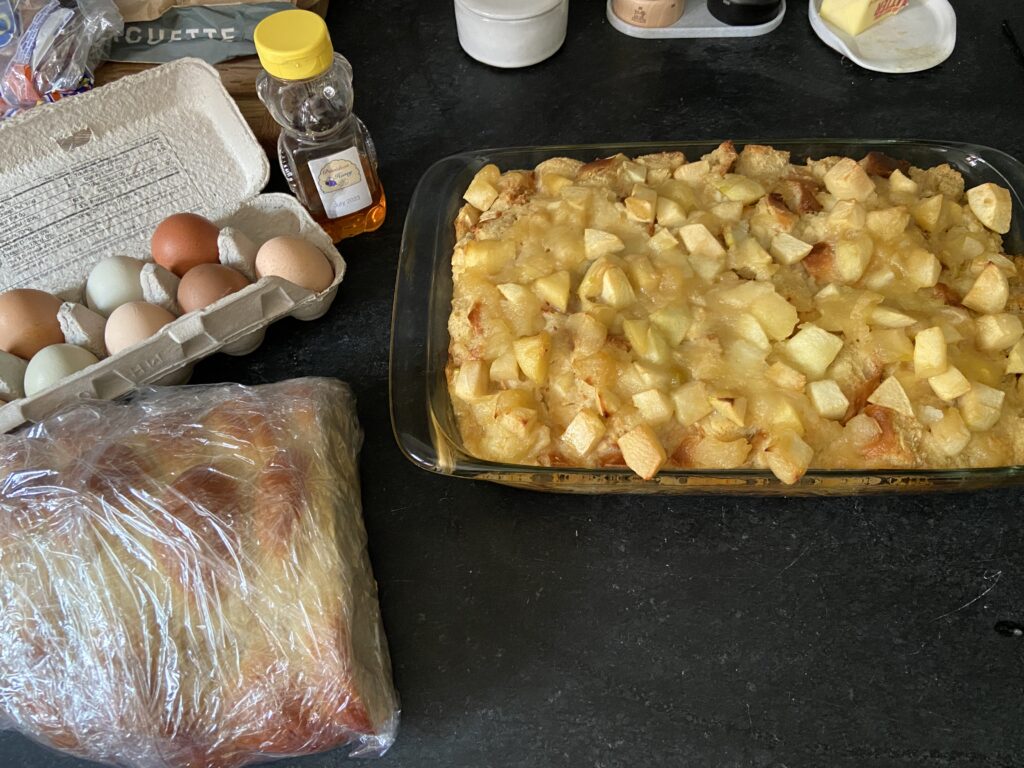 While we were over there, we celebrated Ray's birthday. I made an apple honey bread pudding. The cool thing was much of what was in the cake was grown by Andrew and Naomi. The eggs came from their chicken coop, apples from the trees, honey from their beehives and the challah bread was made by Naomi the day before. Delicious!
One day the kids wanted to have a picnic outside. H grabbed a quilt and headed out.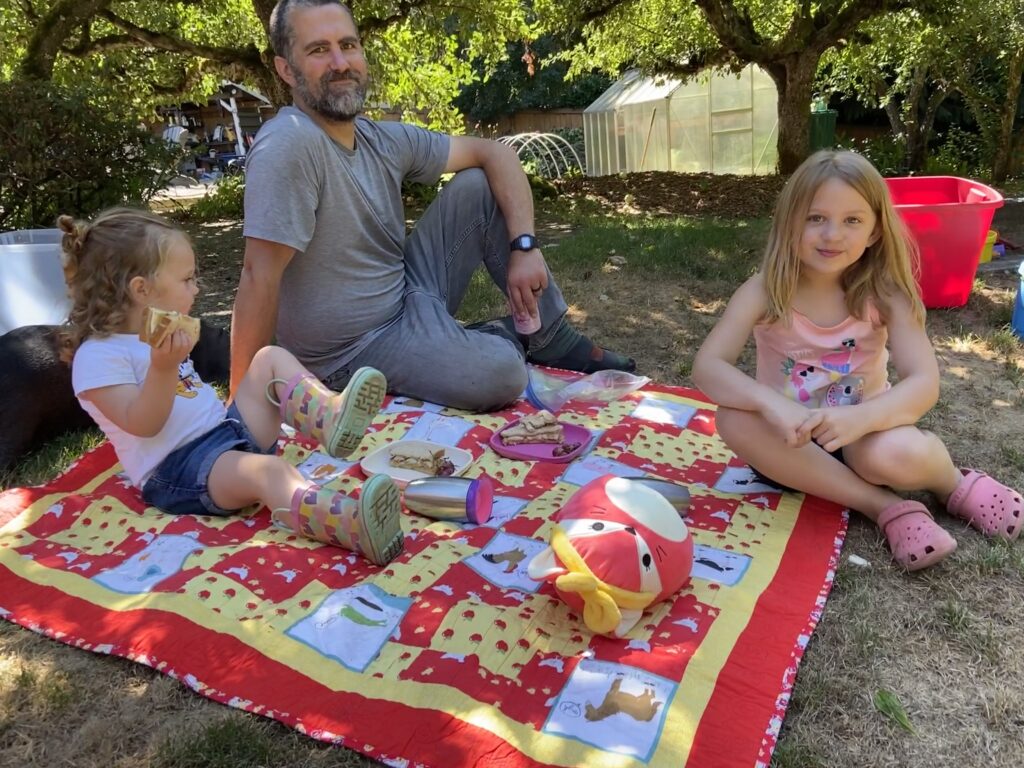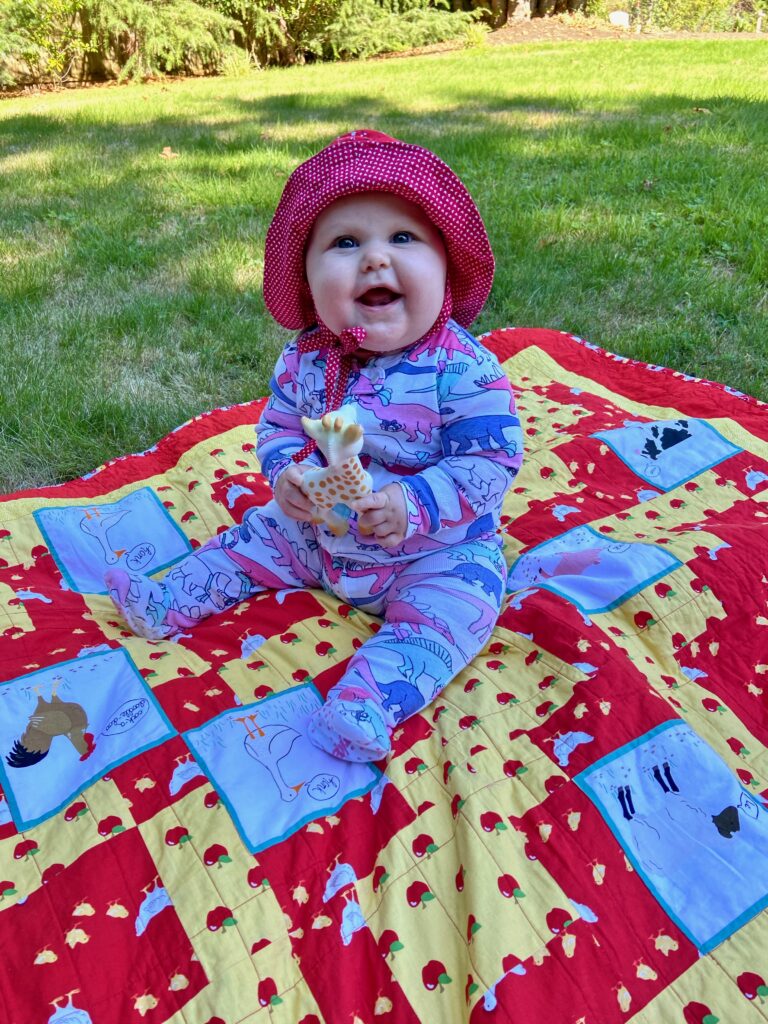 It was adorable to see the kids on that quilt three years later. Look at this round little face three years ago when I first gave it to the girls. (Sure look like they need a bigger picnic quilt now).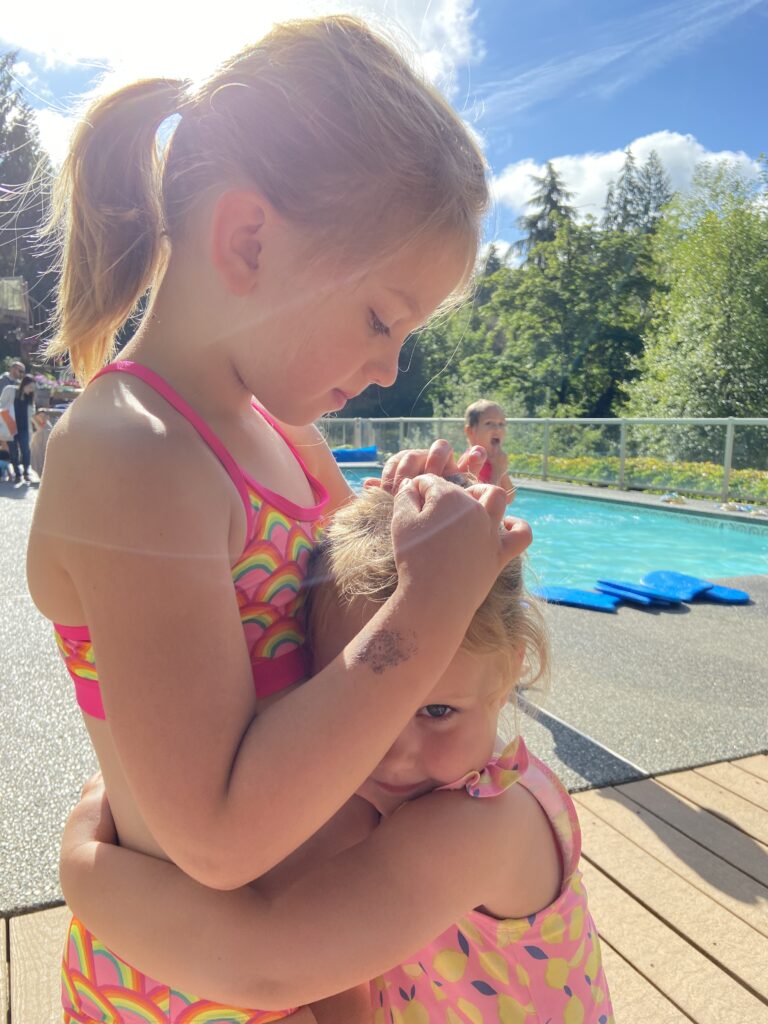 Part of my 'duties' while the swing set was under construction was to take the girls to swim lessons. This photo makes me smile; H is quietly picking blue glitter out of her little sister's hair. Apparently at dance lessons the day before, the dance teacher sprinkled 'fairy dust' over the girls' hair and I am certain it will be a while before all of it is washed out of A's curls.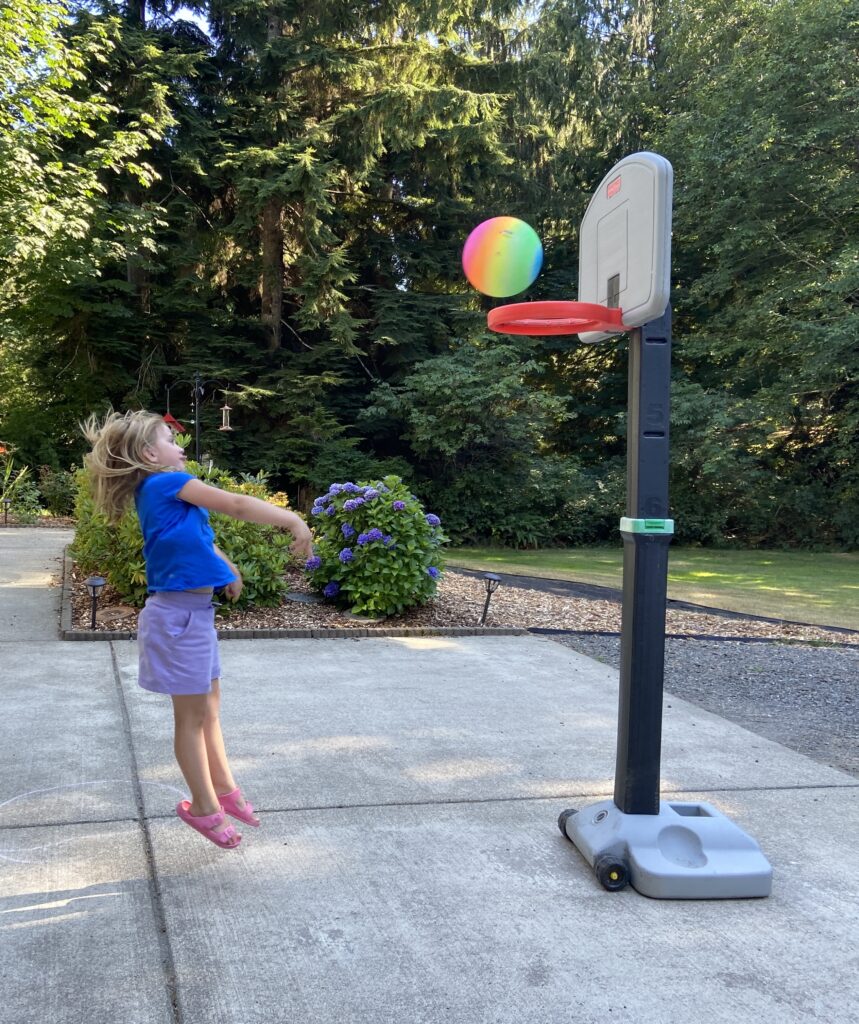 The girls came to our home the following week for a three night sleep over. Andrew has been wanting to try a mountain bike/camping trip. He biked over trails for 25 miles, camped for a night and then rode back out. He got a much deserved break and we got to enjoy the girls. (Unfortunately, Naomi was working – she has had a really rough schedule this summer).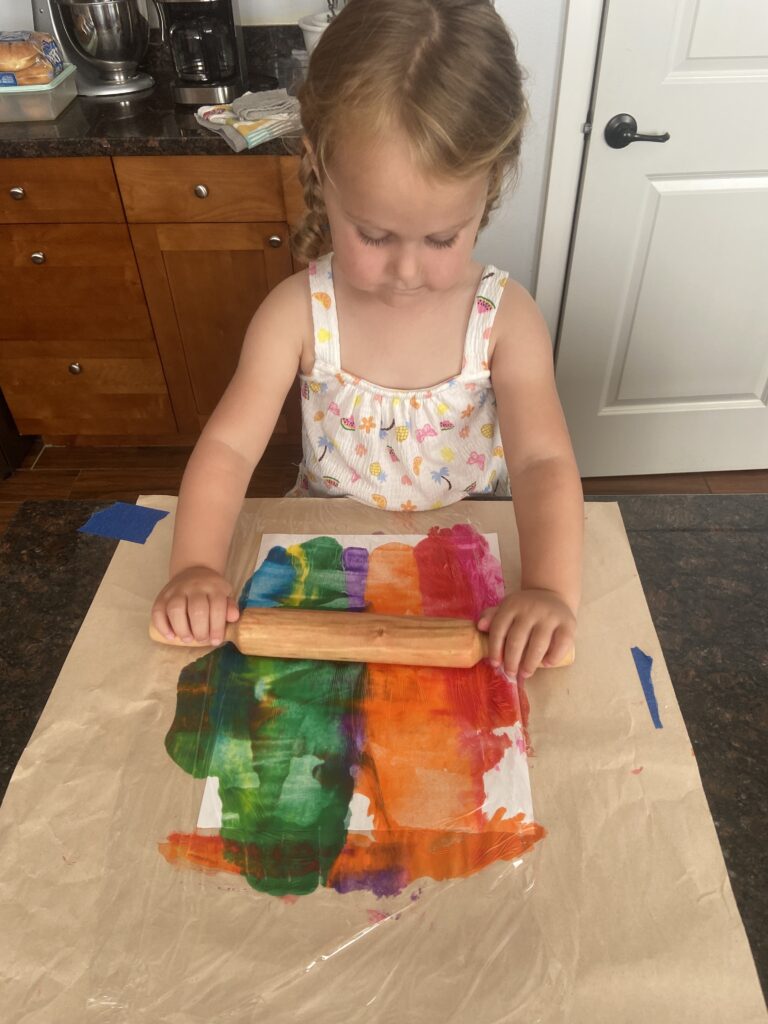 One day we did a fun paint project and I thought it good enough to share for the other grammy's out there. Cover the work space (this gets a little messy) and put a piece of paper down. The girls chose six colors and I put a generous dot of each one at the bottom of the page (toward the artist). Then I laid a sheet of plastic wrap over the paper and paint. They used a small rolling pin (made for them by PePaw) and rolled the paint out. This was a good challenge for them. The rolling pin had to have some pressure to really move the paint. But they absolutely loved the process. So much so, each girl very happily waited for their turn since we only have one rolling pin. The idea came from Crafty Morning. The only thing I would change for the next time is to have better paper on hand. I used regular printer paper which was a bit thin. Card stock would be better. I am sure there will be a next time – it would be fun to do seasonal colors for fall or Christmas, etc.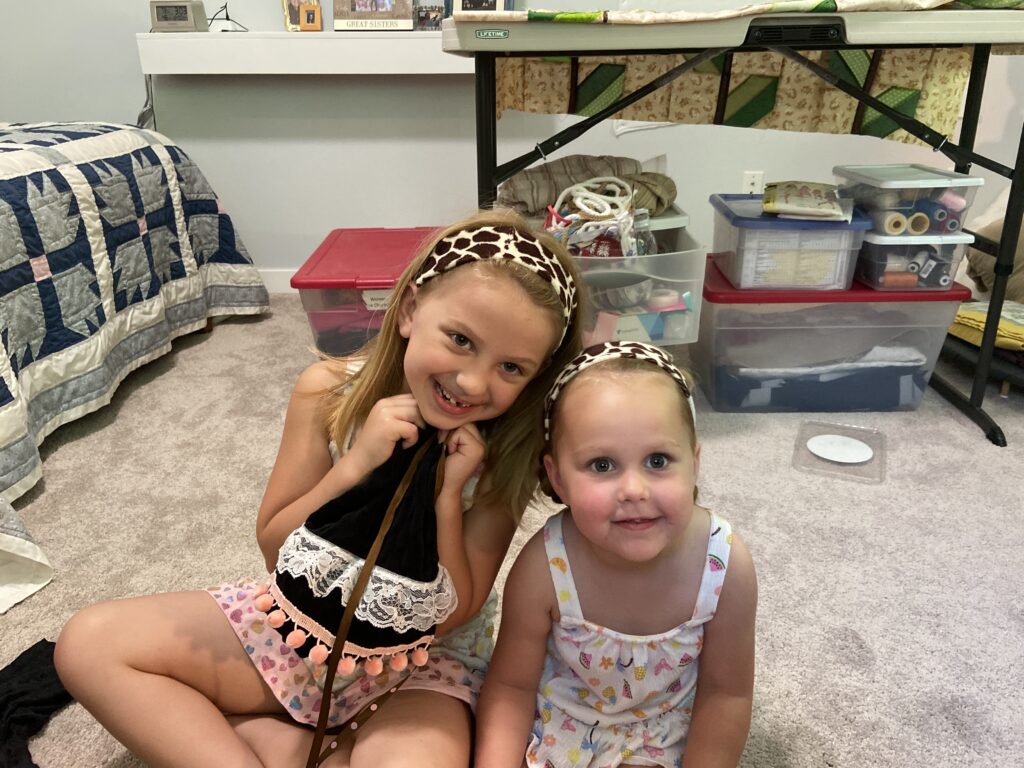 Time in the sewing room is also a favorite thing with these girls. However when I have both of them, it is a challenge. The attention span of a six year old is much greater than a three year old. So when little sister was napping, we snuck in some time to make a project. H designed a drawstring bag. She chose black dotted minky and adorned it with pink pom-poms and gathered lace. I think she achieved a bit of a victorian vibe here. She was thrilled but not ready to stop making things. She pulled out bits of animal print minky and asked what we could make. I suggested head bands. I wasn't really sure how that would be received because the girls don't generally wear head bands. But they really liked them. It was so cute to see their faces with their hair pulled back. If you want to make stretch knit headbands for kids or yourself, this is the tutorial I would suggest. They are super easy to make.
Beautiful weather called us to the beach one afternoon. These girls made themselves right at home. It was low tide so the water was very far out and there was too much muck to climb through to get to it. But they had no problem keeping amused on the shore.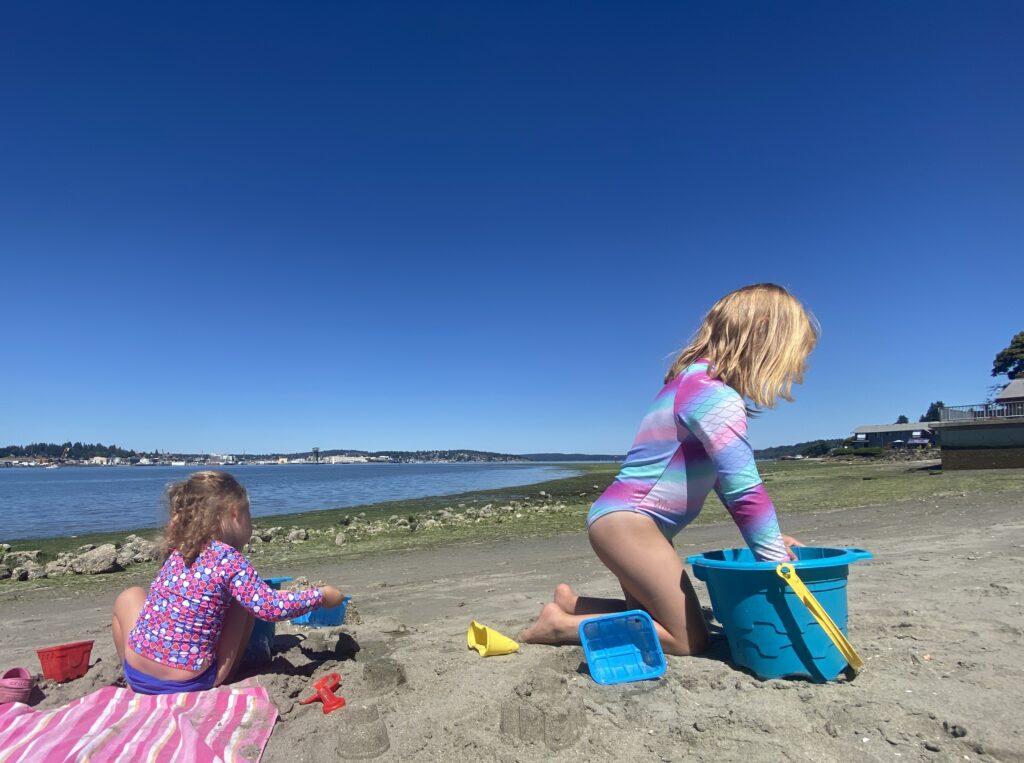 Sand castles were constructed.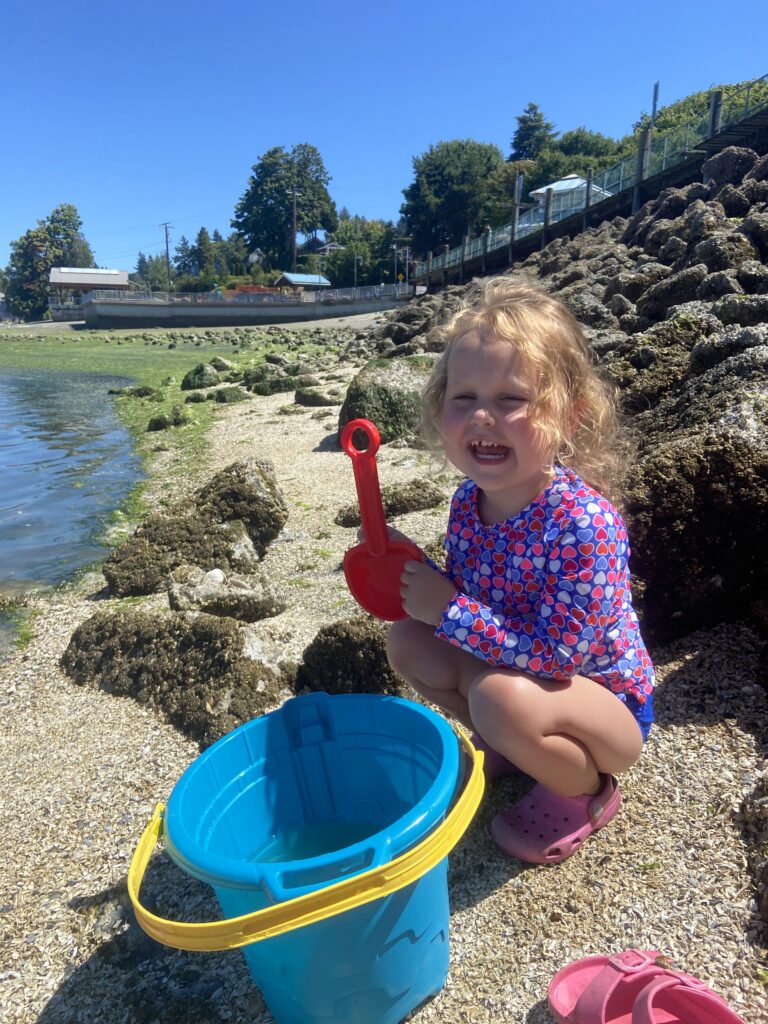 We had to walk this little trail a few times to scoop up water for the moat. How many kids have endlessly filled a sand castle moat only to see the walk drain down and then need more? Countless times.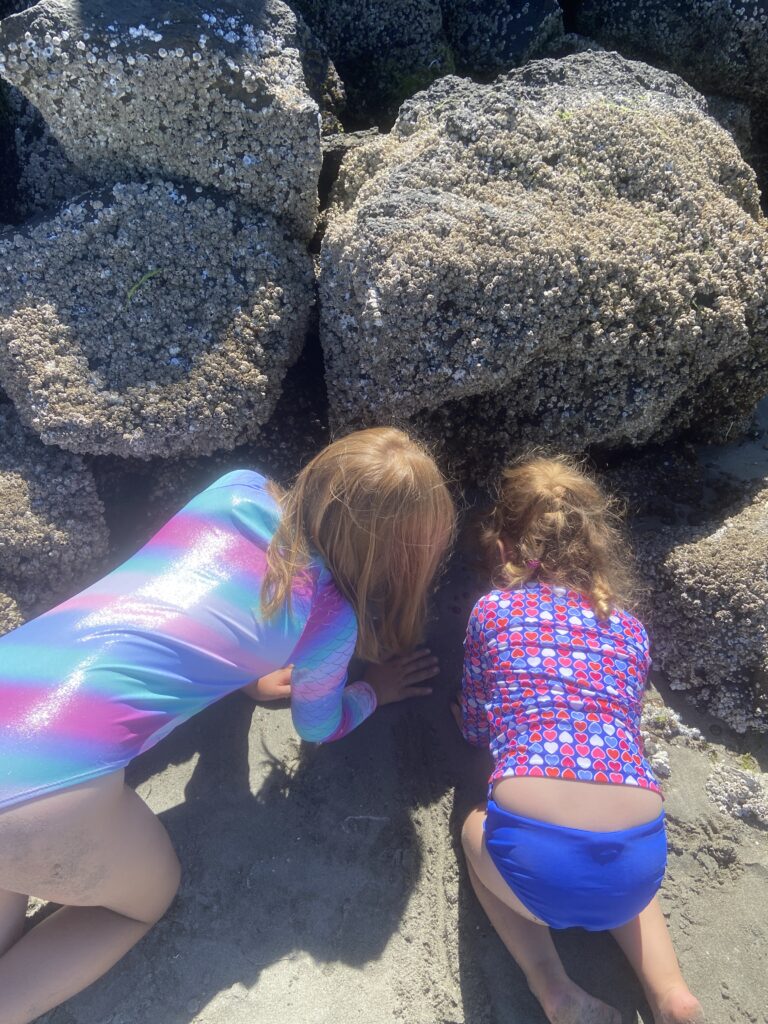 At one point H called out to me, Grammy, this thing is alive. Not a good phrase to hear, I walked over and they were looking at sea anemones. Touching each one to watch it shrink up. This fascinated the kids and I was pleased to see they were really gentle about it.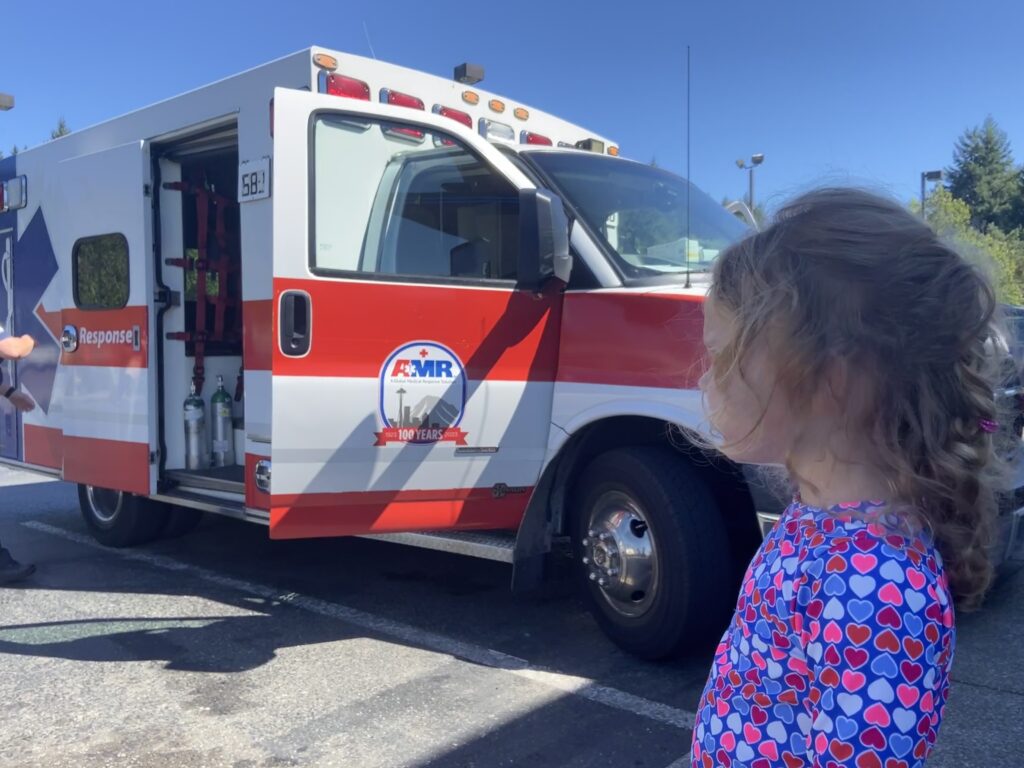 After beach time, we went to Dairy Queen for a treat. Much to A's joy, there was an ambulance in the parking lot. She often tells us she wants to be an ambulance driver when she grows up. They EMT's were having a snack inside so when it looked like they were finished, I took the girls over and introduced them. These EMT's were amazing. They talked and talked to the kids and even let them go in the ambulance. It was really a special time for them. H chatted with them and A became shy and hardly said a word. But I think she enjoyed it.
It was a fantastic (and tiring!) two weeks to be sure. School will begin at the start of September and then it won't be as easy to spend this much time with our grand daughters. Life gets so busy! The house is quiet again and I am back into the regular routine. I am ready to baste my Positivity Quilt and (hopefully) will have it quilted soon!