Lots of fun happening around here these days! Making, baking, getting outside and spending time with family have taken the bulk of my time lately. I couldn't remember what I had shared lately but after taking a look at my photos on my phone, I found several projects to write about.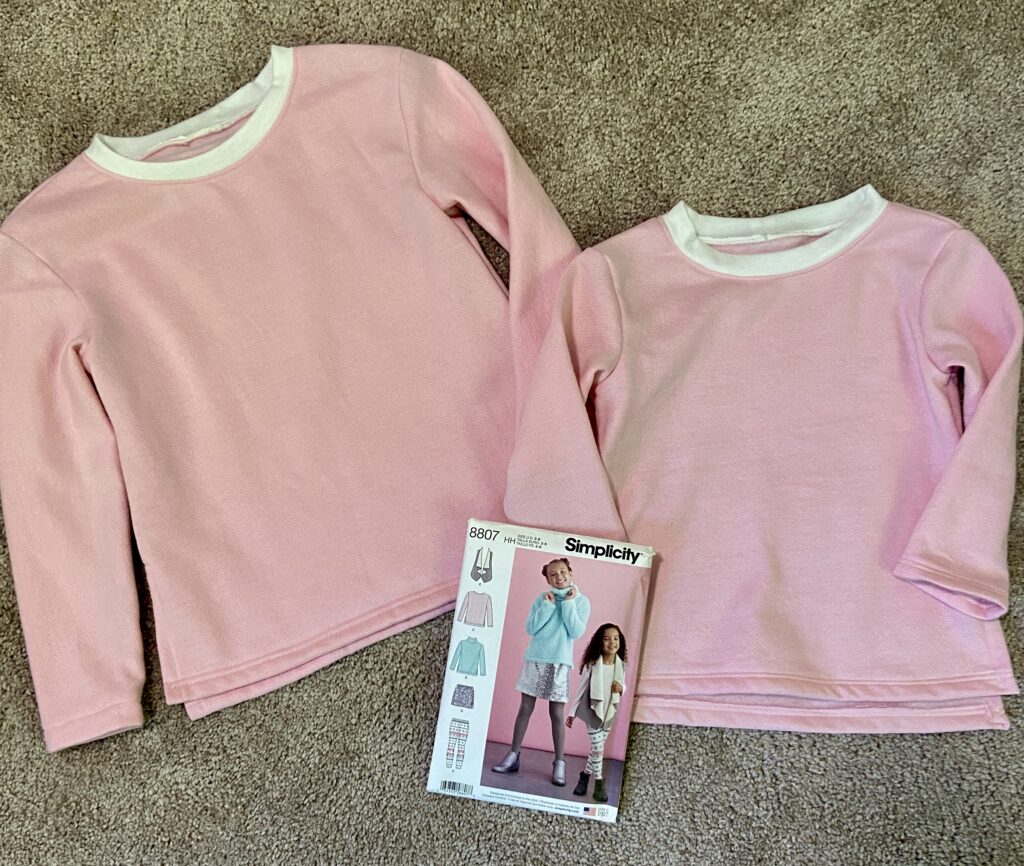 Let's start with these cute matching sweatshirts. I wanted to play with the serger machine my sister gave me a while back. It is really useful for finishing a seam when making clothing. A couple of years back, I picked up about two yards of extra wide pink fleece at a thrift shop. I am not one for this color so I didn't make anything with it. With cooler weather coming, I decided to make my grand daughters matching pullover tops. When they were here a couple of weeks ago, I tried them on the girls. I had made the necklines with the fleece fabric and there wasn't nearly enough stretch. I could hardly get them over the girls' heads. Back up to the sewing room to unpick the stitches and replace the necklines with a ribbed knit (also thrifted!). I haven't tried them on yet but the neck is quite stretchy so I think they will fit well now.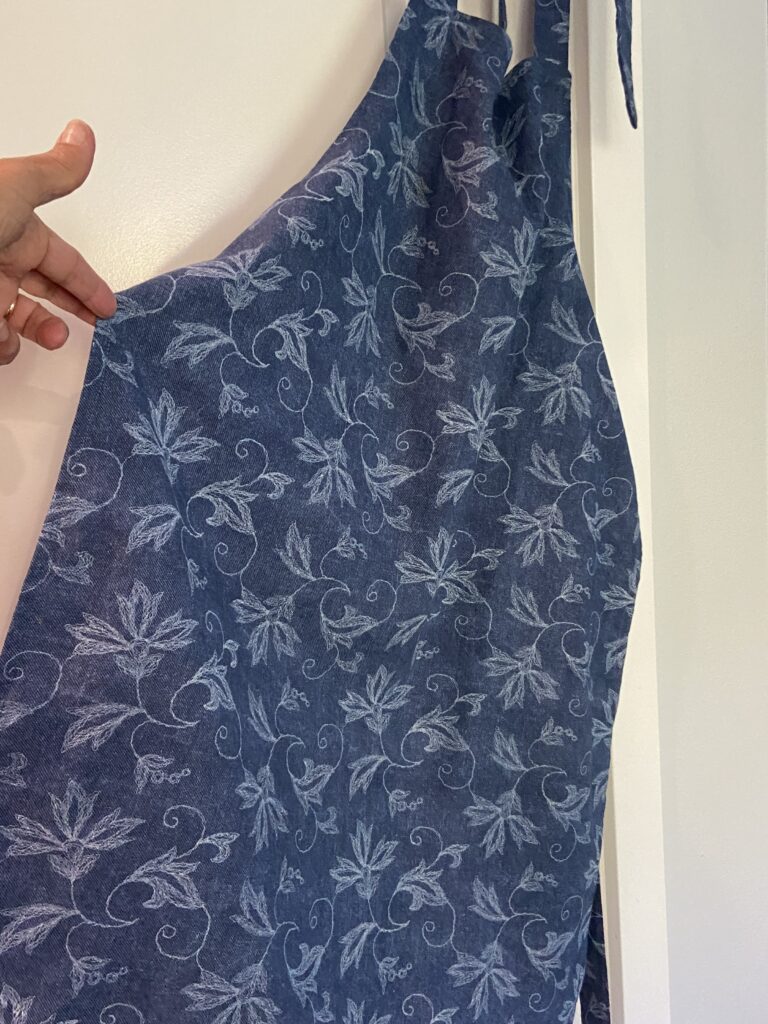 This next project is long overdue. I don't wear an apron too often but if I am doing something messy in the kitchen I like to have one on. This (thrifted) fabric is so cool. It is a very lightweight denim with a print that looks embroidered on it.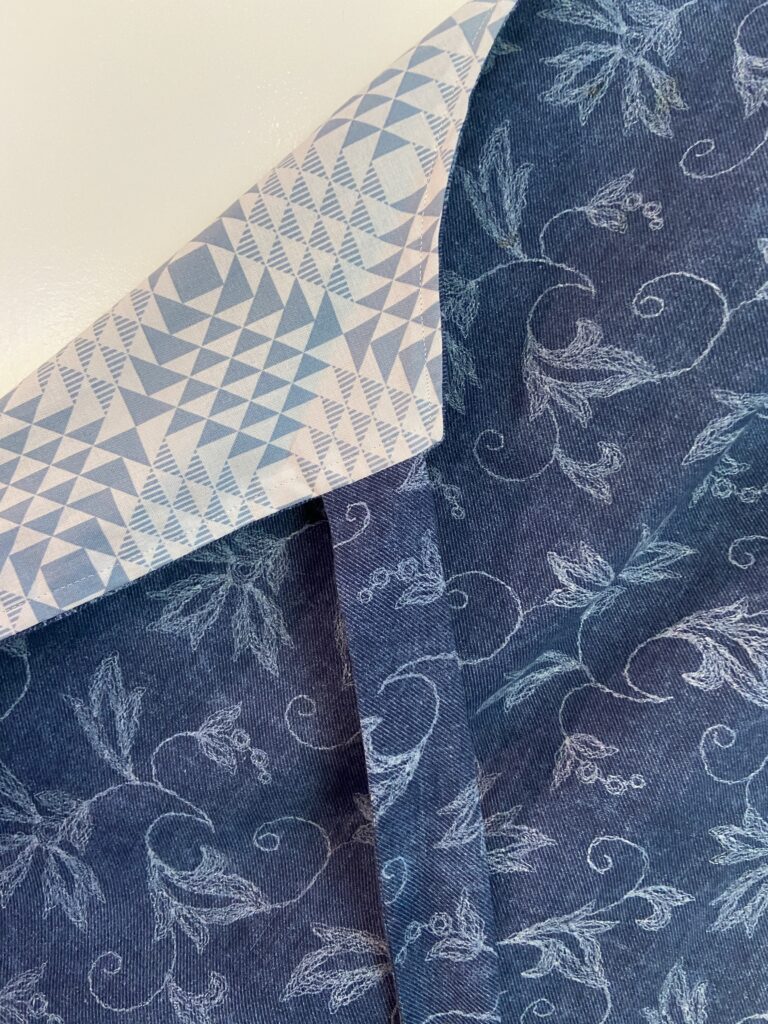 To give it some body, I lined it with a piece of yardage off my shelf. The pattern called for hemming the edges but really, lining the full apron is better. It gives the apron some heft and takes much less time than rolling the hem all the way around the entire apron. I think it provides a nicer finish overall plus it is reversible.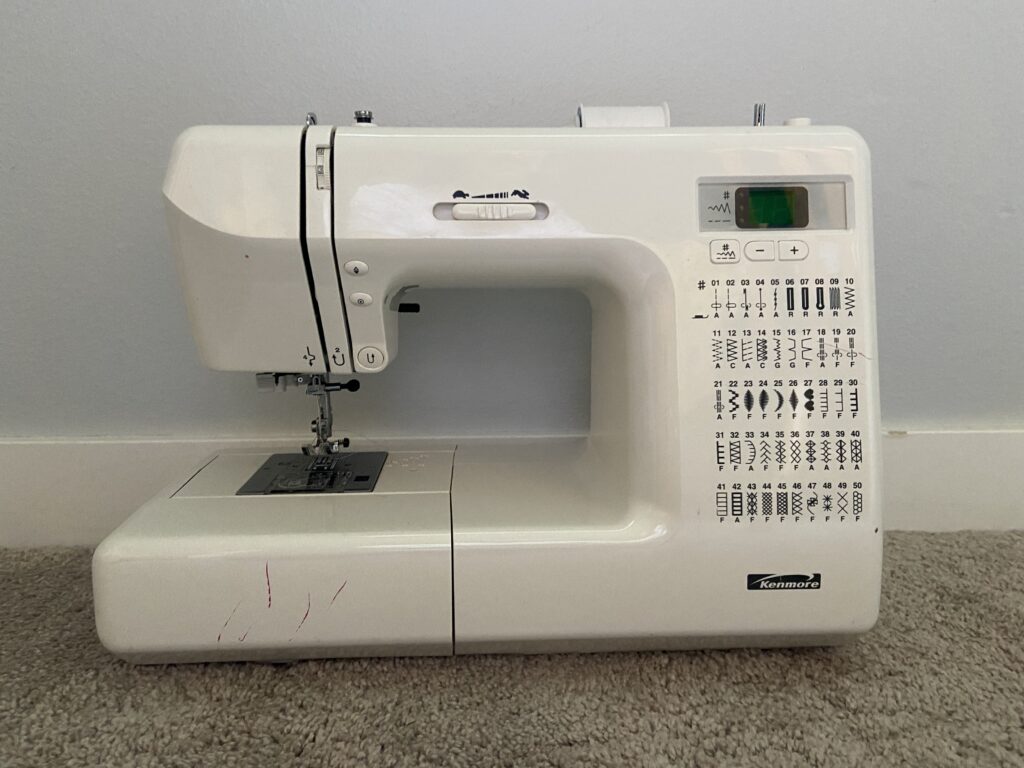 I wasn't in need of another sewing machine but when I saw this at an estate sale, I couldn't pass it up. It works so well and has the basics – different speeds for sewing, needle up/down, and a nice selection of stitches. It will be great if I have someone over to sew with, for teaching my girls to sew (this machine is less complicated than the Bernina), and for a back up if the Bernina is getting serviced. It is also much lighter in weight which is nice when taking a machine to a class. Totally worth the $28 I paid for it!!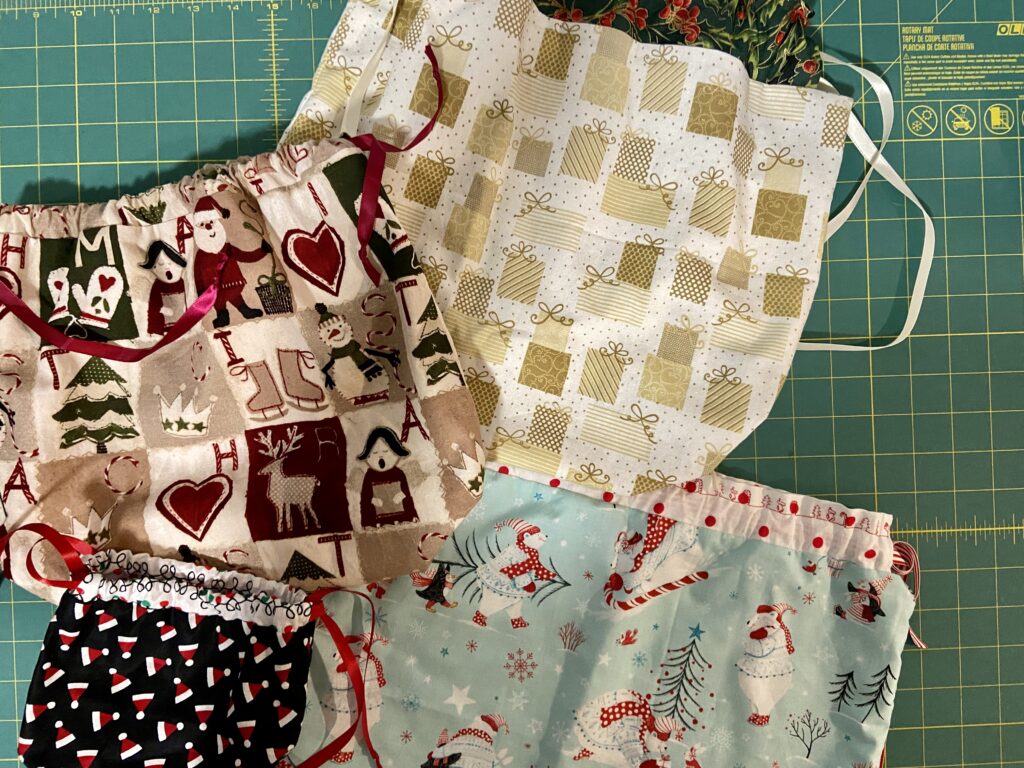 I make these on a regular basis. Wrapping gifts at holiday time uses lots of paper which isn't terribly ecological. Since I have quite a collection of Christmas fabric, I made four more gift bags. These are lined and have ribbon drawstrings. I tend to make them in a variety of sizes and fabrics so they fit different size gifts. I tried for a better photo but honestly, I got lazy and didn't want to stuff them. Hahaha.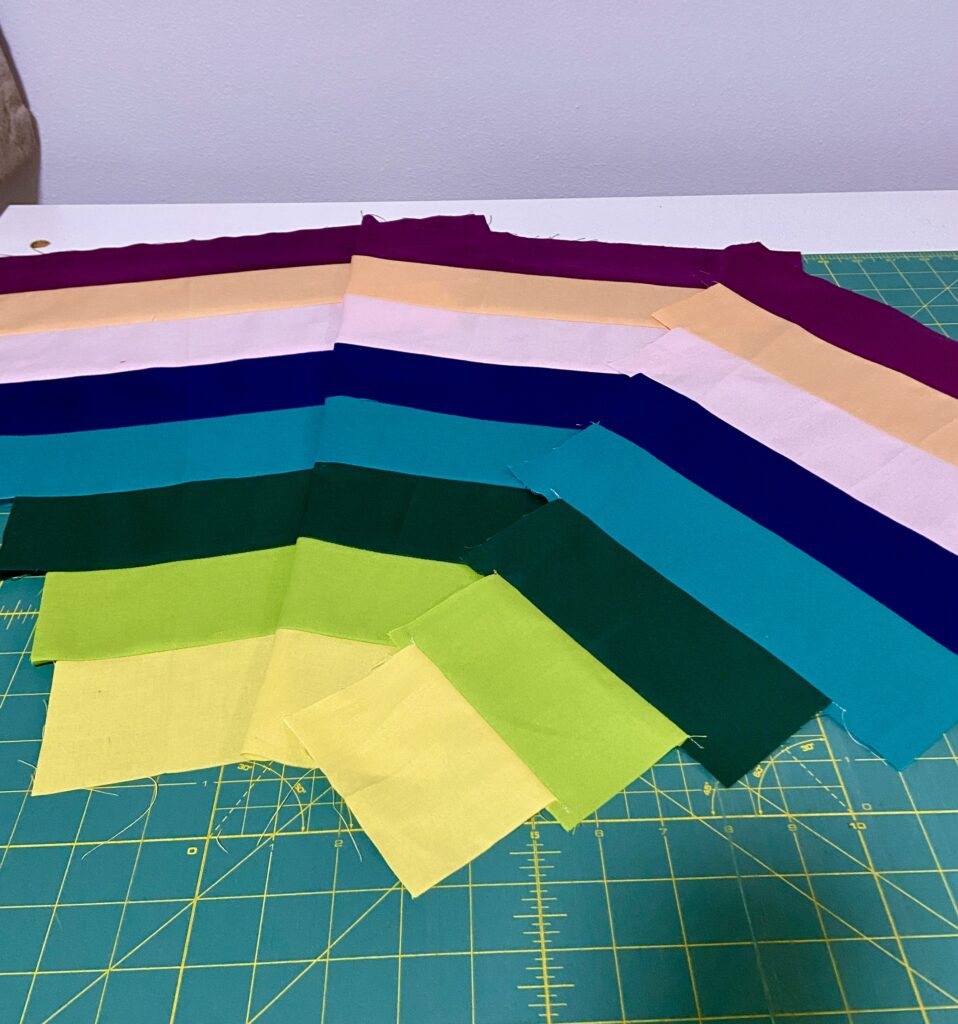 What do think? This is just a peek at a project I am working on now. It will be a wall quilt for our bedroom. More on this as it progresses. I am really thrilled with it thus far.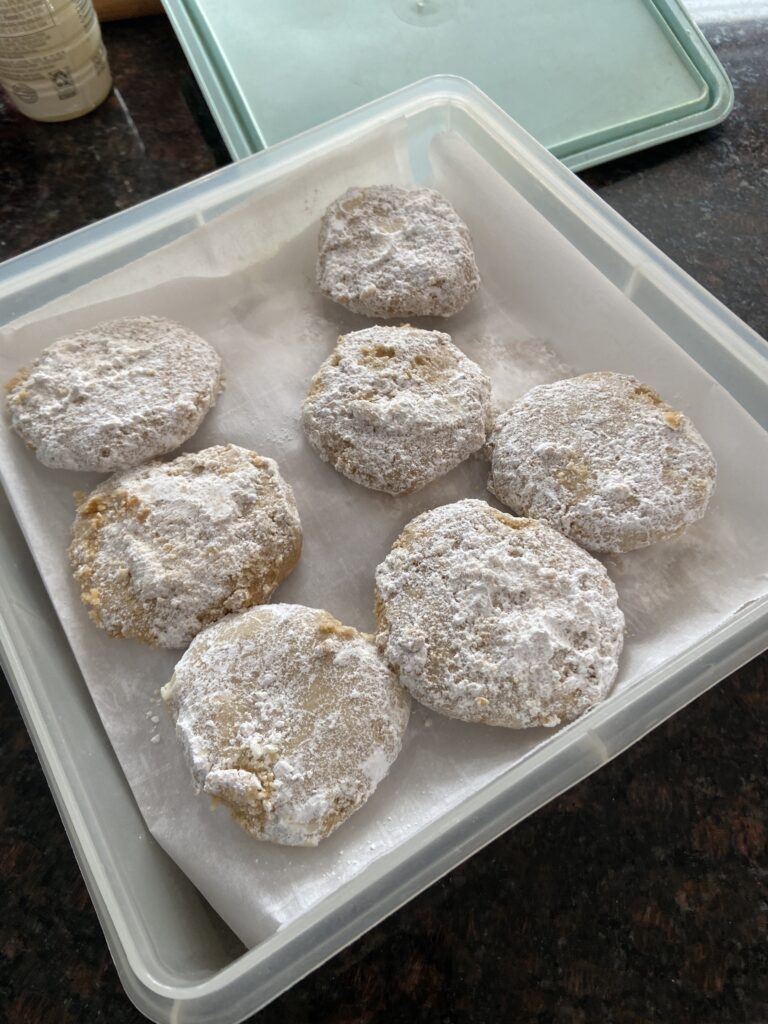 These cookies were so yummy. I wanted to make some non-dairy cookies for last weekend. My son and his wife came for a weekend of visiting, beach walks and some fishing. Anyway, I chose to try these Tahini Cookies from The Mediterranean Dish. Wow! Soooo good. Tahini is a sesame seed paste and has a different flavor. My DIL didn't really like them but the rest of us sure did. I made a few substitutions with the recipe – mainly using vegetable shortening instead of butter and rolling them in confectioners sugar after they cooled a bit. I will surely make these again.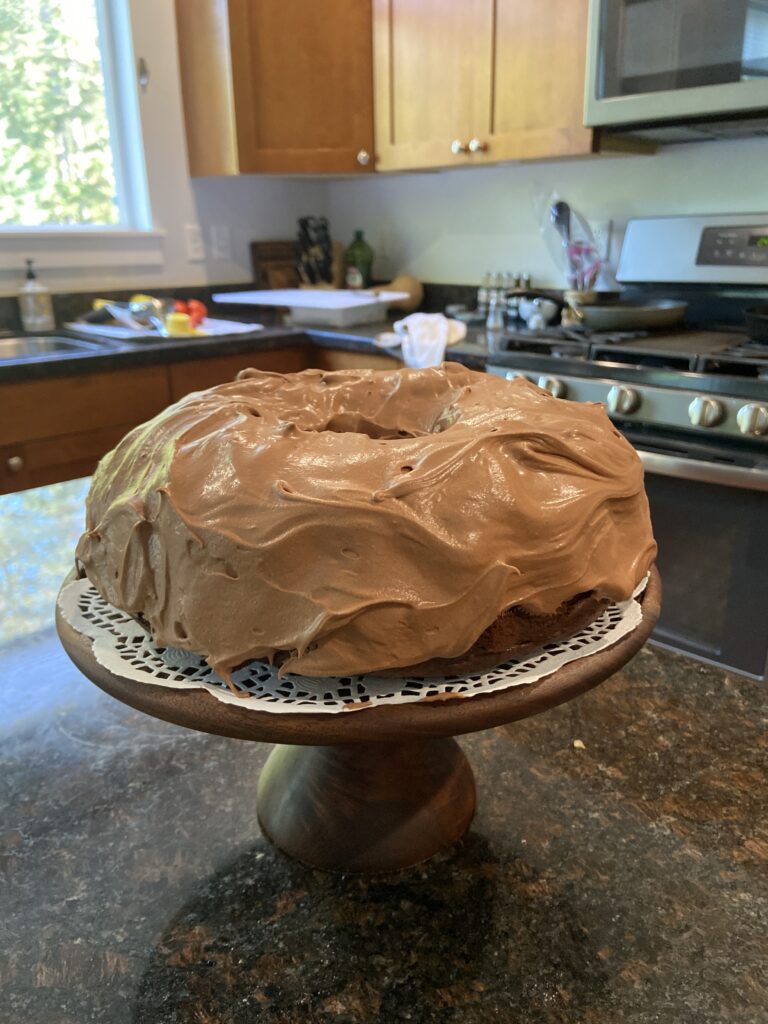 My son turns 32 years next week. Since we won't see him on his birthday, I made a cake for him last weekend. Again, dairy free. This bundt cake is based on a cake mix but I added chocolate chips (dairy free), dairy free yogurt, an extra egg, and a splash of Kahlua. For the frosting, I heated one cup of oat milk and poured it over one cup of dairy free chocolate chips. When they melted completely, I whipped the mixture with powdered sugar until I got the consistency I wanted. It was sort of mousse like? I had to keep it in the refrigerator because it doesn't really set up. Really yummy though. Ian took a chunk home with him and we finished the rest this week.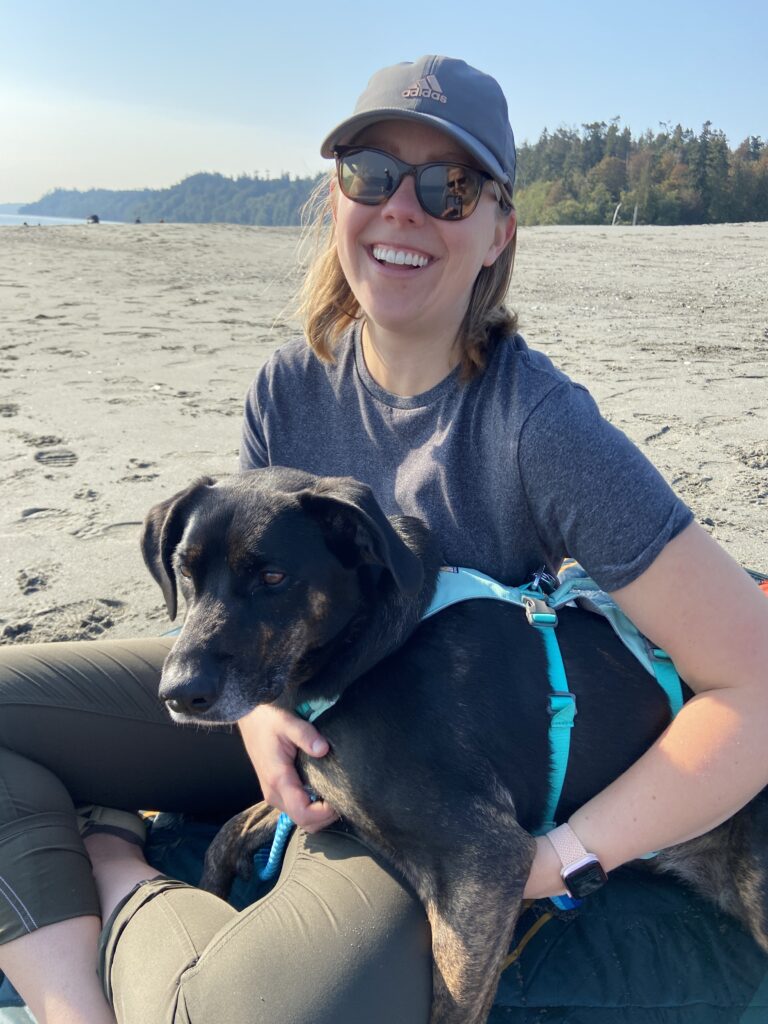 I had the pleasure of hanging out on the beach with my DIL, Shar, and their dog Isla while the guys fished. Shar actually likes fishing as well but didn't have a license so we were on puppy care duty. It was a beautiful day out.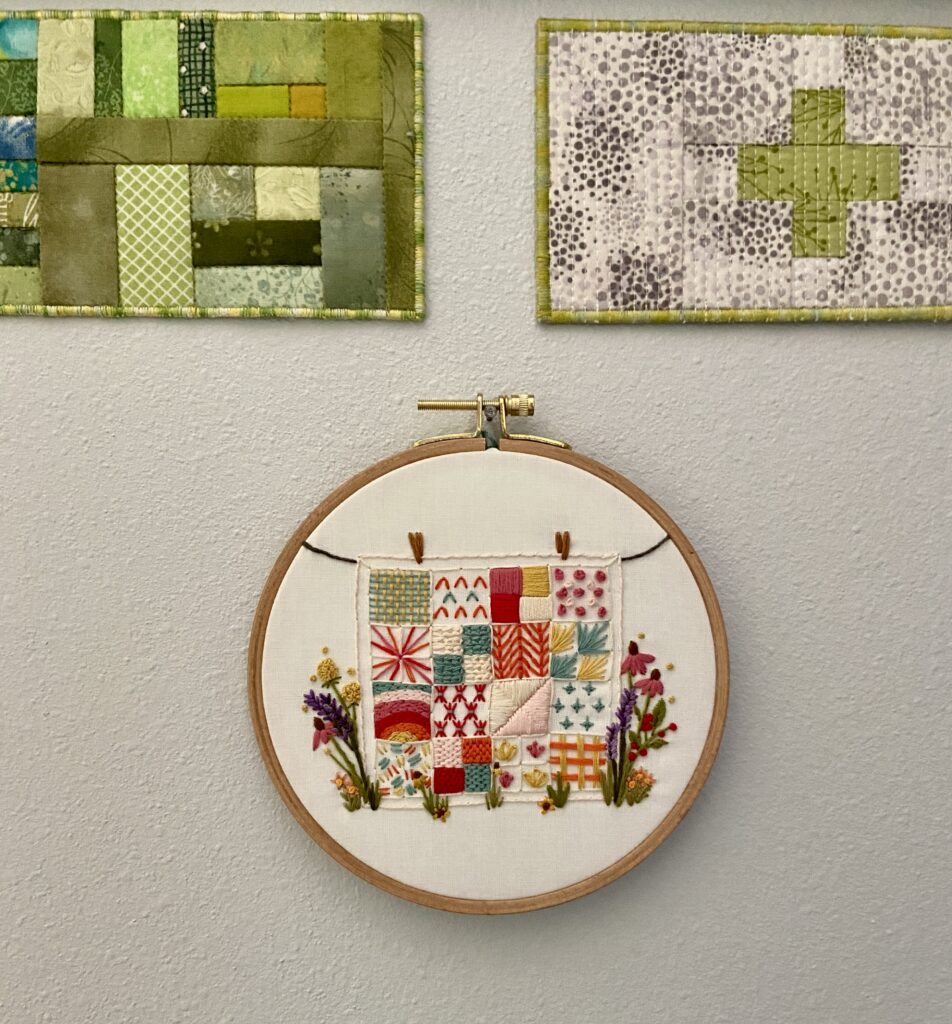 I saved the best for last in this post! Shar loves to embroider and made this for me for my birthday. I love it so much. The quilt is adorable and each square has a different stitch. Look at the clothes pins holding it to the line – the detail work in this piece is just awesome. It is so special to me and I am really touched that she made this for me.
OK – I think I have caught you up for now. This weekend is a local quilt show. The featured quilter is actually someone from Grass Valley (where I used to live). She was in the guild there and is now President of the guild up here. I am looking forward to seeing her work.
Wishing you all a wonderful weekend!! Is fall weather starting where you live? The days are getting shorter and the leaves are just beginning to change here.
Linking to my favorites – see the list at the top of the page, under Link Ups.