It is no secret I enjoy making quilts for other people. I have given them as birthday, wedding, baby and "just because" gifts. But my favorite thing is making comfort quilts. Making a quilt for a person who is going through a rough time for whatever reason is the most rewarding sort of quilting. I love the idea of imagining this person who is sad or feeling blue receiving a handmade gift. The person then knows there is a another person, somewhere out in the universe who felt the desire to lessen their pain even the tiniest bit by spending time making something for them.
Who knows whether this person would understand the time it takes to make a quilt? Or if this person knows there is expense put out to make this gift? That isn't the issue. For me it is all about wanting this person to have a positive experience in the midst of a negative time in their life.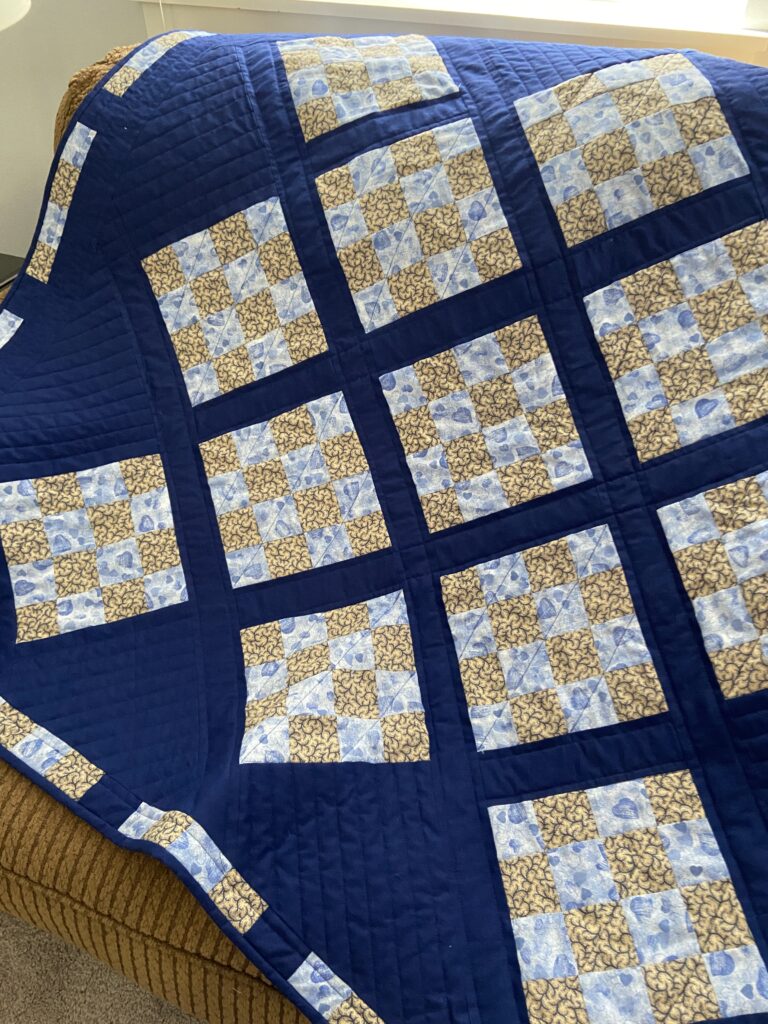 The quilt I am sharing today happened due to some crazy team work. Somewhere a quilter made the 16 patch blocks. I can tell these blocks were made quite some time ago. They were frayed at the edges and a wrinkled mess. Along the way, the first quilter decided they couldn't finish the quilt for whatever reason. The blocks were then passed along to another quilter who promised to make a comfort quilt with them. Then these poor blocks languished for a long while, making the second quilter feel a bit guilty for not getting it done. She posted on Instagram that she would send them to anyone who would promise to finish up her promised task. I raised my hand quickly (on Instagram of course) and she mailed the blocks to me. (She actually mailed two sets of unfinished blocks and I have the second set out and ready to work on).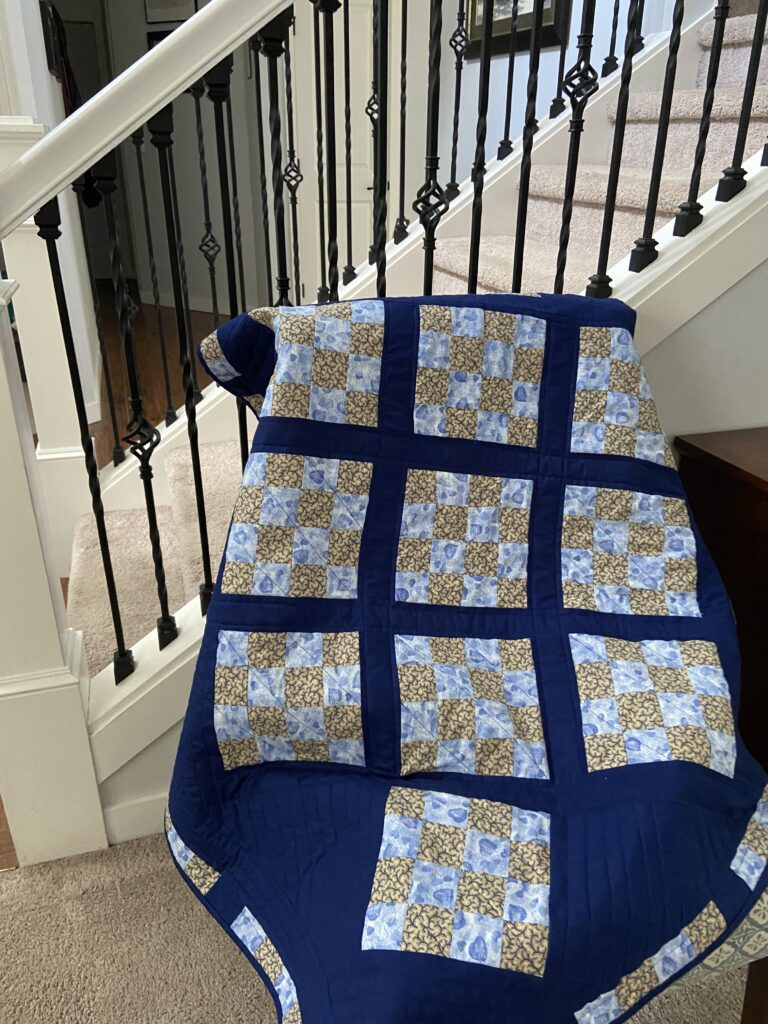 Due to my move up to Washington last spring, it took me some time to get to these blocks but I finally did. Looking at the blocks closely I saw they needed some work. I squared them and reinforced many seams that were coming apart. Next, I set them on point with a solid navy blue background. After laying them out, I realized I would have a few blocks left over. I used them as the border. The fabric was already fraying so I didn't want to unpick the seams. Instead, I just stitched the blocks in a column and then sliced long strips. (Does that make sense)?? That made a nice border for the quilt.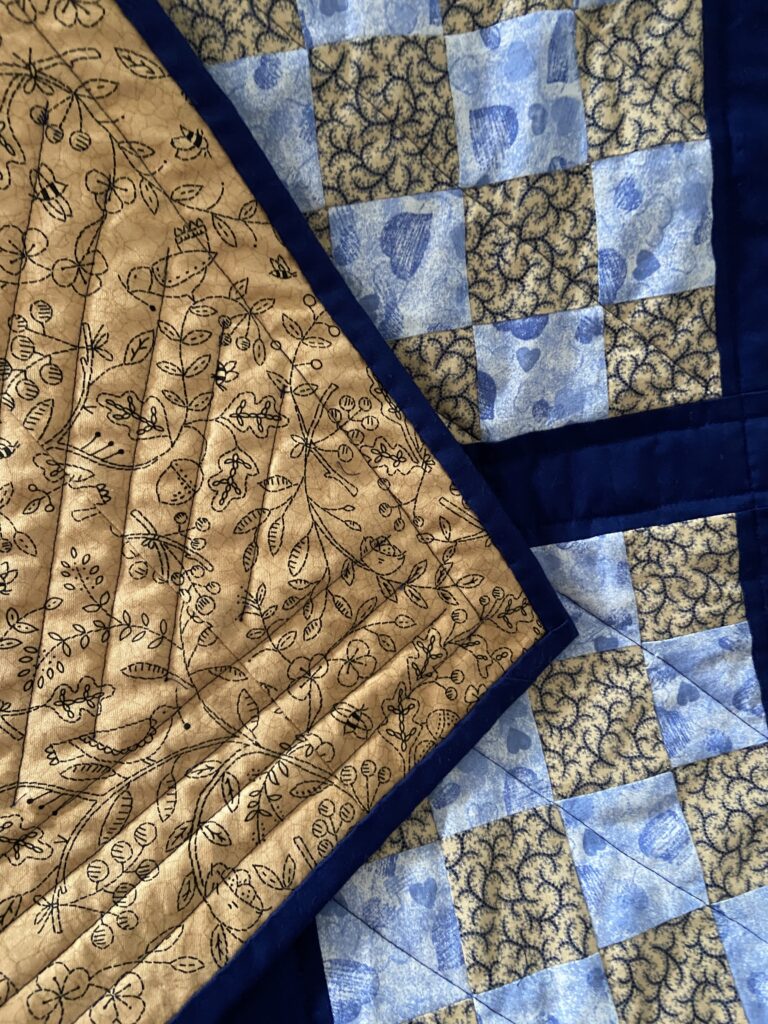 I used this super cute print (I think it was a Moda fabric?). I remember buying it last fall when I was at a fabric sale for a local sewing group. I had gone to that sale looking for pieces large enough to use as backings and this was one of the pieces I picked up.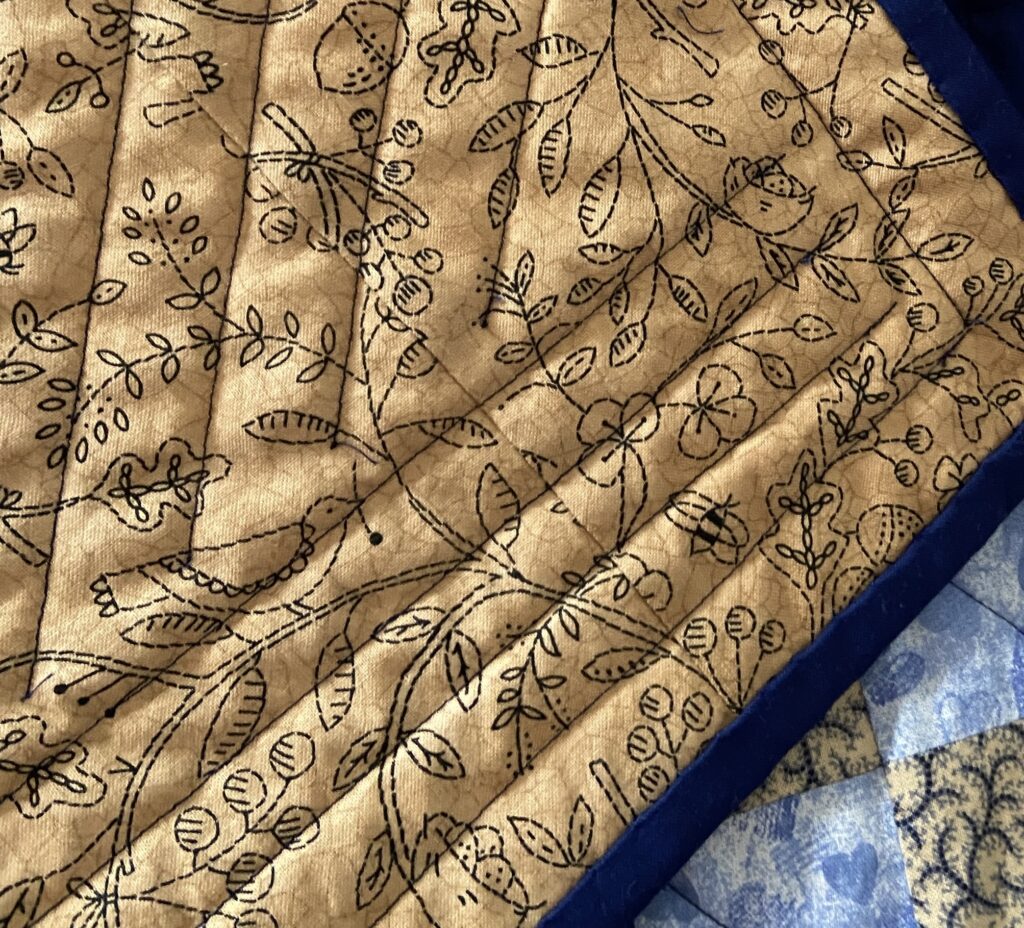 Zooming in on the backing so you can see it better, check out the cute birds, oak leaves and acorns. I really like this piece and used just over half of it for the backing.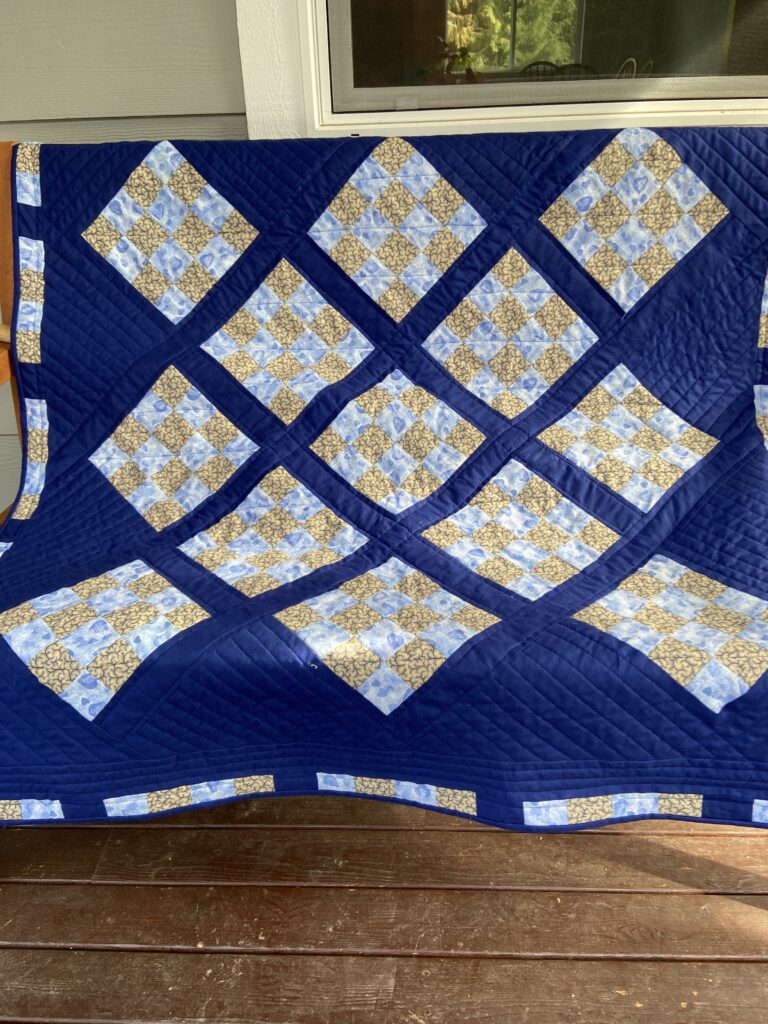 As a result of three quilters working together another quilt will be donated soon. First I want my daughter in law to see this one and the quilt I recently made as part of the Villa Rosa Designs blog hop. Unfortunately, a woman my DIL works with just went out on leave because her husband has terminal cancer and is now under hospice care. My DIL asked me for a quilt for them and I am very pleased to give her one of these.
How about you? Do you get a strong positive feeling making quilts for a person unknown to you? It sends much needed kindness out into the universe. There are many organizations who want quilts such as these for their clients or patients. It makes me happy to participate and do what I can to fill that need. Working with two other anonymous quilters, together we made one more quilt.
Linking up with my favorites – check them out at the top of the page, under Link Ups.