On this last day of November, I am thinking about how quickly the month buzzed by and how busy it was. Lots of work on the house was accomplished and just a bit of sewing. Such is life.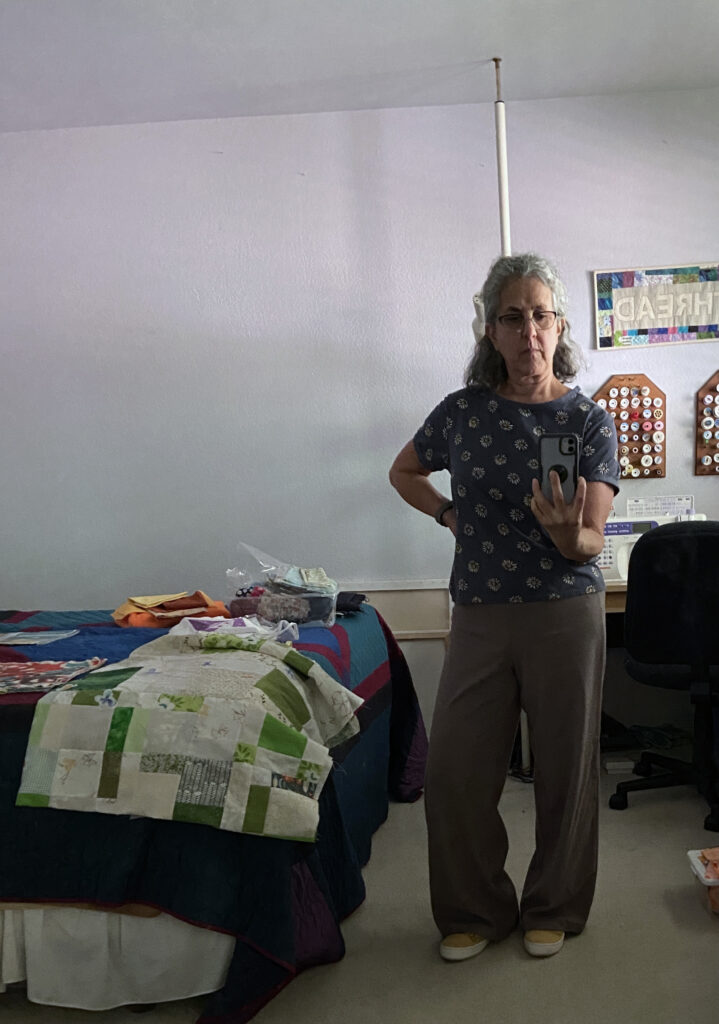 Earlier I made this pair of pants. They are really, really comfortable and I am quite happy with them. I used Simplicity 2369 to make these stretch knit, wide legged pants.
After making the pants, I was browsing in a shop downtown. I saw similar pants but they had rounded pockets on each side. They were stitched without finishing the edges (which works because knit fabrics don't really ravel). I thought this was a fun addition so I went home and did the same with these pants. I wouldn't have thought to leave the edges of the pockets unfinished but it worked out well. I suspect if I tried to turn under a curved pocket, it would not look great and would give the pants a very homemade vibe.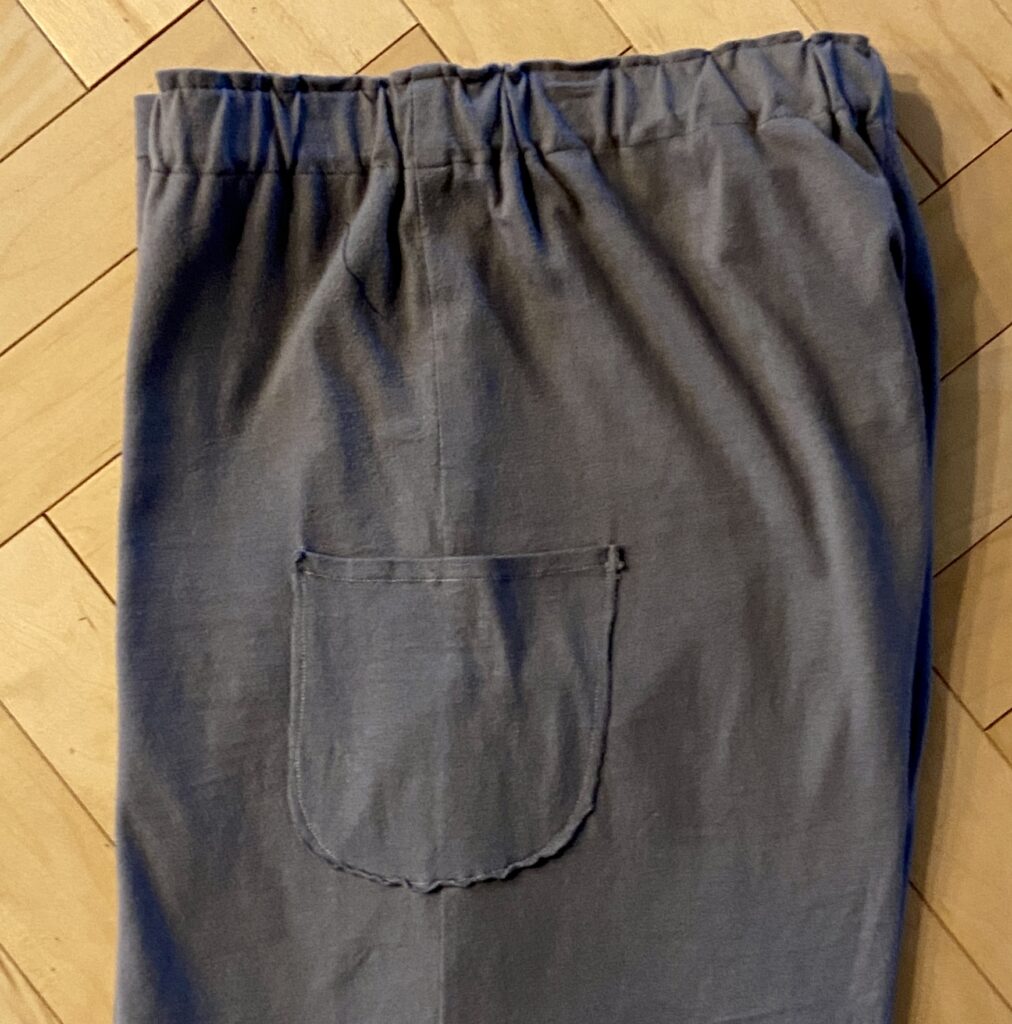 This was a fun project and I will make at least one more pair. Next time, I will make the pockets bigger. I drew the pocket size myself and it is a bit too small in relation to the width of the pant leg.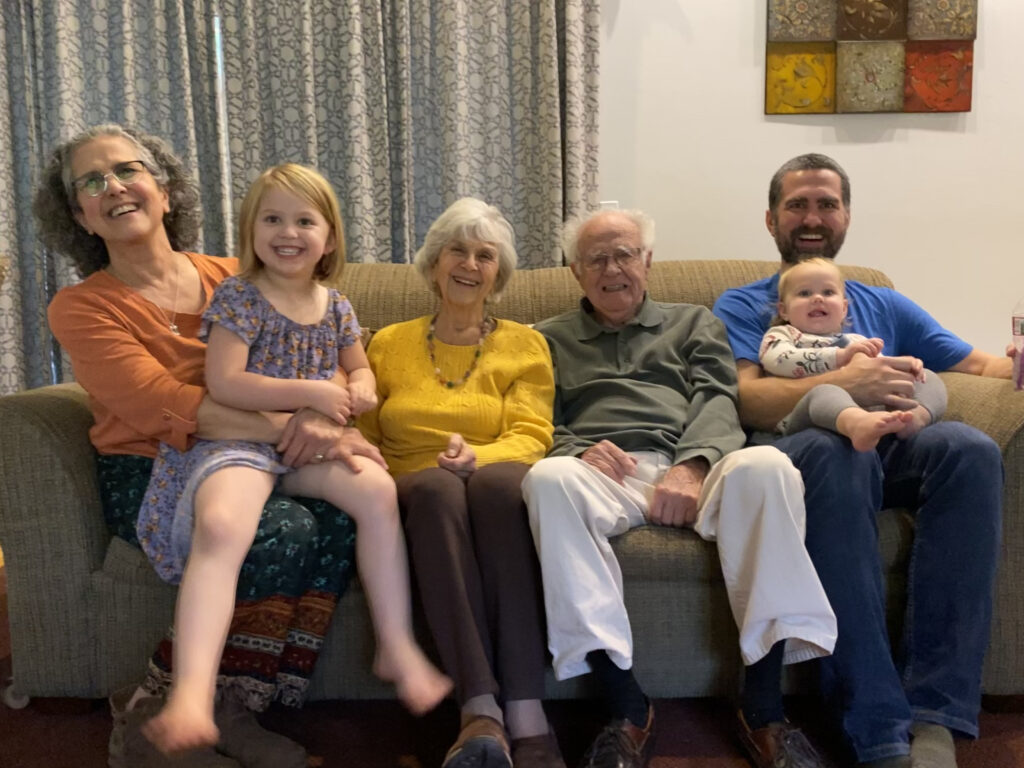 For Thanksgiving we were really fortunate to have all four of my kids, two of the spouses, both grand daughters and my parents for dinner. It was a bit chaotic but really great to be together. My DIL (mom to grand daughters) is a physician and she works one major holiday per year. She had Thanksgiving this year so she was unable to come. We really missed her presence. I love the picture above even with the one blurry leg!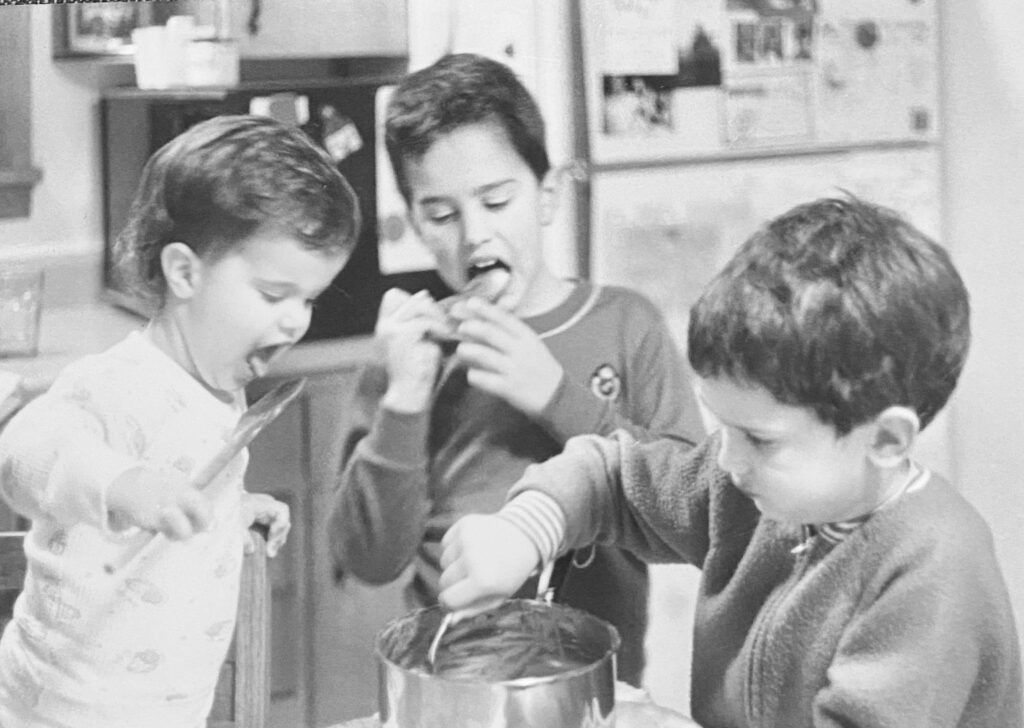 When my kids were little (long time ago!) we always made fudge for Thanksgiving. Licking the pot was part of the process. The boys are still in their pajamas and licking warm fudge here.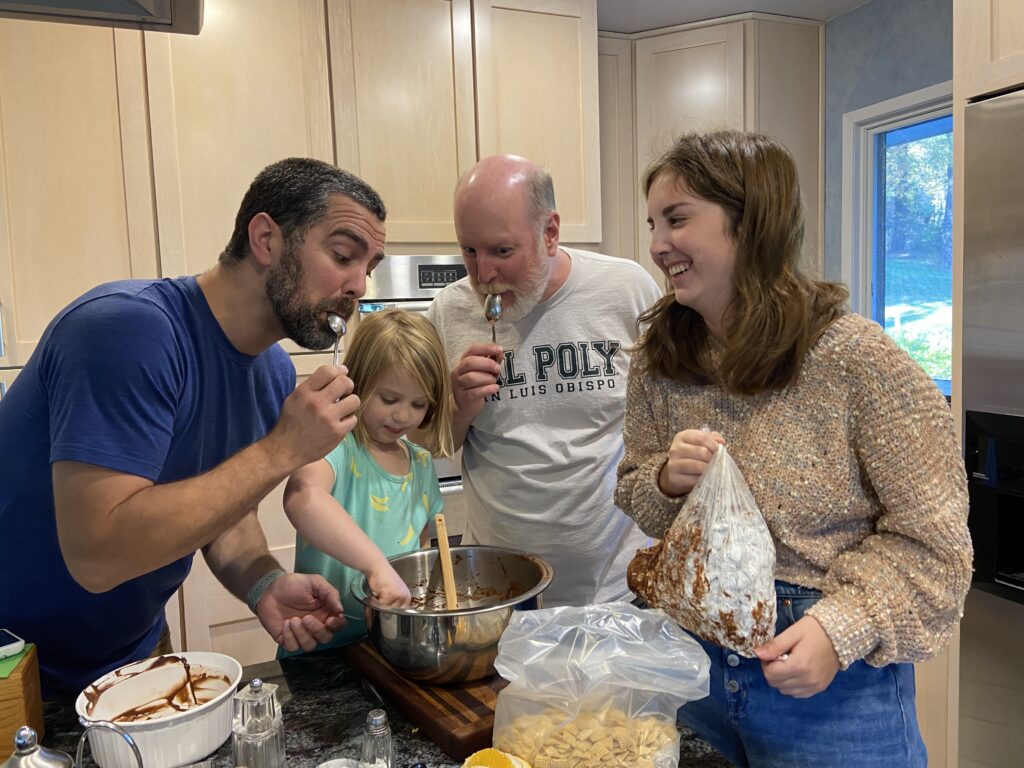 Julia was making Muddy Buddies (another family favorite) and everyone joined in licking the chocolate/peanut butter from the bowl. H was thrilled to do this with her dad and Grandpa. It was so much fun. Just in case you aren't familiar, Muddy Buddies are Chex cereal coated with melted chocolate and peanut butter, then they are shook in a bag with powdered sugar. My kids love them.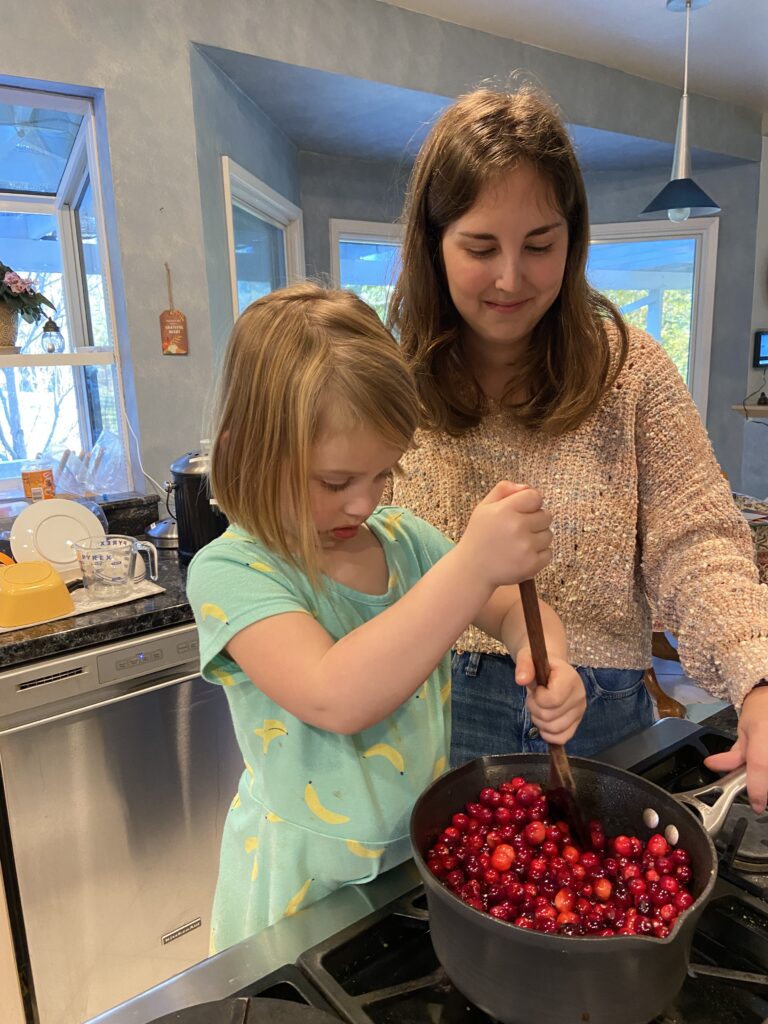 Julia was making the cranberry sauce and H was her sous chef. We make this recipe every year. I posted about it here if you want to check the recipe out. It is delish and not difficult to make at all.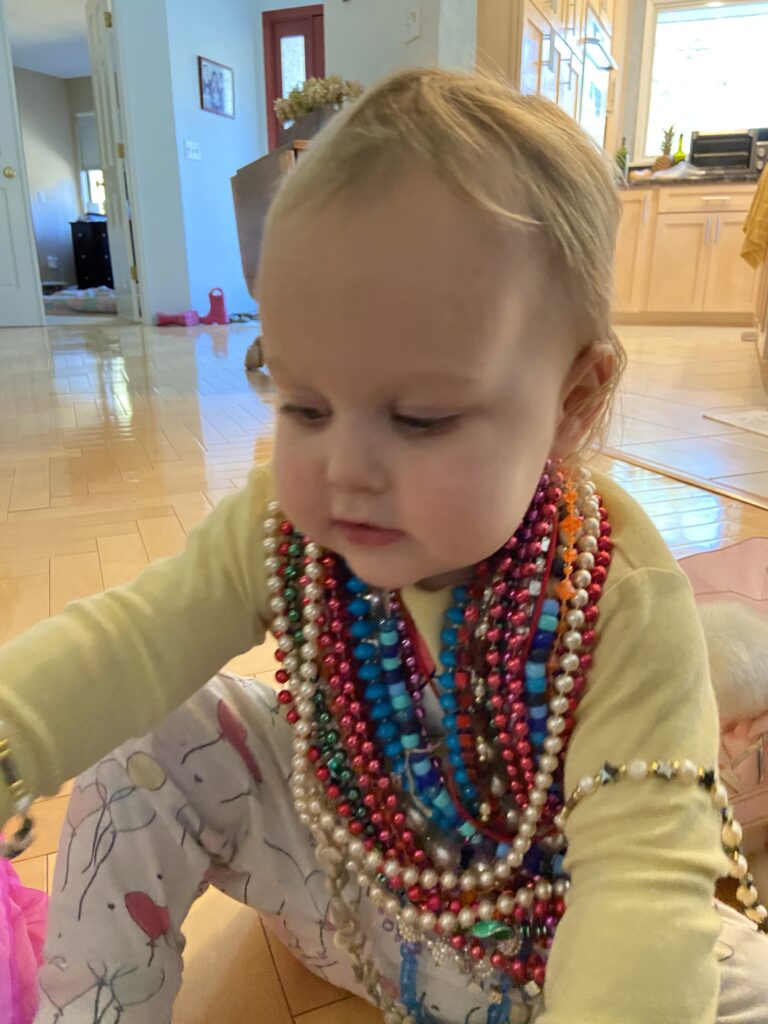 This girl was adorable as always. I pulled out the tub of dress up jewels (a thrift store find when Julia was very young). Being a toddler with style, she decided to just wear as many as possible. Hahaha – she felt so fancy. She is talking quite a bit now and spends her days mimicking her big sister.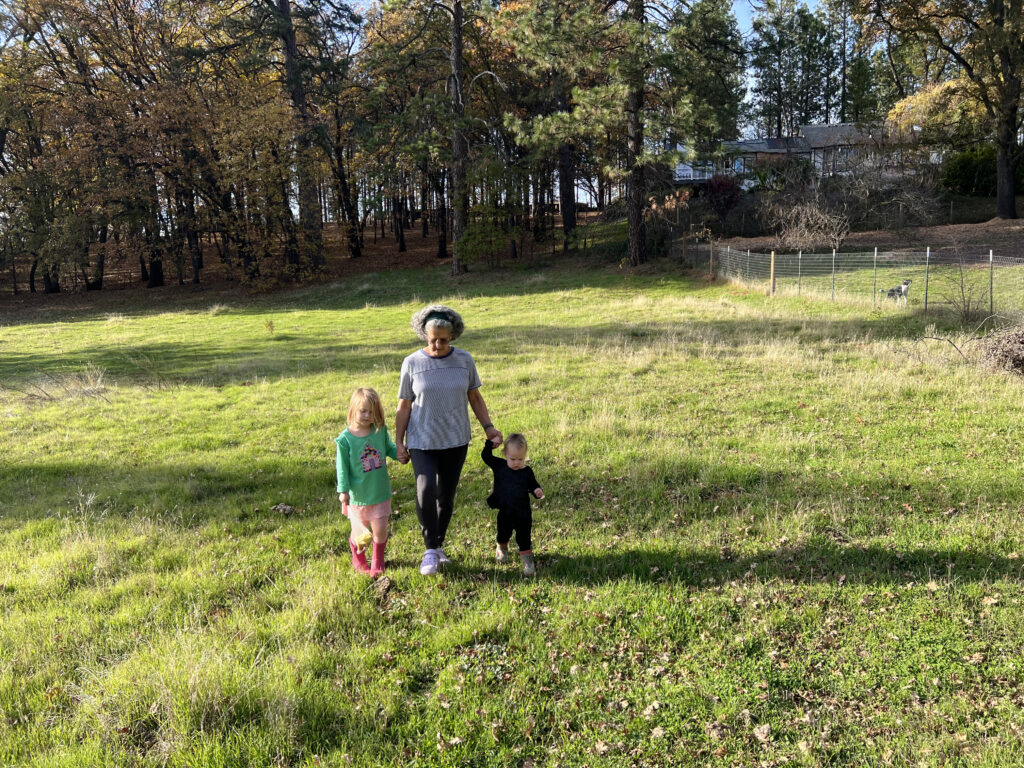 Being a Grammy is just the best. My neighbor boards horses and she was so kind to let the girls come over and feed her animals a carrot now and then. We walked across the pasture between our houses with the little ones and enjoyed hanging out with the horses and my neighbor's dogs. Both girls are very fond of animals and being able to feed and pet them was thrilling.
OK – that's it for now. I am working on a very old WIP and will share it once I get the binding completed. So, coming soon – a finish – albeit a small one. But a finish is a finish, right??
Linking to a few fun sites. Check them out at the top of the page.