Lately it seems that almost every blog I open has a pop up asking if I would like to sign up for the related newsletter. I rarely sign up for them. My email fills up fast enough and what with reading and commenting on blogs, I don't really need to start adding newsletters to filter through. Except for one. There is one newsletter that I do subscribe to and I truly look forward to receiving it each week. It arrives on Wednesday at 10:00 am PST, like clockwork. This is the newsletter that is published by Abby Glassenberg of While She Naps.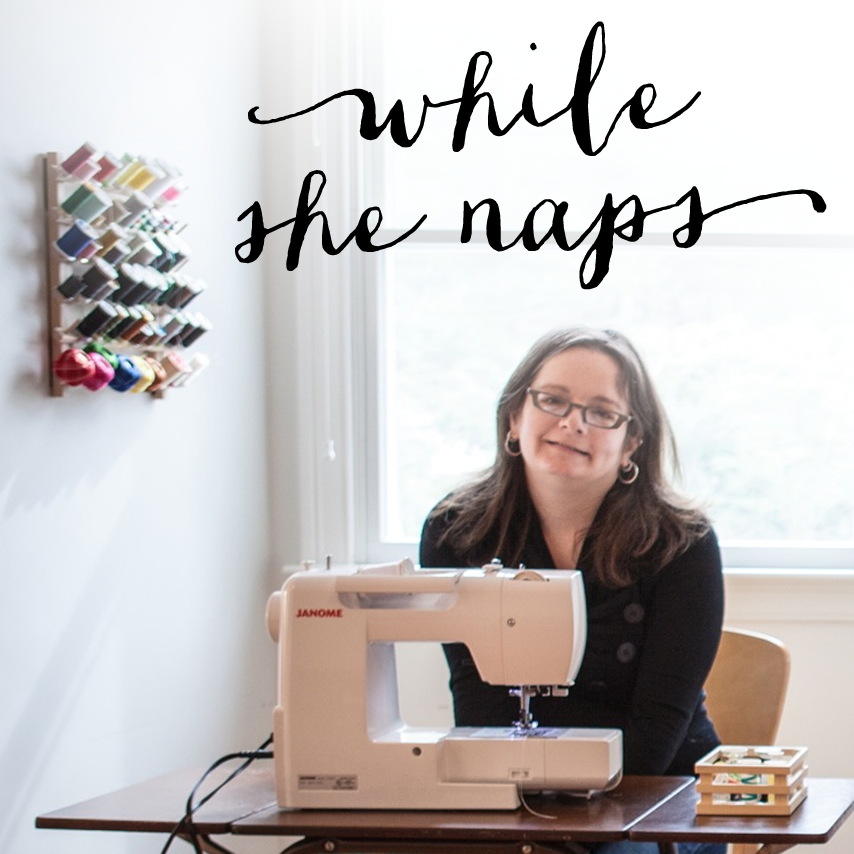 I am not sure exactly when I began reading Abby's weekly newsletter but it has been quite a while now.  I haven't a clue how she finds the time, being a full-time mom to three children, pattern designer, blogger, and book author but each week Abby puts together an amazingly helpful and interesting newsletter.  She gives a rundown on the most current happenings in the crafter's world and provides tips and links that are very relevant to blogging. It is basically a one stop shop for all things crafter, blogger, and social media related. I appreciate that while she naturally uses the newsletter as a place to introduce her most current blog post and what her next podcast will include; it isn't just an advertisement for While She Naps. Abby curates a fantastic selection of links each week and I don't think, even one time, she has included a link that I have already seen somewhere. I have come to the conclusion that Abby must run on very little sleep which is how she is able to spend so much time on her patterns, blog, podcasts and newsletter. She often publishes new opportunities for bloggers (that's how I found out about Blogging for Books, the source of the books I have recently reviewed) as well as an abundance of useful information on blogging tools and the best use of the latest social media tools. I am so grateful for this weekly flow of information.
Since her blog and newsletter apparently doesn't consume all of Abby's time, she also has a weekly podcast. I only recently started listening to it. I have such a love of podcasts and had gotten into a routine of listening to my favorites. (If you want ideas, see this post.) For whatever reason, I finally listened to one of Abby's. I am so glad I did. She has an affinity for selecting very interesting people to interview so my time spent listening is well worth it. Working my way through her library of podcasts while sewing over the past couple of weeks, I have listened to many wonderful discussions. Here are some examples.
 Malka Dubrawsky – Malka is one of my favorite fabric designers. In fact I used her line of fabrics in the Aurifil Block of the Month quilt I did a while back. I love her sense of color. Listening to her talk about her process of dying fabric, designing fabric, and running her business was a treat.
Alisa Burke – Alisa is a talented artist and the interview covered her decision to leave her day job and live her dream of being a full-time artist (in addition to a homeschooling mother) and the challenges she faced and successfully dealt with.
Amy Marston – the publisher at C&T Books. Hugely interesting discussion of what it is like to publish a craft book, what the company looks for, and how the process works. Even though I don't have any desire to do something like this, it provided great insight into what the quilters who do publish books go through to get to their goal. Tons of work and not always a huge financial return. If nothing else, it has taught me to buy a quilter's book directly from their website as that is where they get the most return (as opposed to buying it at Amazon.)
Stephen Fraser – one of the founders of Spoonflower. Great discussion of how Spoonflower got their start, what it is like to work there, how they choose employees, the work environment, where that technology is heading and even a fun talk about the esthetics of the Spoonflower offices.
Etsy – Abby has interviewed several people that work for Etsy. As an Etsy seller, these episodes are relevant and helpful for me. Her very direct interview style gets right to the topic at hand so I learn something each and every time.
There are so many more. I strongly encourage you to go to Abby's podcast archives and browse the many episodes. You will surely find one (or twenty) episodes that will appeal to you. A unique feature of Abby's interviews is the recommendation topic at the end of the episode. She asks the person that she is going to interview for their recommendations on books, podcasts, videos, websites, anything really – and they all discuss their favorites for just a few minutes when they wrap up the interview. I have a little notebook on the sewing table and it is filled with my penciled in notes from these discussions. Maybe someday I will have some time to check out all of the suggestions! There is only so much time in the day. Abby has somehow managed to turn her day into a much more efficient twenty-four hours than mine!