It is so hot outside, really just too hot. As I write, the thermometer on the deck reads 95 degrees, in the shade. This means it is about 100 billion degrees in the sun. Hence the reason I am inside playing on the computer! When it is like this, I try to go out early in the morning to do any chores that need to be done. Yesterday I was out early, dropping Julia off at the high school.  (She is volunteering as a teacher's assistant for a class taught by her English teacher to a group of exchange students from France.) After dropping her off, I worked in the garden, dead heading roses. We have a nice selection of roses which we have to keep inside the fenced area to protect them from the ever hungry deer that wander our property.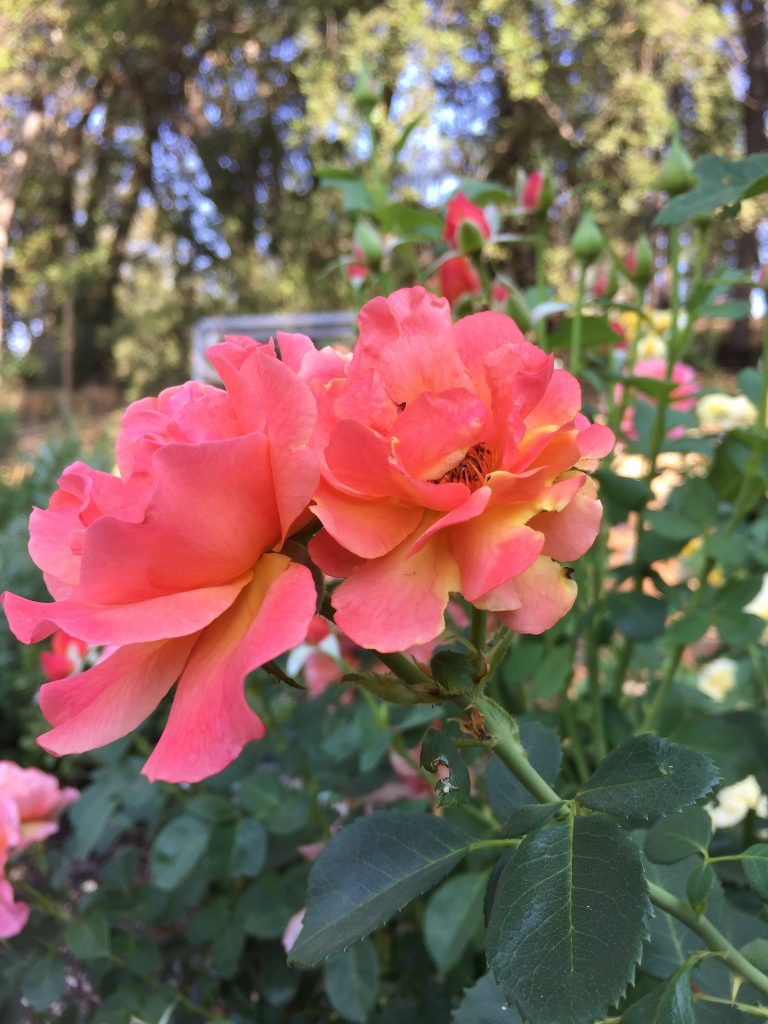 The roses are slowing down a bit due to the heat but we still have some really pretty ones.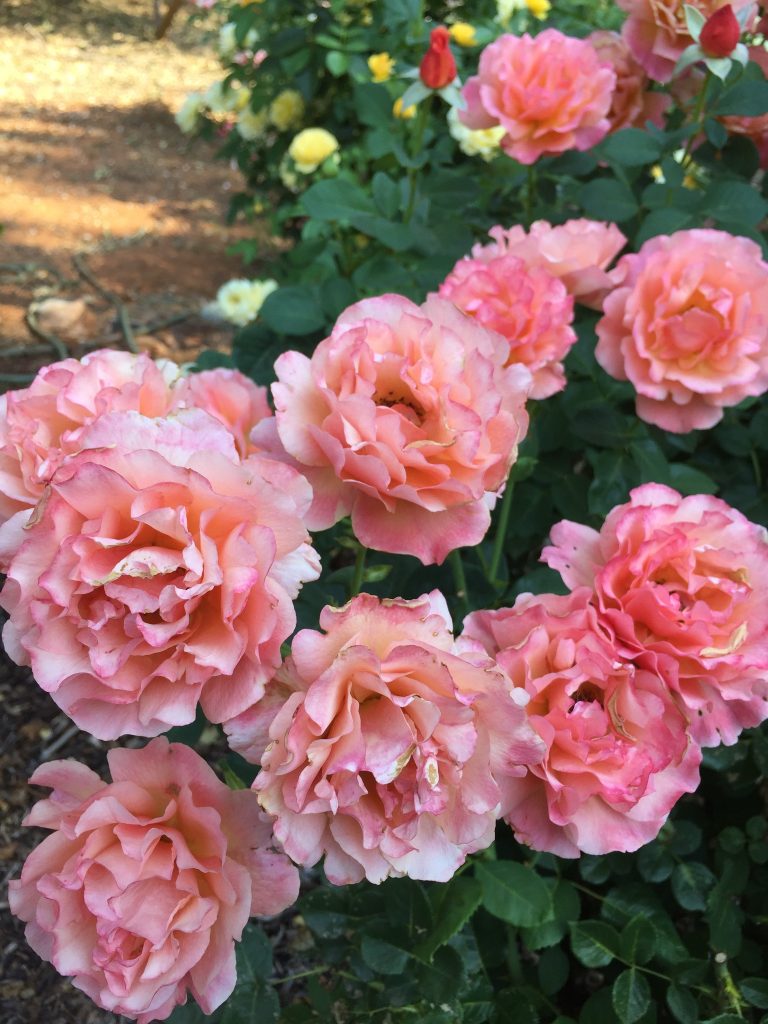 I spent about an hour working in the yard and while I trimmed and clipped, I listened to a recent podcast from While She Naps by Abby Glassenberg.  Episode 100 was an interview with Alissa Carlton of the Modern Quilt Guild. Even though I was familiar with much of the origin of the MQG, it was interesting to hear Alissa's perspective as one of the founders of this ever growing organization. The podcast was made even more interesting when Alissa talked about her other job as a casting director for the reality TV show, Project Runway. I recommend this episode (and really, all of Abby's podcasts) as it covered a lot of interesting topics.
Because Julia was working at the high school for the day, I helped her out by feeding and cooling off her girls, Ella and Daisy. Ella and Daisy are two market hogs Julia is raising as a project for 4-H.
This has been a great experience and I think she enjoys it for the most part. As with any animal project, she has had a few issues to deal with.  Ella, the show hog that Julia has been training to show at our county fair, is oddly uninterested in eating.  She isn't gaining near the weight she needs to gain to qualify for showing at the fair and for selling at the auction at the end of the fair. This is baffling but Julia is treating it as a science project and trying her darnedest to get Ella to gain weight. She is mixing raw cow's milk with her feed three times a day to entice Ella to eat more. (She gets the raw milk from her very kind 4-H leader who has a dairy cow.) She also makes tons of scrambled eggs to mix into Ella's feed to make it more desirable.  So far, Ella isn't having any of it. She snacks a bit and then gives the rest to her roommate, Daisy.  You can see where this is going. Daisy is gaining all kinds of weight!
Besides concocting these meals for Ella three times daily (which Daisy eats for the most part!) Julia also has to keep them cool during these dog days of summer. Pigs do not tolerate heat well as they have no ability to sweat.  When Julia and Ray built the pen for the girls, they put misters in which is a great help. Julia also goes out multiple times throughout the day to hose both pigs down.  They LOVE this and it is adorable to watch how the play in the spray of the hose and try to drink the water.
If Ella's slow weight gain continues, Julia will end up showing Daisy at the fair and auctioning her off instead of Ella.  Daisy is bred as a feeder pig, to be raised for meat.  She will not do well when shown at the fair but whomever is kind enough to purchase her at the auction will have a freezer full of great quality pork. Ella will be fed out until she is large enough and has put on enough fat to be butchered. It isn't what Julia expected but this is life, right?
Even with all that has been going on around here, I had a bit of time to sew this week. I wanted to catch up on my blocks for the Sewcial Bee Sampler. Hosted by Maureen Cracknell and Sharon Holland, this has been such a fun project. They created it to increase the connection amongst the on-line quilters and it has been really successful. Check out the #sewcialbeesampler on Instagram – there are more than 6,400 photos posted to it.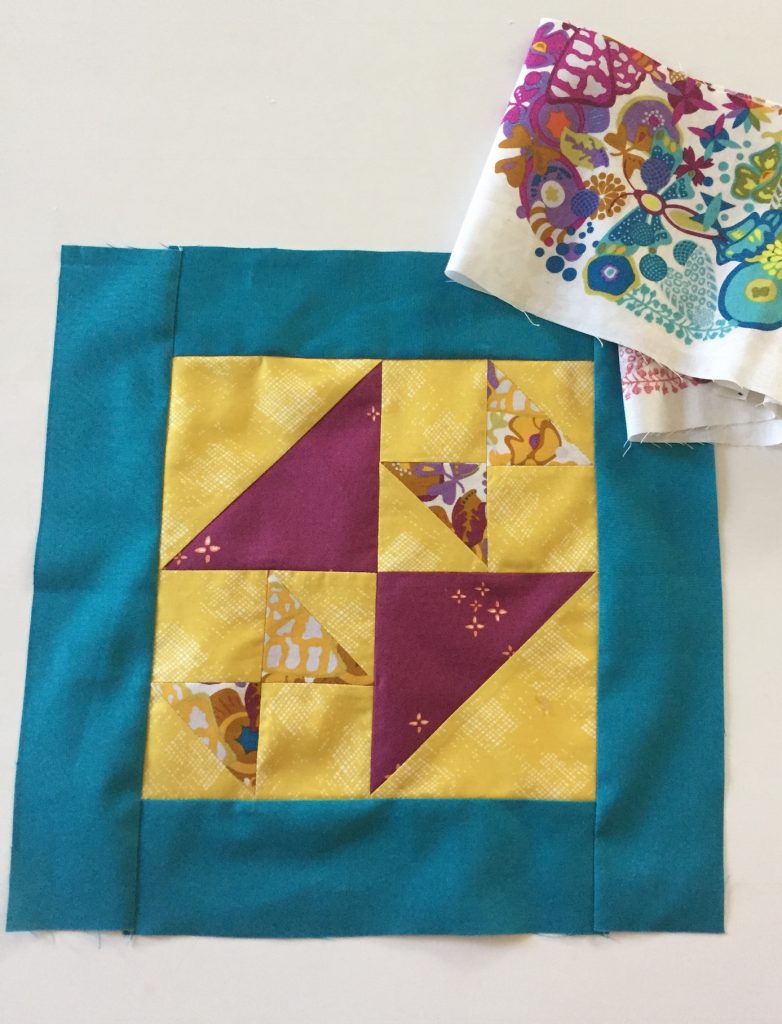 I have fallen behind on my blocks but I did get a few made this week. I tried to combine solids with fabrics by Maureen Cracknell, both her Garden Dreamer fabric line as well as the earlier line, Fleet & Flourish. But I was running dangerously low and still have several blocks to complete.  I had a funky size scrap of 1/2 of one Ex Libris panel by Alison Glass that I have been hoarding. I knew I would find the right thing to use it for and this is it. The colors work perfectly and I can fussy cut the bits of the panel to use just the parts I need.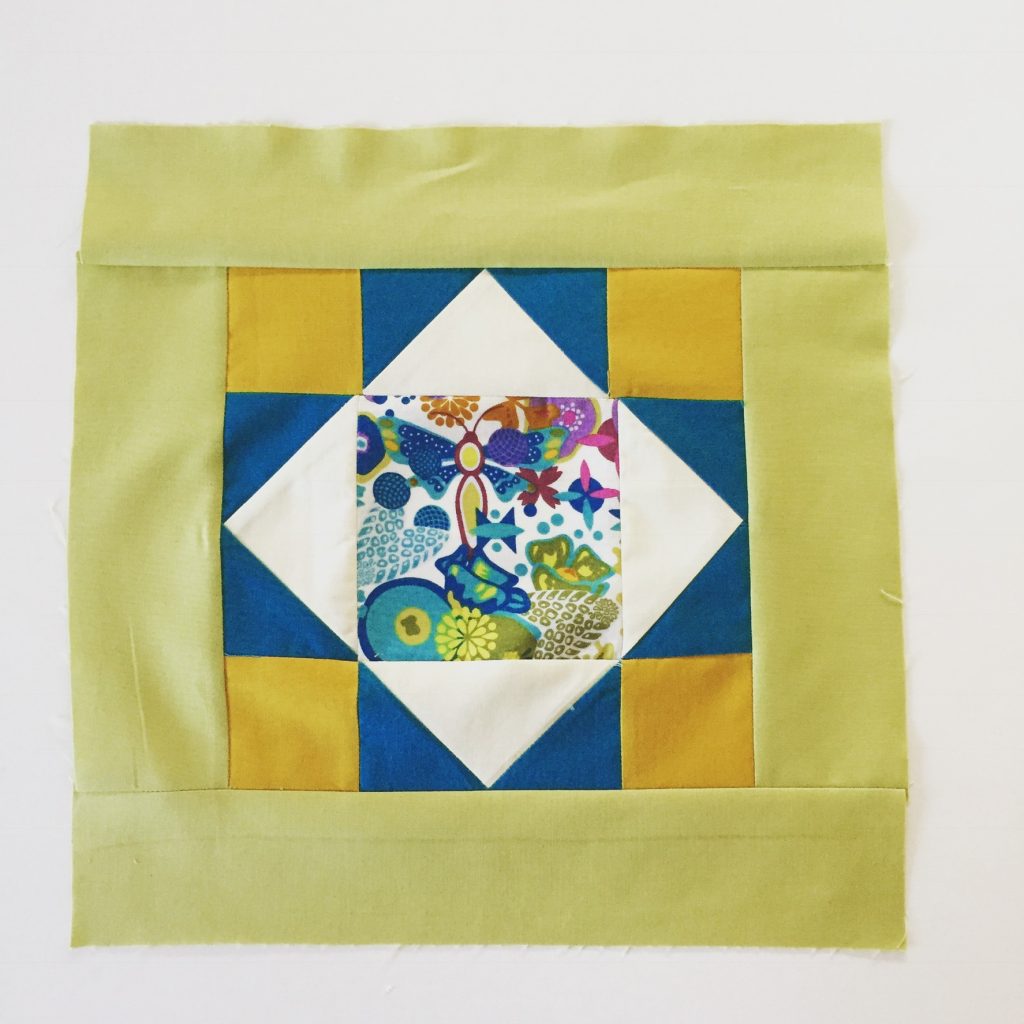 Here is another block with a bit of Ex Libris in the center.
I had all of the blocks thus far completed arranged on the floor to look at the flow of color. I need to make sure the last five blocks are made with colors that balance well with what I already have. I think I want to frame one more with the light green and another with the mustard yellow.  As I looked at these, one block jumped out at me – How come I didn't see the mistake??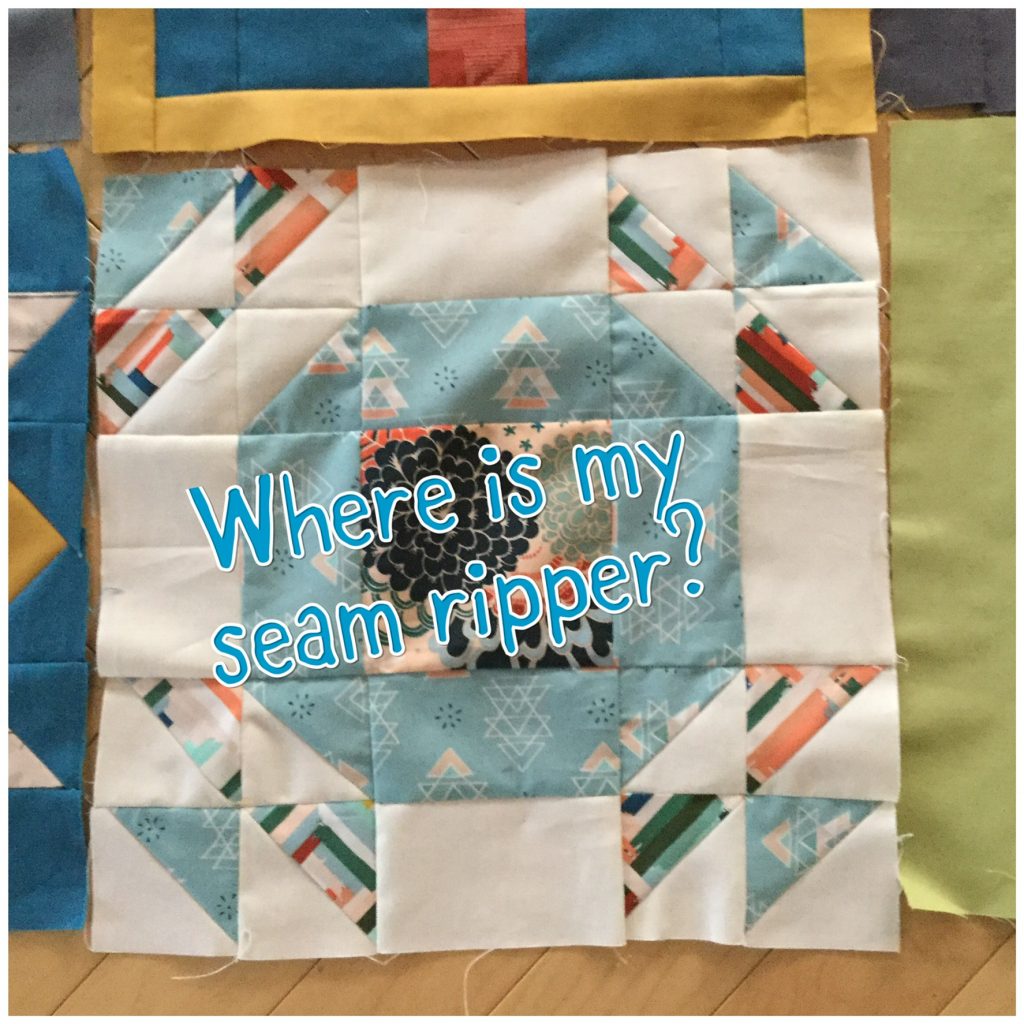 I need to spend a few minutes taking apart the upper left corner. Oops!! There is one more block to be released this week and I have four that I still need to make. Then we will sash the blocks and start assembling the quilt top. I really love the blocks I have made thus far – this one is a keeper. It should finish at 72″ square.
Linking up with Oh Scrap and a few others.  Please check out the links at the top of the page, under Link Ups.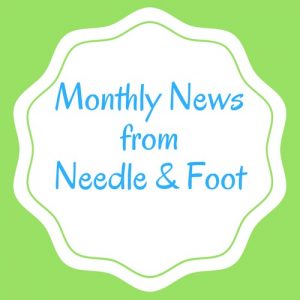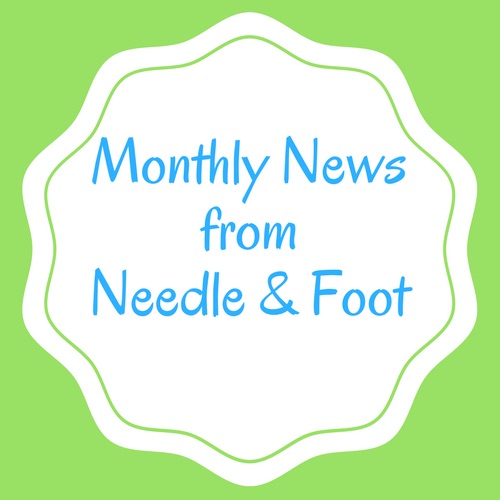 Have you signed up for the Needle and Foot News yet? Published monthly, this newsletter provides an update on the latest fabrics to arrive at the shop, as well as any promotions or events happening at Needle & Foot. Click here or use the sign up form at the right side of the page, toward the top!