Today I am sharing my first interview in my new Meet the Designer series of blogposts. I was lucky enough to be able to talk with Sarah Golden last week. Sarah is an artist who lives just an hour west of me, in the Sacramento area. Her first line of fabric, Maker Maker, was released earlier this month by Andover Fabric and I am thrilled to have a selection of Maker Maker available in my shop.
When asked to tell me about the history of her artistic career, Sarah explained she wasn't particularly artistic as a child. She grew up in a tiny town near Yuba City, CA with a population of 100. (Yep, that is very tiny!) She is a musician and plays with a band called The Battle of Land and Sea. When working with the band, Sarah plays guitar, sings and writes some of the songs.  But her art? This came later. As for being an artist, Sarah actually described herself as a late bloomer. In fact, she didn't really think of art or creating as a viable career. As she said, "it never really occurred to me that art was a 'thing'; that it could even be my career."  It is absolutely her calling now though!
It was back 2008 that Sarah began to draw, creating illustrations. She used those illustrations to create items to sell in her Etsy shop. From there, both her artistry and business slowly grew.  Sarah was in her mid-30's when she became pregnant with her twin daughters. She wanted to be a stay at home mom for her girls. It was at this time she taught herself to sew clothing. Sarah explains this was a time where she experienced a huge burst of creativity and felt she developed her true sense of self as she sewed. Sarah shared it was then when she really 'came to life' and developed her calling.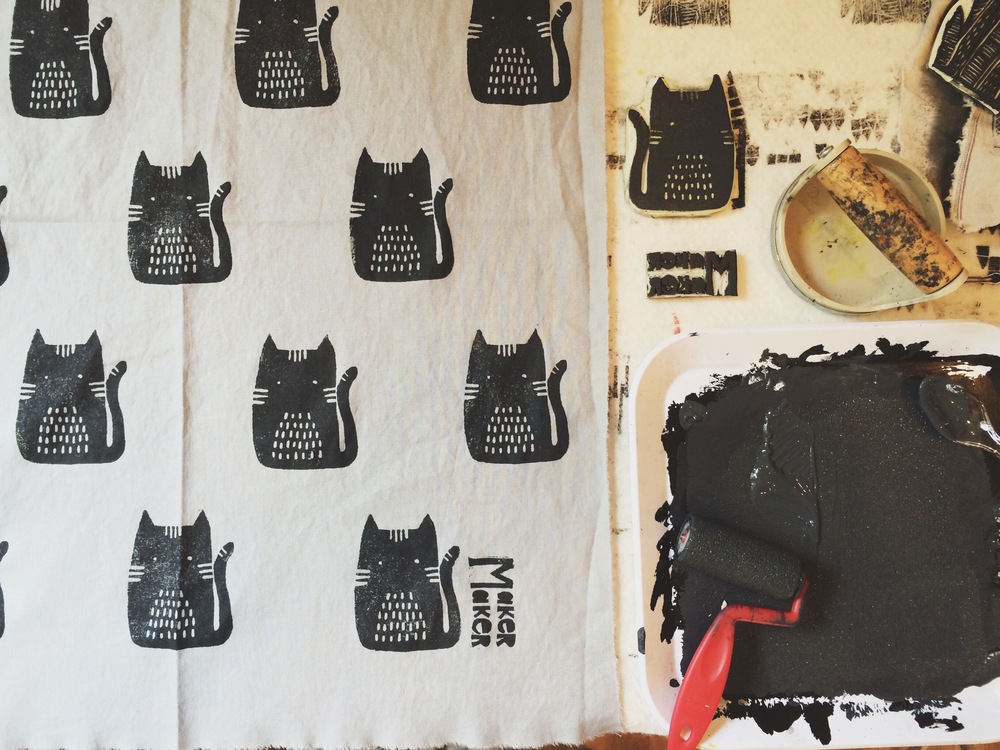 When her twin daughters were about 18 months old Sarah discovered surface design, painting, stamping or printing designs on fabric. She began to read voraciously about surface design and started practicing. Actively sharing her projects on Instagram, Sarah became part of a community of makers.  She began to make block print fabric (using a cotton and linen blend) and used it to create beautiful items such clothing, zip pouches and fabric collage art. (Sarah still creates these beautiful items and sells them in her shop. Click here to take a look. Her creative spark truly shines in her selection of artwork and handmade goods.)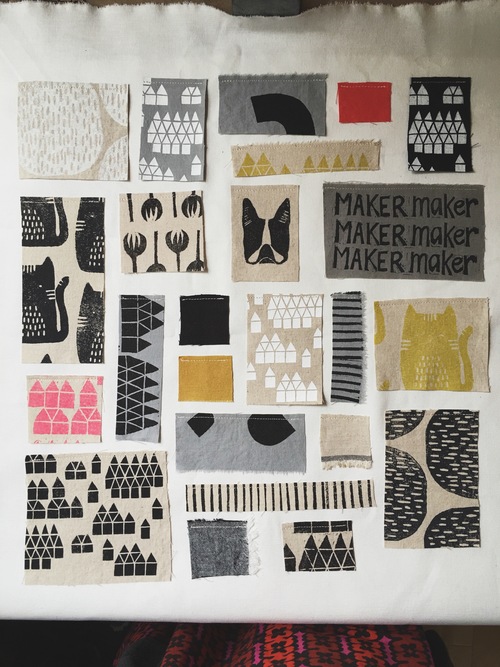 As Sarah continued to actively share on Instagram, her pool of followers grew. Included within those followers was Andover Fabric. In October of 2015, she received an email from Andover asking if she would consider partnering up with them and having her fabric produced on a larger scale. Sarah was thrilled to accept and Maker Maker became her first line of commercially produced fabric.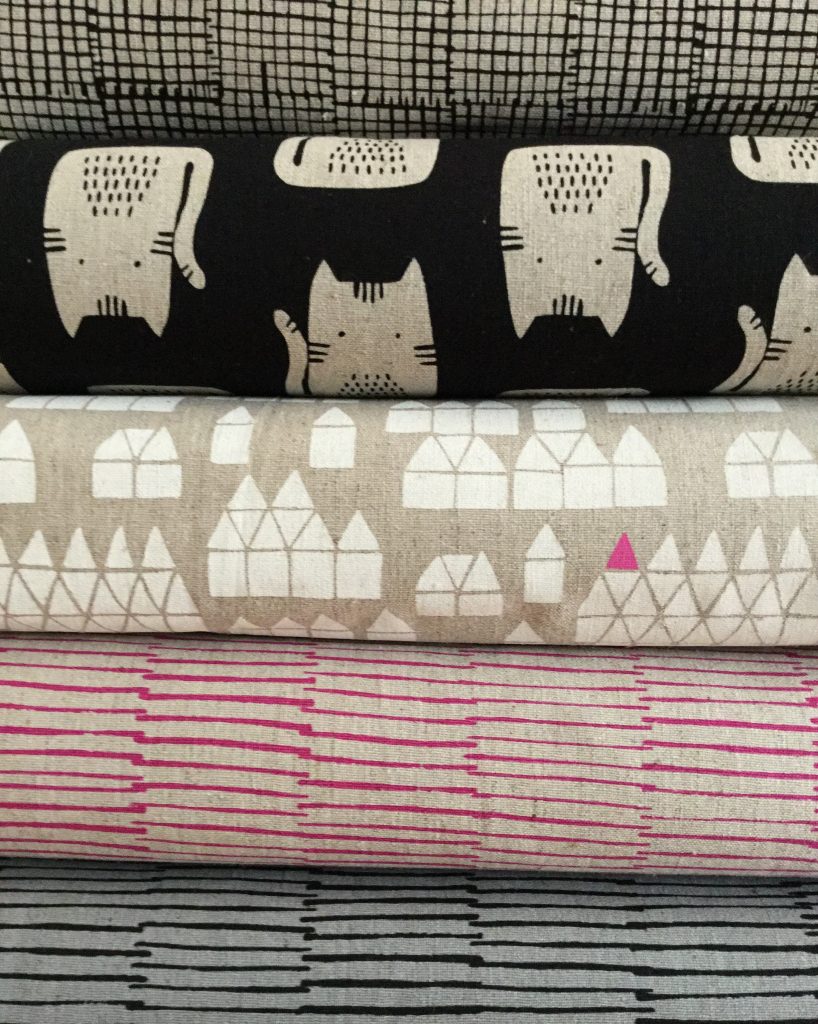 Fortunately, Sarah had most of the design work for the pieces in Maker Maker complete as that is what she had been printing on her own fabric. She tweaked some of the colors and refined a few things before Andover began the long process of developing the line.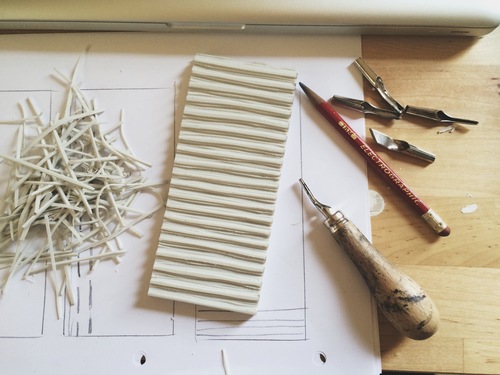 I asked Sarah to explain (in basic terms) how she creates her work. She first designs and cuts the blocks for printing.  When she creates her designs, she stamps the block prints to paper and scans the design to create a digital file on the computer. The design is then tweaked with Photoshop. Colors and layers are added until she feels it is finished. Sarah is working on a second line now. Naturally, she was unable to share very much about it but I know I am excited for the release. She is hoping the release will happen very late this year, or in early 2018.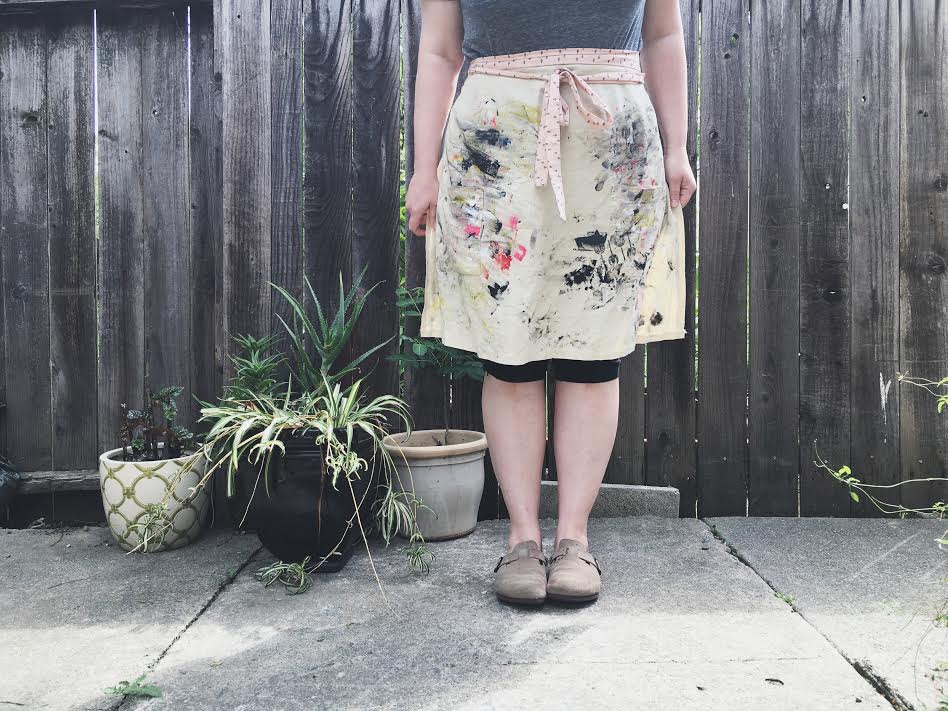 When queried about how she tries to balance  her work with her family life, I heard a slight sigh. Being a mom to twin girls who are not yet in school and being a very prolific artist, that balance is very hard to achieve. She is grateful to have her studio at home. She and her husband had converted their garage into a studio. This means she can work at different times each day without leaving to go to a studio. She does work in the evenings when the girls have gone to bed. Sarah's mom lives somewhat nearby and is available to help with the girls.  Also, Sarah and her husband have a bit of a tag team routine they do on the weekends. One will take the girls for a few hours while the other works or creates and then they switch off. As with many of us, Sarah finds it difficult to balance selfish sewing (or sewing just for the fun of creating something for oneself) with the sewing and creating she must do for work (that which is tied to deadlines). Currently she is really trying to work a bit less. Being self-employed and having a studio at home is a blessing but it also makes it all too easy to work All. The. Time! In closing, Sarah took a minute to explain how very grateful she is to have this career doing what she loves. She gains such satisfaction from her work and is very aware of how fortunate this is.
In closing, I just want to say how much I have enjoyed getting to know Sarah over the past several weeks. She has so much talent and is a very kind soul.  Along with the rest of her community, I am very much looking forward to watching as her career develops and new fabric lines are designed!  If, like me, you would enjoy keeping up with Sarah's projects, you might sign up to receive her newsletter.
In conjunction with this, my first post in the Meet the Designer series, I have  reduced the price by 15% on Maker Maker fabric in my shop. Take advantage and shop between now and Friday for this rich cotton and linen blend. No coupon code needed as the prices have been adjusted in my shop!
I hope you have enjoyed getting to know Sarah! I will be linking up in several places, check out the Link Ups tab at the top of the page. Sarah, many thanks to you for taking the time out of your busy schedule to chat with me. I very much appreciate it. 🙂