Welcome to the second installment of "Meet the Designer" at Needle and Foot. Just in case you missed the earlier posts, I have been interviewing some of my favorite fabric designers and then sharing the interviews here on the blog. In February I highlighted my talk with Sarah Golden, designer and artist here in Northern California. Her first fabric line, Maker Maker, was recently released by Andover Fabric. If you would like to get to know a bit about Sarah, you can find that post here.
Last week I had the good fortune to spend a wonderful hour chatting with Maureen Cracknell by phone. Coordinating this hour was not easy. Maureen is a wife, mom to three children, a fabric designer for Art Gallery Fabric, a talented quilter, and an Etsy shop owner. Suffice it to say she doesn't have a great deal of free time. I was honored, however, that she made time for this interview.
It was quite the surprise to find out how recently Maureen began both sewing and quilting as well as designing fabric. She has such a huge following, it somehow led me to believe she had been sewing forever. This is not the case. Maureen has always spent a great deal of her time as a maker and artist. She draws and paints, and also enjoys knitting and embroidering. When she first started her blog, Maureen Cracknell Handmade, back in 2010 these crafts were the focus of her blog. It wasn't until 2011 that Maureen learned to quilt. As her blog picked up she began to focus more on quilting and quilt fabric. She had blog sponsors and hosted giveaways, often blogging about her favorite collections.
In 2012 Maureen wrote a blog post about her favorite collection at that time. It was Poetica, designed by Pat Bravo (designer for and owner of Art Gallery Fabric). When Pat learned of this post, she contacted Maureen and asked if she would make a quilt with her newest fabric line, Rock & Romance, for the upcoming Quilt Market show. Maureen was stunned as she had not done this sort of project for anyone before. She was not given very much time to create the quilt top. Based on the theme of the fabric, Maureen wanted to make something that was both feminine and appealing to the younger crowd. She designed her Skull Quilt pattern and created the top. (Her pattern is for sale here.) To Maureen's huge surprise, the quilt top was then passed off to Angela Walters to be quilted. Can you imagine? Being very new to quilting, then being asked by a well-known designer to create something and finally, having it quilted by Angela??
What a heady experience. This quilt has so much meaning to Maureen and is still a treasured piece. Let's jump forward five years. Currently, Maureen has four very successful lines of fabric on the market,
Wild & Free, Fleet & Flourish, Nightfall and Garden Dreamer
. She also has two more that will be released within this year. I find this to be incredibly prolific designing. She describes her work as both, romantic and bohemian, often with florals and/or woodland creatures featured in the fabrics. Purple is one of her favorite colors and is usually found to play a major part in her design.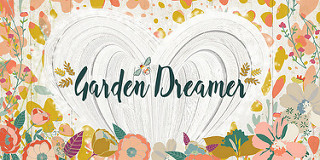 Her current line, Garden Dreamer, is so pretty. Florals, bumblebees, and trailing vines are featured. Maureen describes it as "Happy, colorful and dreamy." I love it, so much so that I am stocking it in my shop! I asked Maureen which line was her favorite and she replied, "my favorite is usually the line I am currently working on." 🙂 Right now she is getting ready for the release of Soulful, which will be introduced at this year's Spring Market. Her next line is still hush-hush but will be featured at the Fall Market.
Maureen sees potential design in many places. Be it a carving, a stamped design, floor patterns, or intricate tile work – all of these have been incorporated with her blender pieces. Pat Bravo mentored Maureen as a new designer and taught her to include calmer prints, or blenders, to her lines so they wouldn't feel chaotic with only large scale, bold designs.
When designing a line of fabric, Maureen will usually come up with about thirty designs. She works to reduce it to about 10 or 12, some of them repeated in different colorways. Pat was very helpful in culling the designs for the first couple of lines. As Maureen gains confidence, she is beginning to do this with a bit more independence. She remarked that she is happy now because her designs are now manifesting much more closely to the design she sees in her head. For a designer, I would think that is the ultimate goal; to be able to produce work that is just as it was envisioned. Any designs that she decides not to include in a collection are tucked away as inspiration for another line.

In addition to her design work, Maureen provides endless inspiration to the quilters who follow her. She designs patterns, blogs about her work, and is currently hosting the Sewcial Bee Sampler with her friend and fellow Art Gallery Designer, Sharon Holland. (Look for a Meet the Designer interview with Sharon coming up in just a few months!) You have probably read posts from many bloggers about how the blogging community isn't as tightly knit as it was a few years ago. With Instagram's incredible increase in popularity, the blogging world has slowed down a bit. In an attempt to strengthen the quilting community, Maureen and Sharon created this event. It is a quilt along with a weekly block design published each Wednesday on both of their blogs. This event has become wildly popular with each maker creating blocks and sharing them on Instagram, using the hashtag #sewcialbeesampler. As I write this, there are over 2,300 photos shared and this is only the sixth block! There are twenty five blocks to create so I bet there will be a billion photos by the time this wraps up. (OK, maybe a slight exaggeration but it is going to be a large number!) It isn't too late to join in, if you are interested. Click here for more information on Maureen's blog. It has more been more than Maureen and Sharon expected, and I can say as a participant, it has really become a fun community project.
At home Maureen's business continues to explode. She still has her Etsy shop where she primarily makes custom birthday crowns which are embellished uniquely for the child. These gorgeous crowns have become a tradition for many families and Maureen feels like she needs to continue making them for the children who saw their siblings wear one in the past. It is time consuming with each crown taking about an hour to construct but gives her great satisfaction to be contributing to these family traditions.
Now that she has four lines of fabric released, her house is overflowing with her work. She has decided to move her studio to a building in town. Currently they are working on the studio space and she has plans to move into it soon. (Check her blog for updates on this.) We talked about being a mom, working from home and how difficult it is to actually stop working when everything is right there and available. She is hoping that by moving her studio out of the house, she will be more present for her children when she is at home and more focused on her work when she is at the studio. Her children are involved with the transition to the studio and love the idea. Maureen plans to offer classes there as well as a place for local kids to hang out and experience art after school. She lives is a small rural town in Pennsylvania and really wants to provide this experience for the local teens.
In their off time, during summers and such, Maureen and her family enjoy traveling to various cities. She and the kids are all quite artistic and they love to get away and experience urban life and visit museums. As a mom, Maureen loves raising her children in a safe, tightly knit community but also feels compelled to make sure she provides exposure to all this is available in this world of ours. I totally get what she is saying. My children have also been raised in a small rural community and it is absolutely necessary to provide experiences that allow them to see how much of society lives and what is available to them outside of our little town.
I am going to stop the story here! I will be back tomorrow with Part Two of this interview. I want to share a bit about what has inspired some of Maureen's work. I know you will enjoy it so be sure to check back in the morning! As with my first Meet the Designer post, I have marked down the Maureen Cracknell fabric in my shop. For this week only, save 15% on the Garden Dreamer line through Sunday, March 19th. I have several lovely bolts to choose from as well as a gorgeous fat quarter bundle for you. Come take a look. No coupon code needed, prices have been adjusted already. See you tomorrow!