Whenever there is a post on social media asking for a quilters most favorite or least favorite part of quilting, the answer for my least favorite is immediate and passionate. I really dislike basting quilts. There is so much riding on it. The need for a perfectly flat backing, a well prepped quilt top, the perfect amount of pins (I haven't yet tried spray basting), no secret folds or wrinkles – ugh! It is more than I can stand. This is where I start to procrastinate. I know I am not alone. This is clear by the fact that the majority of quilters have any number of quilt tops that are unfinished, waiting to be basted and quilted. I don't mind the quilting process and I usually enjoy binding a quilt. It is just the basting.
This is why I found myself in my sewing room this week starting a new project. Because really I should be basting and quilting my 2023 Positivity quilt. The top is finished and it is adorable (if I do say so myself). But I need to fuss around and create a backing and then…… baste it. I would venture a guess that someone could make a successful side gig offering to baste quilts for people like me. There are loads of us. Off I went to make something else, anything else, so I wouldn't have to baste the quilt.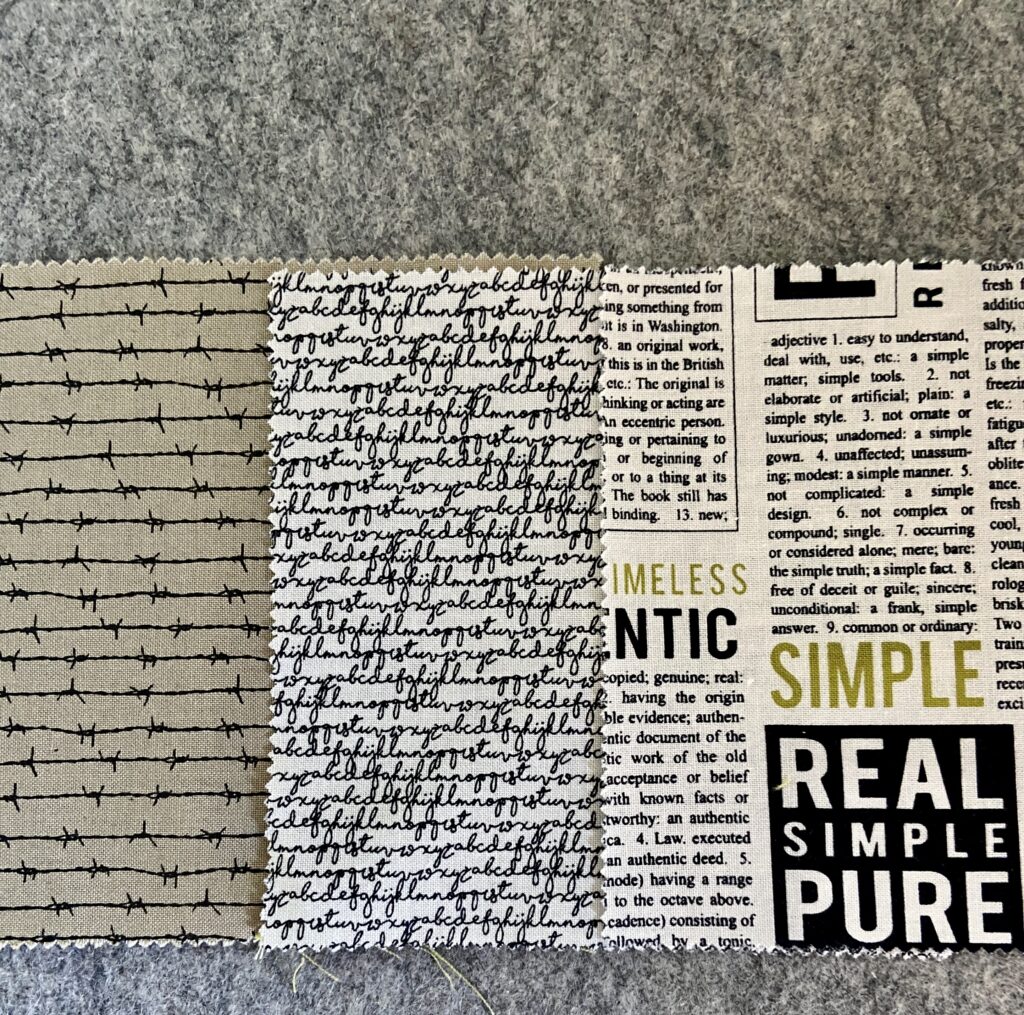 Last week while wandering the local quilt show (where I enjoyed that Sinbonnet Sue quilt) I spent more than a few minutes checking out the country store portion of the show. I love looking through the fabrics and other items quilters are selling. There was a bundle of charm squares that had been put together by a quilter. It was from a variety of lines and looked like leftovers from charm packs they had used. I liked the colors and knew it would be cute to make something with them. (I am proud to say this is the only purchase I made! I dug deep and restrained myself from buying anything else).
On Sunday I found myself in the sewing room looking for something to work on, anything that didn't require basting. There were those cute charm squares sitting there, calling to me. "Choose us, choose us. You'll have days of fun before any basting is required." Sounded like a grand idea to me. I poked around on my Pinterest boards and decided to make a quilt similar to one I had pinned some time ago.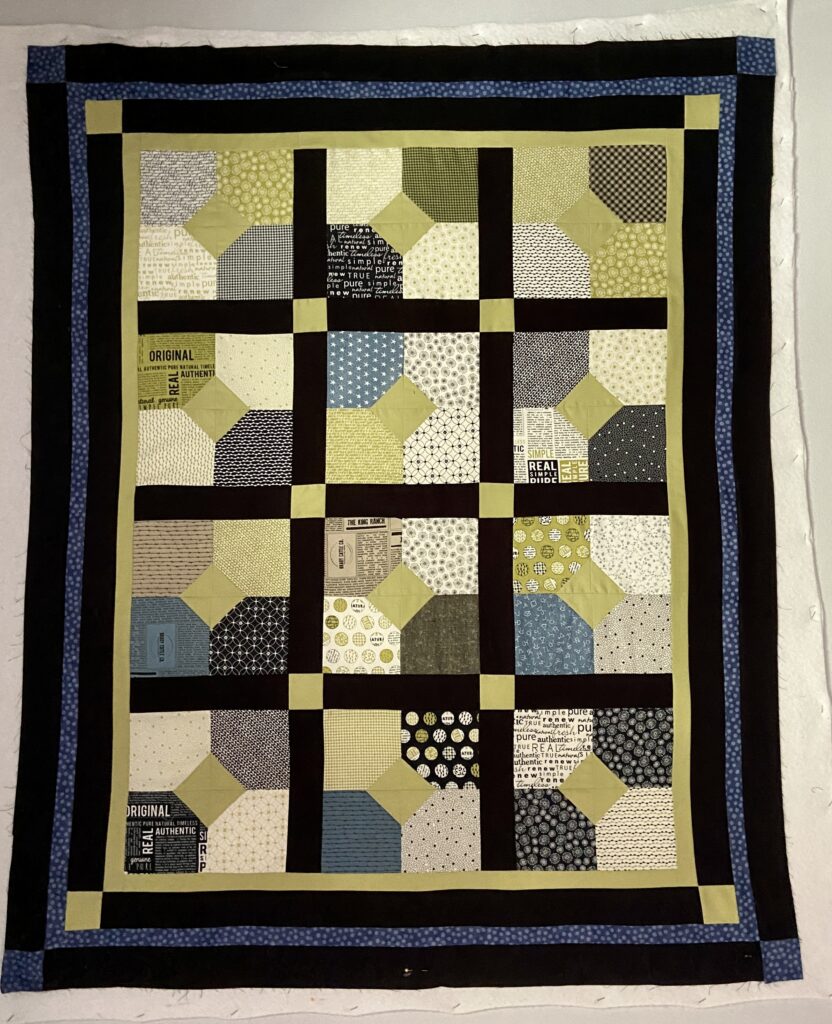 I looked through the solid green fabrics on the shelf and chose one to put on one corner of each charm square. Then I stitched them into a four patch. Because of my limited number of charms, I put a black border on them using the same green for cornerstones. (True confession time – I didn't keep the little triangles from the stitch/flip on the corners. I know I should have, it was reckless of me, but I tossed them. Mia culpa.)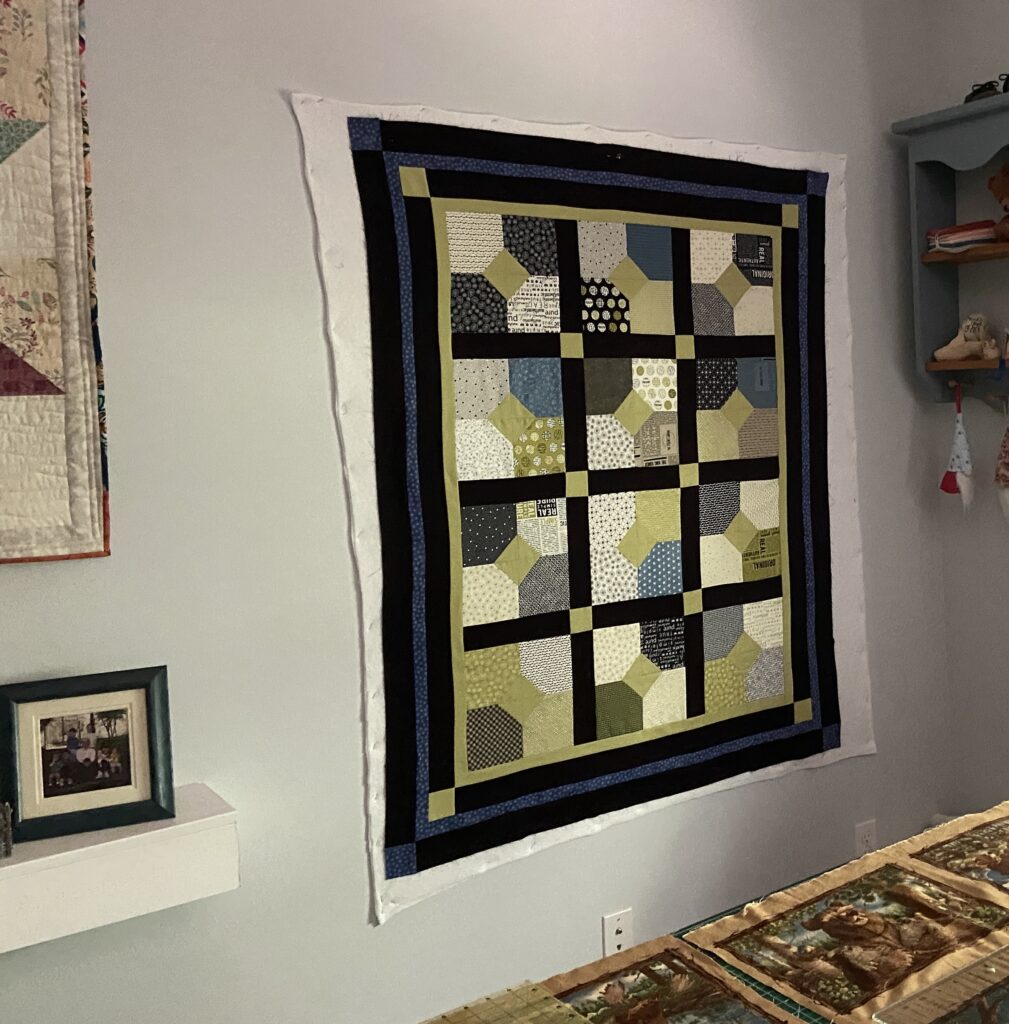 With the twelve blocks and the sashing, the quilt was fairly small. First I added another narrow border of the green (using almost all I had of this fabric) and then added a wider black border with green cornerstones. But it was still too small.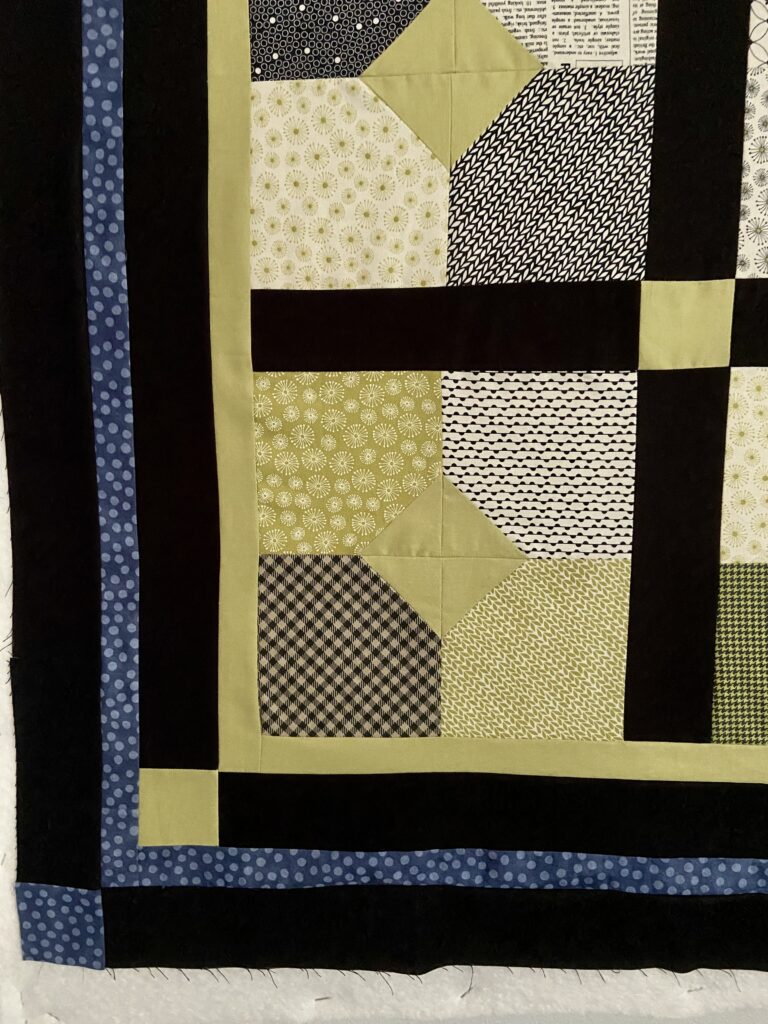 Last night I put out an alert – all the way from Washington state to Minnesota. Isn't technology the best?? Texting Wendy at Pieceful Thoughts, I asked for some ideas. After sending pictures of a variety of fabrics to her, it was agreed that a narrow border of this denim blue dotted fabric would be cute with another black border. I used cornerstones again for consistency.
TaDaa! Another quilt top is finished. Another quilt top is whispering 'finish me, baste me, don't let me sit here forever.' This puts me at four quilt tops needing to be basted and one that is in the midst of being quilted yet no where near finished. It is a vicious, never-ending cycle. Help!!! Help me!!!