I love this quilt. It is simply sweet and joyful.  It came together quick as anything and that is satisfying too. My niece is expecting her third child in January. She is such a wonderful mom to her two daughters. She has a huge balancing act to juggle these days with a busy career as an attorney in the Bay Area, mom to two girls ages 3 and 5 and a baby due in a few months. As with their first two babies, they have chosen not to find out the gender of this baby so I kept this project unisex as far as color schemes go. I am excited to meet this baby and especially to hear the name that she/he will be given. My niece's husband is from Ireland and their girls have beautiful Irish names (Ciara and Roisin). I expect this baby will have an equally special name.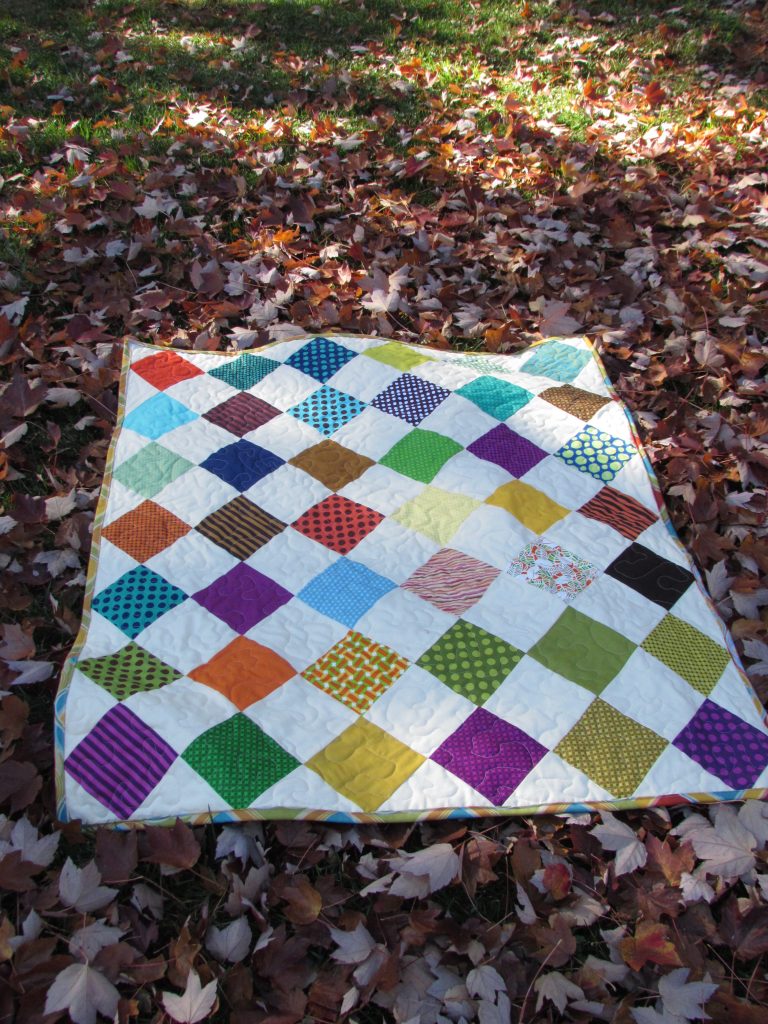 For the first time, I used Hobb's Heirloom batting, an 80/20 cotton and polyester batting. It has a different feel;  lighter in weight and a bit puffier. I stippled it with a wide, open pattern to keep that lofty feel.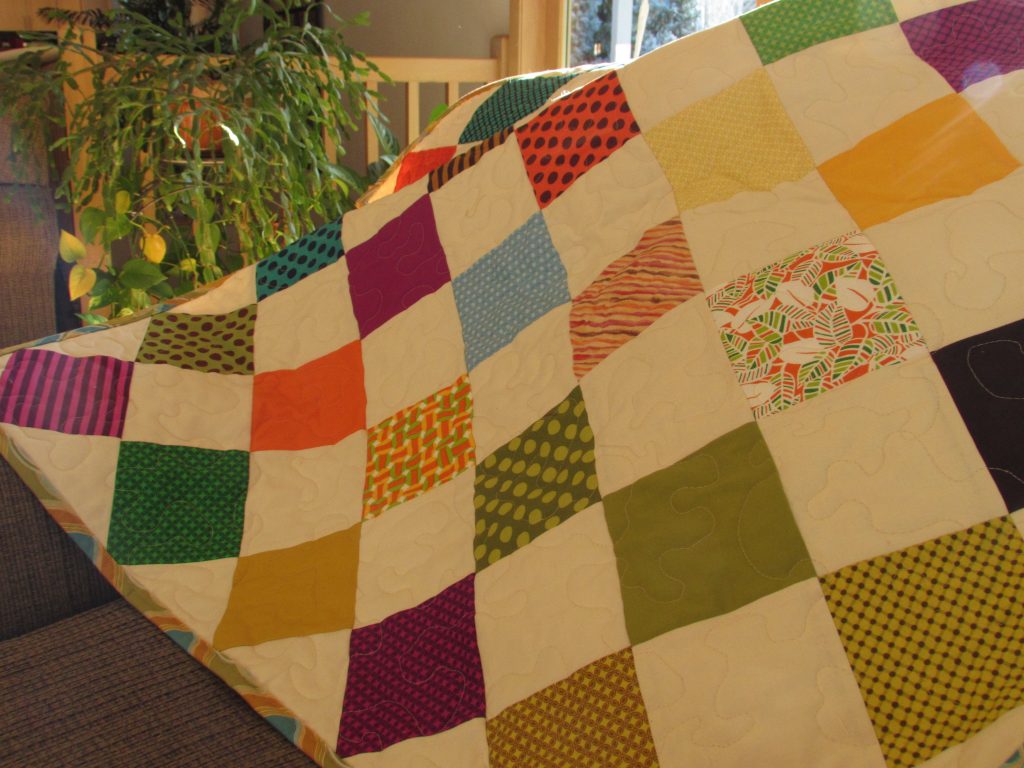 Another satisfying bit about this project is that it required not one trip to the store. I had every bit of this in my stash. From charm squares to background fabric and from backing to batting and binding – it was all from my stash. That is fantastic.  All too often I end up buying fabric for this or that and to just pick from what I have and get a sweet quilt as a result; that is what it is all about. (Lately, I have really been thinking about the amount of fabric I have accumulated over the past three years. It is time to use it. There are so many pretty projects waiting for me in that closet!)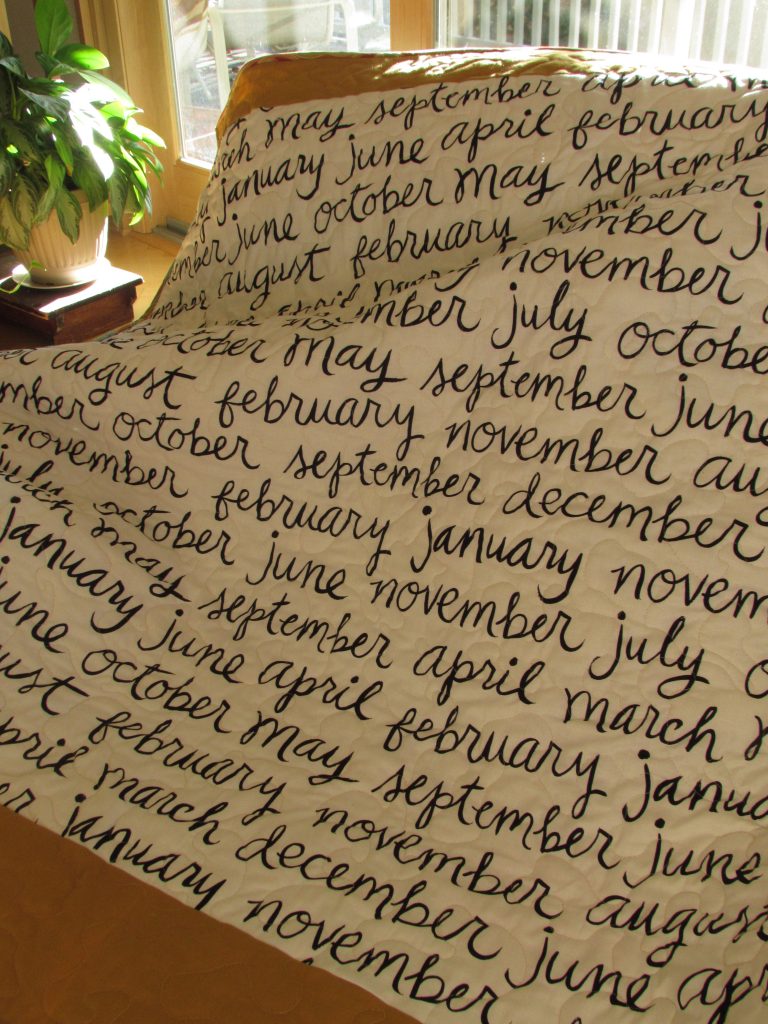 The backing is a cute text print that has been languishing on the shelf for a good two years. It is from a line called 8 Days a Week and was put out by Windham fabric. I only had one yard of it so I added a top and bottom border in this pretty cheddar yellow solid that I thrifted a while back. I think it is adorable and this baby will be one step ahead learning to read cursive at such an early age. 😉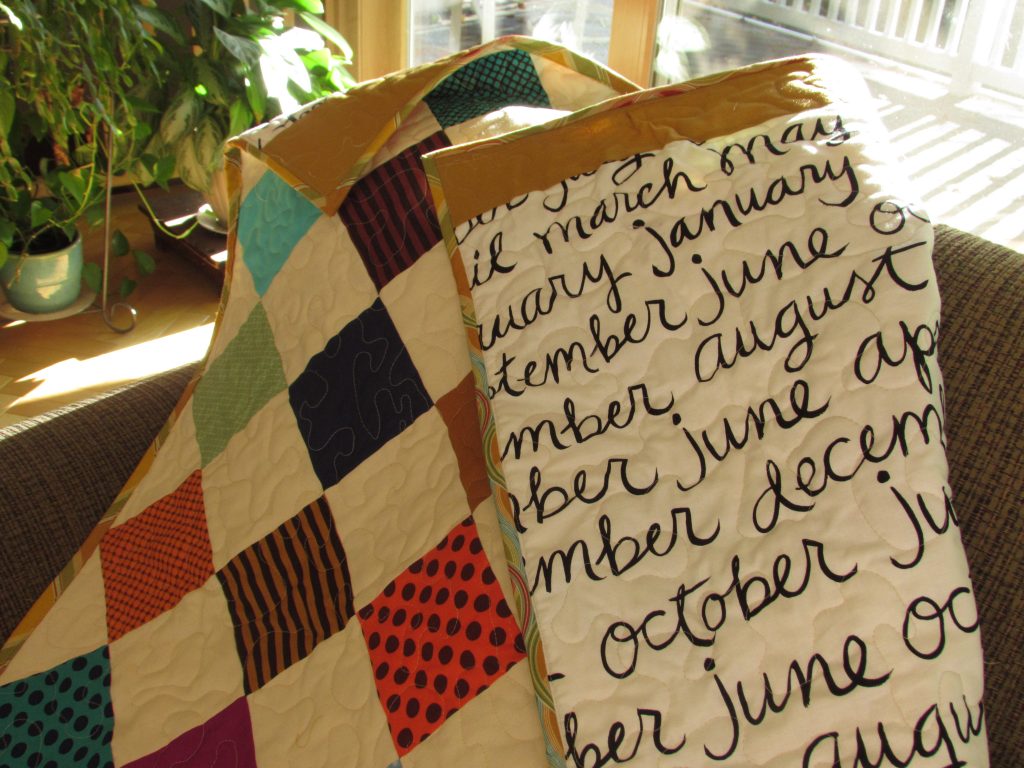 The binding is a Riley Blake print that I purchased a while ago on a whim. Fortunately, the colors worked perfectly with this quilt. More of that cheddar yellow, some blue and green tones that are just right.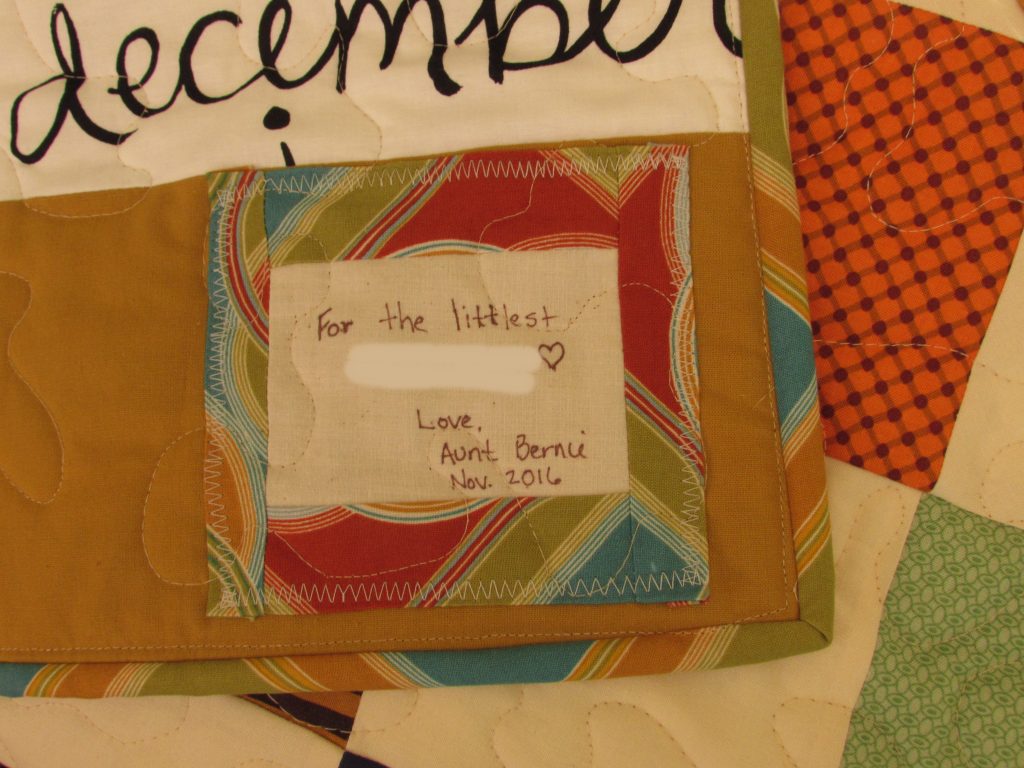 The icing on the cake is that I actually labeled the quilt. (I never think to do this!!)  I framed the label with the binding fabric. (I blurred out their last name for privacy.)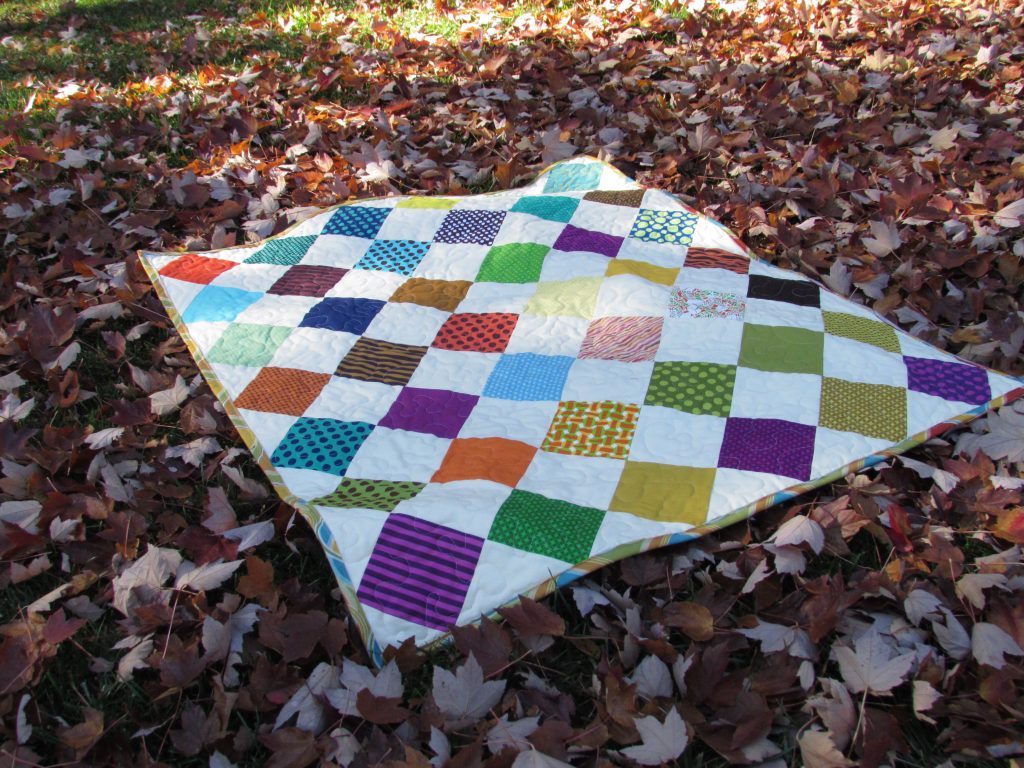 And now comes the part where I tell the maddening part of this whole project – it is that darn quilty math. When I cut the triangles for the side setting and corner setting triangles, I cut them too small. I didn't see this until after I quilted the whole thing. So every. single. point is cut off with from the binding. Go ahead, take a look – it's quite apparent. I feel terrible because while this child will be able to read cursive and recite the months of the year, he/she won't know that a square has four points….  Ok. That is enough negativity. It is a sweet quilt and I know my niece will love it.  That is all that matters.
Linking to my favorites – find them at the top of the page, under Link Ups.