Eventually, after just few more words, this post becomes quilt related.  Honest.
I consider myself to be incredibly fortunate. Life is good and I have all that I need or want.  Not everyone can say this and I know I am so lucky. Part of my good fortune involves my five sisters. I am one of six girls and it is the best. My parents, like so many couples in the 1950's, married really young (at the ripe old age of 20).  They produced their first daughter three days after their first wedding anniversary.  Within another nine years they created five more daughters!  So, we six girls were all within ten years of one another.
You can only imagine the craziness that it is to grow up with six girls in the house and no boys (other than Dad). It was a sort of love/hate relationship.  We fought incessantly – about who the sweater belonged to, whose night it was to do the dishes, who was supposed to vacuum this week, who left the dried up ice cream bowl out and should really be blamed for it – it went on and on.  However we were also each other's best friend.  There was always someone to hang out with, lay in the sun with, our bottles of baby oil and tubs of cocoa butter at our side. (sunblock? I don't think so….) My mom actually told us, on more than one occasion, that we should  make some friends (what? like with someone from another family? but why?)
Now that we are adults we are still so close, probably more so since we don't have to share a room or fight over the dishes. There are daily text strings, sometimes numbering upward of 50 exchanges, between us.  These involve the really important (earth shattering actually) details of daily life.  How do you make cucumber/tomato salad?  How much should I be paying for apricots? Look at the latest picture of this grandbaby, or that one.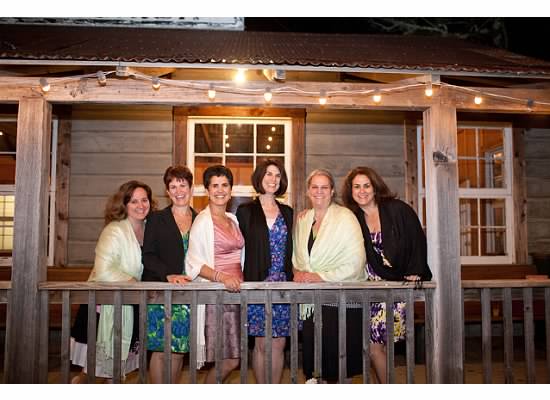 As I started this blog, they were my first supporters and definitely my first followers (since no one else knew I was out here writing away). And here comes the quilty part of the post….
Wednesday, during a morning text marathon, we were celebrating my very first sale on Etsy!! A momentous occasion.  See?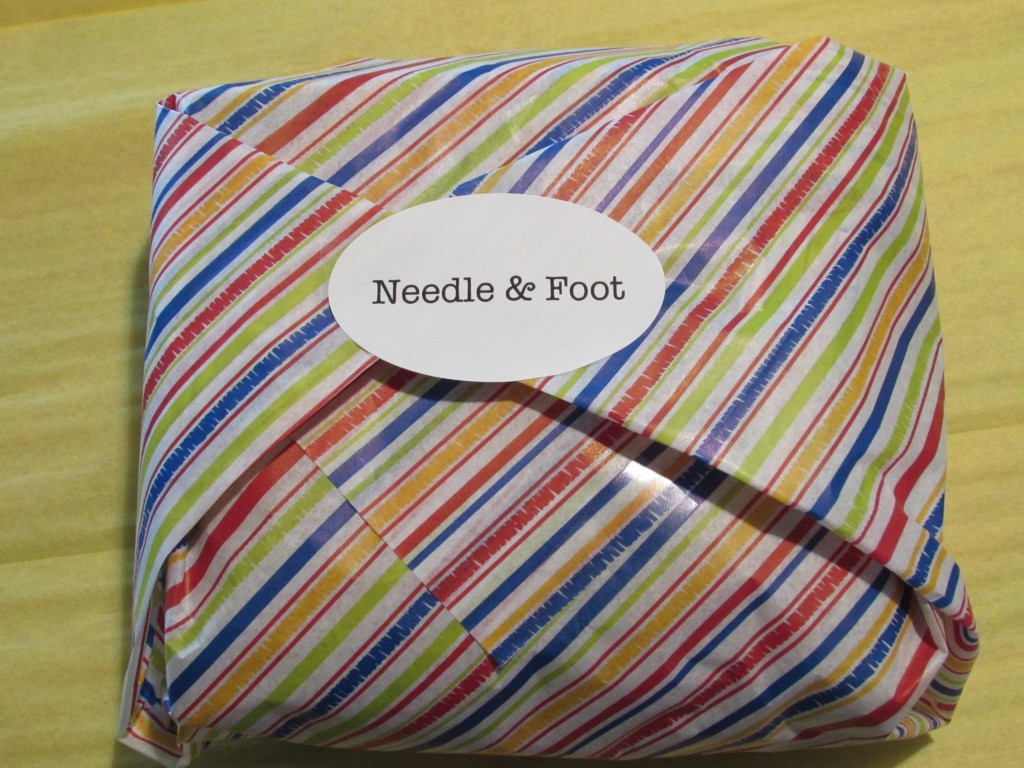 One of my sisters asked what else I was going to put up on Etsy.  (They are like my advisory board.) We tossed some ideas around and a baby quilt was suggested.  I decided this would be a fun thing to do.  I hunted through my fabrics and found a great assortment to use for a baby quilt for a sweet little girl.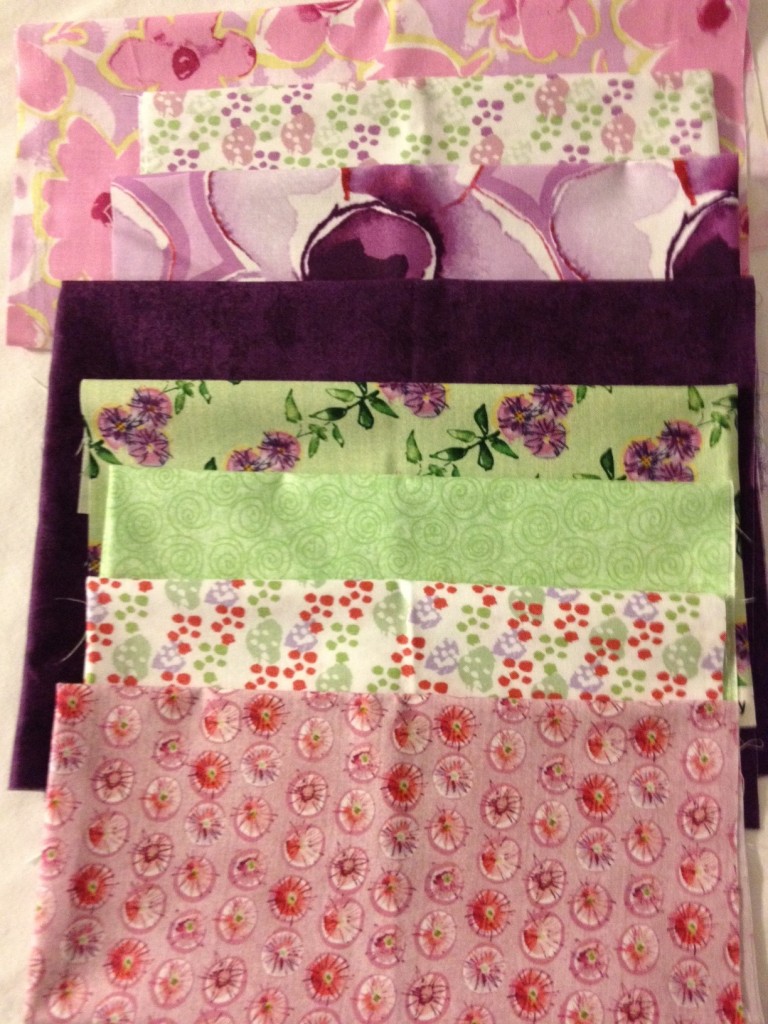 Love having this all on hand and ready to go!  I wanted to make something sweet and simple.  I chose to do a quick lattice work pattern using five inch squares on point, sashed with white.  The tutorial is from none other than Amy Smart of Diary of a Quilter.  She posted it at the Moda Bakeshop  site a long  while back. Couldn't get much easier than this.  Well, actually, it could.  If I would have had the right charm squares on hand it would have gone together much quicker.  As it was, I had to cut fifty (5) inch squares myself.  That took a bit of time but I need to be using the fabric I have, right?? The result is adorable.  Got the quilt top finished yesterday.  Yay!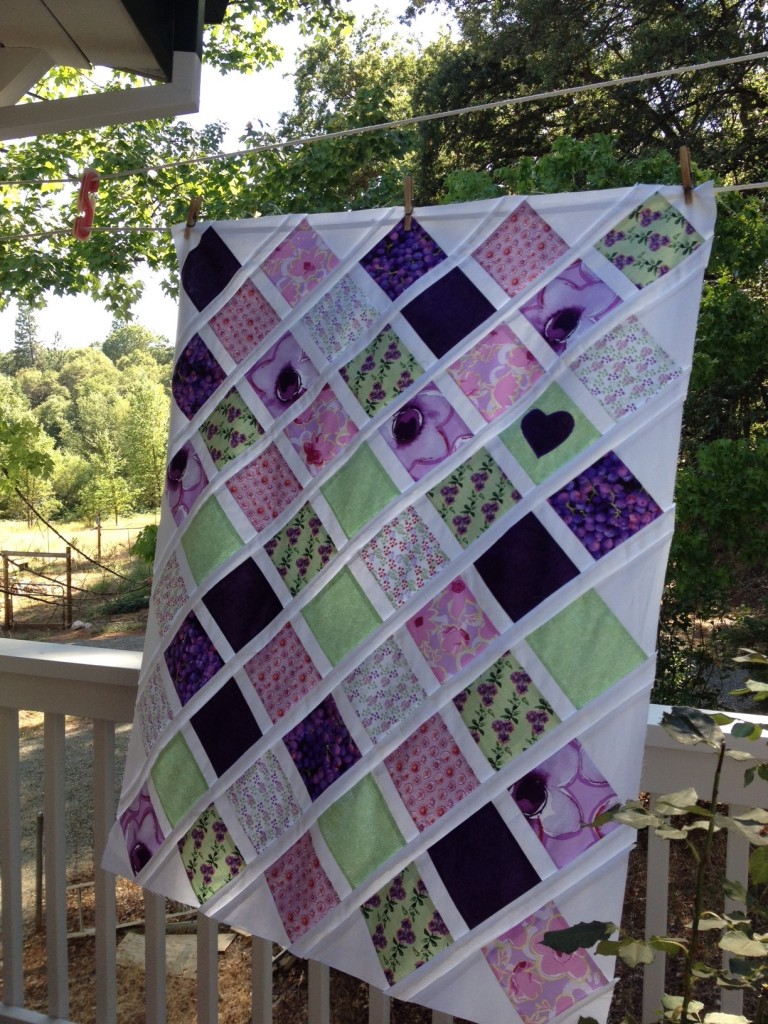 I added an appliqued heart to one of the squares for an extra touch.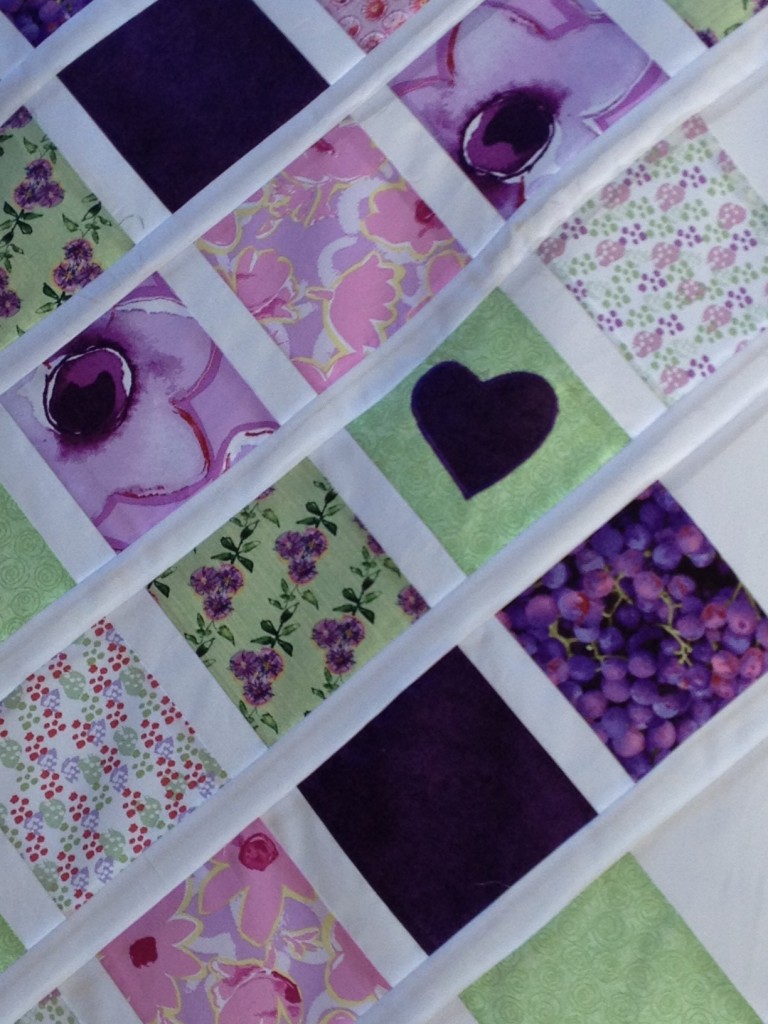 My sisters were right.  (They always are.)  This was a really fun project.  I have the pieces for the back all cut and ready to assemble.  I haven't found anything that I like in my stash to be used as binding.  (Oh well, a quick stop at my LQS will fix that–everything else was on hand, right??) Unfortunately I don't have any batting just now.  Living 45 minutes from the nearest shop that carries batting for a decent price means I use Amazon a lot!  (Go Amazon Prime.) The batting will be here on Saturday and then I can get this finished up.
A quick question.  How should I quilt this.  Such a contrast between the white sashing and the dark purple squares.  I don't know what color thread to use if I want to do a meandering, all over FMQ or a straight line pattern? Or, do I just quilt each square, avoiding the white sashing? I would love some input on this.
Great finish for Friday though.  A lovely quilt top in two quick afternoons!
Linking up with Crazy Mom Quilts, TGIFF, Link a Finish Friday, Confessions of a Fabric Addict, and finally, Fabric Frenzy Friday!!  Check out these links to see some really great work.
Have a great weekend everyone.