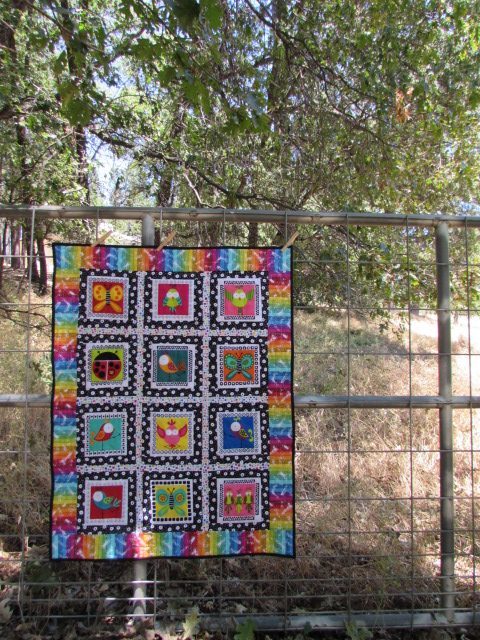 I have a finish to share with you this morning!  I began this little quilt a couple of months ago when I had the Sweet Tweets fabric (by Kim Schaefer for Andover) in stock.  There was a panel fabric with these fun critters and I made both a quilt  top and three stuffed blocks out of it (with a few pieces to spare!) I wanted to wait a bit before finishing the quilt though. I sold out of the rainbow stripe that I wanted to use as a border.  I  knew Kim Schaefer was coming out with a new line that had a similar rainbow stripe and I had it on order for my shop.  (Note: I am sold out of the Sweet Tweets panel now and Andover has told me they will not be reprinting any of this line. It is kind of unfortunate because it is such a cute one.)
The new rainbow fabric is from an Andover line called And Z (from the alphabet song…  W, X, Y And Z!)  It also has a sweet alphabet panel and lots of fun coordinating fabrics, including a new rainbow stripe, which I used as the border on this project.  I greatly appreciate when a designer works to make sure successive lines work with the one prior. It makes it much easier to use your stash. Anyway, this rainbow stripe was perfect for the Sweet Tweets quilt border.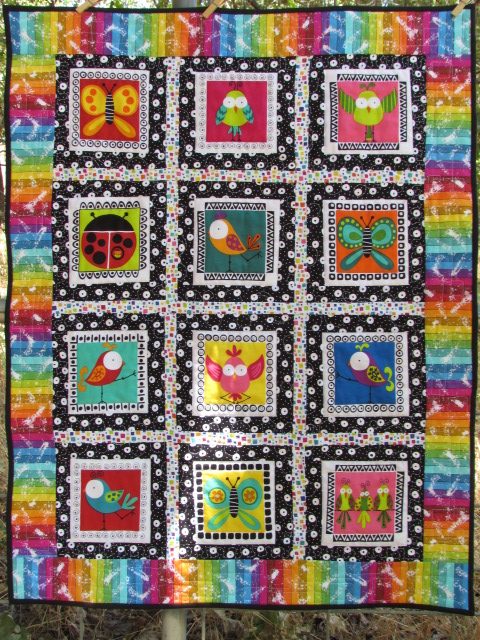 Once I had the borders on, it was time to quilt it. There is a whole lot going on with this quilt, cute focal fabric, stripes and dots, and all sorts of color.  I thought it best to keep things simple. I outlined the critters with my walking foot which anchored everything down.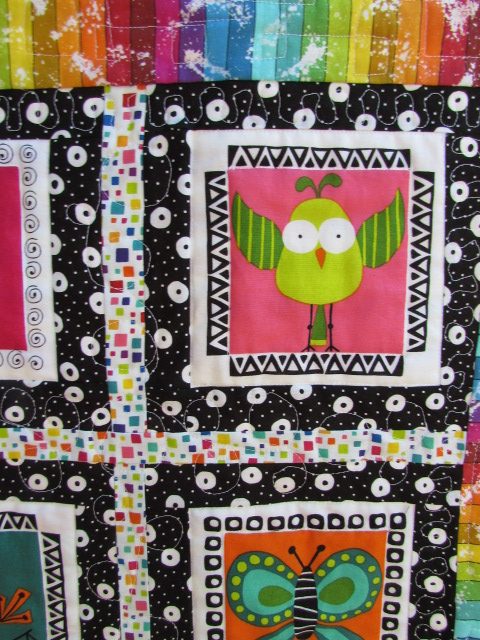 Next I free motion quilted large and small loops between the critters. I was using Glide thread in basic white and it was wonderful. I am really impressed with this thread and I need to get a few more colors to have on hand.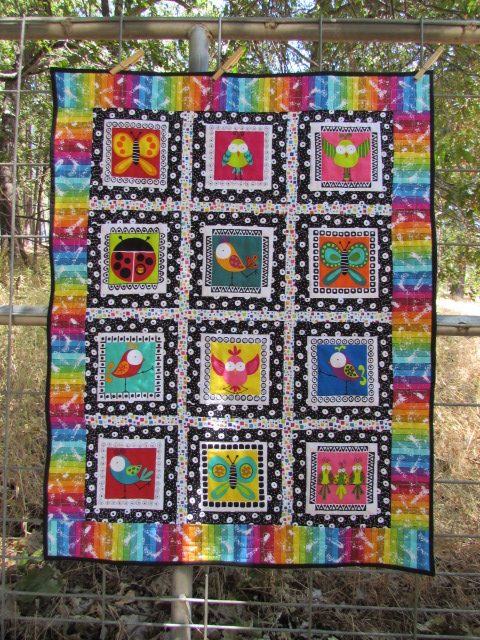 For the small row of sashing between the critters and the rainbow stripe border, I quilted a little wavy pattern. Finally when I got to the border, it was time to switch from curves to a boxy motif.  (Side note – look how dry the pasture next door to us is….  We have had such a heat wave and the grasses are really dry now. )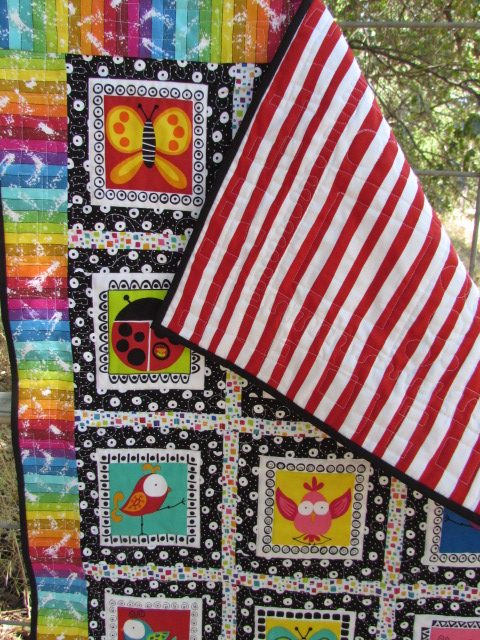 For the backing, I used a red stripe given to me by my sister last fall when she was purging her closets. It is perfectly bright and cheerful. The binding was a bit of a decision for me. I posted a photo on Instagram, asking people for input or suggestions.  When someone said solid black to frame it off, I agreed. I think this quilt needed a simple binding for the finish.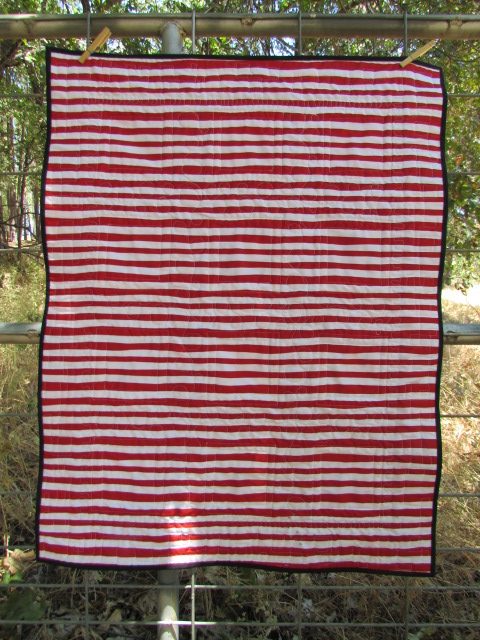 The back side actually displays the quilting better than the front (as is often the case.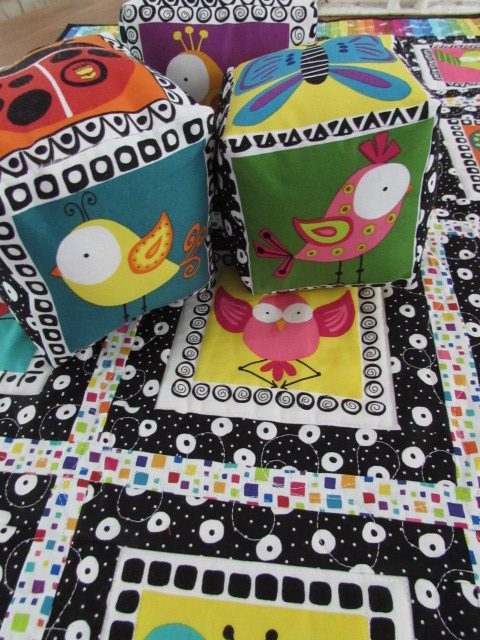 Look at the combination of the blocks and the quilt.  This was such a fun way to use this panel fabric.
This quilt finished at 30″ by 38″ which is a nice size for baby. The quilt makes me happy and I am sure it will look cute in a nursery with a baby playing on it. There are so many colors, patterns, and critters to look at!
Linking to my favorite places. Find them at the top of the page under Link Ups.
Also, remember to sign up for the Needle & Foot newsletter to hear the latest on new fabric arrivals and fun promotions offered to my subscribers. Sign up form is on the right side of this page.
Finally here is a heads up on a great promotion over at Craftsy during this long holiday weekend.  Might be the perfect time to select a new class for less than $20.00! So many excellent classes are available and once your purchase it you have it forever. What a great way to build your library. (Affiliate post)