Welcome to the third post in my Meet the Designer series at Needle & Foot. If you missed the first two interviews you are welcome to check them out. In February I had the pleasure of getting to know Sarah Golden, a designer for Andover Fabric. In March I wrote two posts about my experience getting to know Maureen Cracknell.  This month I have the honor of introducing you to Kim Schaefer, also a designer for Andover Fabric. Kim has a style that could be described as whimsical. I very much enjoy her designs. Her most recent line of fabric is called Sweet Tweets and I have a selection of it available in my shop. Let's get to know Kim!
Kim started designing fabric with Andover in 2006 with her first collection, Fat Cats. Prior to working for Andover, Kim was a designer for Erlanger (which is no longer in business.) It was fortunate that Kim had impressed one of the sales reps who worked for both Erlanger and Andover. He was able to introduce Kim to Andover and thus began her relationship with them. It is always something to look back at one's path and see how each decision or choice made has lead us to the next opportunity, right? Anyway, Kim speaks very highly of Andover, and especially of their design director, Kathy Hall. She is grateful to work with a company who has such a strong commitment to quality.
Growing up as the middle daughter in a family of three girls, Kim was taught to sew early on, maybe around the age of eight or nine years. Her mom and grandma both worked with her. She has fond memories of this and says her mom was so patient and was often called upon to untangle bobbin disasters when Kim was sewing. Kim went to college at a university in Wisconsin, majoring in Fine Arts with an emphasis on Fibers.  Kim's father lamented never having a son and was very happy when Kim had four sons for him to do "boy things" with. They worked on cars and motorcycles together and went on camping trips, things she and her sisters had little interest in as kids.
In 1983 she took her first quilting class – it doesn't take too much imagination to guess what happened next! She was hooked on quilting and by 1989 was actively selling her quilts. In fact at one point, she had an order for 400 of the same cute birdhouse themed quilt for QVC (tv shopping channel) Kim says it took forever to make these and then they sold in three minutes!! Can you imagine? I am sure she never wants to make that particular quilt again!!
I am in awe of Kim's productivity as her talents are quite diverse.  She designs fabric for Andover, as I mentioned above.  Currently she is working on a line with a Halloween theme called Fright Night which releases in June, 2017. Additionally, she is a very prolific author and has published thirteen books already. She currently works with C & T Publishing and her range is wonderful. She has written books on baby and toddler projects, modern quilting, seasonal projects as well as scrappy quilting. Any of these would be a great addition to a quilter's library. Click through here for more information or if you would like to purchase a book.  (Affiliate Link) Upon hearing about all of these books and the numerous fabric lines, I asked her about balancing her work and her home life, and she replied she has been asked that question often and "all I can say is it somehow just works out. I feel so blessed to be able to do what I love, and I truly enjoy each aspect of my job. I work hard and am fortunate enough to work for two great companies who have never pressured me. I am the happiest at home in my studio creating, it hardly feels like work when you're living your dream. I am a lucky lady." She clearly appreciates the blessings of working for such great companies and being able to utilize her passion in these artistic ways, designing fabric and quilts as well as writing books.
Asking Kim about her design process, she explained that once she has an idea in mind it's hard to stop thinking about it. (Does that sound familiar!?) First she draws rough sketches on graph paper, then moves to pencil drawings of actual size and scale on water color paper. Her work is hand painted using water color dyes or gouache.  (I wasn't familiar with the term gouache but it seems it is a water color paint which has been thickened with a gum, or glue-like, substance.) The painting time depends, of course, on the complexity of the design, but Kim often stays at it until it's finished, even though, as she says, "at the end of the day sometimes I think my hand might fall off my arm."  🙂  To begin the design of a fabric line, she usually begins with the feature or main fabric. Then she designs the coordinating pieces.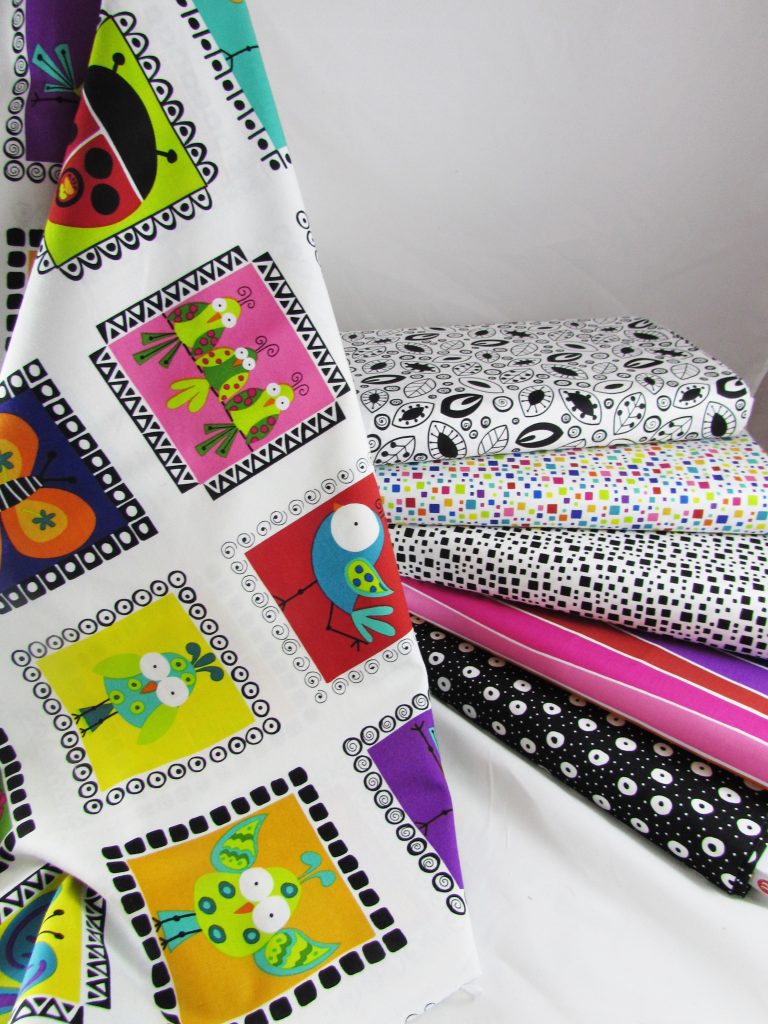 With Sweet Tweets, she created the adorable panel first and then worked on the rainbow themed prints as well as the black and white pieces.
I have to say when I selected Sweet Tweets as a juvenile line to carry in my shop, it was because of the bright, cheerful pieces which are accented with black and white prints. I love brights with black and white – it makes for a really striking combination. Kim also enjoys this mix and explained that much of her work is influenced by the wonderful, colorful, folk art carved wooden animals from the Oaxaca area.   When she was in college, she had the opportunity to spend a semester in Mexico and her work is still influenced by the folk art from this region.
I asked Kim about other places she has traveled and she told me about her all-time favorite trip. Forever wanting to see Paris in the spring, she was finally able to make the trip a few years ago. She and her husband visited Paris and took in the art, architecture, the cheese, and chocolate croissants! She loved every bit of it. After Paris, they went to London where her son was finishing up a semester abroad. After a few days playing tourist, they all returned home together.
Kim enjoys reading and gardening when she gets a minute away from her studio. Asked whether she enjoys sewing clothing, Kim said she hasn't really pursued it. She did make Halloween costumes for the boys when they were small but there just isn't enough time in the day to try everything.  Again, sounds so familiar, doesn't it?
It was great to get to know Kim better. I really enjoy her fabric and her whimsical style. I am looking forward to taking a peek at the next two lines she has coming out. Aside from the whimsical pieces, she also has a great line of black and whites as well as a line of textured solids called Brushline, which is just gorgeous.
This week in conjunction with this Meet the Designer post, I have marked the Sweet Tweet line down 15% in my shop.  Hop on over and take a look. I have yardage as well as a cute fat quarter bundle of the three black and white prints that I am carrying. No need for a coupon code as the prices have been adjusted. The sale on the Sweet Tweets fabric will run through the weekend with prices back to normal Monday, April 24th.
Tomorrow I want to share some cute projects I have been working on with these fabrics. Hope you will come back and check them out!  See you then. 🙂