Just sitting here on a chilly, damp morning drinking that first cup of coffee. (Nothing better than that first cup, is there?) I am trying to wrap my head around the fact that my oldest child is celebrating his 36th birthday today and number two celebrated his 34th birthday two days ago. How did that even happen? Time just marches on. I love having adult children – watching them carve their path, raise children, and develop their careers. It is truly satisfying.
OK – moving on from blathering about my boys, let's look at a fun project I worked on this week. Our local quilt guild is doing some community service work, making placemats for both Meals on Wheels and the local senior center. I thought this would be a fun project to contribute to. The only requirement was to make them finish at 12″ x 18″. My plan was to use some orphan blocks as the starting point. I have three finished and two more that just need binding.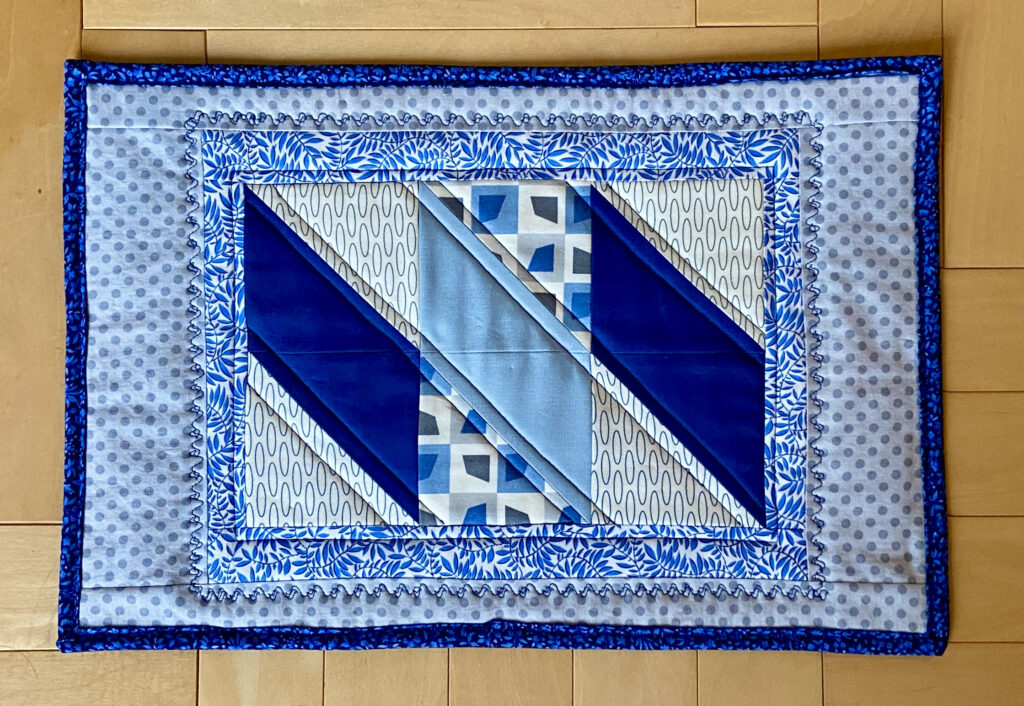 This one used six HST's that were leftover from making my Pikes's Peak quilt (which still needs to be finished). Love the blue and gray tones in this placemat. I used a fun stitch to quilt the outer border. All of the placemats have machine stitched bindings.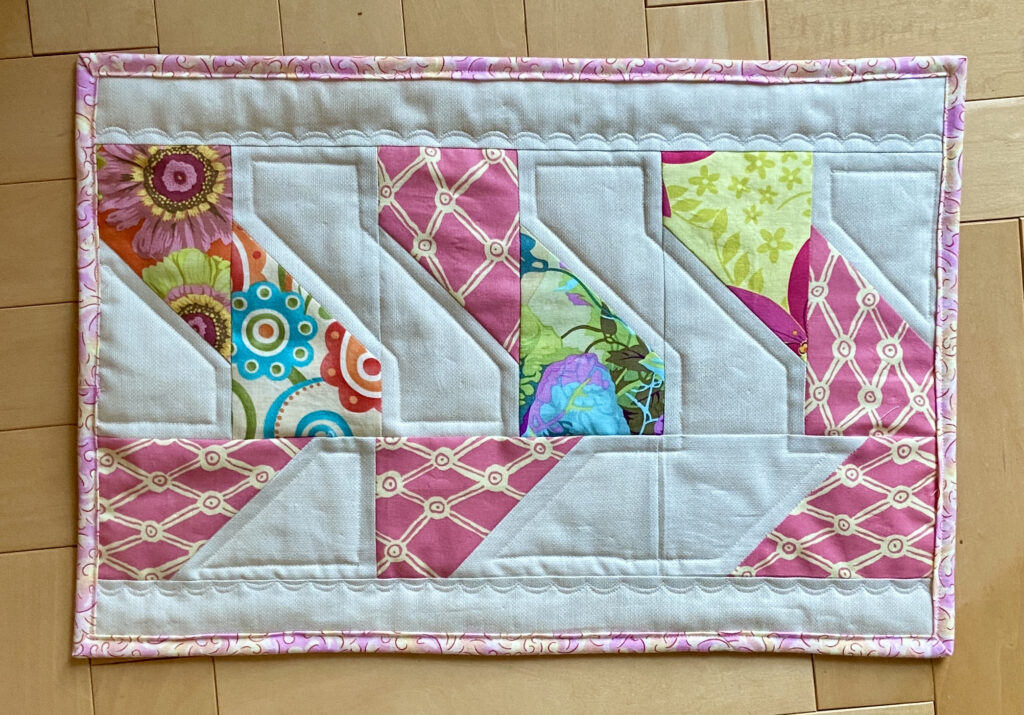 Placemat number two used up a few odds and ends from the Twisted quilt I made several years ago and donated to Mercyful Quilts. I actually have quite a few of these rectangles left because I had stitched a number of them backwards and didn't notice it until after trimming the backside (making it too late to rip them apart). This made a cute placemat and, again, I used a decorative stitch for the two borders.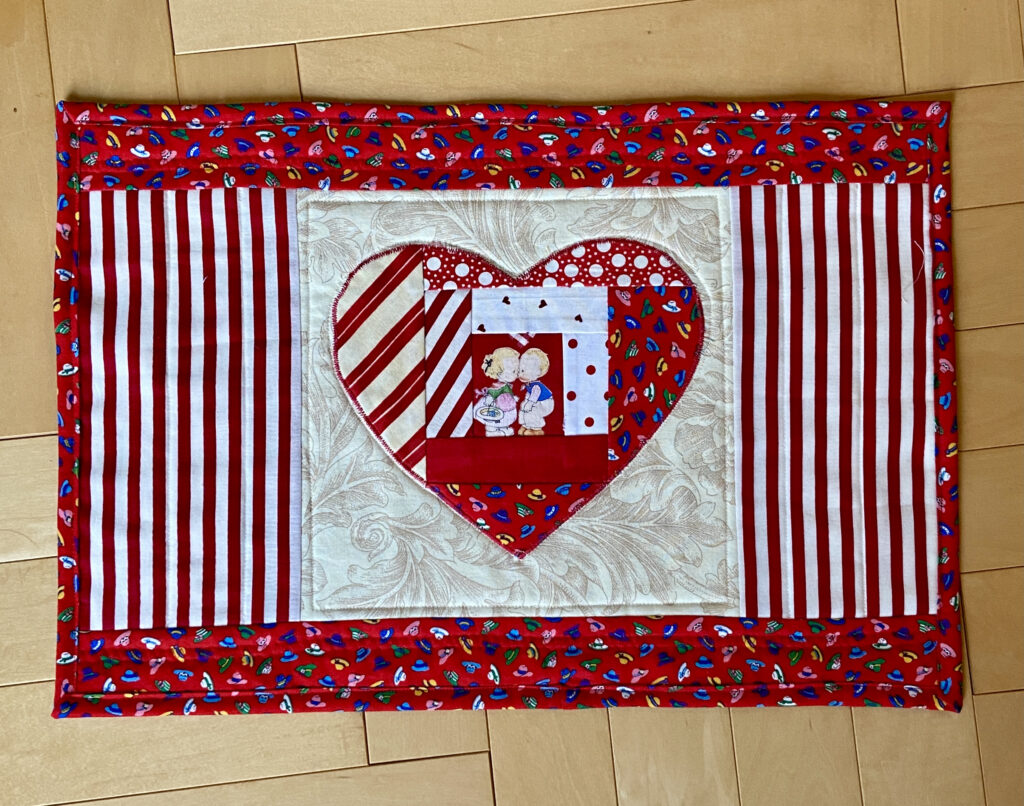 Isn't this a cute one? I have had that little heart block for at least four or five years. I made it with a pattern from Kitty Wilkin over at Night Quilter. I never used it though and am happy to see it finished up.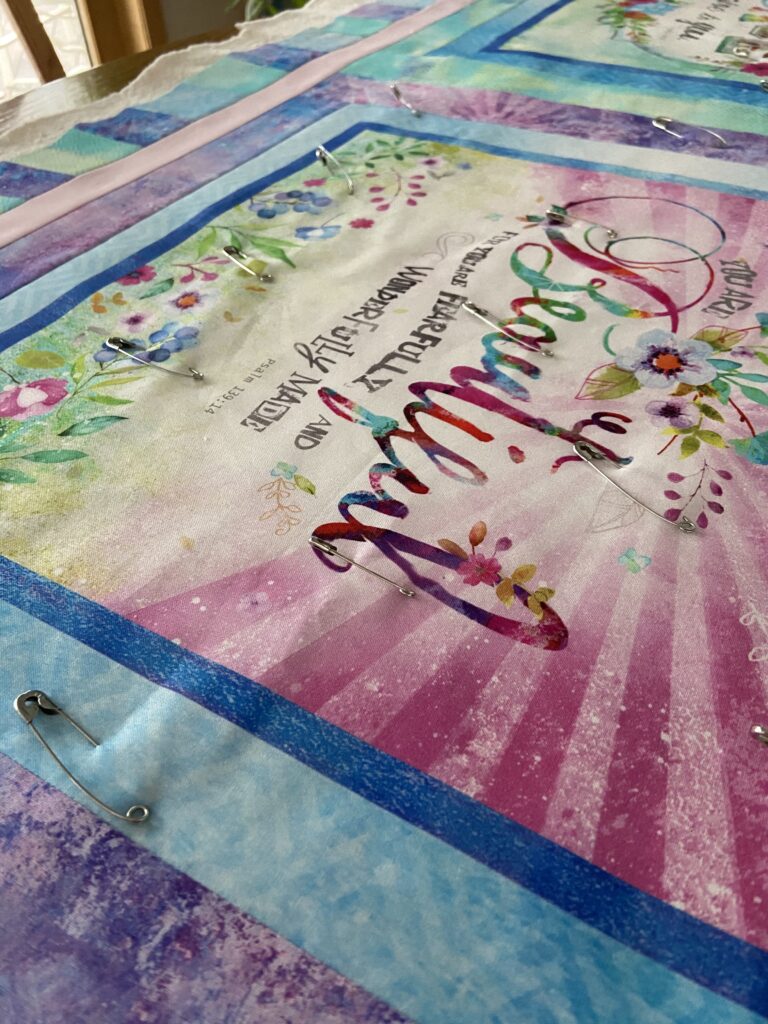 Thinking forward and making a plan for what I will work on next, I think I want to finish up a quilt for Mercy Hospital. I had shared my Bloom with Grace flimsy two weeks ago and, at the suggestion of a couple of you, I decided to add top and bottom borders to give it some length. That is completed and it is basted and ready to quilt.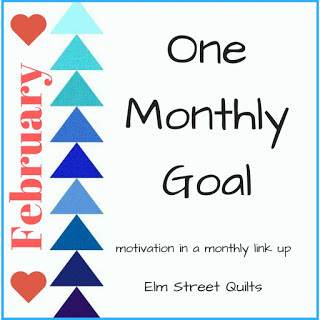 This is the main goal for February and I will link this up to OMG at Elm Street Quilts. Beyond this quilt, I want to make something for my grand daughters. Both girls have birthdays next month. As I said above, time marches on and A will have her first birthday just after H celebrates her fourth! Wow. I am thinking about making a teepee which can be set up in one of the play rooms. I have a feeling they will like playing in it. For this, I need to order some heavy fabric, maybe a canvas, with a non-directional print..
OK – time to get going. The coffee is now lukewarm and there are orders to pack. Looks like it will be a rainy day but hopefully there will be a break enough to take a walk and get a little outside time. Have a great day all!