Yesterday I finished a quilt top. This hasn't happened for a while! I am excited about this one because it is going to be a gift for someone that I am almost certain does not read my blog. I certainly hope so, otherwise, I have just blown the surprise. 😉
The fabrics in this quilt worked wonderfully together. The background fabrics are Moda solids, Figtree Cream and Stone. I am not entirely sure how this rich and creamy, off white color relates to a fig tree but it is gorgeous. Maybe they were thinking of that creamy outer part of the fig's flesh? Who knows.  The centers of the economy blocks are from a fat eigth collection I received for my birthday. The Art Gallery collection, designed by Bari J, is Millie Fleur. This quilt didn't consume too much of the collection so I think I will use the rest to create a scrappy binding. (I love a scrappy binding!) Along with the prints, I used a selection of solids from my stash to create the center of the economy blocks. The blocks are quite large at 10″ square.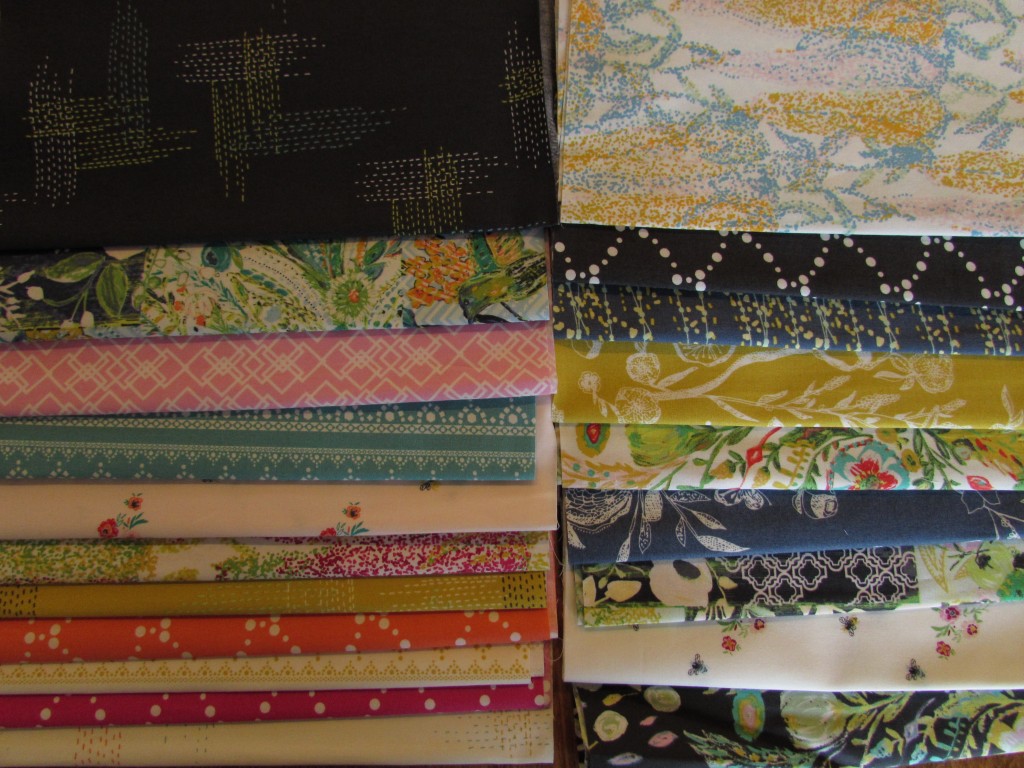 Looking at the secondary pattern (the cream and stone diamonds that surround the smaller economy blocks) will help me determine how to quilt it. The quilt is 70 x 70, so a slightly large lap quilt. Since I just took the long arm class, I plan to quilt it at the shop. It will be fun to quilt over all of that space created by the solid fabrics. However, since it is a gift, I want to do one or two quilts as practice before I work on this one. I still have two tops waiting to be finished which will make for good practice sessions.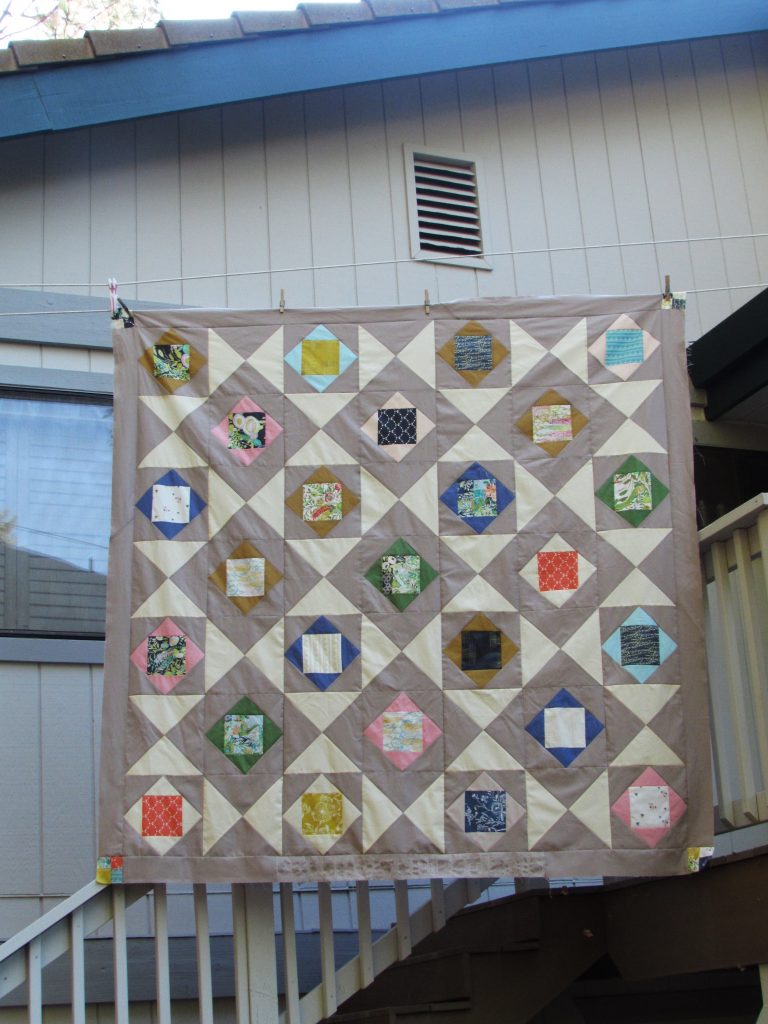 There is a three inch border surrounding the blocks with four patch blocks serving as cornerstones.  The bottom border looks distorted in this picture. I did some relief quillting there which I will show in the next post after I quilt this up. For now, just know that is why that portion looks a bit odd.
This was a bit of a beast to photograph, especially since my trusted quilt holder is back in school. Alas, I had to rely on my clothesline instead.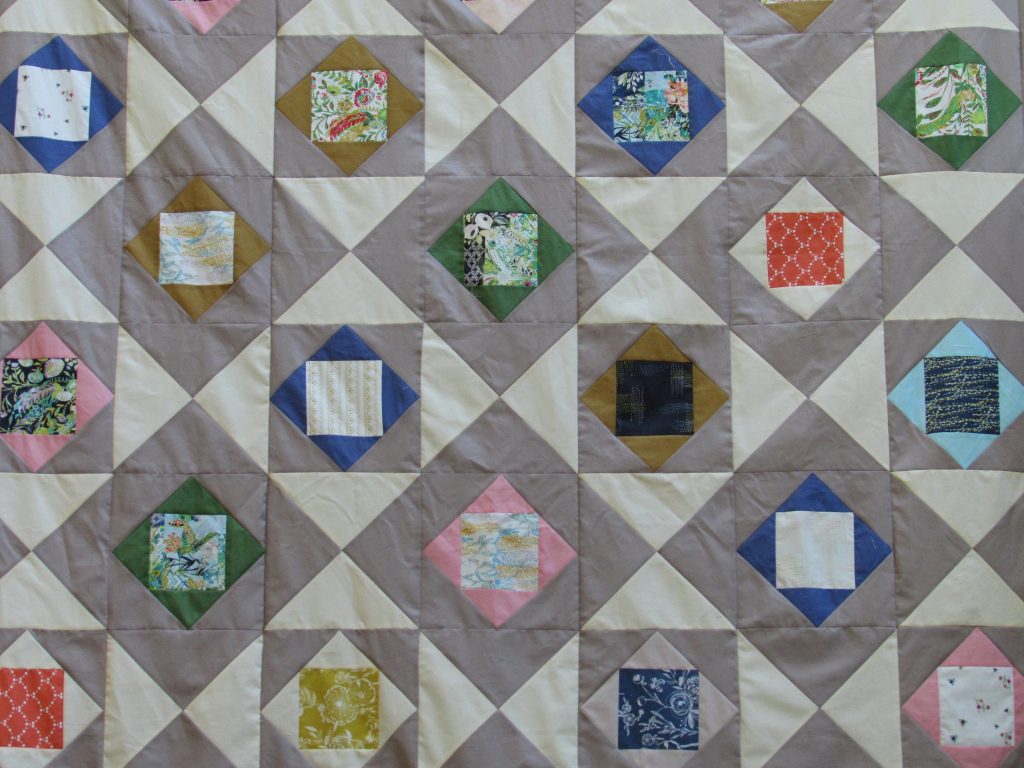 Hopefully I will be able to reserve some time at the long arm shop next week to practice. I'm very much looking forward to that. Then when I am a bit more confident, I will finish this project.
The weekend is coming and we don't have anything planned. If it is cool enough outside, there is plenty of yardwork to be done. Not terribly exciting but that's ok with me.
Linking to my usuals. Find them at the top of the page, under link ups.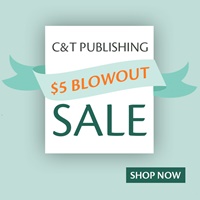 Have you heard about the $5.00 Blowout Sale over at C&T Publishing? It runs through Sunday, 9/11/16 and is a great opportunity to grow your sewing library for not a lot of money! Take a peek at the titles that are on sale this weekend. One of my favorites is Get Quilting with Angela & Cloe, a book about sewing with kids written by the wonderful Angela Walters.