Yep – it's true. I have another finish to share. The very small, almost non-existent, silver lining to the fires and smoke we are experiencing is having to stay inside. The smoke is thick and the air very unhealthy so we have been indoors continuously for a long while. This means I can sew!
OK – I started this quilt ages ago. The fabric was leftover from the twin size quilt I made for Julia's bed in our Downieville house (which we sold this summer.) I made that quilt back in early 2016.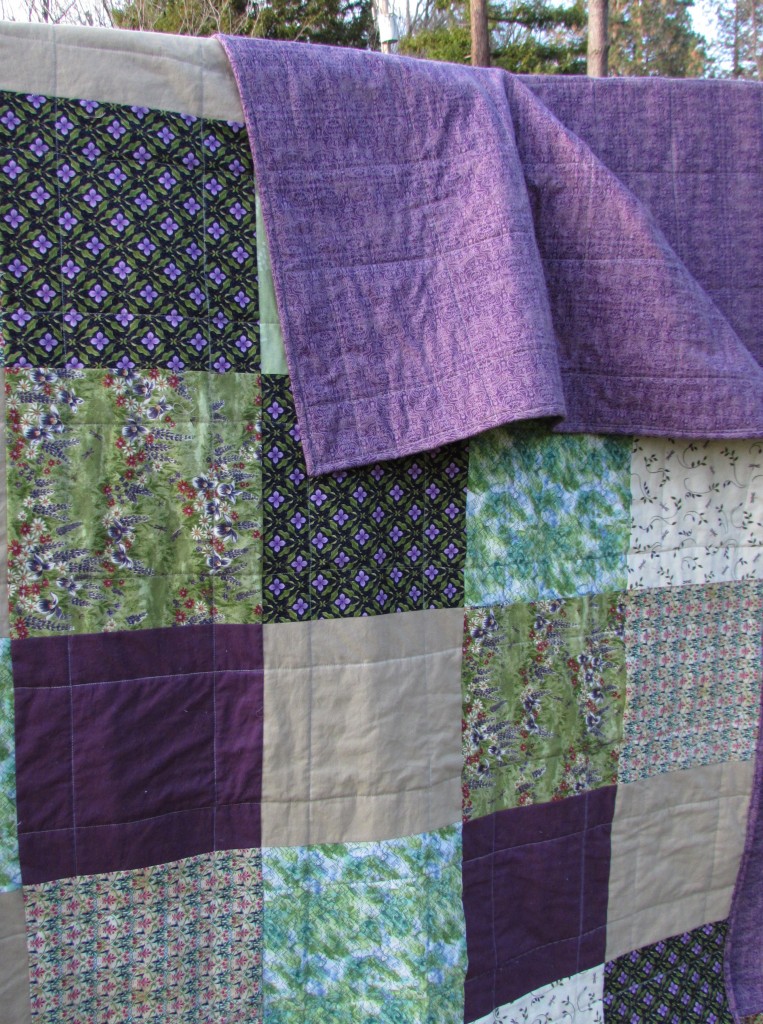 This was a huge quilt as I wanted it to hang over the edge of the bed by a ways. I had planned to make two matching quilts for that bedroom but the second one never happened. However I had already cut many squares intending to make the second one. I decided to use the leftover fabric to make a Mercyful quilt for the families at Mercy Hospital in Sacramento. I matched up a number of the squares, making sure each was partnered with the tan solid and made large (10″ finished) half square triangles with (some of) the leftovers.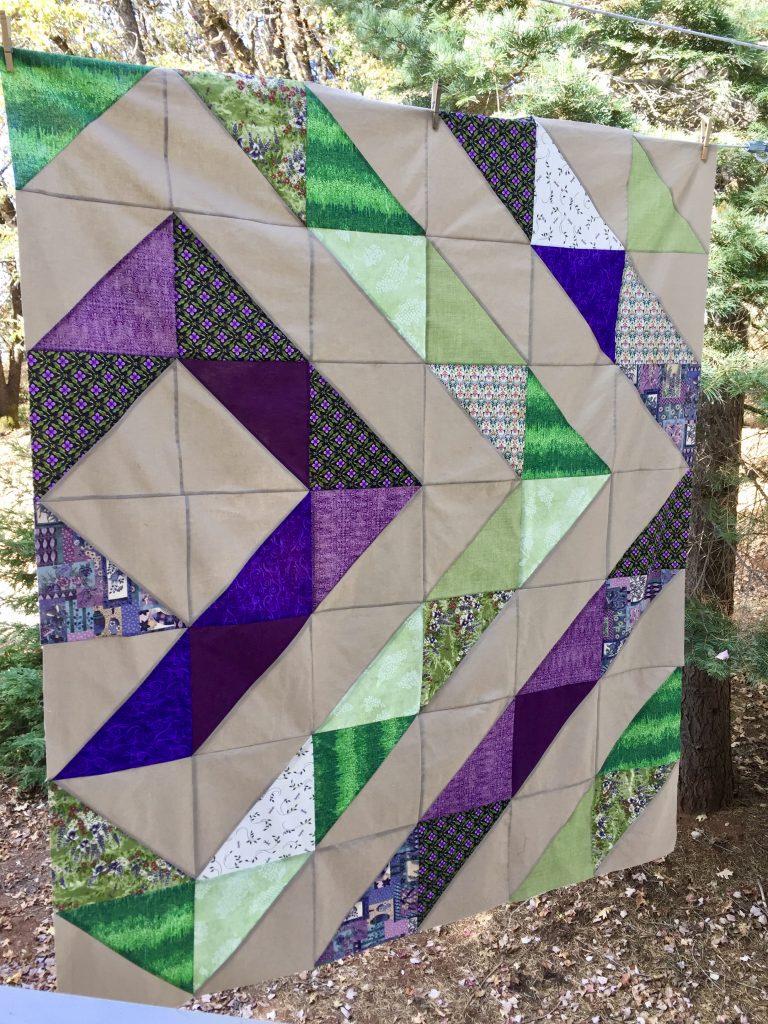 I made the quilt top in November 2018 and promptly stashed it away – for almost two years!! Why?!?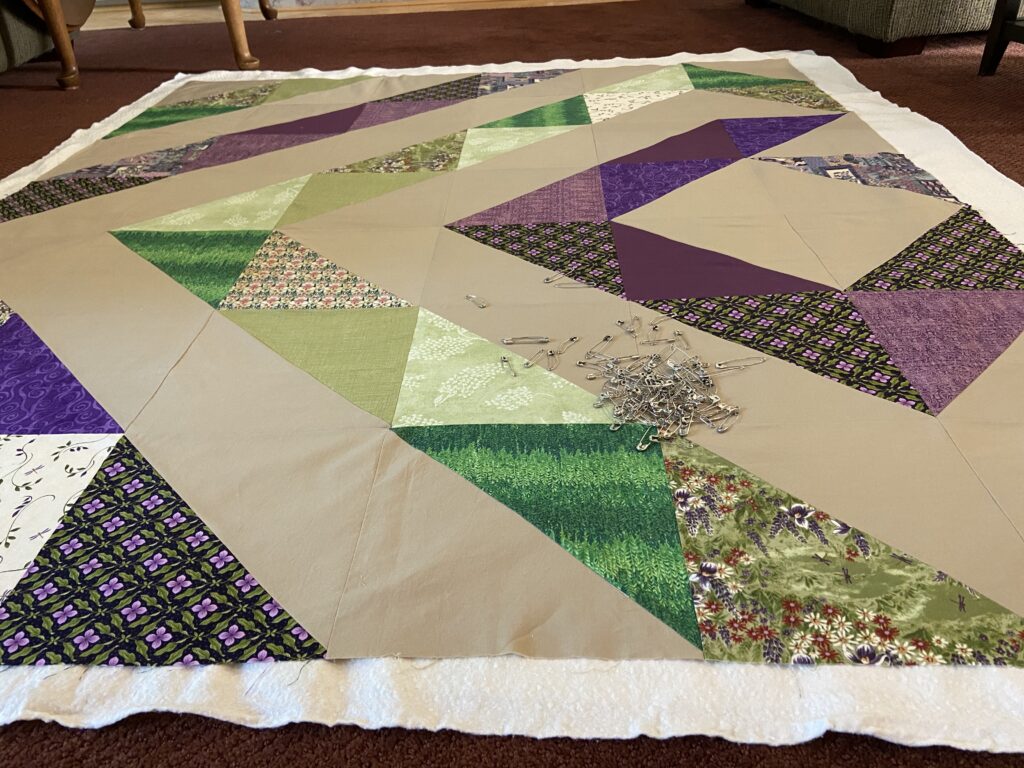 In my last post, I shared I was basting the top and planning to finish it up.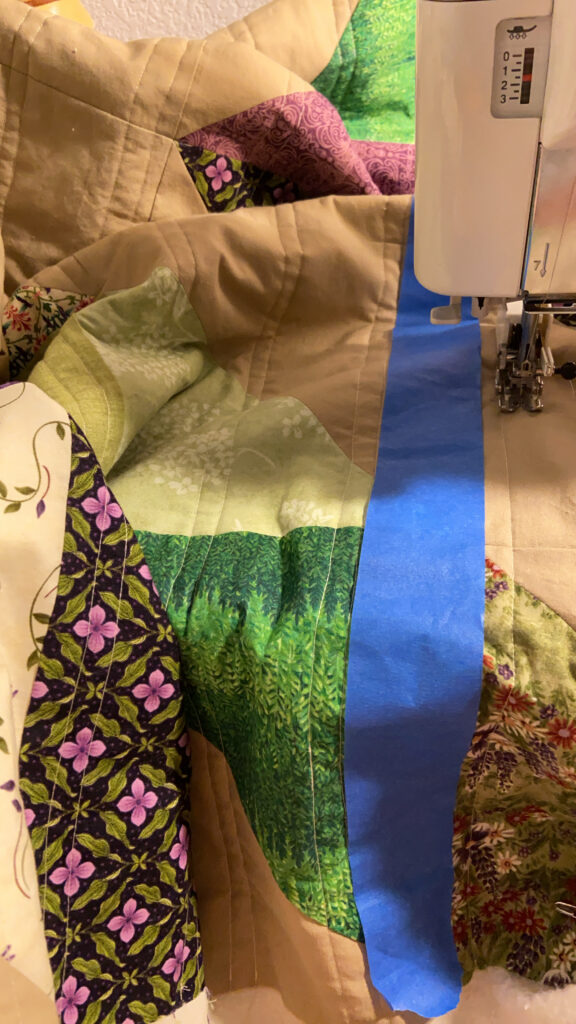 After some thought, I decided to go with simple straight lines for the quilting. Marking the quilt with wide painter's tape, and starting from the center, I did a two lines of stitching with my walking foot. I used the width of the walking foot to mark off the separation for the second line in each set. This, naturally, went very quick.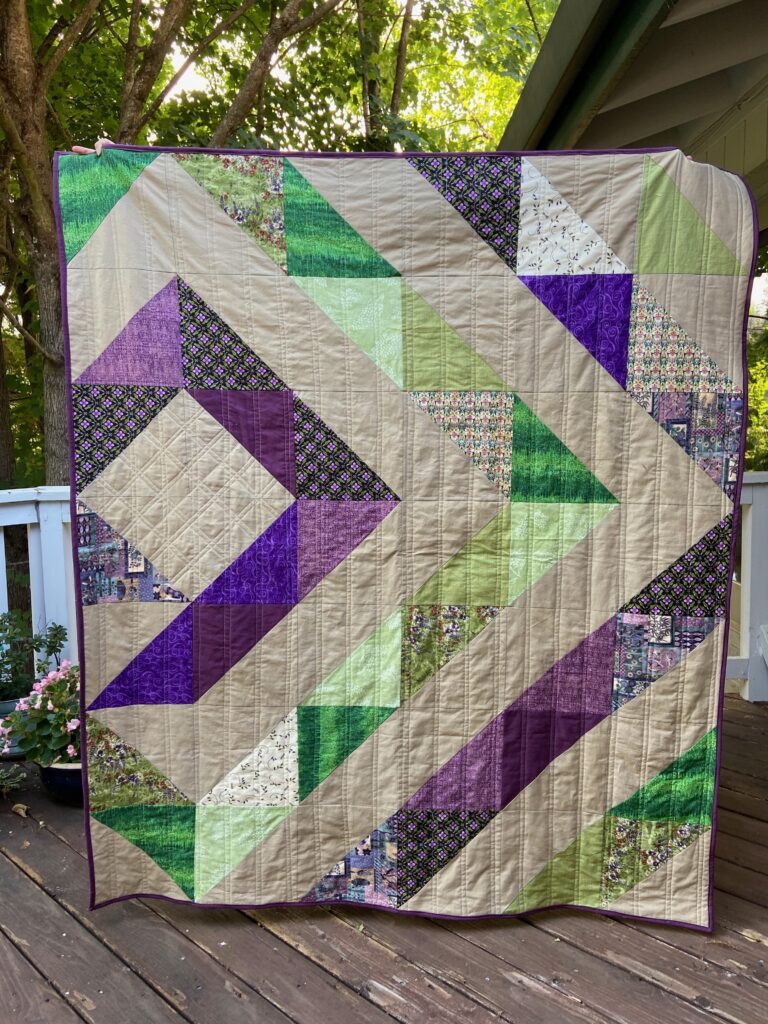 My quilt holder, aka Julia, and I took some quick photos on the deck. Didn't want to stay out long because it was too smokey! I am so pleased with the way this quilt looks.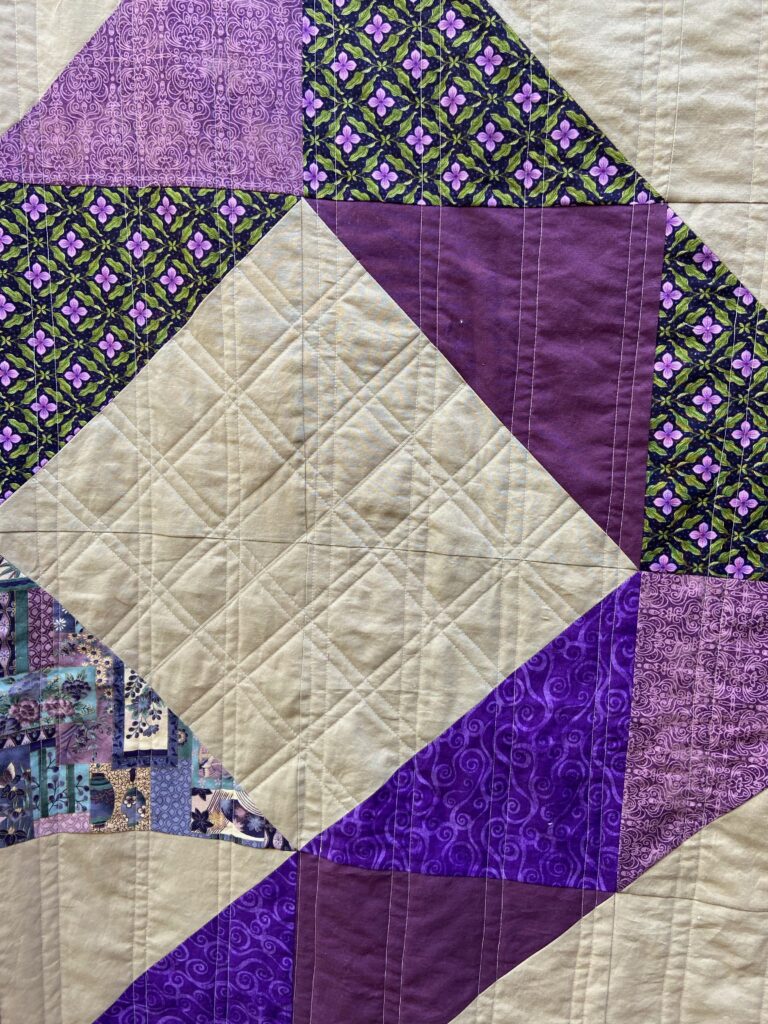 For the off-centered diamond, I did some extra quilting on the diagonal. I didn't measure this accurately and my center line is a bit funky. Such is life. I am not overly bothered by this.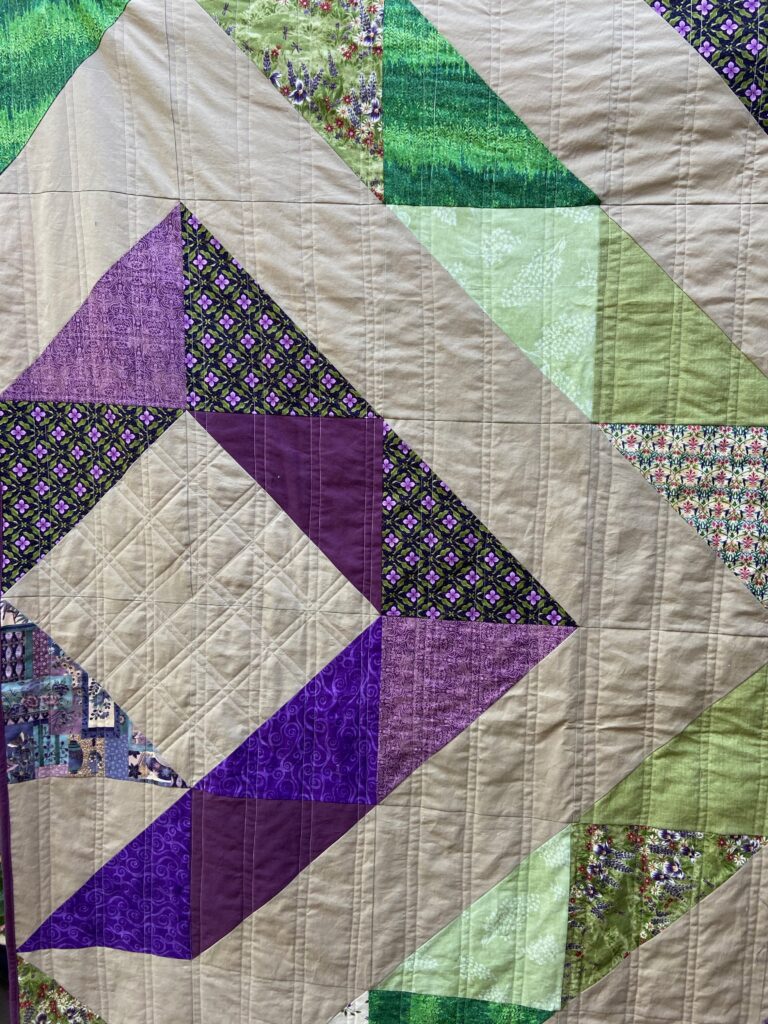 The overall effect is good and as we know, I am not one for precision.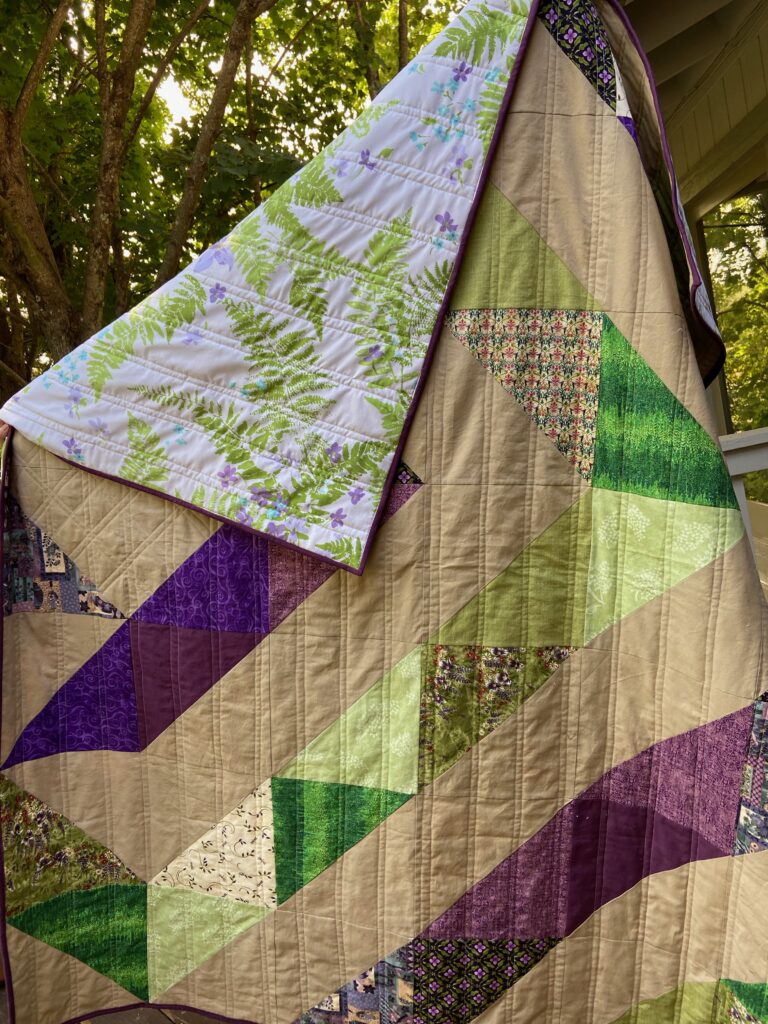 For the backing, I used one of the vintage sheets I have stashed. I know many quilters dislike backing with sheets but I have not had a problem with it. They quilt up fine and I have washed the finished quilts (those I have kept) many times without issue. I love how the soft purple and greens complement the darker shades in the quilt top.
This quilt is headed to Mercy Hospital and I hope the family it is given to will take comfort from it.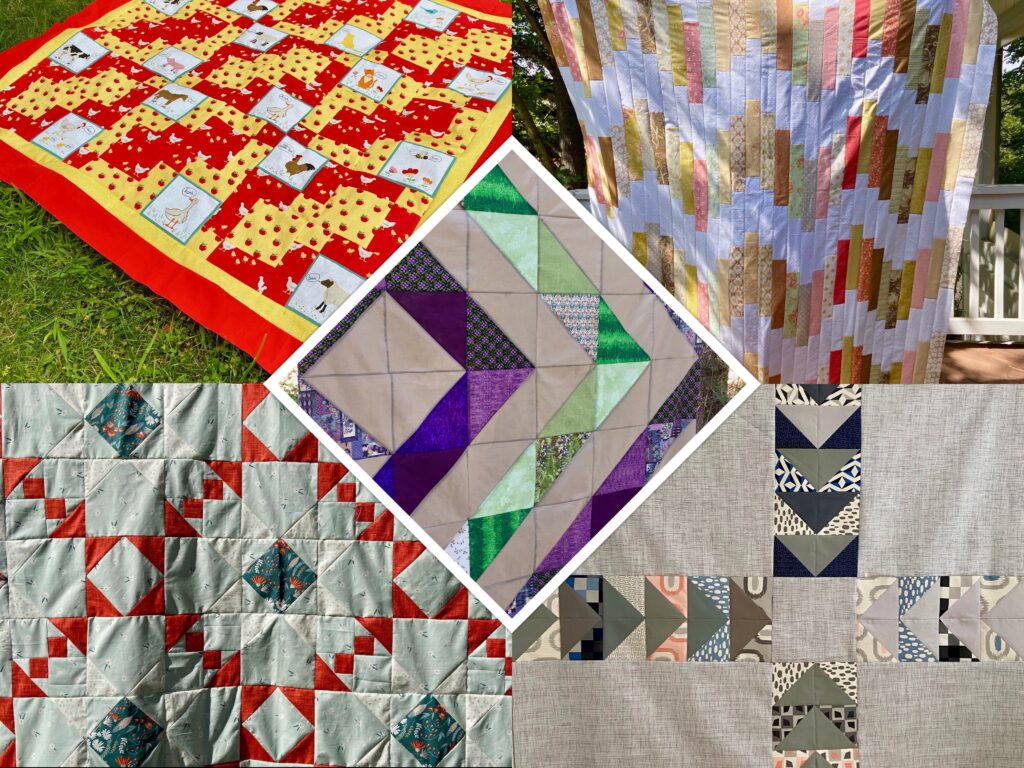 About two weeks ago, I made this collage of the unfinished quilt tops I have. I have finished two of them since then which makes me so happy. I haven't decided which one I will tackle next. I think I need to decide on backings and see what I have available.
For my next project, I need to make a bunting (with the letters of her name) for my youngest grand daughter. When we were up in Seattle, my son reminded me I had made one for older sister before she was born yet this baby is nearly 6 months old and I haven't made hers. Yikes. Better get on it!!
Take care everyone. If you are affected by the fires (and pretty much everyone in the west is) please take care and be safe. If you have extra rain, please send it to us. We are all in dire need.
Sharing at:
Brag About Your Beauties, Finished or Not Friday, UFO Busting, and Can I Get a Whoop Whoop