Somehow almost two weeks have passed since the last post. Not sure how that happened, but here we are. I have actually been in the sewing room quite a bit so I will do a quick update on what has been in the works.
First and foremost, I have been working on a cute baby quilt for my niece. It is just about done – I have a few more inches of binding to stitch down and then into the wash it goes. Once she receives it, I will share it here. I am 99% sure she doesn't read the blog but since I haven't taken photos of it anyway, it will have to wait.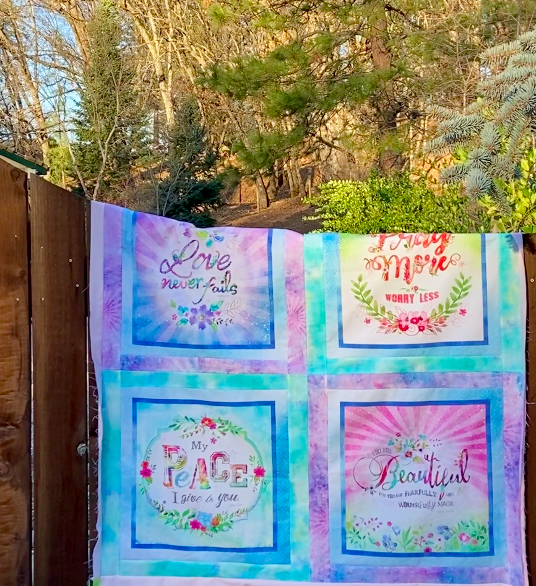 Additionally, I decided to make a quilt for Mercy Hospital. If you are new here, I coordinate a program called Mercyful Quilts and you can read more about it here. It seemed like a good way to start off the new year by making a quilt for them. I have a panel (by Three Wishes) in the shop that is very pretty. It has four large sections and each has a quote. I thought, for people who are going through the process of saying goodbye to a loved one, this quilt would provide comfort. The prints are reminiscent of a water color painting.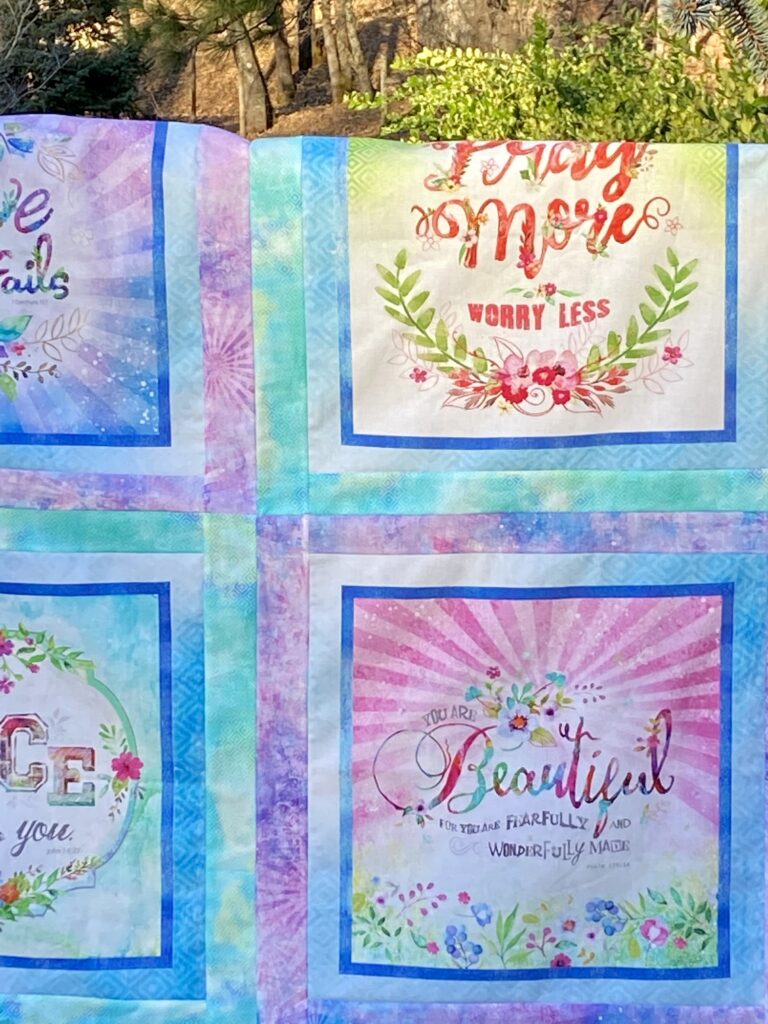 Being a panel, this was a simple quilt top to create. I cut the panel into four sections and used some of the coordinates to create borders around the squares. (Looking at the squares, I think these would also be fun to use for a tote bag for bible study.)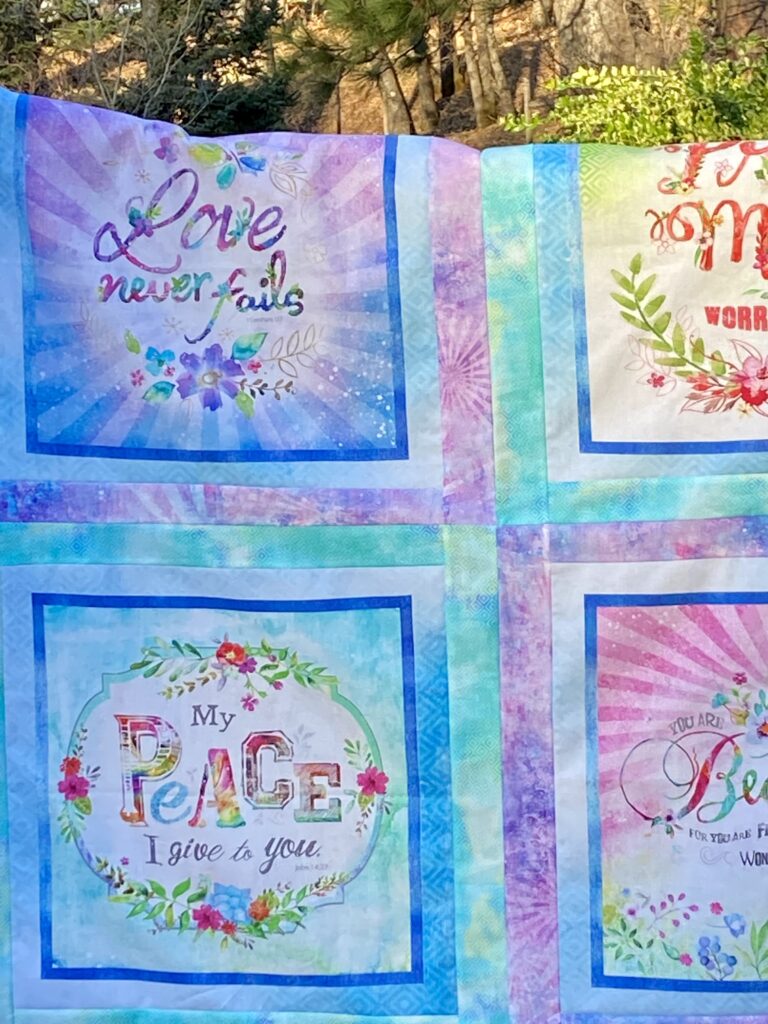 Now that it is all put together, I am thinking it might be a tad small at 49 inches square. Just trying to decide if I add another border or go ahead and get it basted. Decisions, decisions. I am thinking of using a soft vintage sheet for the backing. I hope I have one in the right colors for this.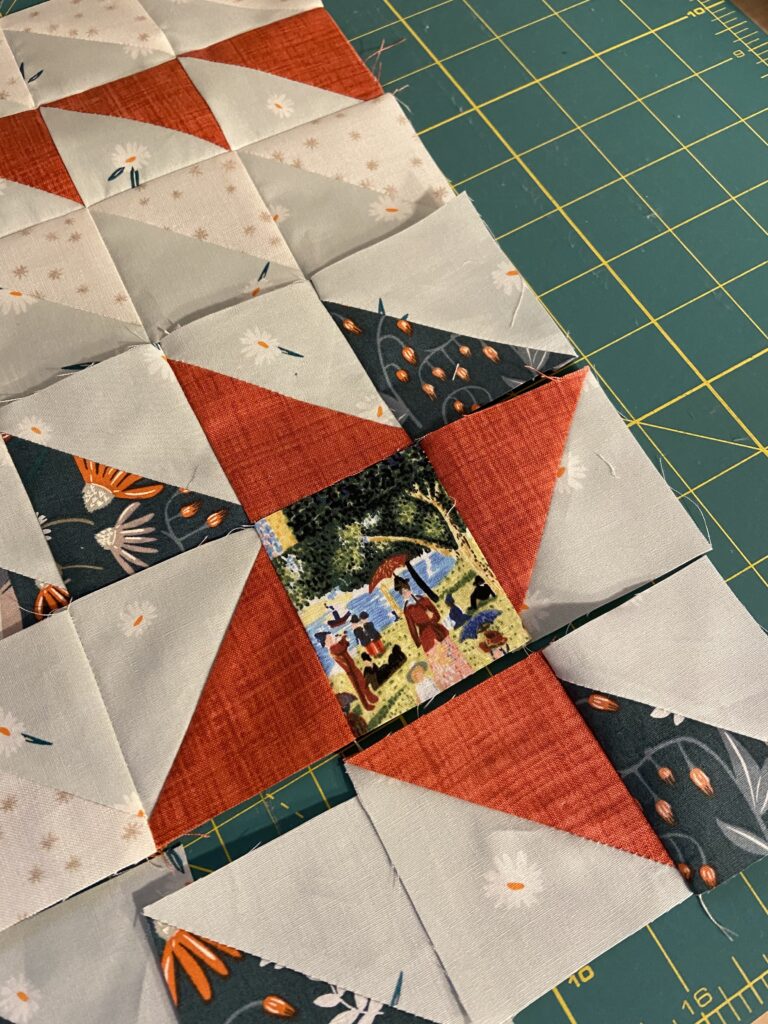 In the on-going saga of pretending to clean the sewing room, I started playing with a stack of leftover HST's from the Mosaic Mystery Quilt I participated in last winter. (The top is still in the closet, patiently waiting for me to get it finished up.) As a result of piecing that top, I have a large stack of 2 1/2″ HST's that I want to use for something. I poked around that wonderful rabbit hole, aka Pinterest, until I found some inspiration. I am working on a mini. I haven't made a mini in quite a while. I remember making a bunch of them when I first started blogging but seems like it has been a while. So this will be finished up soon and I will share it with you then. I am thinking it may need to be hand quilted.
OK – that is it for now. Sorry to have been remiss in posting. I have been reading tons of posts and am loving the Stay at Home Round Robin that is going on. Have you seen the posts about this? It is being hosted by Quilting Gail and I am enjoying it. Check it out – maybe you have the perfect orphan block to build from.
Linking up to Stitch Show & Sew as well as a few others. Check out my Link Up tab at the top of the page.