Here is an early morning update for you. This has been a crazy week. Last weekend we were up in Downieville working on the house while Julia traveled with the tenth grade class to Ashland, OR (about a five hour drive) to attend the Shakespeare festival. She had a great time up until early Sunday morning when she woke with a nasty stomach flu. After talking with the mom's and her principal who were taking care of her, it was decided she really couldn't do a long drive to come home. My husband drove up to Ashland and they hunkered down in a hotel until the worst was over. Then they drove home on Monday afternoon. She has been recuperating but it looks like she is going back to school today – luckily she has a light morning so she will just go for the afternoon classes.
Until it came to an abrupt end, we were making good progress on the living room in Downieville. This room has been fun because it really only needed some paint, new trim and carpet. Friday last week was the day of the carpet install. I drove up in the morning to let the installer in. Remember the house is very tiny (approximately 700 square feet) and I knew I would be stuck either in the kitchen or bedroom while he was working on the living room. I brought my little sewing machine and set up shop in the kitchen. (Don't you love the little kitchen table? I found it on Craigslist and I am crazy about it.)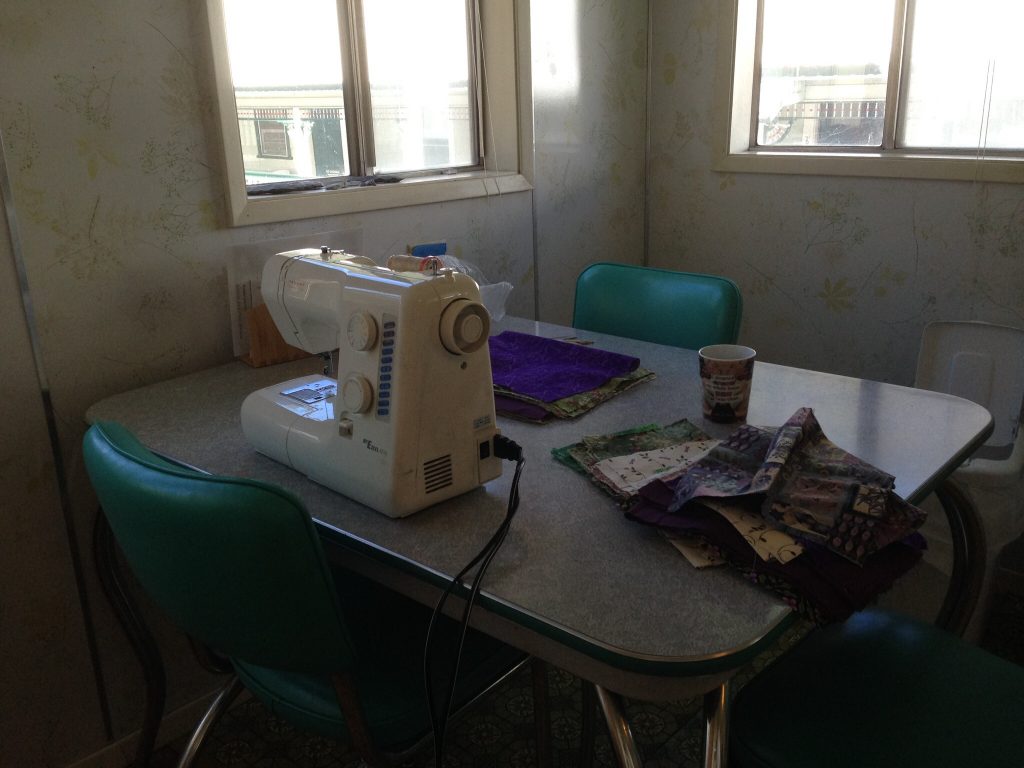 It was nice to be able to sew while he was working in the living room but it was quite cozy in the kitchen! There was no other spot for the couch so he pushed it through to the kitchen. Of course because it almost didn't fit, there are new scratches in the paint of the door trim, but that can be taken care of later.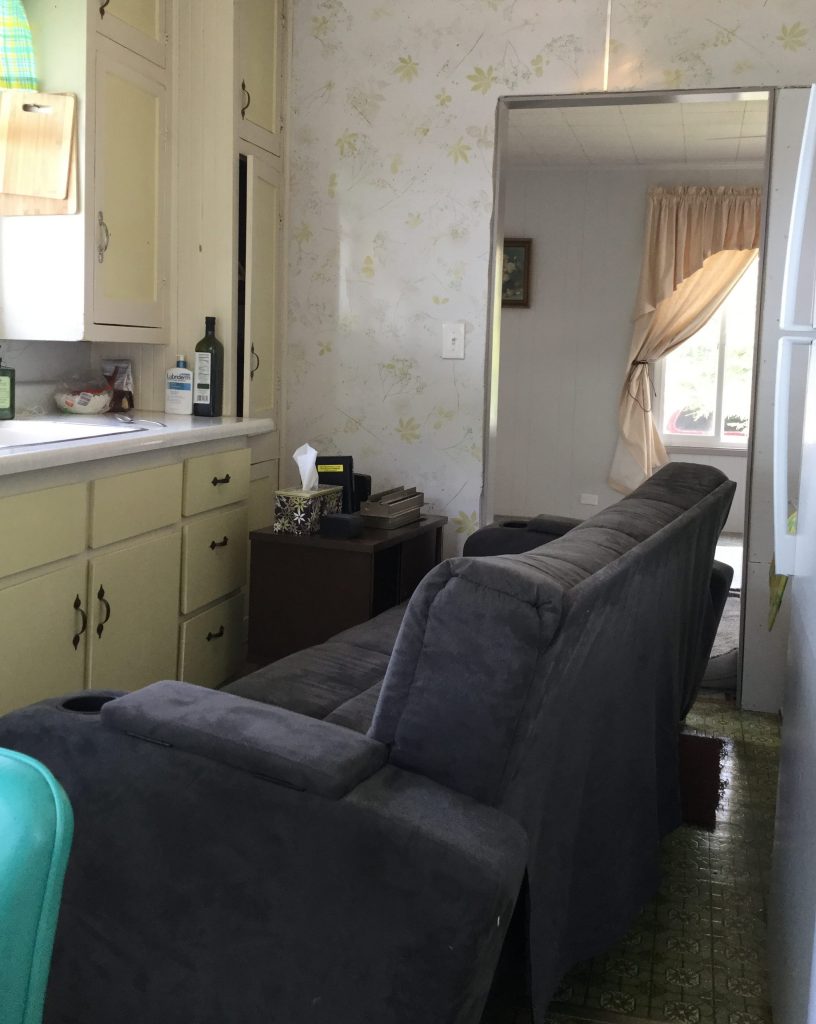 Here is a before and after shot of the living room.  The left side is how it looked when we bought the house and the right is current.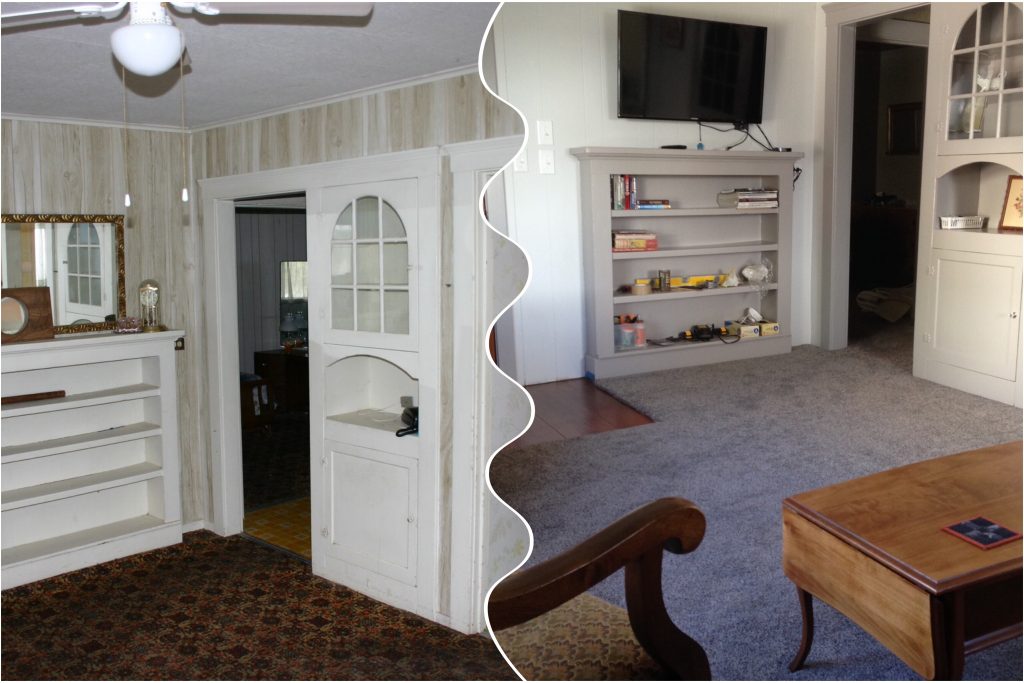 Here is another angle on the current living room. We primed and painted the paneling and Ray put new crown molding up around the walls. Ray also refinished a portion of the original hardwood flooring in front of the door so we don't walk in right on the carpet. Hopefully this will lessen wear and dirt on that portion of the carpeting.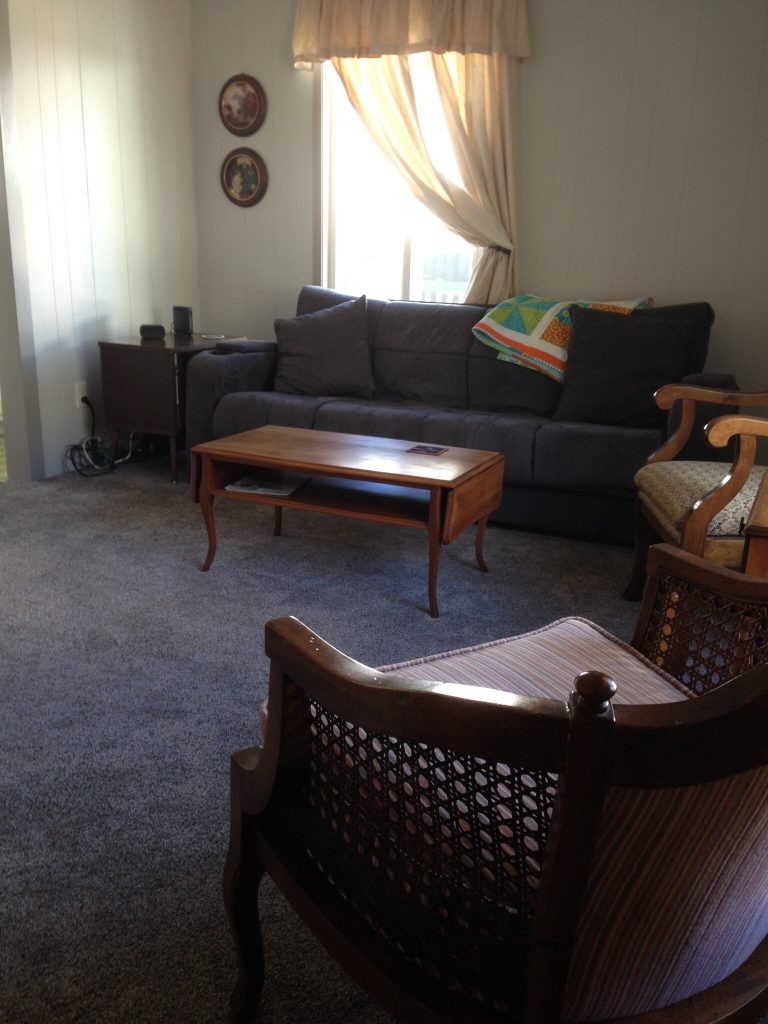 Since the picture was taken, Ray also got the baseboard installed and we hung some pictures. It looks so sweet now.
While I was trapped in the kitchen with only my sewing machine and a pot of coffee, I worked on the second quilt for the downstairs bedroom in Downieville.  Remember this was the first one I made. I finished this one last February – you can check out this post for the details.
It is a basic patchwork using 10″ blocks. I thought it would be fun to make this one with the same fabric but a different pattern. (For the first one, I was in a hurry to get it done for winter as it gets really chilly in that bedroom.) Since I have time to complete this one (the second twin bed isn't used all that often) I changed it up a bit and made large half square triangles using the tan solid as half of each one. I have about 40 blocks done so I am almost half way to a quilt top.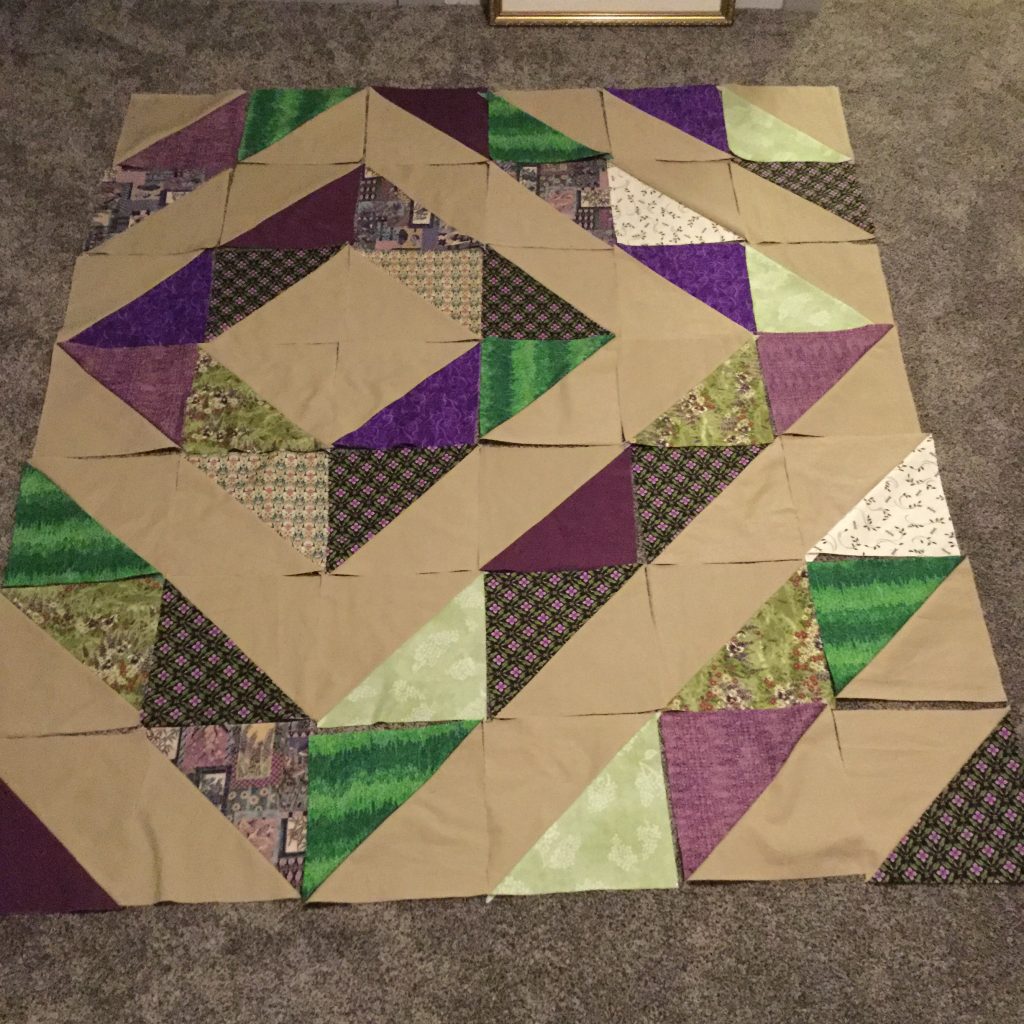 The layout above mixes the green tones and the purple together in a scrappy fashion. Here is a shot with the colors separated out in a more orderly layout.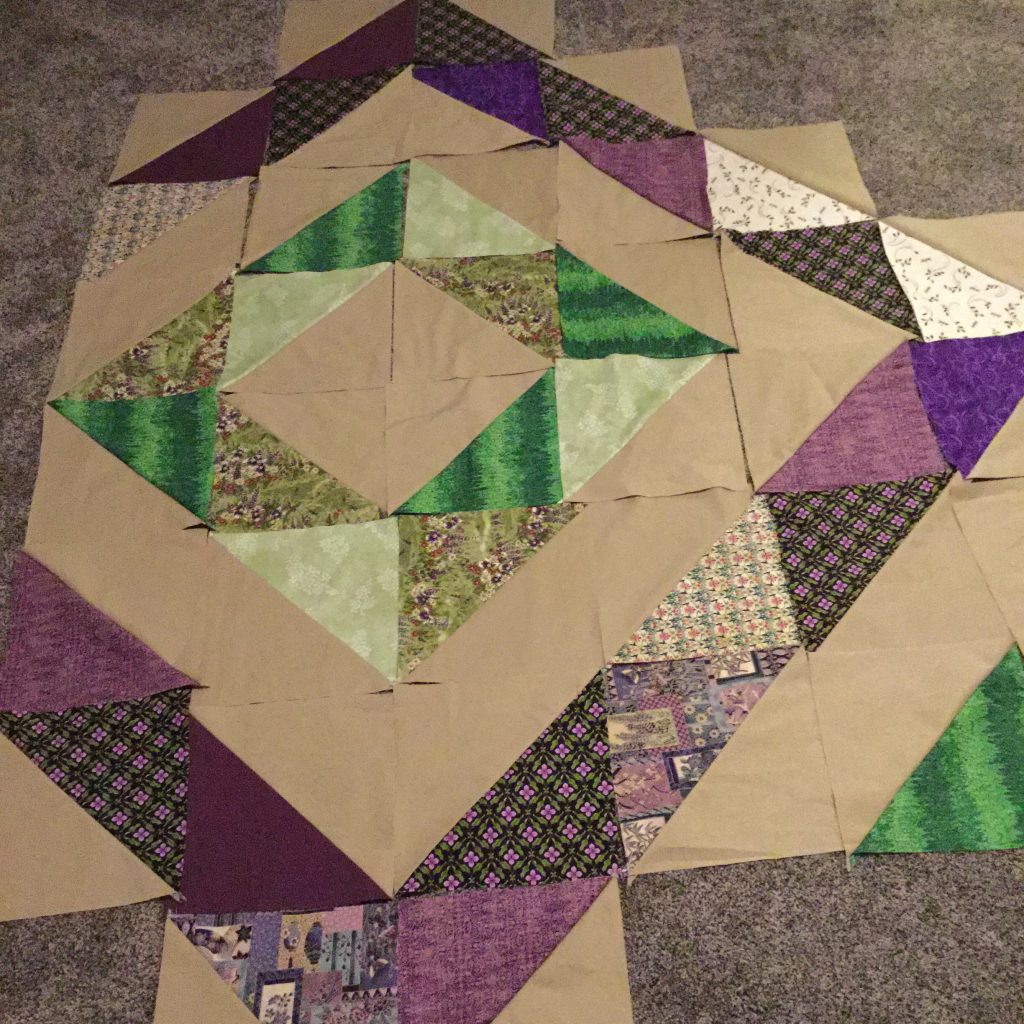 At this time, I have more purples completed than green. I love the green tones though and look forward to playing with this when I get a few more completed. I am leaning toward the layout with alternating colors. The rest of this should go together in no time at all. The little downstairs bedroom will then have warm, coordinating quilts.
Hope everyone is finding some time to sew and staying healthy!!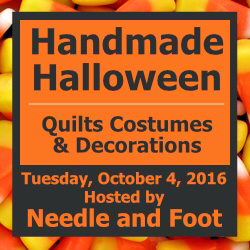 Reminder:  next week is the Handmade Halloween event here at Needle and Foot. You are invited to link up new and old posts about all things spooky! Quilts, costumes, decorations that are for Halloween will create a fun source of inspiration for readers. The link up will open on Tuesday, October 4th and stay open through Friday, October 7th. I have tons of prizes from Craftsy, C&T Publishing (makers of your favorite craft and sewing books) as well as Sew Fresh Quilts. I can't wait to see what everyone comes up with!!
Linking up with Let's Bee Social, Needle and Thread Thursday and Can I Get a Whoop Whoop this week. Links to all three can be found at the top of the page, under Link Ups.