I spent quite a bit of time over the weekend preparing for a quilt show coming up this weekend. I decided to attend the show as a vendor and several months ago, I bought a booth for the vendor area. I got the smallest size booth they have and will give it a go.  My wonderful sister is coming to help me – this way if it is busy I will have help and if it is slow, she will commiserate with me.  Win-win for me!  She has great ideas and is very talented as a decorator so she has been a huge help as I collect what I need for the booth.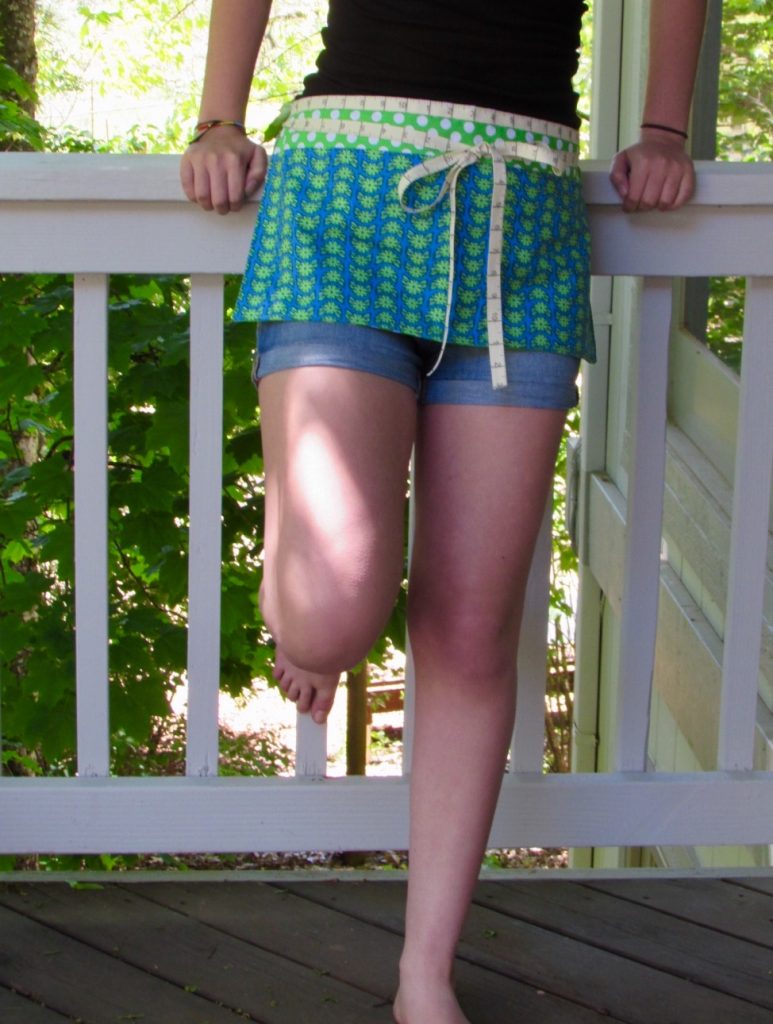 I used some green Ta Dot fabric (Michael Miller) and a piece of Crescent Bloom by Anna Maria Horner to make two work aprons for Patti and I to wear.   (Both of these fabrics are still available in my shop, though there is very little left.) The aprons were really a quick project and I just sort of made them up as I went. Check out the measuring tape twill that I used for the waist and the apron strings.  So cute! (Have to say the apron looks a whole lot cuter on my model than on me!!  🙂  )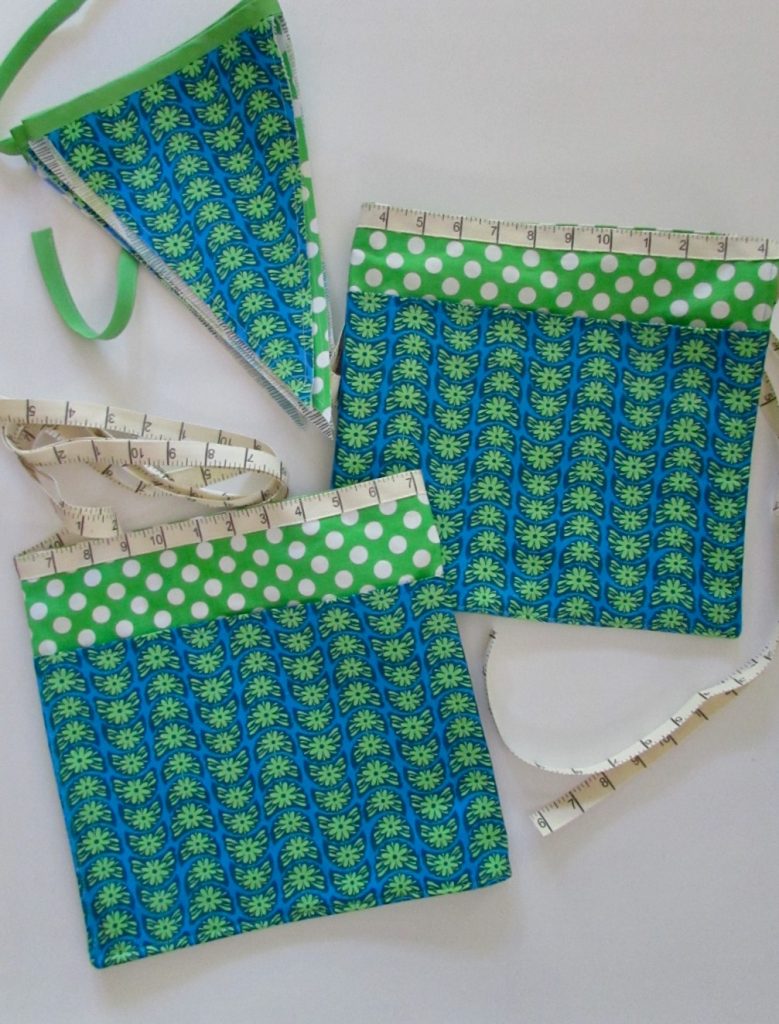 Using the same fabrics, I made a bunting to hang across the front of one of the tables. Love these colors and they coordinate well with my logo.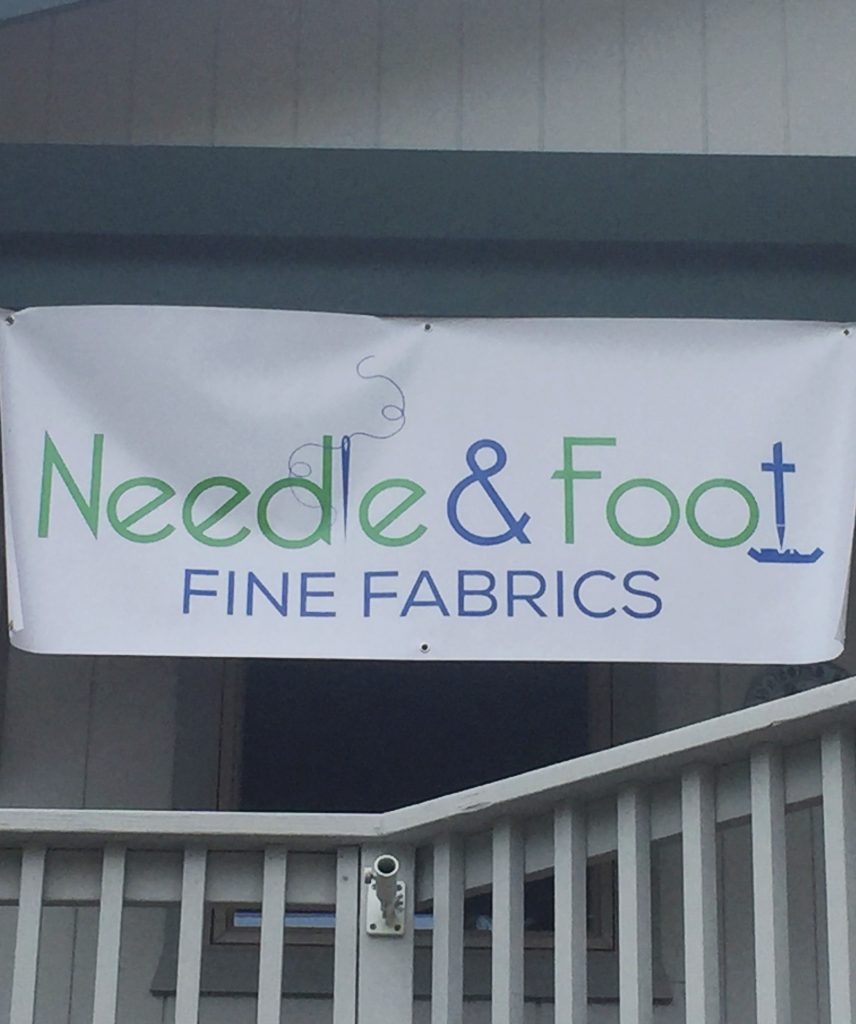 Because this is my first time, I am trying not to spend tons of money. I did have to get a few things though. I am going for a bright, colorful look which will hopefully invite those shoppers to come and browse. You probably remember the banner I posted a few weeks ago.  My husband made me a frame with PVC pipe yesterday to hang it from.   People will definitely see that banner!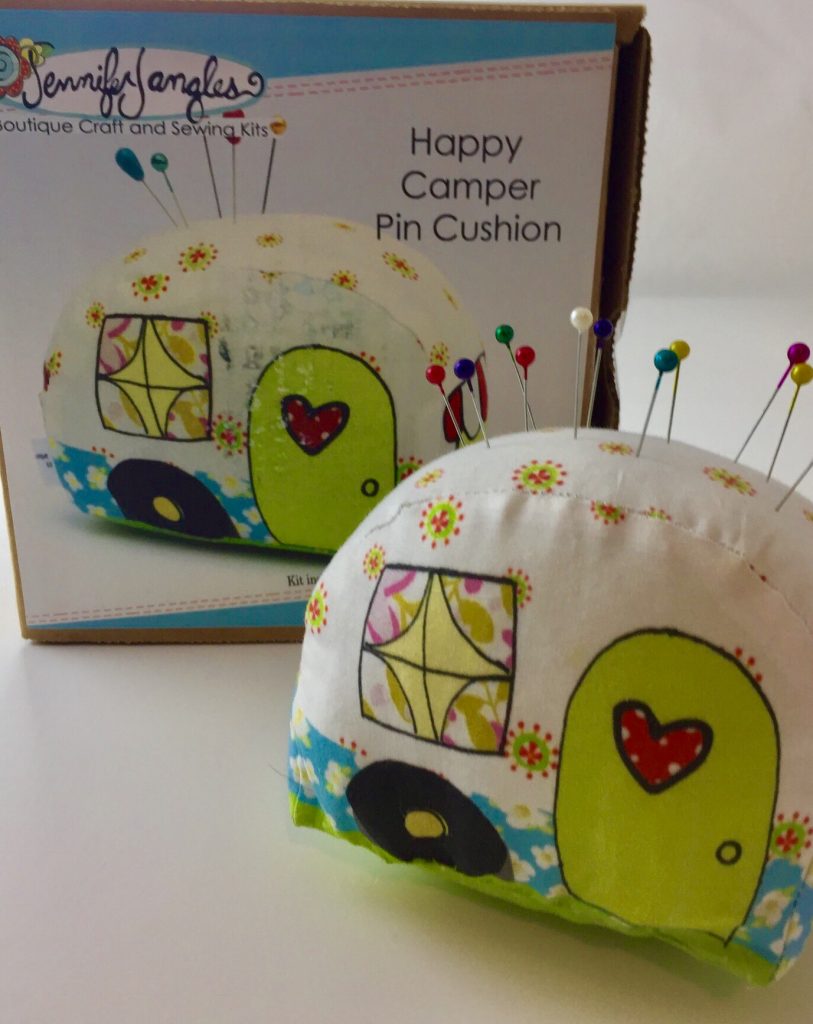 Pricing, oh my gosh — all the pricing that needed to be done. I have a small assortment of stitchery kits and a few projects for kids to make. Summer is coming and I thought it might be fun for some of the women to work on simpler projects with their grandchildren or children, as the case may be.  I made up a sample of this little pincushion kit. Isn't it sweet? The kit includes everything needed so I think a young person could be quite successful making this. I have also marked a large assortment of fat quarter bundles and had to put pricing on the bolts (something I don't normally do since it is just me down here in my little shop.)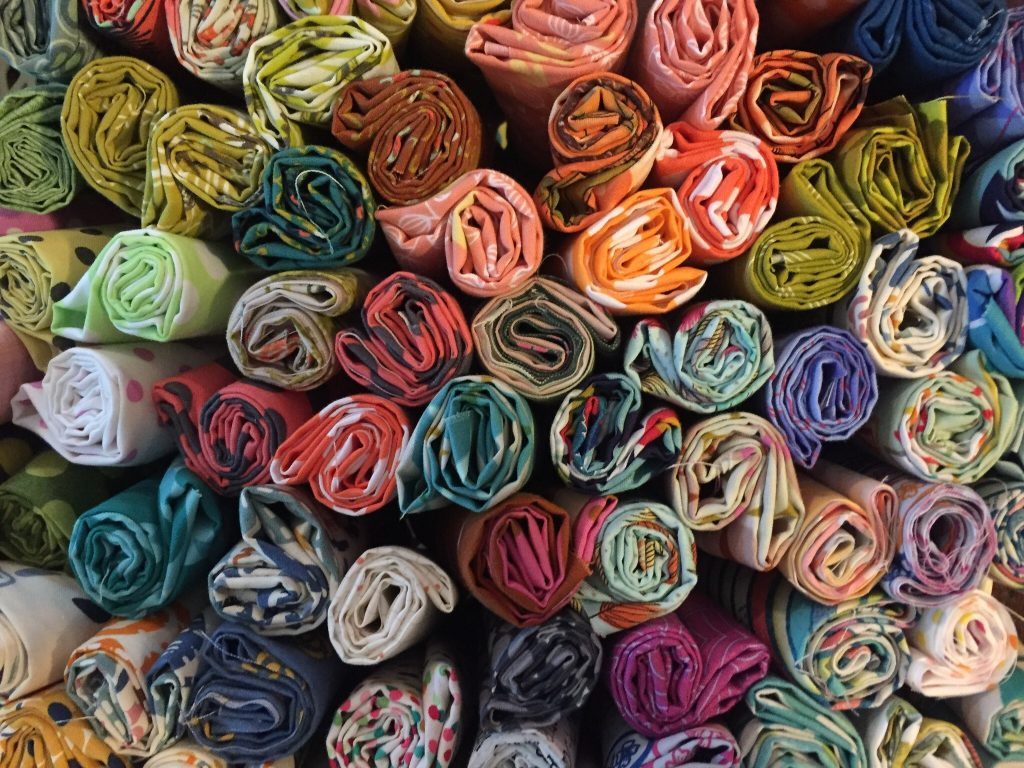 Fat quarters! I have cut all sorts of fat quarters. This is a gamble because I have no idea how many will sell. I hesitate to cut too many because than my fabric is chopped up. But I have a good size collection. I think I would rather run out than bring home a billion fat quarters. If you are a local reader, I hope you will come by and say hi on Saturday or Sunday at the quilt show.  Members of the Pine Tree Quilt Guild will enjoy a 15% discount this weekend. Hurray for being in the guild!
Finally, let's all congratulate Sally! Her name was pulled as the winner of the giveaway of a copy of No Scrap Left Behind. Sally, I have sent you an email.  Please respond in the next day or two. If I don't hear from you, I will pull another name on Wednesday. Thanks so much for all of the comments and ideas on scrap storage. So many of us do keep scraps but there were a handful of honest quilters out there who don't choose to keep them. It's all good!  Those that don't want them seem to give them to their guild members or other quilty friends. Sounds like a good idea to me! There are still more bloggers sharing their projects on the blog hop this week. Keep checking them out and maybe you will still add a copy of the book to your library!
I doubt I will post again this week. I still have quite a bit to do in preparation for the show. Hopefully, I will be back to tell you of a successful experience after the show!
Linking these finishes up to my favorite linky parties. Check out the tab Link Ups at the top of the page.