My niece is waiting patiently for the arrival of her fourth little girl. Well, actually, this little one isn't so tiny! At the ultrasound last week, the baby measured at almost ten pounds. My niece is really wanting this child to make her appearance. We are all hoping to hear from my sister soon that labor has begun. Just about every other text string, one of us asks "any baby updates?" C'mon Rubi!!
As you would imagine, I made a quilt for this great-niece of mine. I wanted to use pink but not only pink, you know? I decided to use the Floriography precuts and yardage I have had for quite a while. At first I thought about making a stacked coin quilt and started looking at my Pinterest boards to find the right one. While skimming and scrolling, I came upon a pin I had from Cluck Cluck Sew. She has a great tutorial for a Jelly Strip stash buster quilt. This seemed like a fun one to try.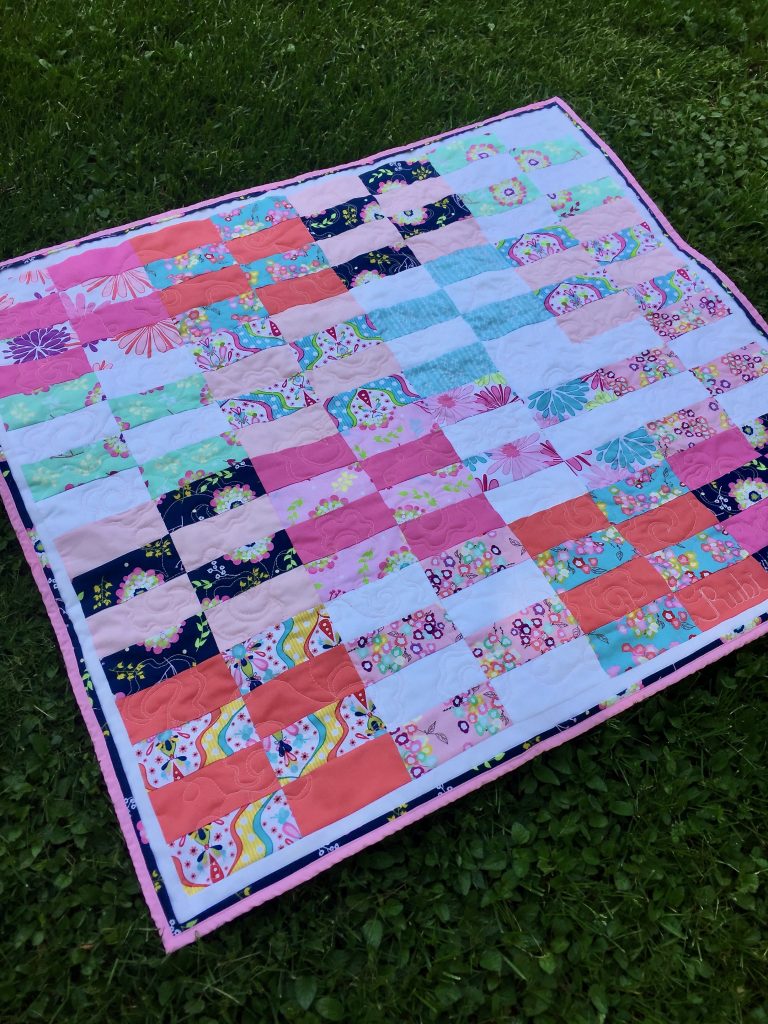 I am very pleased with the results! The colors are sweet and girlish but also quite bold. Using the coral color added a big pop as did the dark blue. The dark blue was one of my favorite prints and I was able to make a flange with it to use when I attached the binding. (I really like the look of a flanged binding. See more here, here and here.) Doesn't the dark blue floral stand out beautifully between the white border and the bubble gum pink binding?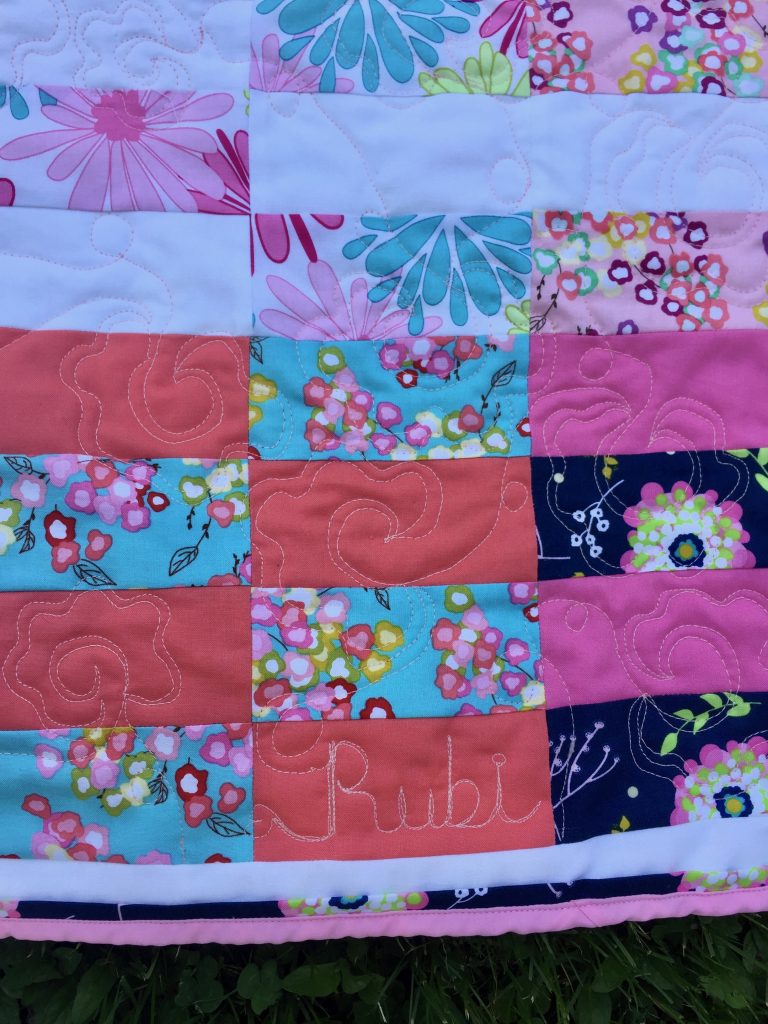 When I quilted this piece, I did a loose flower motif that I saw over at the Inbox Jaunt, one of my favorite places to look for fun quilting ideas. Lori calls this her Easy Breezy Flowers which is the perfect name. Hers were quilted tightly together but I spaced mine out. I didn't want to densely quilt this – I wanted to leave it soft. However, the flowers are easy and quite forgiving. I even put Rubi's name on one of the squares along the edge.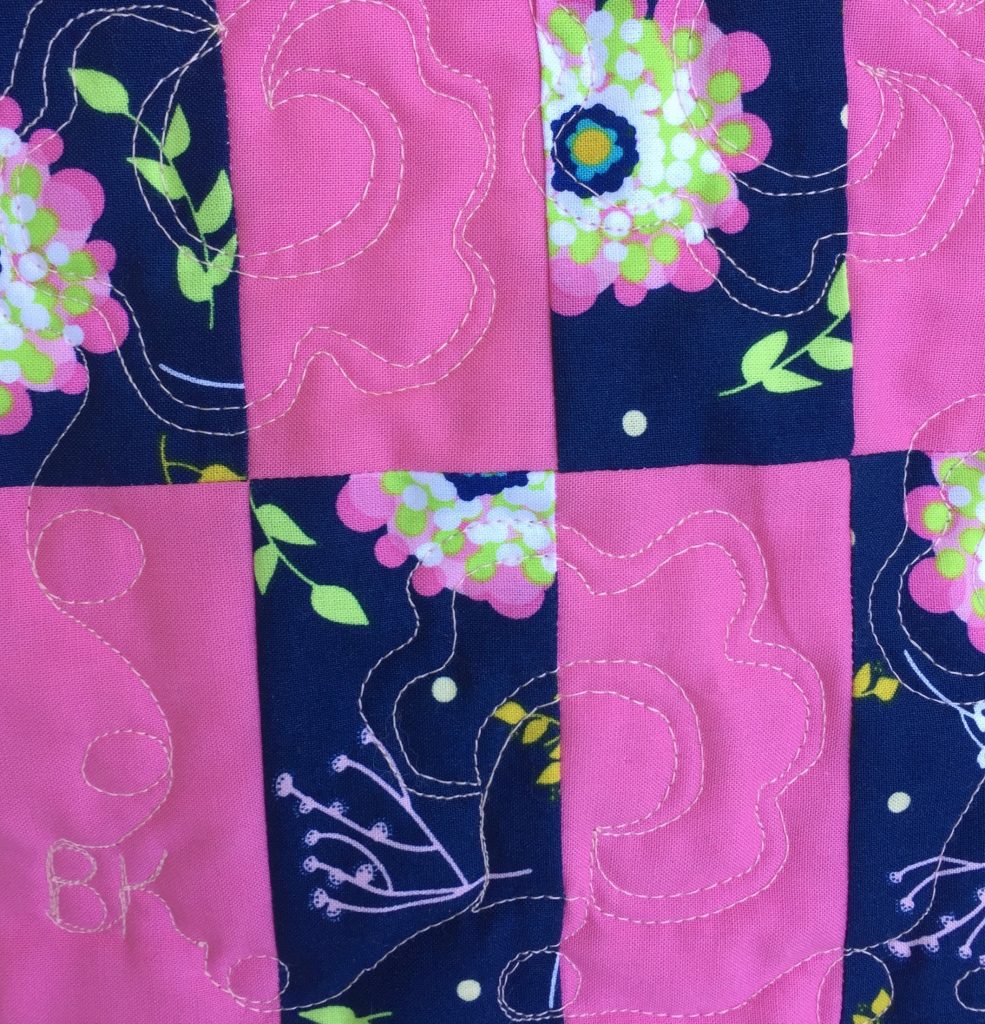 Because I rarely take the time and label my quilts, I at least quilted my initials in another corner. So someday when this heirloom is found by a quilt museum curator, they can wonder just exactly who BK really was.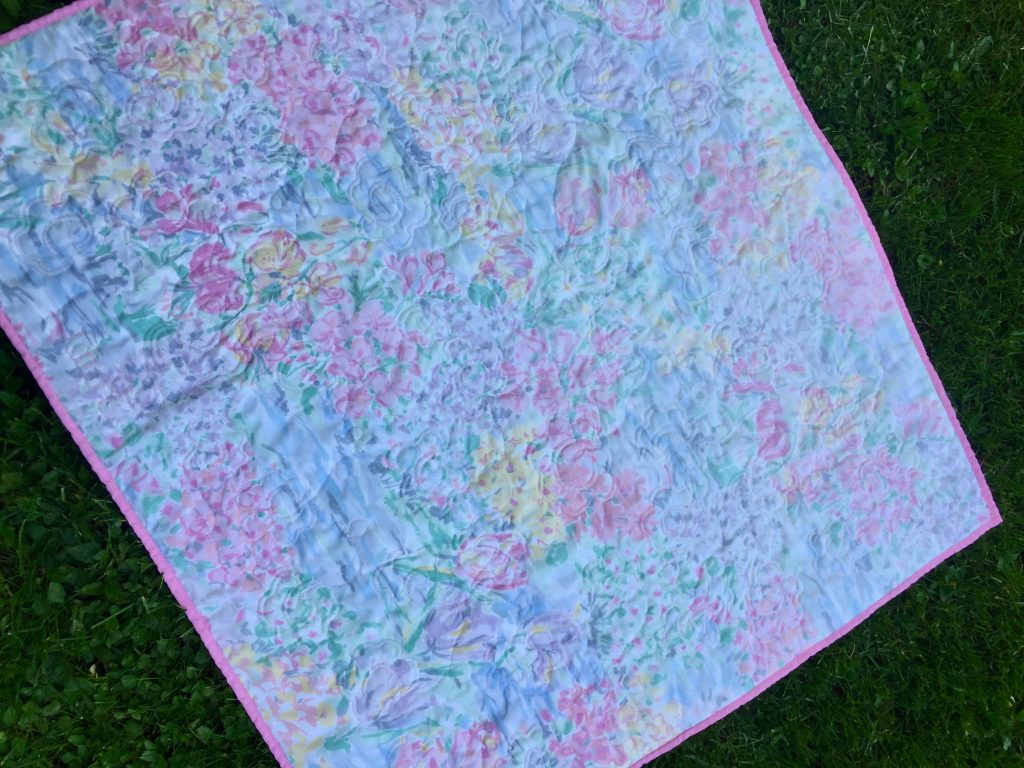 Isn't the backing beautiful? This soft sheet has been sitting in my stack of thrifted sheets for quite a while. I really love it – I think it looks like Monet painted it. I still have some left which makes me happy. It is a pretty piece of fabric.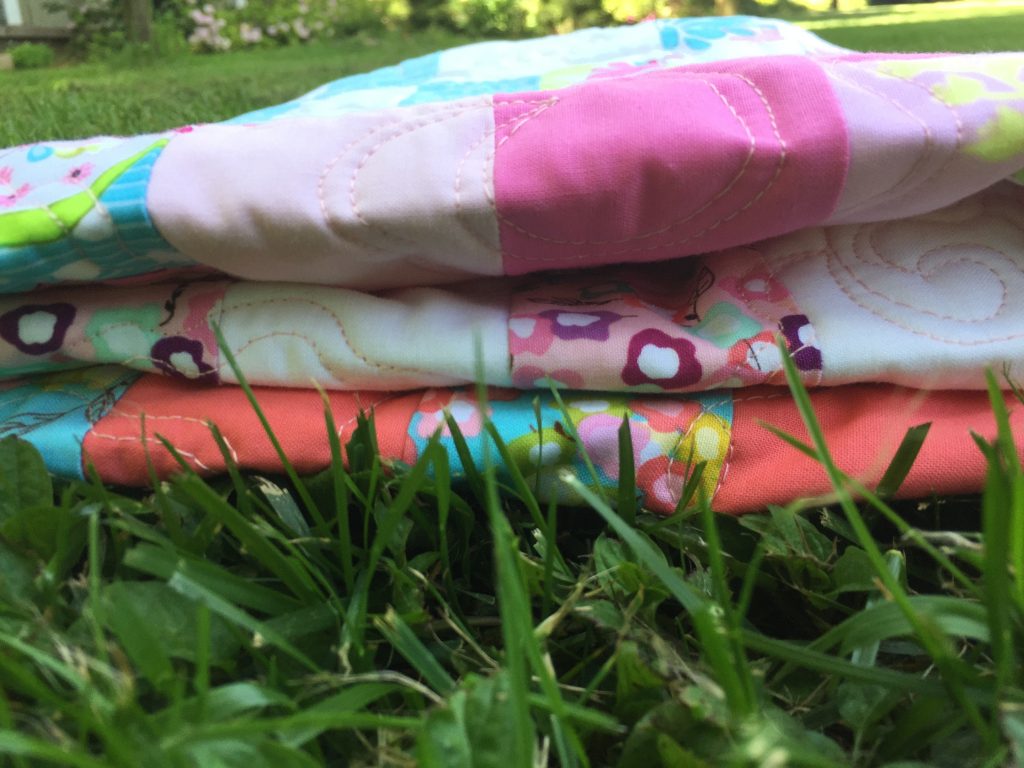 The quilt finished at about 38″ square. I hope Rubi and her big sisters use it all the time. Being the fourth little girl, she is going to have so much attention from the big girls. I can't wait to see pictures when she (finally) arrives!!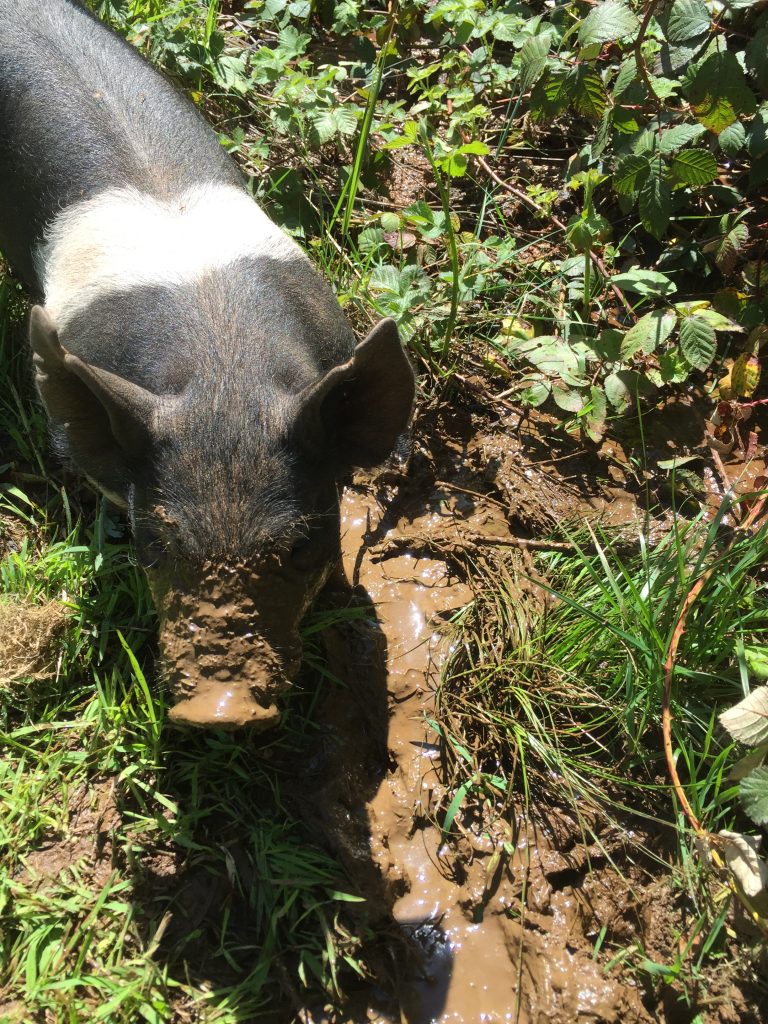 Leaving you with this funny photo of Leo. Yesterday Julia was gone all day working at her internship. So I went out with Leo to let him run around in the pasture. He found a soppy mud pit to play in and was soooo happy! He dug, snorted and snuffed for quite some time. It was a lot of fun to watch.
Hope all of you had a lovely weekend. This week I will be getting ready for the local guild's quilt show. It is the only one I signed up for this year and I am looking forward to it. But I need to get organized! I also have a cute jersey knit dress I started this weekend and I think I should be able to finish it up. What are your plans for this week?