This week seemed to just buzz by. Actually, time just seems to buzz by in general. Not much can be done to slow it down though. After a ridiculously dry January (.05″ of rain instead of our 11″ average) we are supposed to have a stormy weekend. I am looking forward to the rain, maybe as much as 4 inches will fall over the weekend.. The weather gurus on the news keep saying that this will not impact the drought and we are still in deep trouble for this coming summer. (This is mainly because it is too warm and we aren't getting any snow. The snow pack is a huge source of our water later in the season.) Well, be that as it may, any rain is going to help. The news can be such a buzz kill….
Had a few nice finishes this week. I am working on a quilt for a donation to my daughter's middle school. Got the quilt top done!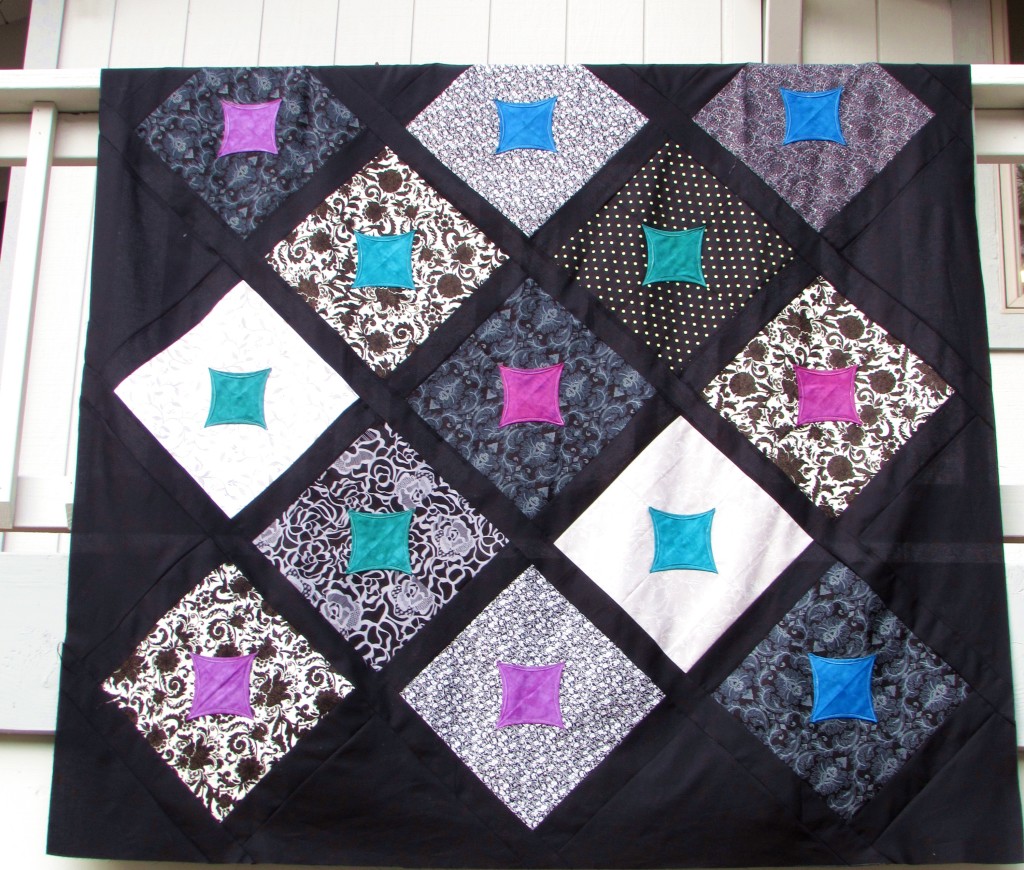 I was really not liking these blocks. They look better now that they are framed with the black and set on point. I made the sashing fairly wide to add some size to the quilt. It is a lap quilt and measures 58″ x 58″ now.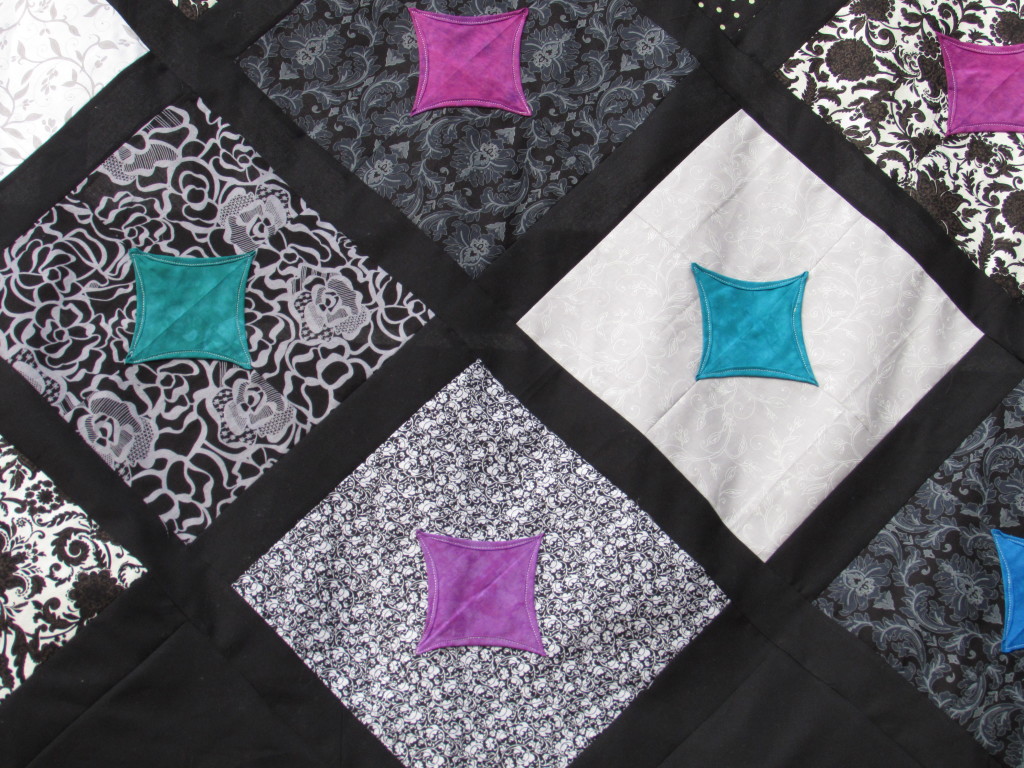 Not sure that the process for making these blocks is all that special. It is called the "ten minute block". The best part of making them was timing myself to see if I could do the block in ten minutes, which I could. (Gotta find the fun wherever possible!) However, the finished block is a bit boring. If using only one fabric for the background of the block (like I did) then couldn't the same effect be achieved by cutting a 12 block of fabric and just using applique to put the center accent on? It would be less work than cutting the five pieces that it takes to may it as shown in the "ten minute" block tutorials. If you are using different colors to make the 12″ block then the "ten minute" system makes more sense. (It also makes the blocks more interesting. Probably should have mixed it up a bit on these.)
At any rate, the quilt top is done. I have backing fabric ready to go. A trip to my LQS is in order for the binding, which is always a good thing!
I am trying something new! I signed up for my first mini quilt swap on Instagram. I have been reticient to do this. When I see the pictures that people are posting for their mini quilt swaps, it is so intimidating. Some of these are just gorgeous. The ten year old me rears her head in fear that whatever I make just might not be "good enough". Oh well, I smacked her down for once and signed up anyway. 🙂  I got my partner assignment this morning. I am really excited about this project. The quilt has be be between 16″ and 20″ in size and must be shipped to my partner in early June. At least I have some time to decide what I want to make.  It is an Alison Glass swap so the fabric used must come from one of Alison's lines. She has such gorgeous fabric so that will be fun to choose.
Finally, my heroine, Amanda Jean at Crazy Mom Quilts, posted some cute pictures of pincushions that she had made last week. I loved them and immediately started digging through scraps. I found a little piece that was leftover from the center of a mini quilt that I did last year, Garden Patch. It made a sweet center for the cushion. It is about 4″ square and I filled it with crushed walnut shells which gives it a nice heft. I love it!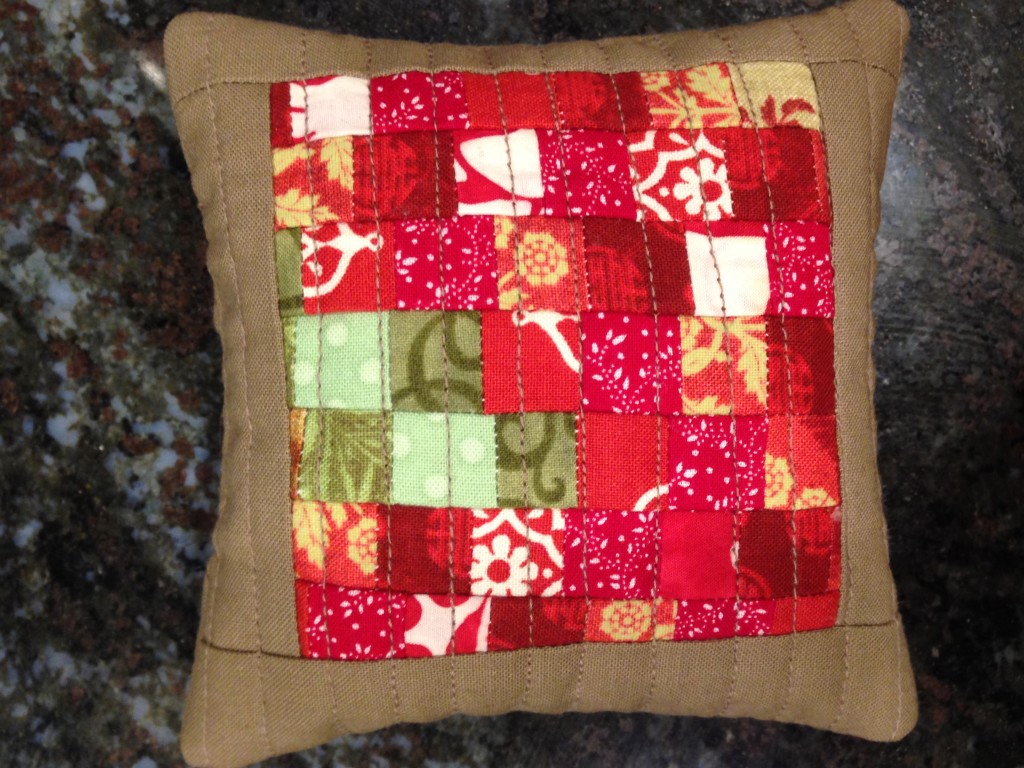 I will be using the donation quilt shown above as my ALOYF goal for February. It is the obvious choice since I have to give it to the silent auction committee by March 1st. Also linking to a new linky party, Show Off Saturday, at Sew Can She.  Be sure to check this party out along with the others!
Linking up with Connie at Freemotion By the River, Lorna at Let's Bee Social, and Amanda Jean at Crazy Mom Quilts. The links to all of these quilting queens are listed at the top of this page, under Link Ups.