I had a couple of fun things happen this week. They all center around coffee… so much good can come from such a small bean.
First story – I usually post pictures on Instagram of the Chemex covers that I make on Etsy. There are a lot of hashtags centered around Chemex loving coffee drinkers and it is fun to share the pictures. After seeing an IG user "like" a couple of my photos, I started looking at their feed in return. It turned out that a guy and his wife had recently started a company offering fresh roasted beans and related treats to their customers. We went back and forth a bit and the proprieter, Steve, asked if I would do a review of their product. It sounded like fun and I agreed. So, here goes. My first product review, which I am honored to do!
This new company is called Joe's Brew Club.  (Nice play on the phrase cup of 'joe'.) The company started in October of 2014 so they are just getting going. They are located in Albuquerque, New Mexico with access to several local coffee roasters that slow roast beans from all over the world. Their model is to have the customer subscribe monthly, entitling them to receive a 12 ounce bag of roasted coffee (whole bean only at this point) along with biscotti cookies and selected high quality chocolate each month. That would be a great package to look forward to each month. Here is what they sent me: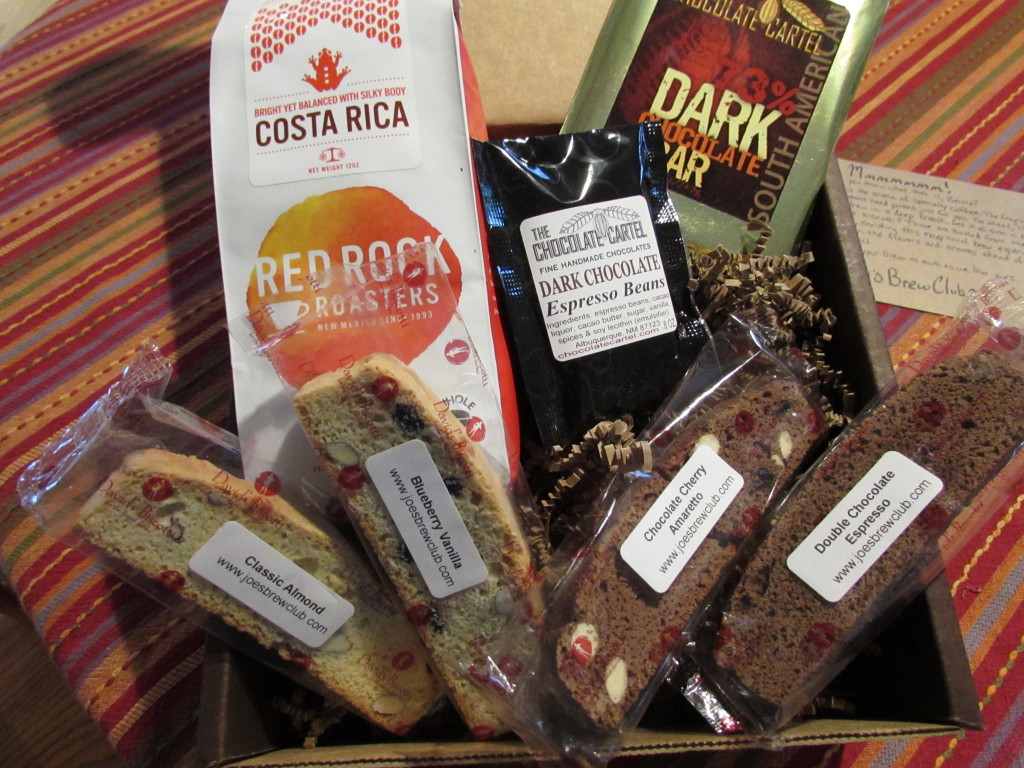 Their packaging is lovely and the contents even more so! Yesterday I started my day by grinding beans and brewing a pot.  The coffee brewed with these beans was delicious. My husband and I both loved it. Coffee is very much part of my morning routine and I loved the bold, rich flavor of these beans. No bitterness whatsoever, just a smooth cup o' joe.  I appreciate the care that was taken in the selection of goods in the box. A bar of chocolate, four biscotti cookies, and a bag of chocolate covered espresso beans making for a great selection.  My husband and daughter were the chocolate testers and they gave it two thumbs up. My husband thought it was wonderful and Julia's review was, "I'm not a huge fan of dark chocolate, but this is good!" I found they had sprinkled a few espresso beans loose within the package. They are going for an aromatic experience when the box is opened. Honestly while I think the idea is so creative, I didn't truly notice the aroma until I opened the bag of coffee – that offered a fragrance that was exquisite.Talking to Steve, he told me that he and his wife are really enjoying this adventure. As with any new business they are open to ideas and looking for ways to expand their offerings. My suggestion would be to also offer this a one time order to be used as a gift. The selection in the box would be such a great present to send to someone. The items are really good quality and the packaging is lovely. It would be a nice choice to use as a gift without having to subscribe.  Second, I would love to see a decaf option. I drink more decaf than caffeinated coffee and I think their customers might appreciate having decaf as an option.
Overall, Joe's Brew Club offers great product and really outstanding customer service. They have a generous return policy and it is easy to cancel your subscription if you decide to do so. Their subscription is $29.99 per month (this includes shipping within the USA) and they are offering a great deal to Needle and Foot readers. Use coupon code NEEDLEANDFOOT to receive 20% off your first order. Check them out!
I had (another) great experience with a customer order on Etsy. My customer asked if I would create a pattern that works with the Chemex pot designed with a handle (rather than the traditional wooden collar.) I got my hands on one of these pots and went through several iterations before coming up a good result. For these two pieces, I chose to use novelty fabrics. This one has a coffee cup/coffee bean print that is adorable.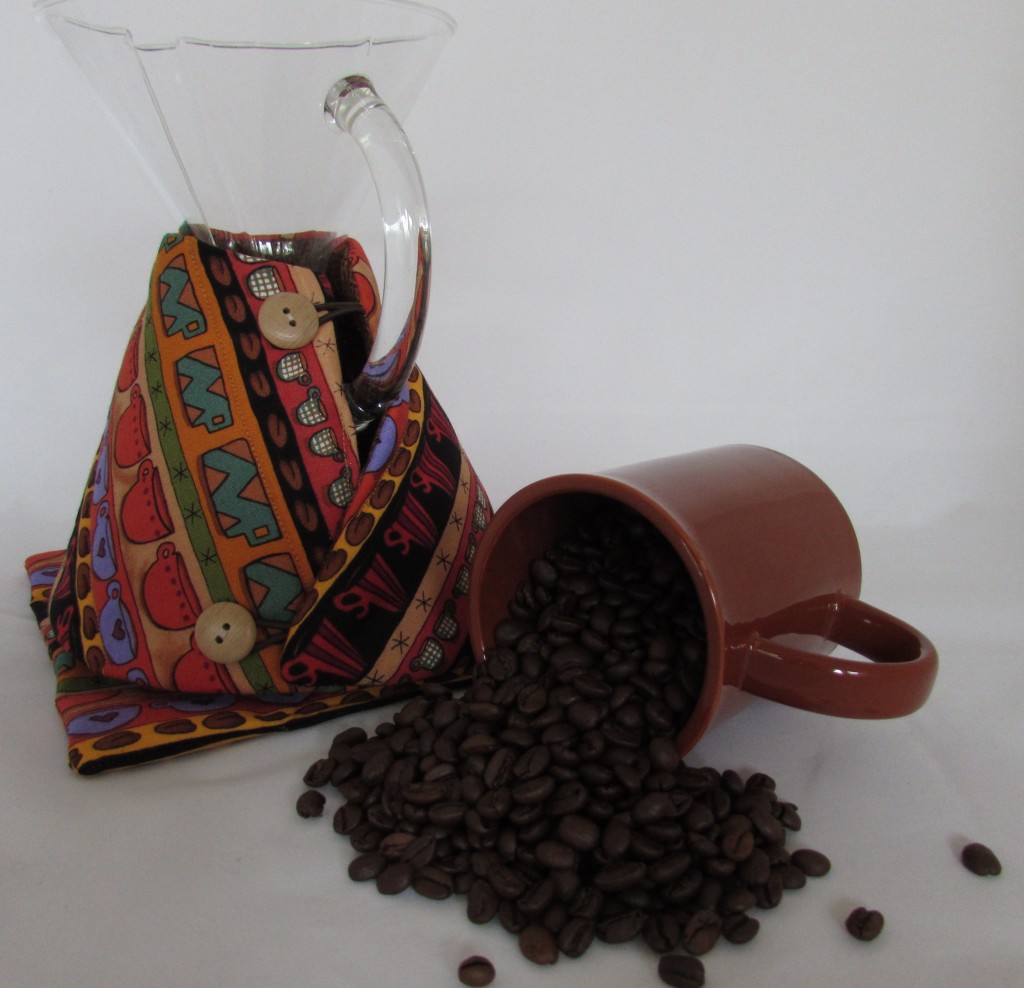 Thanks to Joe's Brew Club for sending these lovely beans featured in the pictures. (Which I meticulously scooped up and put back in the bag when I was finished taking pictures!)
I love this bicycle print also.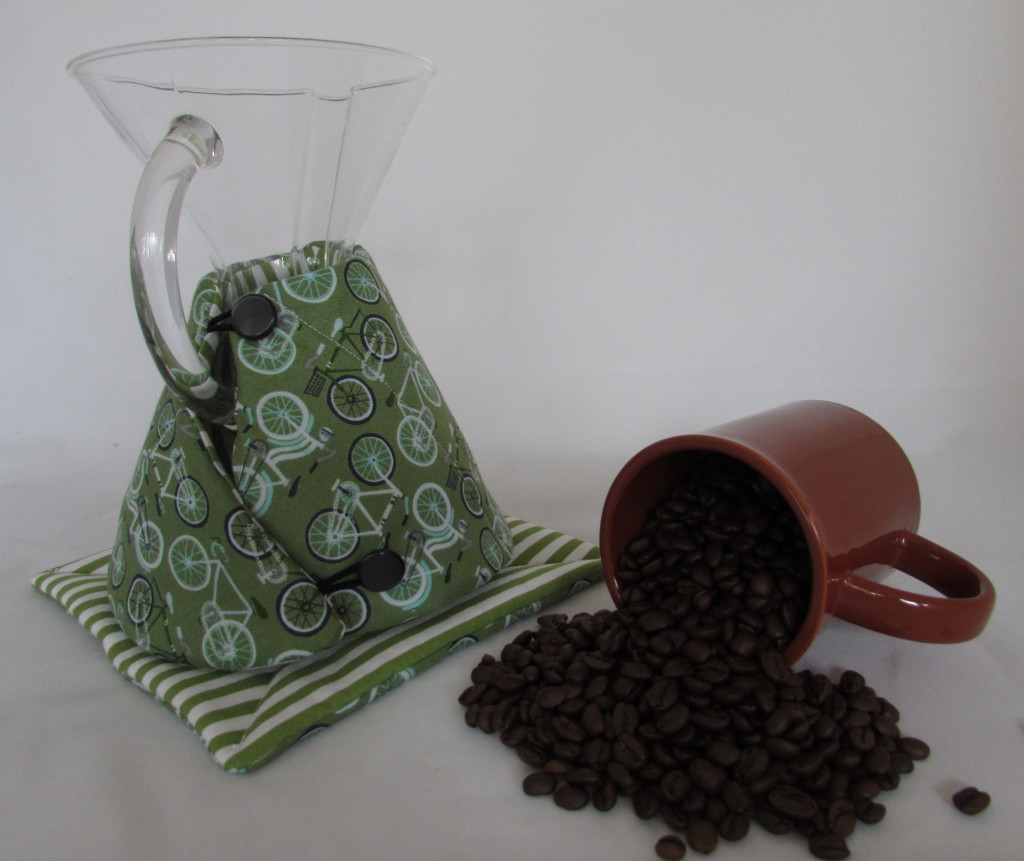 I think working on these custom requests has been my favorite part of having an Etsy shop.  I have made things I wouldn't have thought of otherwise which has been really satisfying. Hope your are working on something equally satisfying!
Linking to Sew Stitching Cute's WIDTW as well as Sarah over at Confessions of a Fabric Addict. For the first time, I am also linking up at Main Crush Monday.